With their massive size and awe-inspiring sound, 60-inch smart TVs deliver immersion, suspense and cinematic spectacle in droves. All the world's a stage, as they say - but your living room is home to stage and screen, thanks to the advent of excellent smart TVs.
Streaming content is everywhere, including the occasional recordings of live theatre shows and concerts, plus movies and, of course, television box sets. So, the decision to bring one of the best 60-inch smart TVs into your home will turn your lounge into a venue, bringing high-definition excitement, comedy, and drama with it.
The best 60-inch TVs at a glance:
• The best TV of 2023: Samsung OLED TV - S95B - View at Amazon
• The best budget smart TV: TCL 65RP630K TV - View at Currys
• The best smart TV for gaming: Hisense VIDAA Smart TV 58A6KTUK - View at Amazon
Okay, you're seriously considering promoting the role of your TV from diminutive understudy to superstar. Bravo, it's a decision well made. But, like all great casting decisions, you must choose your TV wisely and make sure it's a good fit.
As far as size goes, a 50-inch or 40-inch TV can certainly carry the performance, but what we're talking about with the best 60-inch TV is pure stage presence, between 58 and 65 inches. Size and bluster aren't everything, of course; your new television really has to be able to project and bring immersion into the room too.
The best 60-inch smart TVs:
Please note: All prices are correct at the time of writing. Prices, stock and deals are subject to change without notice.
Best TV of 2023
Description
Breaking all preconceptions of what a great television can be, Samsung's S95B combines the
Pros
Absolutely stunning picture quality
QD OLED technology is a huge innovation
Gorgeous slim design
Perfect for gaming
The best budget smart TV
Description
It's genuinely a very tall order to find a screen this large by a solid manufacturer at this sort
Pros
Excellent Dolby Atmos
Great range of smart TV apps, including Freeview Play
HDR10
Thin bezel and low profile ideal for wall mounting
Cons
Build quality expectedly lightweight in places
60hz refresh rate, non-variable, may put off some hardcore gamers
The best smart TV for gaming
Description
Hisense is back with another amazing TV with an equally impressive bag of technical tricks. It's
Pros
HDR10+ support is an unexpected addition at this price point
Dolby Vision HDR
Cons
No Dolby Atmos (but not expected at this price point)
The best QLED smart TV
Description
Who would have thought that a sub-£500 TV at 65 inches could have a Quantum Dot LED panel? There's
Pros
Amazing to find a QLED at this price
HDR10+ Dolby Vision HDR
Dolby Atmos
Cons
The 60hz non-variable refresh rate may underwhelm some gamers
The best smart TV for immersion
Description
Philips has always been at the forefront of creating novel additions to their products, and
Pros
Amazing Ambilight feature
HDR10+ Dolby Vision HDR
Dolby Atmos
Cons
The 60hz non-variable refresh rate again may underwhelm some gamers
The best smart TV for Freeview Play
Description
Freeview Play makes it into many of the TVs in our pick of the best, but this has you covered in
Pros
HDR10+ support is an unexpected addition at this price point
DTS sound
Cons
The LED panel at 50hz is too low for many gamers and movie buffs
Want a higher refresh rate?
Some TVs are born great, but others are greater. The 60-inch TV size bracket is something of an oddity. It's easily bested by the convenience of 55-inch sets and the cinematic grace of a 65-inch TV - if you can fit it into your room, of course.
So, it stands to reason that some of the more modern features looked for by some gamers, sports fans and movie buffs are missing on TVs of this size. We are, of course, talking about higher and variable refresh rates.
A refresh rate is the number of times, measured in Hertz per second, that the screen will refresh the image being displayed. So, a 60hz screen will refresh 60 times a second and 120hz at 120 times a second.
This means that games with high frame rates suffer from much less motion blur, and the same goes for fast sporting action or 4K movies with lots of action. But the clever part here is VRR (Variable Refresh Rate).
This will intelligently monitor your content and adjust the refresh rate depending on what's on-screen - again making for much better, smoother visuals.
Buyer's guide: Choosing the best 60-inch smart TV
Too smart, or not too smart?
That is the real question. Well, all of the TVs in our selection are smart, as most are these days, so there's no need to worry about whether you choose a smart TV or not. Smart means that your TV is capable of streaming video content on-demand from subscription services, and that often also includes live TV channels.
You can also pause and rewind live TV in many cases. As for the rest, you access your favourite films and shows via apps such as Netflix, Amazon Prime Video, and Youtube. Some of these will require you to pay a subscription fee to access the content. If you want to understand what smart TVs are and how they work in more detail, check out our smart TV guide.
If you want to be really smart, you could always grab one of the best VPNs for streaming and get access to the catalogues of other countries, like Japan, the US or Canada.
4K screen resolution - much ado about nothing?
Again, as screens get bigger, technical standards also move forward. You'll be hard-pushed to find that many TVs above 50 inches that aren't 4K. So, each of the products in our list is 4K - that means they'll display images at four times the resolution of a typical Full HD TV.
If you haven't yet witnessed this, you'll be blown away by the extra precision and the detail. No matter what you watch - dramas, soaps, films, sports, or games - they all look incredible in 4K. Most 4K TVs will also use technical wizardry to upscale any content from lower resolutions to 4K too, adding missing detail on the fly. If you're stumped by some of the jargon, we have a guide below.
Thirdly...?
So, you may ask, what else is there to choose exactly? If you've opted for one of the best 60-inch TVs, you'll really want to check the size - even if it fits into your room, you'll need to be sitting a sensible distance from it to avoid eyestrain. And then there's the decision to use one of the best TV wall mounts or to place it on a dedicated stand.
If it's wall-mounted, don't place it too high or low for a comfortable seating position. And if you're buying a stand, make sure it'll take the weight of your 65-inch star attraction.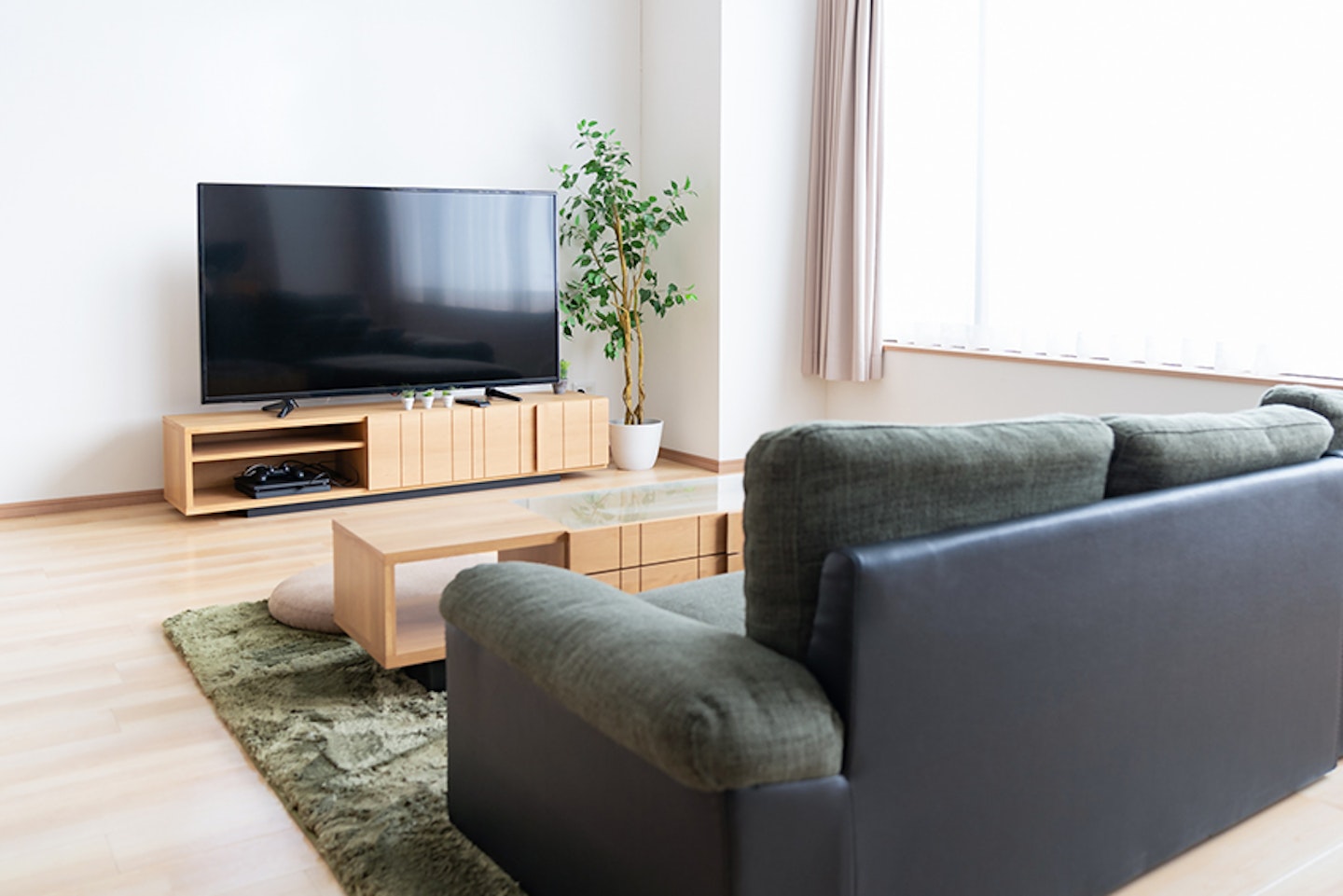 Best 60-inch smart TVs: Jargon-buster
4K and Ultra HD (UHD)
4K and UHD are two interchangeable terms that more or less refer to the same TV resolution - 3840×2160. This pixel resolution count is four times higher than standard HD screens, with 8.3 million pixels working across the screen. This means clearer, more accurate images. We do have a full guide to resolution, but here's a run-down of the most common resolutions you'll find out in the wild:
HD: 1280×720
Full HD: 1920×1080
Ultra HD/4K: 3840×2160
What are HDR and UHD?
High Dynamic Range, or HDR, has become something of a buzzword in the world of TVs. Simply put, you will have a wider and more vivid colour range than standard content if your content has been produced in HDR. This means over a billion colours are available instead of the roughly 16 million colours that you get without HDR. HDR comes in slightly different flavours, though - with HDR (HDR10), HDR10+, and Dolby Vision being close cousins; each has a slight improvement over the other.
Ultra High Definition, or UHD, is really long-hand for 4K. A 4K picture is roughly four times the size of the last generation of 'HD' screens (commonly made up of 1920 x 1080 pixels).
High Dynamic Range (HDR)
High Dynamic Range smart TVs can reach brighter and darker colours than regular HD TVs. This means the picture on-screen appears more like a real-life image. HDR works to get as much light, crispness, and depth into your picture. Whites are brighter, and blacks are darker. It offers a huge range of over one billion colours. HDR10+ is an extension of this, but the use of extra metadata creates an even more refined picture.
Dolby Vision is Dolby's version of HDR10 and HRD10+ - once again adding a small boost to the colour range.
LED
LED stands for light-emitting diode. These LEDs react when an electrical current passes through them. LED screens use a backlight to provide the image.
OLED
With OLED, the pixels produce their own light, which gives greater accuracy to the image. Make sure you check out our best OLED TVs guide for more information on this fascinating technology.
QLED
QLED is a Samsung invention (although other companies also use QLED panels) that replaces Liquid Crystals (found in LCD) and replaces them with Quantum dots. These offer more vibrant and accurate colours thanks to higher energy output. They are backed by extra brightness levels than OLEDs can muster too. QLED technology does tend to make a TV cheaper than its OLED competitor. Make sure you take a look at our best QLED TVs roundup.
Frequently Asked Questions:
Can you record directly from your TV?
The answer to this is probably yes, though it does depend on the make and model of the TV. However, the best 60-inch smart TVs will let you record live TV to a memory stick or hard drive attached via USB. These devices often let you pause and rewind live TV, too. If you're happy using Freeview Plus, these features are redundant. Record shows and movies yourself, and you dictate when things are watched or deleted - not the streaming/on-demand service.
If you want to know more about what you need for recording from a TV, read our guide to TV-ready USB sticks.
What size TV do I need?
So, you're seriously considering getting a very large TV. But, as mentioned earlier, you'll need to factor in your viewing distance before you splash any cash. Here's a ballpark guide to minimum viewing distances for HD or 4K content based on screen size:
40 inches - 80 inches (6.7 feet)
50 inches - 100 inches (8.3 feet)
70 inches- 150 inches (12.5 feet)
What can a smart TV do?
A smart TV connects to the internet via a selection of on-demand catch-up apps, such as BBC iPlayer, All 4, and ITV Hub. The selection of apps pre-loaded or available to download may differ between manufacturers and models, so it's worth double-checking the model you're considering. You can also access subscription services such as Amazon Prime Video or Netflix. Many smart TVs will also have apps for internet services, such as news, weather services, internet browsers, and social media. Music can be streamed too, such as Spotify. Some of the best 55-inch TVs also offer additional features, such as Bluetooth connectivity for wireless audio connections and smartphone and tablet connections.
Is it worth buying a smart TV?
If you're someone who loves to watch TV, then a smart TV is likely to be worth it. The internet connection offers up plentiful access to free and paid-for subscription content via apps whenever you want it.
Subscribe to the What's The Best Newsletter to keep up to date with more of the latest reviews and recommendations from the rest of the What's The Best team.
Chris Duffill is a Tech Product Writer for What's The Best. He specialises in audiovisual, computing, and gadgets. He also writes for Yours.