Sometimes bigger isn't necessarily better - and that's especially true of the best 40-inch smart TVs with all the mod-cons. Luckily, taking out a small mortgage to buy one of the best TVs isn't necessary - no matter what size you go for. Thanks to ever-smaller technology, most sets share the same components and features as larger sets. So, you really can have your reasonably-sized cake and eat it.
The best 40-inch smart TV is really suited to a small-to-medium room or bedroom, as the recommended viewing range is between one-and-a-half and three meters. Though modest in size, many carry streaming apps, TV subscription services and other smart TV features. You'll have access to countless hours of television and film at your fingertips - there are no more excuses for missing out on Guillermo del Toro's Cabinet of Curiosities, The Midnight Club, or Disney+'s Andor.
Best 40-inch smart TVs of 2023 at a glance
• Best overall 40-inch smart TV: Amazon Fire TV 40" 2-Series - View on Amazon
• Best budget 40-inch smart TV: TCL 40S5401AK 40-inch Television, HDR, FHD, Smart TV - View on Amazon
• Best 40-inch smart TV for gaming: Hisense 40A4BGTUK 40" Smart Full HD LED TV - View on Amazon
• Best 40-inch smart TV with HDR: Samsung 40 Inch UE40T5300AEXXU - View on Argos
Shop Black Friday TV deals on: Amazon | John Lewis | Currys | AO | Appliances Direct | Argos
Some of the best 40-inch smart TVs also make for great 4K gaming TVs as there are plenty with features like high refresh rates, low latency and other special features aimed at gamers. But what does all this jargon mean? What if you're more into smart apps and everyday viewing? And how about those who are really looking for the best 4K HDR TV screen technology for their movies? Well, at the end of the article, we have a buyer's guide on what to look for, as well as some easy explanations of that dreaded TV tech terminology.
When you're considering a TV of this size, perhaps you'd better take a look at the best 43-inch smart TVs too; if you can find the space for something slightly larger we'd recommend it. But, if you like a 40-inch screen or have limited space, here are our recommendations for the best 40-inch smart TVs your money can buy.
Best 40-inch smart TVs of 2023
Best 40-inch smart TV for gaming
Description
This excellent Hisense 40A4KTUK TV may seem similar to the prior entry, but it has plenty that
Pros
Great visuals thanks to the colour enhancement system
Dedicated gaming and sports modes to help you as you watch or play
DTS HD sound system for more immersion
Cons
No Bluetooth connectivity - so any BT headphones won't connect
Bass-lovers may want to add a soundbar
Best overall 40-inch smart TV
Description
Pros
Excellent screen quality with a simple clean bezel and stand
A simple OS for easy and clear use
Great for Amazon services like Prime Video
The remote includes Alexa for voice control and more
Cons
Not 4K resolution (but then, not many 40-inch TVs are)
Best budget 40-inch smart TV
Description
TCL's full-HD smart TV is immaculately designed with the user in mind - and makes for a
Pros
Solid performance from a well-respected brand
Modern bezel-less design for a slim and seamless look
A good number of features for a budget model
Cons
No BBC iPlayer or ITV X as yet
The sound may require a boost from a soundbar
Best 40-inch smart TV with HDR
Description
When it comes to picking up a 40-inch smart TV, the picture quality is king, and with Samsung's
Pros
Great image quality with HDR for over a billion colours
Solid Tizen OS for a responsive experience
Reliable Samsung build quality and panel with a narrow bezel
The latest 2023 model
Cons
No Bluetooth
No recording options on the guide menu
Best 40-inch smart TV for Freeview
Description
Toshiba's UF3D Smart Fire TV is a perfectly formed smart TV, offering 4K streaming and Freeview
Pros
Sharp, vibrant images
Simple Freeview option for those with a digital terrestrial aerial
Great audio thanks to Dolby Atmos
Cons
Amazon Alexa can be slightly buggy
Best 40-inch smart TV with built-in voice control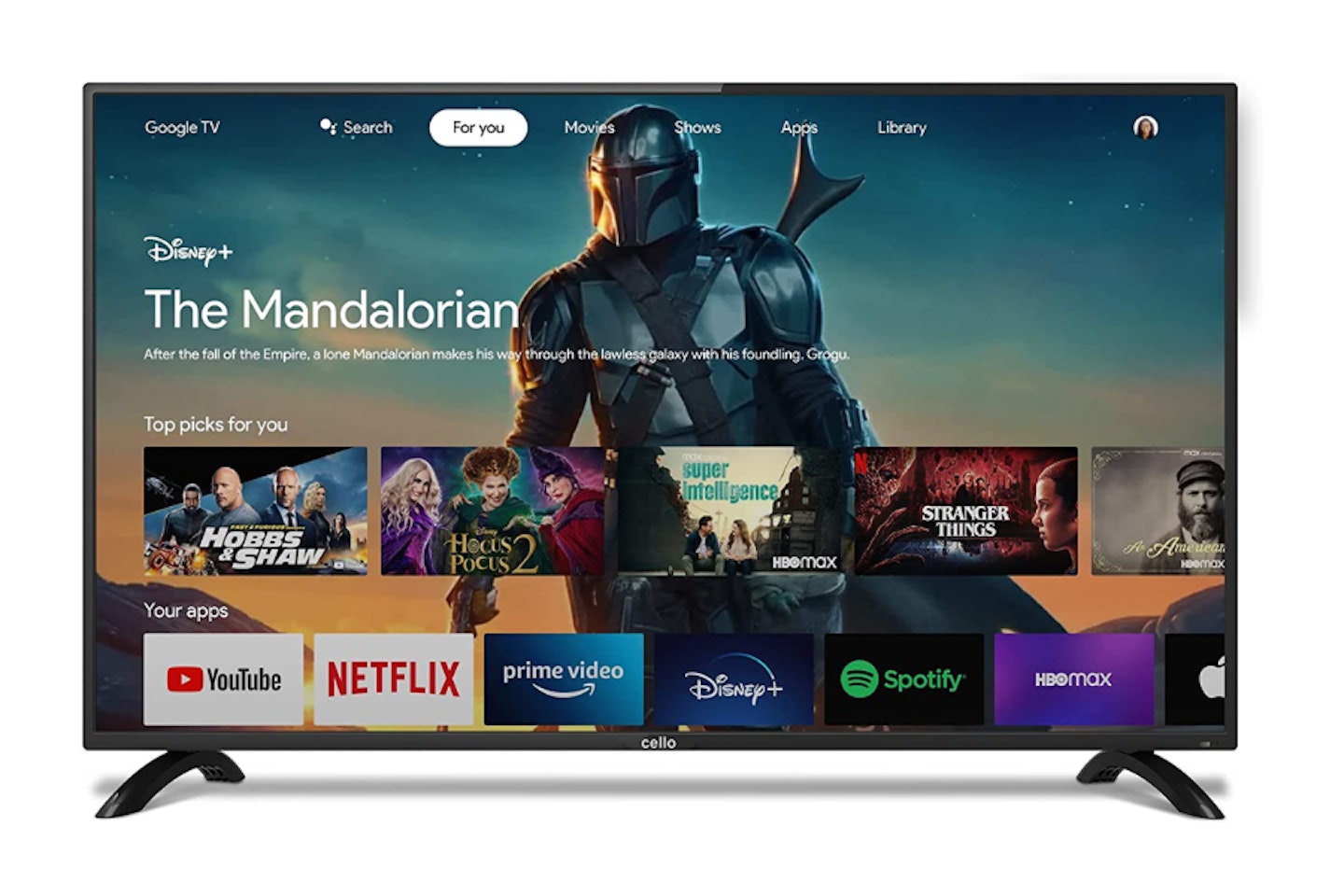 currys
Description
Cello's excellent 40-inch ZG0204 TV is perfect for kids' bedrooms, kitchens and workspaces. With
Pros
Built-in Google Assistant for easy voice control
Supports plenty of popular apps so you'll always find something to watch
Has Chromecast built-in for easy sharing from mobile devices
Google Assistant built into the remote for voice control
Cons
No Now TV app as yet
Weak sound means you'll need a soundbar
Best 40-inch smart TVs of 2023: Buyer's guide
Technology moves fast. Even budget TV options are offering fantastic, crisp displays and substantial audio capabilities; so there's every chance of finding the perfect television for you in our list of the best. But, there are a few things to consider before you buy:
Consider your available space
It's important to look at your available space as well as your budget and other requirements. However, it tends to be sensible to have smaller TVs in smaller rooms, and larger ones in the biggest rooms. If you're too close to a TV, no matter how high-quality the image is, it's going to be uncomfortable. Too far, and you may as well watch Netflix on your phone.
Here's a rough guide of the minimum distance you should have from your TV when viewing HD content:
Screen size / Distance
40 inches - 80 inches
50 inches- 100 inches
55 inches - 110 inches
60 inches - 120 inches
75 inches - 150 inches
Decide where to put the TV
Your all-important step is to measure up - compare your space with the exact dimensions of the set you've chosen. You might decide that your existing TV stand is taking up too much room. So, to heighten your television experience, one of the best TV wall mounts could save valuable floor space and improve your viewing angle. Just make sure you don't mount your 40-inch TV too high, or you might find you get neckache while viewing.
But if by doing this you find you really are stuck for space, bigger isn't always better. Sometimes a light, portable screen is just what you need. Our picks for the best 24-inch TVs are bound to be the perfect choice for space-conscious binge-watching.

A quick guide to streaming apps
The best smart TV apps are those that offer you the best entertainment choices, features and reliability. But, there are some 40-inch smart TVs that may or may not have the apps you like. So, always check the detailed specifications to make sure. But, if you're new to apps and unsure about what you might need, here's the one's you'll most commonly find on a new 40-inch smart TV:
Netflix
This subscription service fundamentally changed the face of TV and film. Netflix's user-friendly app grants you access to thousands of titles, both pre-existing and original productions, like Friends, Sex Education, The Irishman and John Wick 3. There are a number of subscription package choices available.
Note that if you have one of the best VPNs for Netflix, you'll be able to access the content offered in countries like the US, Japan or Australia. Due to terriroties having different distribution rights, you'll find that the shows and movies on offer are vastly different from those in the UK, with even blockbusters popping up sooner elsewhere.
Amazon Prime Video
Prime Video is another premium subscription service that offers a huge selection of content, including The Office US, The Hunters and Man In The High Castle. The service boasts great access to recent movie releases and offers the option to purchase or rent titles that may not be included in your subscription. Subscribing to this service will also give you access to Amazon Music and Prime next-day delivery.
BBC iPlayer
This on-demand app allows you to get at the best the BBC has to offer. Catch-up programmes are available to watch for 30 days after broadcast, and you can stream, restart and rewind some live TV programmes. The app also provides you with access to a large back catalogue of BBC programming from across its broadcasting years, including Doctor Who, Killing Eve, QI and Blue Planet II.
All 4
All 4 is a catch-up and on-demand app, offering content from across Channel 4's catalogue, which includes E4, More 4 and Vice TV. You'll be able to watch recently broadcast shows as well as an extensive back catalogue, including brilliant UK originals like Black Books, Peep Show, The Great British Bake Off and Gogglebox. All 4 is a free service, but it does require you to watch advert breaks.
YouTube
A key app for any smart TV owner who follows any of the hundreds of YouTube personalities, influencers, musicians and gamers. You'll get unfettered access to countless hours of free and fresh content from around the world. YouTube offers a subscription service called YouTube Premium, but by and large, this doesn't really have an effect on a user's content access – though some hardcore users will jump at the chance to remove ads.
Spotify
A user-friendly music streaming service app that's reliable and integral to a good party. You can start a free account with Spotify and get streaming the latest music (with the odd ad break), or you can sign up for Spotify Premium and have unlimited, ad-free streaming (plus a few extra worthy perks).
Please be aware that in order for these apps to work correctly, you'll need a WiFi or Ethernet connection with a stable internet connection, good broadband speeds and unlimited (or very high) data limits. Similarly, Netflix, Amazon Prime Video, Spotify Premium, and YouTube Premium require you to pay a subscription fee to access their content, though free trials are available for all.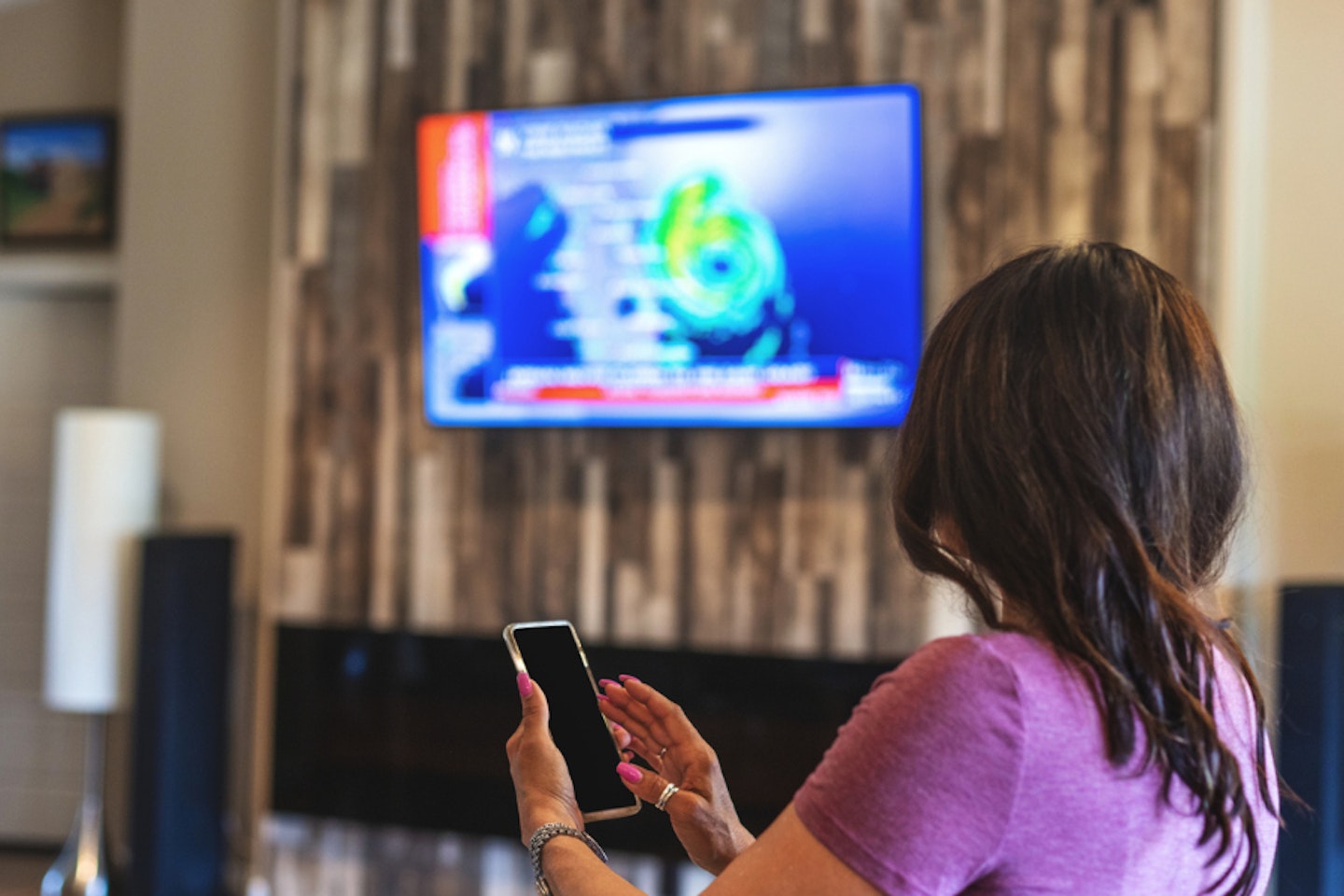 Best 40-inch smart TVs: Frequently asked questions
What can a smart TV do?
A smart TV is a television that can connect to the internet directly, without the need for a secondary gadget like an Amazon Fire Stick. They tend to be pre-loaded with an array of well-known catch-up streaming apps, like BBC iPlayer and ITV Hub, as well as subscription services such as Amazon Prime Video and Netflix.
A smart TV can also provide other internet services and apps, such as social media, news, weather, and internet browsers.
Some models also offer additional features, such as Bluetooth connectivity for wireless audio connections, and smartphone and tablet connections.
Is it worth buying a smart TV?
Yes. Whether you want to stay up to date with news and events, watch soaps on demand, or blockbuster movies - investing in a smart TV is totally worth it. Their internet connection offers up plentiful access to free and paid-for content via apps, whenever you want it.
What is Freeview Play?
Freeview Play pools on-demand and catch-up television streaming in one place, allowing you to search forward to see what's upcoming. You can also stream shows from the previous week. It combines the catch-up elements of apps like BBC iPlayer, ITV Hub and All 4, and puts them in one place.
Do smart TVs have Bluetooth?
Bluetooth is a radio-based technology that allows you to connect wireless devices to your TV. For instance, soundbars, hearing aids and wireless keyboards to help with searches/navigation. A TV will usually list this feature in its specifications, but if in doubt contact the manufacturer to double-check.
Can I listen to my smart TV with wireless headphones?
Do you have wireless Bluetooth headphones? Does your smart TV have a Bluetooth connection? If you answered yes to both of these questions, technically you can listen to your smart TV with your wireless headphones.
It's worth being aware of range restrictions with some Bluetooth headphones. If your sofa is too far away from your TV you may experience patchy connectivity or connection failures. As always, if in doubt check with the manufacturers.
If you would like to regularly listen to your new smart TV via a wireless headphone set, it may be worthwhile looking into purchasing a dedicated media wireless headset with a small external transmitter – they've got a much larger range radius and often accept multiple headset connections for group viewing.
Can I pair my phone to my smart TV?
Google Chromecast is in-built with some smart TVs and can mirror content from both Android and iOS devices. Many smart TVs come with a feature named 'Screen Mirror', 'Wireless Display' or similar. This can pair and display a smartphone via a phone-installed app. This is great for viewing photos, videos or video chats.
However, connectivity will vary based on phone and TV brand and model, the available Bluetooth connection standards; and the availability of screen mirroring in various apps. It's common for smart TV's to pair with a phone, but if in doubt Google is your friend. You'll quickly find user reviews, as well as more detailed specifications, that will let you know if your phone can be paired.
There's also app-to-app pairing. This will allow you to control a TV app with your phone, but not the TV itself. For example: you can browse Netflix on your phone for The Witcher, and send it to the TV app.
If you're really keen on displaying your phone on the smart TV, a sure method is to manually connect the phone up to the TV directly via an HDMI cable and adaptor.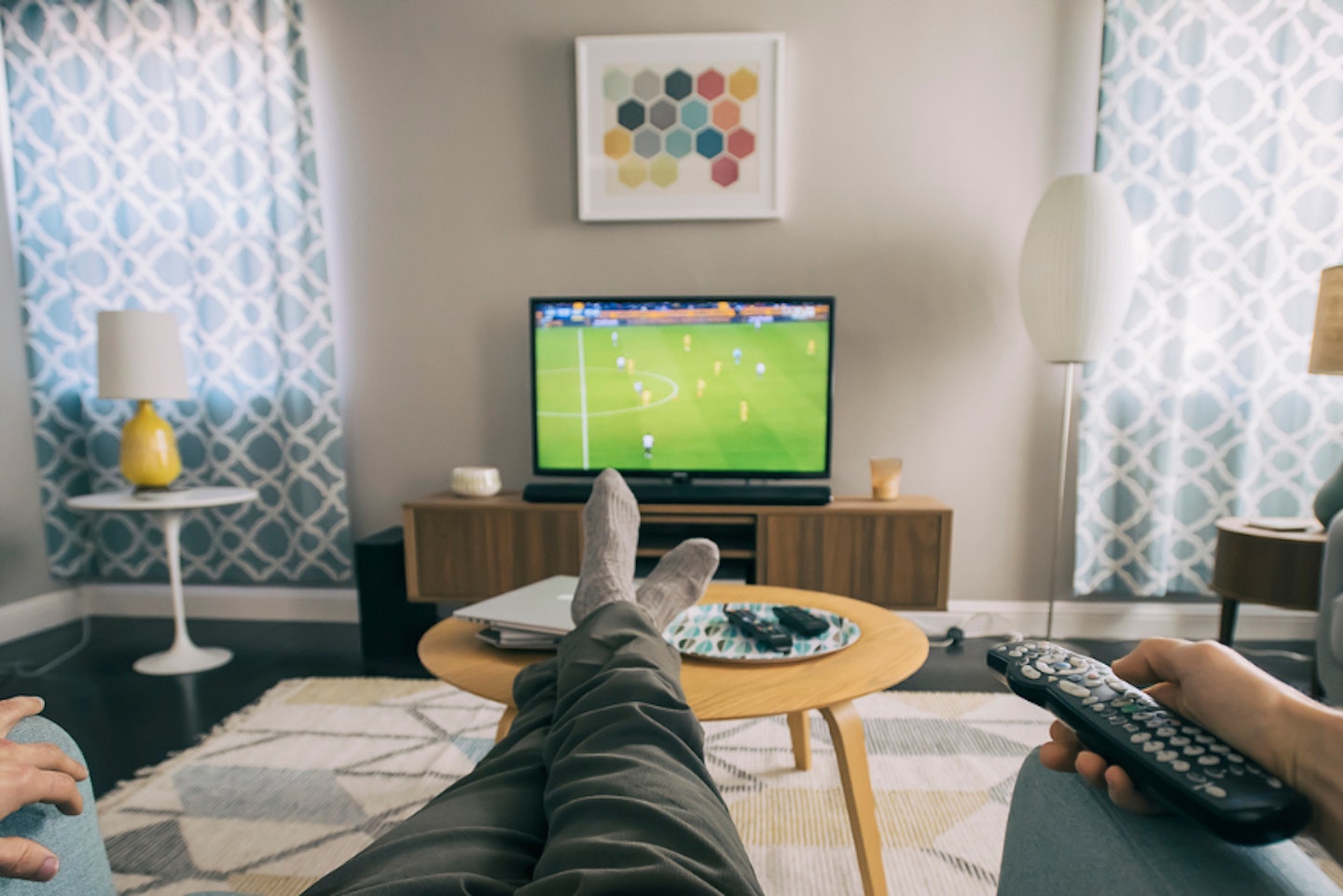 Best 40-inch smart TVs: Jargon buster
4K / Ultra HD
These terms refer more or less to the same thing – TV resolution. 4K screens offer roughly four times more pixels than HD screens, with 8.3 million pixels working across the screen. This means clearer, more accurate images. Here are some of the more common resolutions you'll find when looking for a new TV:
HD: 1280×720
Full HD: 1920×1080
Ultra HD/4K: 3840×2160
HDR and HDR10+
HDR stands for High Dynamic Range. It works to get as much light, crispness and depth into your picture. Whites are brighter and blacks are darker. It offers a huge range of over one billion colours. HDR10+ is an extension of this, but the use of metadata creates an even more refined picture.
HDMI ARC
HDMI Audio Return Channel (HDMI ARC) is a feature that allows soundbars and surround sound systems to use fewer cables. An HDMI cable (version 1.4 or higher) can be connected from your TV's HDMI ARC port to an HDMI ARC port on a soundbar or surround sound receiver. This connection will route audio from another device connected to the TV to the soundbar. That could be a gaming console, Blu-ray player or media streaming device. This reduces the clutter of having audio cables trailing from the TV and other devices to the soundbar.
Note that some TVs will require you to manually enable 'HDMI CEC' in your TV settings for the ARC system to work correctly.
For a more in-depth look at how to set up HDMI ARC and other soundbar configurations, watch this video from TV and sound system expert Jonah Matthes:
Contrast
Contrast is a method of referencing the difference between the lightest and darkest images a TV can produce. The measurement is written as a ratio: for example, 3,000:1, 5,000:1. Generally speaking, the higher the ratio, the better your viewing experience is going to be.
There's more to contrast than that, including plenty of mathematics and specialist lighting measurements. CNET has a great guide on contrast and the pros and cons of relying on it as a metric for purchasing TVs.
For more information on how these brand-new technologies work, check out our guide to QLED. Or if you prefer speed and precision over colour and vibrancy, here's our guide to OLED.
Refresh rate / Hertz (Hz)
A TV's refresh rate is the number of times it refreshes the entire image each second. This count is measured in Hertz or Hz. A 60Hz TV will refresh an image 60 times, and a 120Hz TV will refresh an image 120 times.
Therefore, the higher the refresh rate, the smoother the moving image appears. By contrast, an exaggeratedly low refresh rate of 10Hz would make fast-paced content appear to jump, stutter and jolt. 50Hz - 60hz is going to be fine for most users.
However, If you're a dedicated gamer or sports fan, you may want to consider higher rates; the images will therefore appear with considerably reduced blur. 120Hz sets are going to be ideal, but they cost a little more.
William Lobley is the Deputy Tech & Fitness Editor for What's The Best. Here, he oversees, curates and researches listicles and reviews as many products as his home office can handle. He has spent nearly five years covering Black Fridays, Prime Days and Christmas sales and is well-versed in sniffing out the best deals and savings the internet offers. When not at his desk deal-hunting, he'll be relaxing with Japanese crime novels, bingeing some classic anime or at the gym listening to the heaviest metal Spotify has to offer.
Subscribe to the What's The Best Newsletter to keep up to date with more of the latest reviews and recommendations from Will and the rest of the What's The Best team.