Way back at the dawn of heavy plasma screens, getting your hands on one of the best 55-inch TVs was prohibitively expensive. Now, nestled alongside the very best TVs money can buy, a 4K smart TV with a 55-inch screen sits in the middle of the size range. And thankfully, most screens now share many of the same features inside no matter the size.
This screen size is definitely a favourite with many buyers, as they're a really practical size for most living rooms. After all, not everyone needs or can house an 85-inch TV with a price tag that'll make your eyes water. So, whether you're gaming, catching up on soaps, movies, or binging on a box set - choosing the right TV to match your content is key.
Best 55-inch TVs of 2023 at a glance:
• Best overall 55-inch TV: Samsung 55 Inch S95C 4K OLED HDR Smart TV (2023) - View at Amazon
• Best budget 55-inch TV: Hisense 55A6BGTUK (55 Inch) 4K UHD Smart TV - View at Amazon
• Best 55-inch TV with Fire TV: TCL 55CF630K 139cm (55-inch) QLED Fire TV - View at Amazon
• Best mid-budget 55-inch gaming TV: Samsung 55 Inch Q60B QLED 4K TV (2022) - View at Amazon
Shop 55" TV deals on: Amazon | John Lewis | Currys | AO | Appliances Direct
You may be wondering who the best 55-inch TVs are for. Well, for anyone who has a little less wriggle room in their home, a 40-inch TV should do the trick. But, having settled on screen size there are still a lot of decisions to make. If you're a movie buff, you'll need an ultra-high resolution 4K screen with an OLED or QLED panel to get the best out of your entertainment, not to mention Dolby or DTX sound. More casual viewers might put their money into smart functions instead, and gamers need low-latency screens with fast and variable refresh rates. Sounds like a jargon headache? No problem - we have a buyer's guide and more at the end of the article.
While it's tempting to jump straight into buying a rather large 65-inch smart TV, for us the 55-inch models hit the sweet spot. They offer plenty of connectivity options and equally stunning cinematic experiences. So, with all of those televisual delights on our collective wish lists, we've rounded up the best 55-inch 4K smart TVs available.
Best 55-inch TVs of 2023
Best overall 55-inch TV
Description
Easily one of the most technologically innovative televisions of the past few years, Samsung has
Pros
Breathtaking QD-OLED technology for even deeper colour accuracy and contrast
Fantastic gaming potential thanks to AMD FreeSync and Game Motion Plus
Brilliant for realistic sound with Object Tracking Sound, DTS-X and Dolby Atmos
Cons
So thin and light that it flexes a little, so wall mount with care
Best budget 55-inch TV
Description
Hisense is known for its incredibly reasonably priced televisions, even its high-end QLED models
Pros
Very thin bezels for a budget TV model so will be unobtrusive in any room
Vibrant and realistic colours thanks to HDR and Dolby Vision
DTS virtual X for immersive sound
Amazon Alexa built-in for voice control and home automation access
Cons
Weak speakers mean a soundbar is probably a worthy addition
Best 55-inch TV Fire TV
Description
TCL is fast becoming a go-to brand for affordable feature-packed televisions, and this 55CF630K is
Pros
A brilliant TV for Amazon Prime members with the Fire TV operating system
Very thin bezels for a budget TV model
Excellent HDR support with HDR10+ and Dolby Vision
Dolby Atmos sound for realism
Cons
60Hz non-variable refresh rate won't suit hardcore gamers
Best 55-inch OLED TV for gaming
Description
It wouldn't be a true roundup of the best televisions of the year without at least mentioning LG's
Pros
One of the best displays on the market thanks to the LD OLED panel and Dolby Vision
0.1ms response time is lightning fast for gaming accuracy
Variable 120hz refresh rate absolutely ideal for smooth game visuals
Cons
Serious gamers might want to amp up the sound with a soundbar or gaming speakers
Best mid-budget 55-inch gaming TV
Description
Samsung's Q60B is one of our favourite TVs on the market right now - not because it's the fastest,
Pros
Some fantastic gamer features to reduce input lag
Gameview mode for supporting various gaming aspect ratios
Motion Xcellerator will fill in any skipped frames for smoother gameplay
Cons
60hz refresh rate is adequate but you'll find better - for more money
Best Sony 55-inch TV
Description
With a stunning Full Array LED panel, the XR-55X90S model from Sony has the extra brightness
Pros
Fantastic Ambient Optimisation and Light Sensor Feature for easy viewing
Incredible gaming experience for PlayStation owners, including HDR tone mapping for deeper colours
Great surround sound thanks to Dolby Atmos, Multi-Audio tech that will track your listening position
Full-array LED panel is more affordable than OLED at this size
Cons
Full Array LED panels are great but not as good as OLED or QLED
Best affordable Samsung 55-inch TV
Description
One of our favourite TVs of 2023, and one of the greatest additions to Samsung's Crystal TV range
Pros
Fantastic mid-range Samsung TV with solid build quality
Great picture quality thanks to Dynamic Crystal Colour Image boost and top-of-the-line HDR10+
Alexa voice control for convenient control over your TV and more
Cons
Weaker audio than other TVs here
Best 55-inch TV for immersion
Description
Philips Ambilight is a notably exciting feature, casting an immersive coloured light from three
Pros
Gorgeous second-to-none OLED picture quality with HDR10+ for more colours
Fantastic refresh rate will suit all types of fast moving content and gaming
Great immersion through Ambilight feature to project colour-matched lighting onto your back wall
Cons
HDMI 2.0a isn't quite as good as HDMI 2.1 for 4K high refresh rate 4K gaming
Top tip: Why get smart?
If you're a casual viewer, a smart TV will give you access to on-demand services like BBC iPlayer, ITV Hub, and All 4. Therefore, you can catch up on all sitcoms, soaps, and reality TV shows. Also, if you go for a TV to connect to your Freeview aerial or even one with the Freeview Play app included, you're guaranteed to always find something to watch from terrestrial channels.
Thankfully, if by chance you're a gamer, you won't be short on choice either. As you'll discover, some of the best and most affordable gaming televisions you can find will give you an unprecedented experience. Vivid HDR colours, 120Hz variable refresh rate, the works. Silky smooth gameplay with immersive surround sound awaits.
For those who like to spend a bit more time in front of the screen, a smart TV has even more to offer. In addition to the on-demand catch-up apps and broadcast content mentioned above, there's also access to subscription services. These will pipe the latest premium entertainment, including blockbuster films, right to your screen. Don't forget, it's not just Netflix and Amazon Prime Video either, there are myriad other streaming apps and services available, too.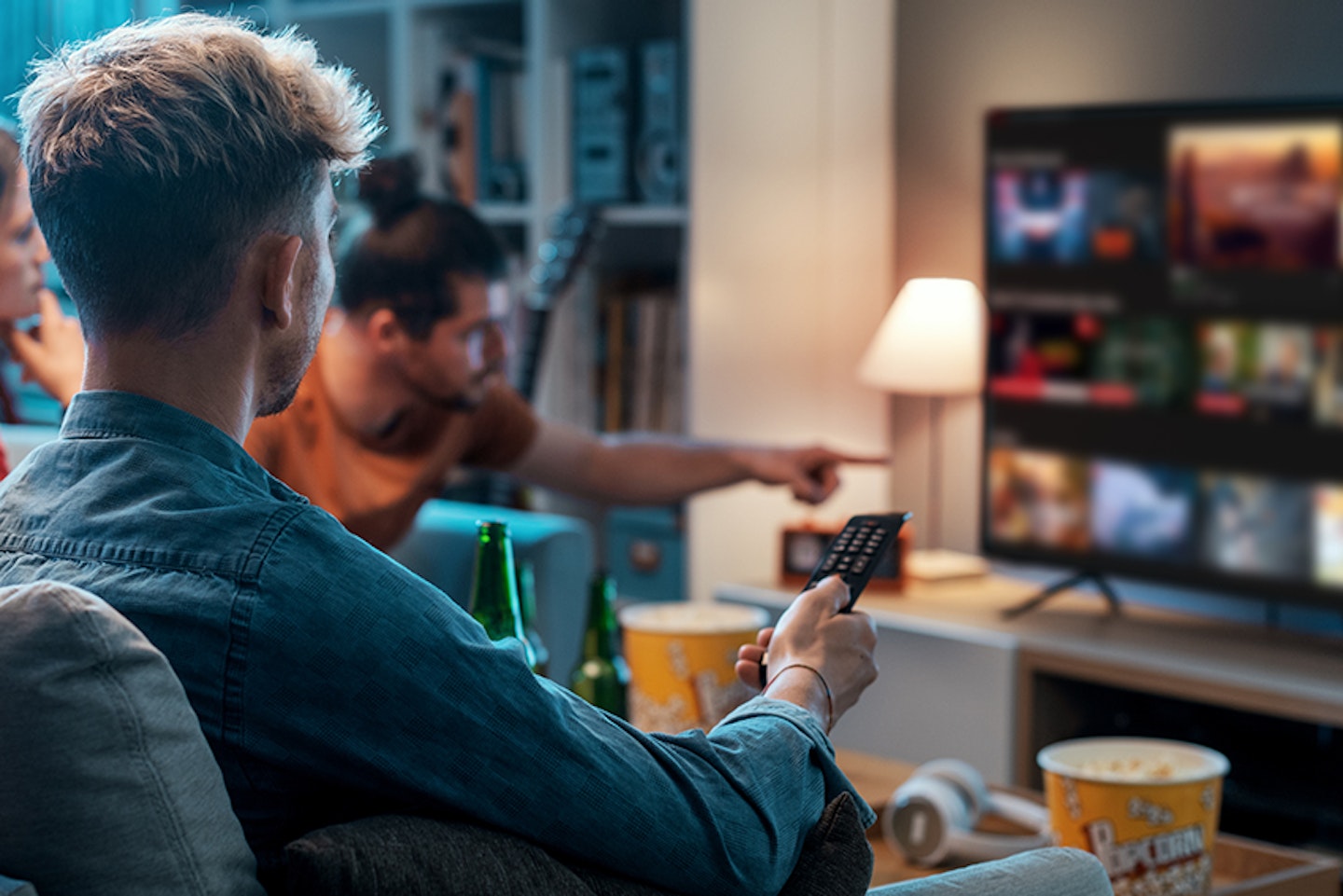 Best 55-inch TVs of 2023: Buyer's guide
If there's one type of gadget that has more than its fair share of technobabble, it's TVs. Here are the most common ones you'll come across, explained:
4K and Ultra HD (UHD)
4K and UHD are two interchangeable terms that more or less refer to the same TV resolution - 3840×2160. This pixel resolution count is four times higher than standard HD screens, with 8.3 million pixels working across the screen. This means clearer, more accurate images.
High Dynamic Range (HDR)
High Dynamic Range smart TVs can reach brighter and darker colours than regular HD TVs. This means the picture on-screen appears more like a real-life image. HDR works to get as much light, crispness, and depth into your picture. Whites are brighter and blacks are darker. It offers a huge range of over one billion colours. HDR10+ is an extension of this, but the use of extra metadata creates an even more refined picture.
Dolby Vision is Dolby's version of HDR10 and HRD10+ - once again adding a small boost to the colour range.
LED
LED stands for light-emitting diode. These LEDs react when an electrical current passes through them. LED screens use a backlight to provide the image.
OLED
With OLED TVs, the pixels produce their own light which gives greater accuracy to the image. If you're interested in this, make sure you check out our best OLED TVs guide.
QLED
Samsung does not make OLED TVs, they make QLED TVs. QLED is a Samsung property that replaces Liquid Crystals (found in LCD) and replaces them with Quantum dots, which Samsung says offers a much more vibrant colour display and sharper images. QLED technology does tend to make a TV cheaper than its OLED competitor. Make sure you take a look at our best QLED TVs roundup.
Common screen resolutions:
HD: 1280×720
Full HD: 1920×1080
Ultra HD/4K: 3840×2160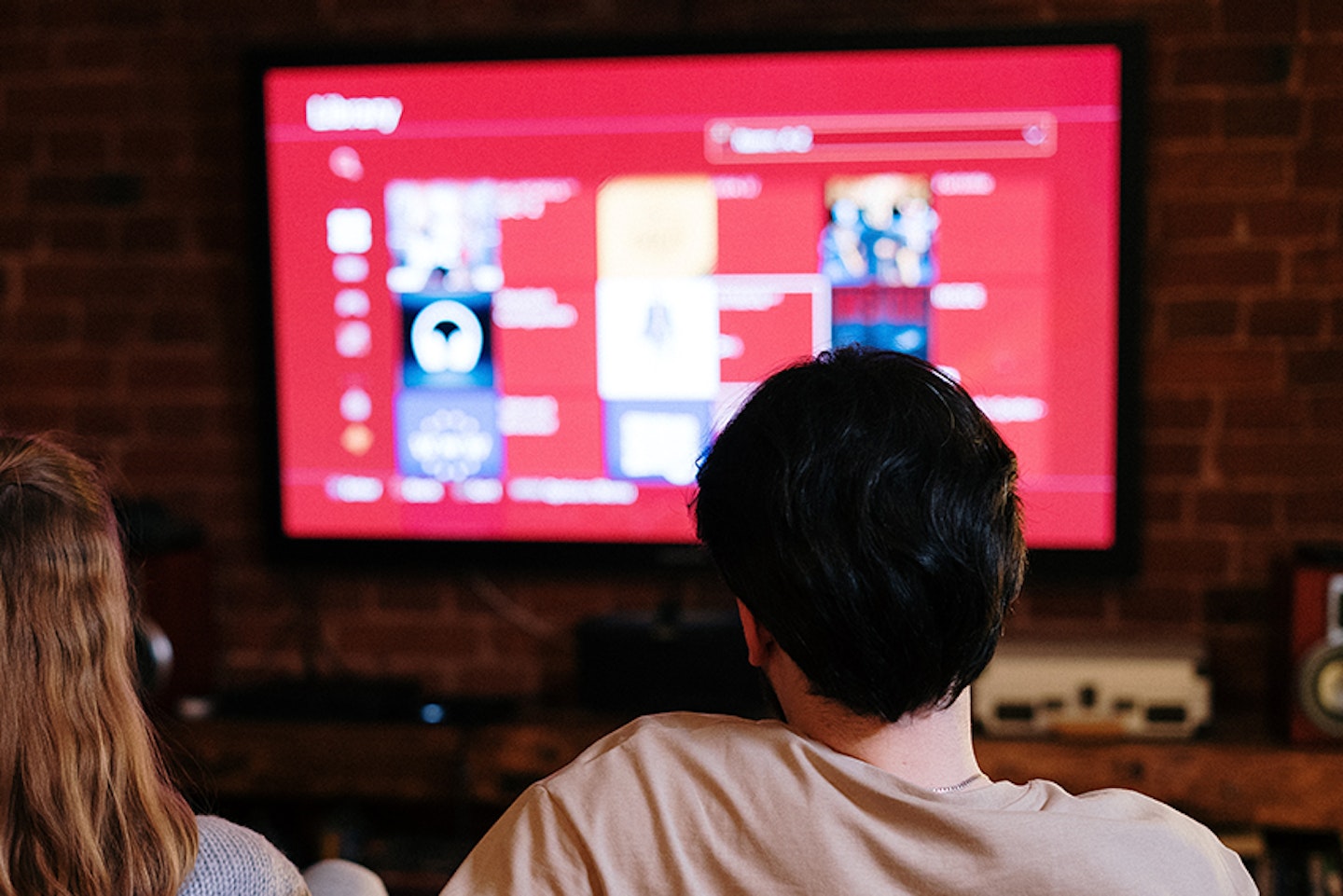 Best 55-inch TVs of 2023: Frequently asked questions:
What size TV do I need?
Only you can answer this question after balancing up your budget, requirement, and available space. However, one thing we can advise you on when it comes to watching the even best 55-inch TVs is the recommended viewing distance.
Here's a rough guide to give you an idea of the minimum distance you should have from your TV:
40-inches - 80 inches (6.7 feet)
50-inches - 100 inches (8.3 feet)
55-inches - 108 inches (9 feet)
60-inches - 120 inches (10 feet)
75-inches - 150 inches (12.5 feet)
What can a smart TV do?
A smart TV connects to the internet via a selection of on-demand catch-up apps, such as BBC iPlayer, All 4, and ITV Hub. The selection of apps pre-loaded or available to download may differ between manufacturers and models; so it's worth double-checking the model you're considering.
You can also access subscription services such as Amazon Prime Video or Netflix. Many smart TVs will also have apps for internet services, such as news, weather services, internet browsers, and social media. Music can be streamed too, such as Spotify. Some of the best 55-inch TVs also offer additional features, such as Bluetooth connectivity for wireless audio connections, and smartphone and tablet connections.
For an upgraded smart TV experience, combine your smart TV with a router VPN and you can access the catalogues of streaming services from around the world. You'll also be safer online, and less likley to have your internet speeds bottleneck by your internet service provider. Neat, right?
Is it worth buying a smart TV?
If you're someone who loves to watch TV, then a smart TV is likely to be worth it. The internet connection offers up plentiful access to free and paid-for subscription content via apps, whenever you want it.
What are the best apps for a smart TV?
In our opinion, the best apps are the ones that offer you the best entertainment choices, the most useful features, and reliable service. Therefore, here's what we recommend for your 55-inch TV :
Netflix – Access thousands of titles, both existing and original exclusive productions. The app is reliable and simple to use, and there are several subscription tiers available.
Amazon Prime Video – Prime Video often has a great selection of the latest movie releases. You can also purchase or rent other titles that may not be included in your subscription. If you subscribe to this service, you'll automatically get access to Amazon's Prime delivery service and basic music streaming package.
BBC iPlayer – This on-demand catch-up app gives you access to the best of the BBC. Programs and films are available to watch for up to 30 days after their original broadcast, and you can restart and rewind live programs. You'll also have access to a large back catalogue of BBC programming. You'll need a TV license to use this service.
All 4 – All 4 is Channel 4's answer to the BBC's iPlayer. The content included covers Channel 4, E4, More 4 and Vice TV. The back catalogue available on the app will allow you to comfortably binge on comedies, dramas, quirky documentaries, and reality shows. This is a free service, but you'll have to sit through the occasional advert break.
Other - YouTube, Spotify, and Disney+ are also three of our favourites.
For these features to work, you'll need an internet connection via WiFi or Ethernet connection with a reliable broadband connection and high-to-unlimited data limits. Apps like Netflix, Amazon Prime Video, and Spotify Premium will require a subscription fee and will not allow you to access content without signing up.
Can I listen to my smart TV with wireless headphones?
If you've got wireless Bluetooth headphones and your smart TV has Bluetooth, then the answer is yes. Just be aware that the range on the connection may be limited to a radius of a few meters, so depending on your setup, you might have to sit closer to your TV. Due to the idiosyncratic nature of some Bluetooth headphones and TVs, if you're in doubt that your planned set-up will work, check with the manufacturers.
If you plan on regularly listening to your smart TV via wireless headphones, it would be worth considering purchasing a dedicated entertainment wireless headset with a transmitter, as they tend to have a great range, with some models even accepting multiple headsets.
William Lobley is the Deputy Tech & Fitness Editor for What's The Best. Here, he oversees, curates and researches listicles and reviews as many products as his home office can handle.
He has spent nearly five years writing about tech, audio, outdoors and fitness and has reviewed everything from smartphones to ice baths. In addition, he's well-versed in sniffing out the best deals and savings the internet offers.
When not at his desk writing, reviewing or deal-hunting, he'll be relaxing with Japanese crime novels, bingeing some classic anime, strolling the countryside or at the gym listening to the heaviest metal Spotify has to offer.
Subscribe to the What's The Best Newsletter to keep up to date with more of the latest reviews and recommendations from the What's The Best team.