You owe it to yourself to choose the best headphones possible. Ask yourself the last time you left the house without headphones, and you might be stumped. The advent of easy streaming on smartphones, incredibly cheap unlimited data packages and the abundance of true wireless headphones have meant that music, podcasts, and movies on the go are readily accessible luxuries that we all take advantage of daily. With such a prevalence of audio in our lives, it's only right that we want to have the best quality experience possible.
Additionally, the prevalence of excellent headphones means we can soundtrack our lives, framing the day and our activities to fit our tastes. Working in a loud office is no longer an issue – simply slip on a set of noise-cancelling earphones, and you're in your own world. Likewise, exercise – gym-based or out in the wild – is vastly improved by a pumping playlist delivered via your bass-laden wireless earbuds.
The best headphones at a glance:
• Best headphones: Sony WH-1000XM5 - Buy now on Amazon UK
• Best earphones: Samsung Galaxy Buds2 Pro - Buy now on Amazon UK
• Best earbuds for gym: Jabra Elite 7 Active In-Ear Bluetooth Earbuds - Buy now on Amazon UK
With these little audio delights joining you in almost every area of your life, you must purchase the best headphones your budget will allow. Much like a smartphone, wallet or watch, a good set of headphones is an essential item in your daily ensemble. Because of this, you need to ensure that your new headphones deliver on all required fronts – not only in quality audio but battery life and durability. If you make the decision now, you're saving yourself a lot of headaches (and cash).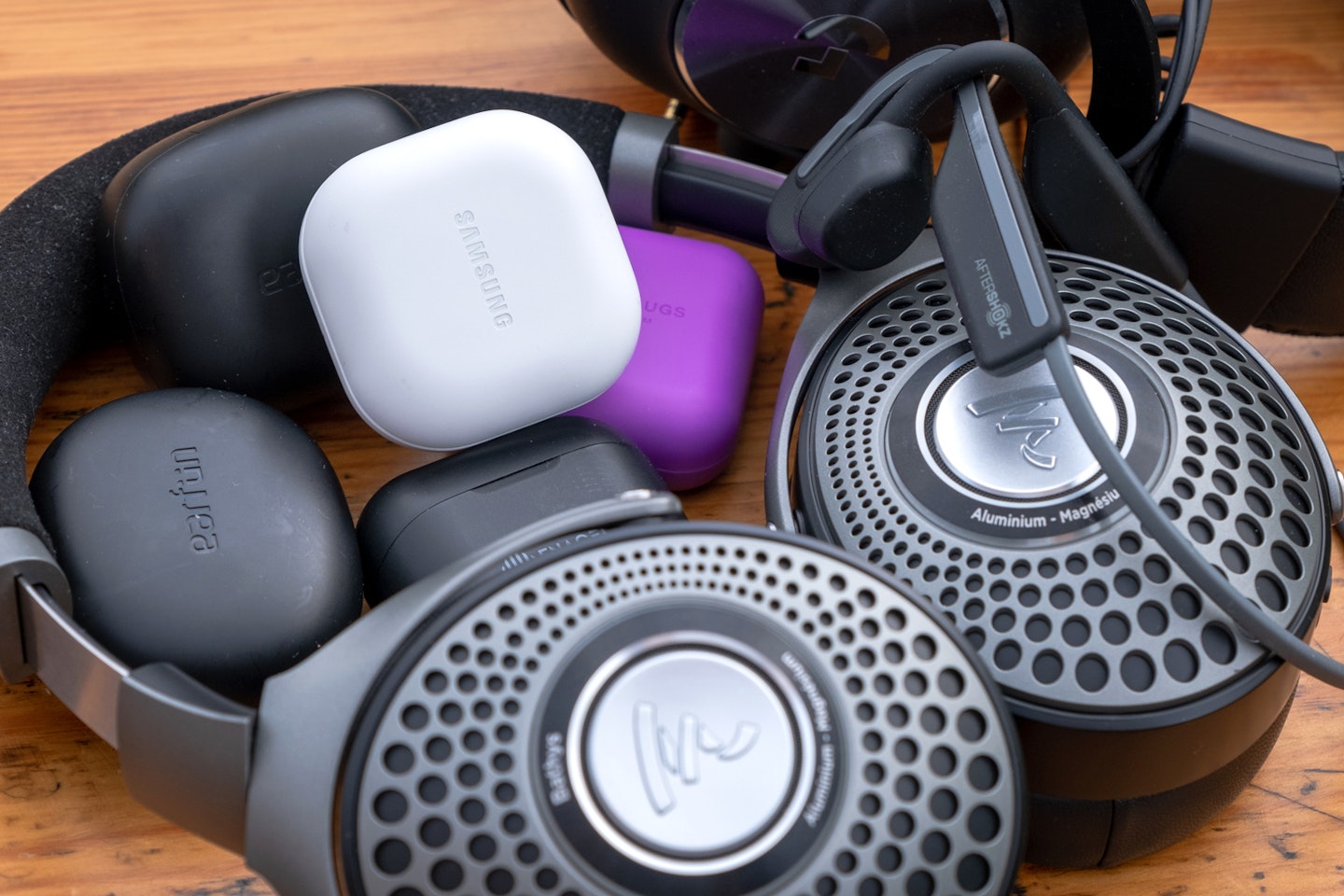 At What's The Best, we've been getting hands-on and reviewing headphones, earphones, and earbuds to see which options make the cut. Our in-house reviewers, including William Lobley, Curtis Moldrich, Ryan Gilmore and Ryan Houghton, have been trialling audio products for many years. From assessing sound quality and noise-cancelling to touch controls and battery life, our experts' headphone recommendations have all been adopted into our lives and thoroughly trailed. If we wouldn't buy it, we don't recommend it. Below, you will find the best headphones available in 2023.
The best headphones in detail:
Best over-ear headphones
Description
Score: 4.5/5
The Sony WH-1000XM5 are the latest in a lineage of best-selling, top-ranking
Pros
Brilliant audio performance
Comfortable all day long
Excellent noise cancellation
Cons
Price challenged by the XM4s
Best earbuds
Description
Score: 5/5
The Samsung Galaxy Buds2 Pro are, without question, the best in-ear headphones
Pros
Clear and energetic audio
Accomplished noise cancelling
Perfect for exercise
Cons
Not a clear enough warning before the battery runs out
Best earbuds runner-up
Description
Score: 5/5
The name behind the Walkman is still delivering the goods, even all these
Pros
Quality audio
Good noise cancelling
Good battery life
Cons
WF-1000XM5s are likely just around the corner
Best earbuds under £150
Description
Score: 5/5
Marshall has an audio pedigree that can't be faked. From Jimi Hendrix to
Pros
Excellent audio, especially for guitar-led genres
Killer aesthetics
Good touch controls
Cons
Rubbish app
So-so battery life
Best earbuds for gym
Description
Score: 4.5/5
Basically a gripper version of the Jabra Elite 7 Pro but missing the
Pros
Sounds great
Doesn't fall out
Battery lasts ages
Cons
Find my Jabra app could be better
As could noise cancellation on calls
The best audiophile headphones
Description
Score: 5/5
Focal has a reputation – it builds some of the best audio equipment available
Pros
Hi-fi quality audio on the go
Excellent ANC
Comfortable
Cons
The wired connection required for DAC is only good when set up in one location
Bold look is not for everyone
For most people, a headphone set half this price will suffice
Best headphones runner-up
Description
Score: 4/5
A former world champion, the Sony WH-1000XM4 were king of the hill until its
Pros
Great audio
Great features
Cheaper than the Sony WH-1000XM5
Cons
They aren't the Sony WH-1000XM5
A tad heavy
Best headphones under £150
Description
Score: 4/5
The Huawei FreeBuds Studio is a headphone option almost overflowing with
Pros
Precise audio
Effective ANC
Nice design
Cons
The odd connection issues
Terrible app
Best headphones for outdoor fitness
Description
Score: 4/5
Shokz – formerly known as Aftershokz – is a pioneer of bone conduction
Pros
Only 29g
Peerless situational awareness
Good battery
Cons
Open-ear design reduces audio quality
Best lightweight headphones
Description
Score: 4.5/5
Typically, bigger and heavier headphones are considered the place to head
Pros
Comfortable for long periods
Affordable
Good sound
Cons
The WF-1000XM4 sound better
Best lightweight earbud runner-up
Description
Score: 4/5
These are tiny earphones – they weigh in at just 3.7g. Somehow 1MORE has
Pros
Comfortable for long periods
Good battery life
Good sound quality
Best gaming headphones
Description
Score: 4.5/5
Three years since release and the Logitech Pro X LIGHTSPEED headset is still
Pros
Reliable sound
Excellent durability
Mature design
Cons
Noise cancelling on the mic isn't the strongest
What to look for when buying headphones
While we've ranked the best headphones above, this doesn't mean that every single pair is going to be right for you. It all depends on what you want to use your new headphones for. Here are a few pointers for common uses that we like to consider when looking at headphones:
Exercise
Probably the most demanding task to put your headphones through. They've got to be comfortable and firmly fitted, sweat-resistant and carry some touch controls for easy pause/play. Not only that, but the sound quality must pump you up, and some noise cancelling will help silence other gym-goers and help you lock into the session.
If you're an outdoor runner or cyclist, you'll need to consider a few more things – most notably situational awareness to help keep yourself and others safe. Hear-through features or open-ear designs are best here, along with increased water resistance in case you get caught in a downpour.
Office and commuting
For office work and commuting, you'll need headphones with good battery life and competent noise cancelling. In case the battery does run low, quick recharging is a welcome feature too – usually supplied by USB-C.
Think about additional features that might be of use too. Lift-to-speak, which pauses music when you lift an earcup, or tap-to-pause, which instantly pauses music, will help you have quick conversations with those around you, or listen to platform announcements.
Entertainment
Whether you're on the train, in the office or resting in your front room, if you want to use your headphones for entertainment, there are some things to look out for. A low-latency, high-quality Bluetooth connection will make sure that audio is in sync with what's happening on screen, while a good surround-sound simulation will provide you with a 360-degree audio experience, immersing you in the action. This is all true whether you are gaming or streaming a TV show to your smartphone.
Earbuds, earphones and headphones: What's the difference?
Though the term 'headphones' is widely used as a catch-all for all head-based audio gadgets, there are technical differences between headphones, earbuds and earphones.
Headphones are the largest of the three – they are the ones that sit over your ears, connected by the over-head band – the Sony WH-1000XM5 is an example of headphones. Earphones sit in the ear and have a protruding stalk, like the Apple AirPods. Earbuds are the smallest of the three, sitting in the ear and using the ear's anatomy to hold itself in place – the Samsung Galaxy Buds2 Pro are earbuds.
Audio jargon buster
True Wireless
Ture wireless refers to earphones that are not connected with wires, in addition to offering a wireless connection to the audio device. Most wireless earphones and earbuds are true wireless.
Latency
Latency is the delay that occurs between an audio event happening on a device and the time it takes to transmit to your headphones and be played so you can hear it. The smaller the latency, the better – especially when you are watching entertainment where audio and image need to be synchronised. Latency is measured in milliseconds – MS.
Bluetooth
Bluetooth is a wireless connection method that allows devices within a given proximity to communicate. There are different generations of Bluetooth connection available, with each new iteration offering quicker and more reliable connections. Currently, we consider Bluetooth 5.0 and above to be a great choice.
Noise cancelling and ANC
As the name suggests, noise-cancelling is a feature built into some headphones and earphones to reduce ambient surround from the surrounding area, like people chatting in cafes or traffic on the walk to work.
A microphone in the headset listens to the surroundings and creates a soundwave which is the exact opposite and sends it through with audio content, cancelling the noise out without the listener even noticing. Noise-cancelling can often be toggled on and off for personal preference and safety reasons.
ANC is an abbreviation of Active Noise Cancelling, another phrase used to describe the above process.
Drivers
A driver is a device inside an audio speaker, be it a headphone or external speaker, that converts an electrical signal into sound. Larger drivers tend to be able to deliver a more powerful sound with greater accuracy. Drivers are talked about in terms of their diameter, which is measured in millimetres.
Earphones and earbuds tend to have drivers between 8mm and 15mm, while headphones have drivers between the size of 20mm and 50mm. It used to be the case that this difference in size resulted in superior audio from headphones, but increasingly earbuds and earphones are overtaking their larger cousins.
Frequency response
Frequency response measures the audible frequencies a driver can produce. 20Hz - 20KHz is ideal, as it matches the average human audio spectrum. Anything over and above this range is a good indicator of a quality driver, though the lowest and highest frequencies will likely go unheard.
William Lobley is a Deputy Editor and reviewer for What's The Best, specialising in technology, gaming, and outdoors. He also writes for Empire Online.
Subscribe to the What's The Best Newsletter to keep up to date with more of the latest reviews and recommendations from the rest of the What's The Best team.