Sony headphones hit all price ranges and feature sets, and there is a huge range available. If you're looking for a new set of headphones and Sony is your brand of choice, it can be really difficult to know which to go for.
Among the available Sony headphones, some models place a focus on a specific need or activity. Some are dedicated to sports, providing a personal soundtrack for workouts, through to those that are focussed on delivering excellent entertainment audio when streaming the latest movies and TV shows. And, of course, there are more generalised options that are suitable for daily use at home, in the office or when commuting.
To help you cut through to the good stuff, we've rounded up the best Sony headphones down below. To mix things up, we've also mixed in the best Sony earbuds, offering a low-profile, often more affordable, alternative to the larger headphone options.
The best Sony Headphones at a glance:
• Best Sony headphones: Sony WH-1000XM5 - Buy now on Amazon UK
• Best Sony earbuds: Sony WF-1000XM4 - Buy now on Amazon UK
• Best budget Sony headphones: Sony WH-CH710N - Buy now on Amazon UK
• Best gaming Sony headset: Sony PULSE 3D - Buy now on Amazon UK
Here at What's The Best, we've been testing headphones since day one. That means we've had Sony audio in our rotation for a number of years, with our tech and audio writers getting hands-on and testing the headphones and earbuds. Whether it's Curtis Moldrich side-by-side testing Sony's WF and WH ranges, or William Lobley putting Sony's PULSE 3D through its paces on PS5, we've got a steady eye on what Sony is releasing.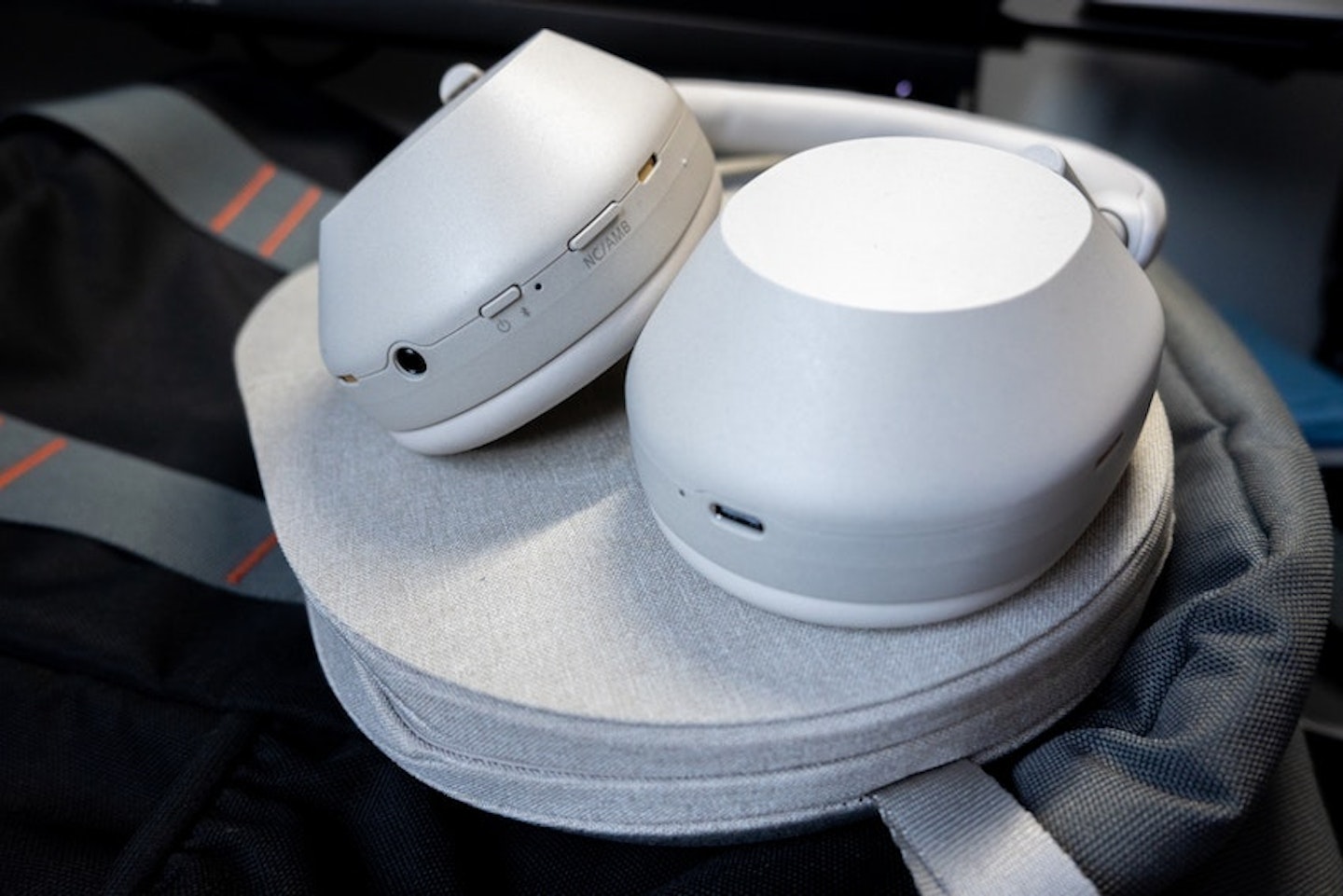 The best Sony headphones in 2023:
Best Sony on-ear headphones
Description
The latest instalment of the Sony WH-1000XM range is a belter. Upping the game from the
Pros
Near-flawless audio
Comfort
Adept noise cancellation
Cons
Price is challenged by the WH-1000XM4
Best Sony in-ear headphones
Description
The WF-1000XM4 is a class-leading offering. In our review, we praised the audio performance for
Pros
Excellent audio
Versatile
Comfortable
Best budget on-ear Sony headphones
Description
The WH-CH710N is a top choice for those looking for some Sony action without spending upwards of
Pros
Good price
Solid sound
Reliable performance
Best budget in-ear Sony headphones
Description
The Sony LinkBuds S offer up a chance to get a pair of excellent Sony earbuds without having to
Pros
Comfortable for long periods
Affordable
Good sound
Cons
The WF-1000XM4 sound better
Best Sony headphones for gaming
Description
When we reviewed the PULSE 3D, we found that the audio gaming experience is as good as you can
Pros
Great audio
Affordable
Great sense of space
Cons
Rubber head strap can be uncomfortable
Best Sony headphones with features
Description
The Sony WH-1000XM4 was once the cream of the crop. The detailed audio is full of life and
Pros
Excellent audio
Great features
Nice battery length
Cons
Just beaten on every front by the WH-1000XM5
Advice for buying Sony headphones
Look for specific features that apply to your intended use. Modern headphones are home to a myriad of fancy features and technological additions. While this is all pretty exciting, they might not apply to your situation - knowing what you do and don't need from your new Sony headphones can save you a pretty penny.
If you're looking for some headphones to listen to music in your home, then audio quality is going to trump features like noise-cancellation and super-long battery lives. Similarly, if you're looking for some headphones for workouts, IPX water resistance is going to be something to keep in mind, as this resistance helps your new headphones fend off sweat. Plus, waterproof headphones are always a handy design to have.
Size and weight are other considerations, especially for on-ear headphones. These headphones tend to be quite large, and the weight is carried y the top of the head. If you're listening to music all day, this weight may annoy, irritate the scalp and trigger headaches. Such headphones are also not great for working out - they get very sweaty and a tad gross.
Finally, consider how you are going to be listening to the headphones. Wireless technology is found everywhere, with Bluetooth quickly becoming the most popular method for connecting headphones and listening devices. However, if you're at a computer, you may prefer a wired connection - some on-ear Sony headphones have a 3.5mm jack, allowing you to plug in whenever you like. Alternatively, if you have multiple devices, such as a smartphone and laptop, some Sony headphones allow you to connect to two devices at the same time.
A buyer's guide to headphone features: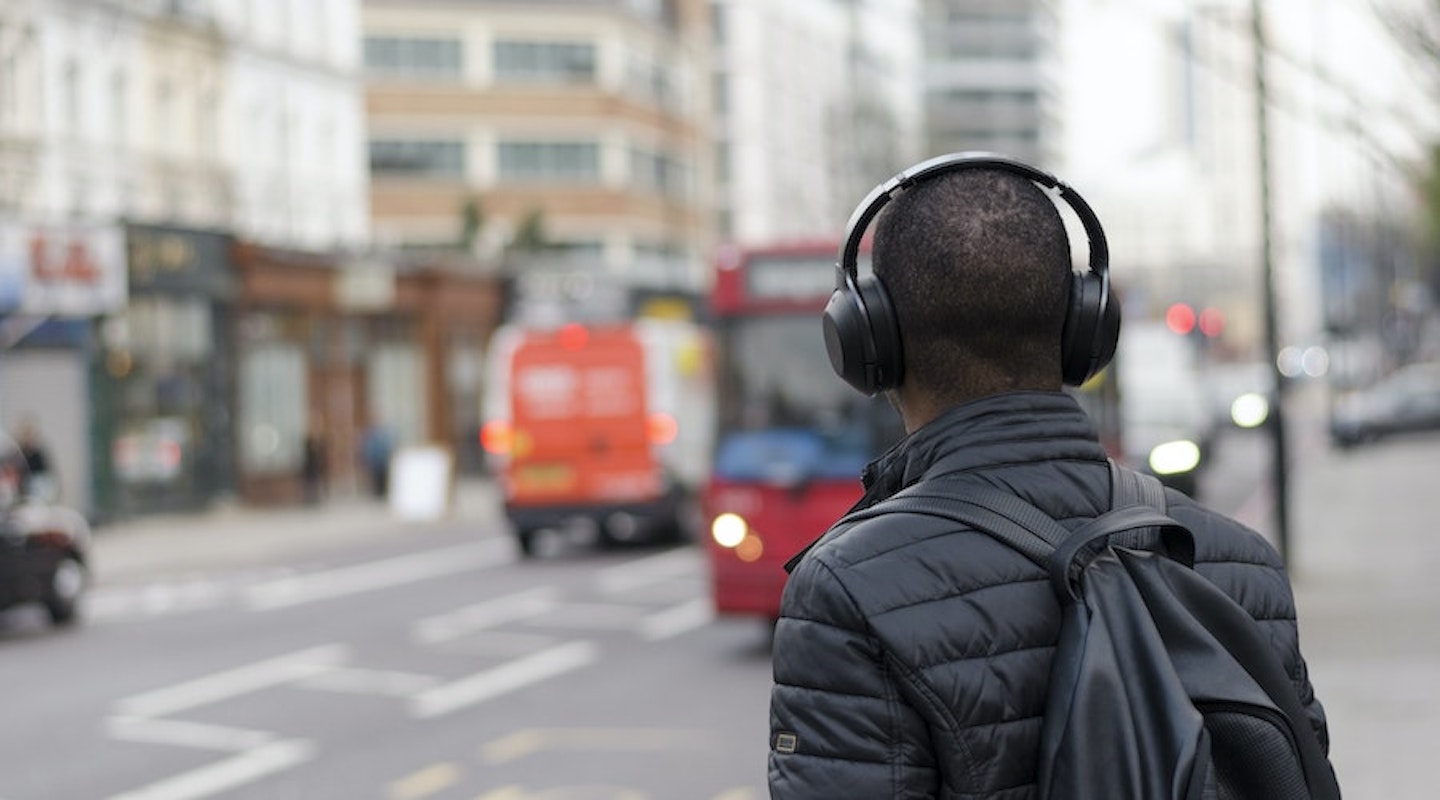 What is noise-cancelling and how does it work?
Noise-cancelling is a feature that reduces ambient noise from the surrounding area like people chatting in cafes or traffic on the walk to work. It lets you focus on what you're listening to without having to resort to turning the volume up.
But how does it work? A microphone in the headset listens to the surroundings and creates a sound wave which is the exact opposite and sends it through with audio content, cancelling the noise out without the listener even noticing. Noise-cancelling can often be toggled on and off for personal preference and safety reasons.
What is a driver?
A driver is a device inside an audio speaker that converts an electrical signal into sound. Larger drivers tend to be able to deliver a more powerful sound with greater accuracy. Drivers are talked about in terms of their diameter, which is measured in millimetres.
Earphones tend to have drivers between 8mm and 15mm, while headphones have drivers between the size of 20mm and 50mm - this is why headphones tend to deliver richer sound quality than their in-ear cousins.
What are bass, midrange and treble?
Bass, midrange and treble are sometimes referred to as lows, mids and highs. These terms refer to the different sound frequencies found in audio.
Bass, or low, is the boomier sections of sound, the frequencies that people can most often 'feel' - bass drums are an example of low frequencies. Without bass, the audio sounds very empty and 'tinny'. Too much bass and music can sound rumbly, overpowering and woolly.
Midrange, or mid, is all the stuff that happens in the middle - guitars, vocals and speech. Balancing this with bass brings audio to life. If you struggle to hear vocals in music or conversation in podcasts, boosting the midrange can bring these out for you without having to play with volume.
Treble, or highs (hi), is the high frequency. These are important for picking out details in audio, but if they are too high they can annoy and be painful to listeners.
William Lobley is a Deputy Editor and reviewer for What's The Best, specialising in technology and the outdoors. He also writes for Empire Online.
Subscribe to the What's The Best Newsletter to keep up to date with more of the latest reviews and recommendations from the rest of the What's The Best team.