More and more bicycle and motorbike riders are using some form of action camera as they ride, and for good reason.
For those who like to tour in picturesque locations, helmet-mounted cameras provide a reliable and easy way of capturing incredible scenery. Racers and track day enthusiasts will be able to document their rides and personal best times in full, undeniable clarity ready for posting online and boasting amongst friends. Whatever you riding preference, the protection a camera offers against unfair blame in an unfortunate accident provides an undeniable and unmissable peace of mind.
Related: The best motorcycle sat nav | The best action cameras
Remember, it's vital you have a comprehensive range of security and safety equipment for your bicycle or motorbike journey, whether it's a long tour across Europe or a quick trip to the local shops, and a helmet camera plays an increasingly important role. If you're looking to upgrading your range of motorcycle kit even further, a sat nav will be the cherry on the cake for you.
Best helmet camera shortlist:
• GoPro HERO8
• DJI Osmo Action
• Victure AC940
• Sena PT10-10
• Apeman A77
• Drift Ghost XL
• Sena 10C Evo
Pros and cons of helmet cameras:
Pros:
• Provides fun self-indulgence in watching playbacks and improving riding techniques
• The best means of documenting accidents and incidents
• Easy way to capture scenic views
• A visual deterrent for bad-mannered road users
Cons:
• Can be pricey for a feature-packed camera plus accessories
As you can see, a camera for your helmet is far more of a plus point than a negative. We've hand-picked some of the best helmet cameras to help you find the right one for you:
The best helmet cameras:
Top helmet cameras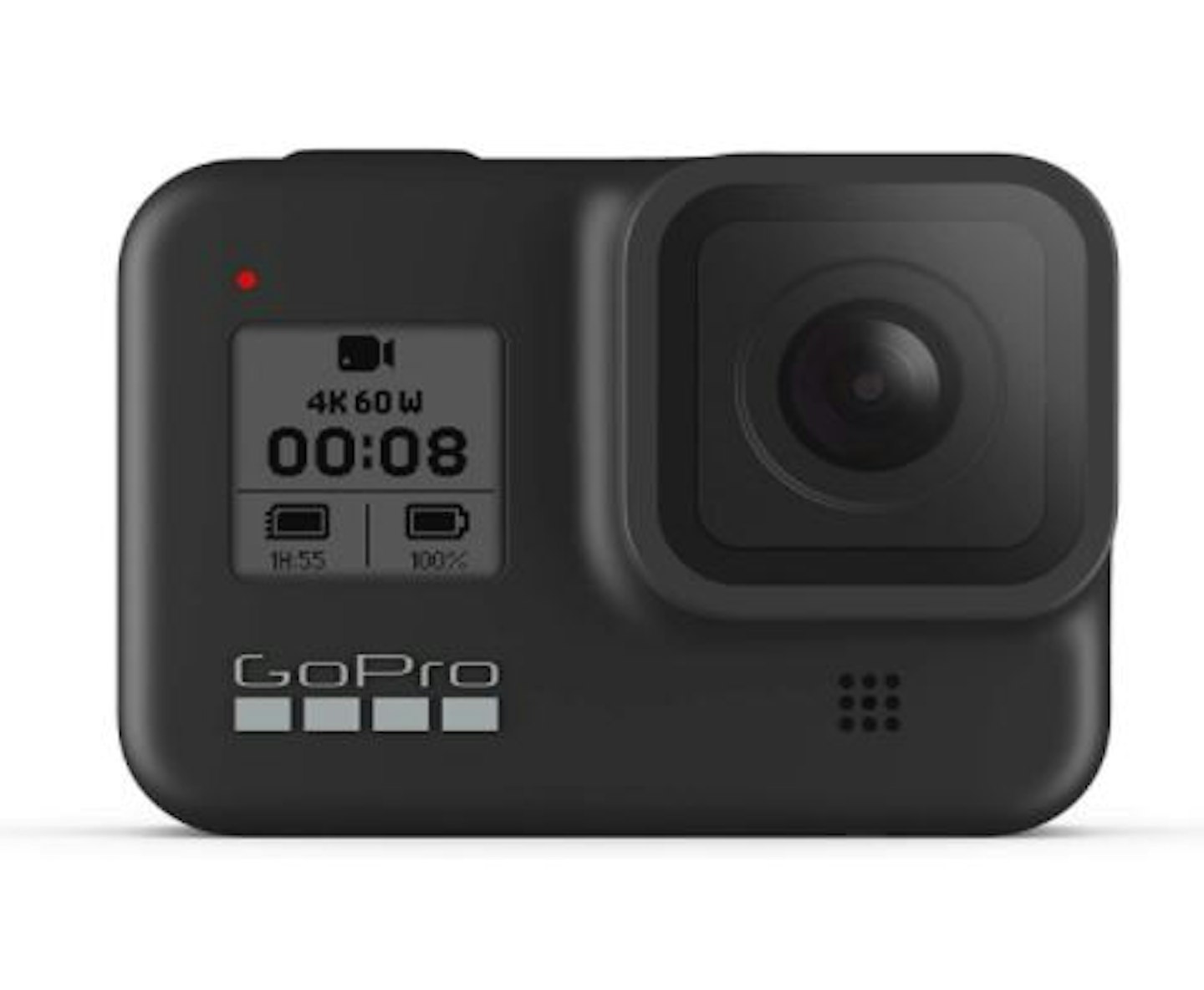 1 of 7
GoPro HERO8
The GoPro brand has become synonymous with action cameras in the way that Hoover is with vacuum cleaners or Jacuzzi is with hot-tubs. Its HERO8 is a well-built, durable, 4K Ultra HD camera that can be easily mounted to a motorcycle helmet, or bike. It features voice control, is fully waterproof (up to 10m) and includes advanced HyperSmooth 2.0 video stabilisation - to ensure you capture the best quality footage whilst riding. With built-in GPS, you can track your speed, distance and more and then add performance stickers to your videos with the GoPro app before you upload your video.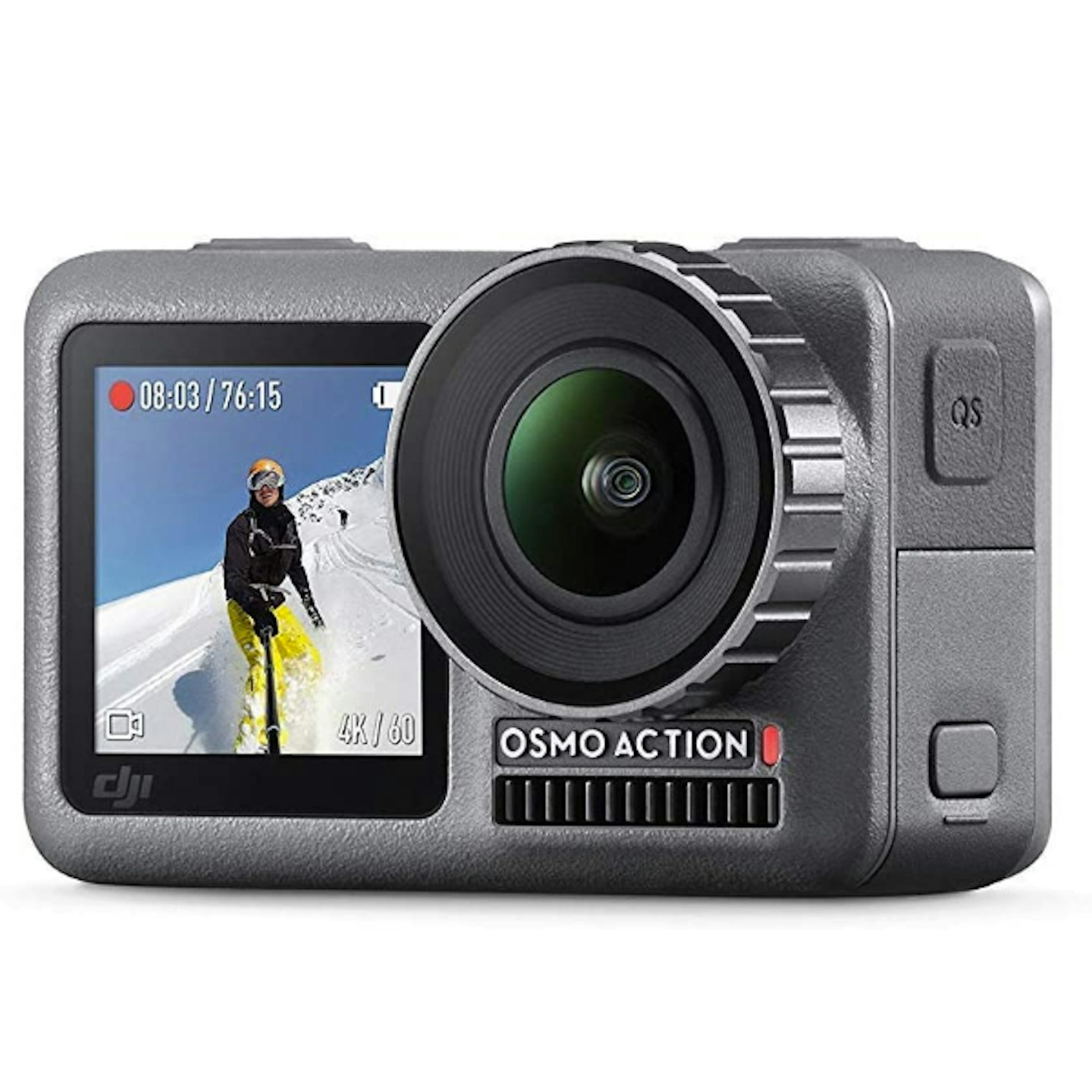 2 of 7
DJI Osmo Action
Drone pioneer DJI has turned its hand to action cams with the Osmo Action 4K camera, and with brilliant success. The Osmo's construction is solid, and the extra efforts that DJI has put in to protect the camera from dust, abrasion damage, water, and oil are very welcome – especially for all cyclists. This negates the need for a bulky external case. The double display screen is also helpful for checking footage form any mounting position. Internally, DJI has covered all bases to ensure flawless footage capture, including: RockSteady image stabilisation, 4K HDR, slow motion, custom exposure, timed shooting, voice control, and more. You can read our full hands-on review of the DJI Osmo Action camera now.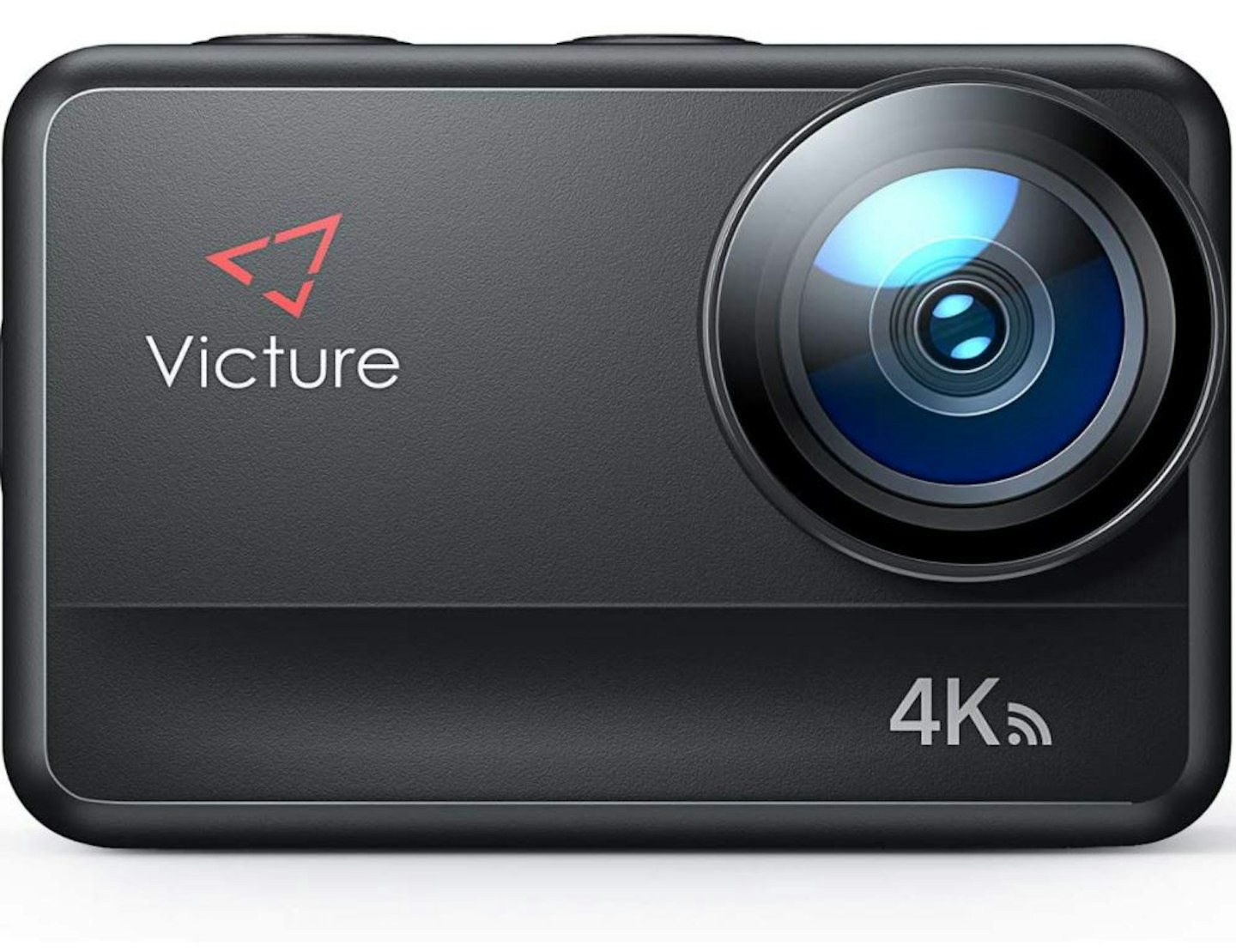 3 of 7
Victure AC940
Victure's AC940 action cam is a remarkably good camera, posing an affordable threat to the bigger names in this list.The AC940 can be recorded at 4K resolution with 60fps and is reinforced by the anti-shake image stabilisation features to create steady and smooth footage. The touchscreen facilitates quick and easy menu navigation. With the correct mounting option and case, the AC940 makes a great biker cam, especially for those who are new to the concept and are looking to test the waters without investing in the higher level tech.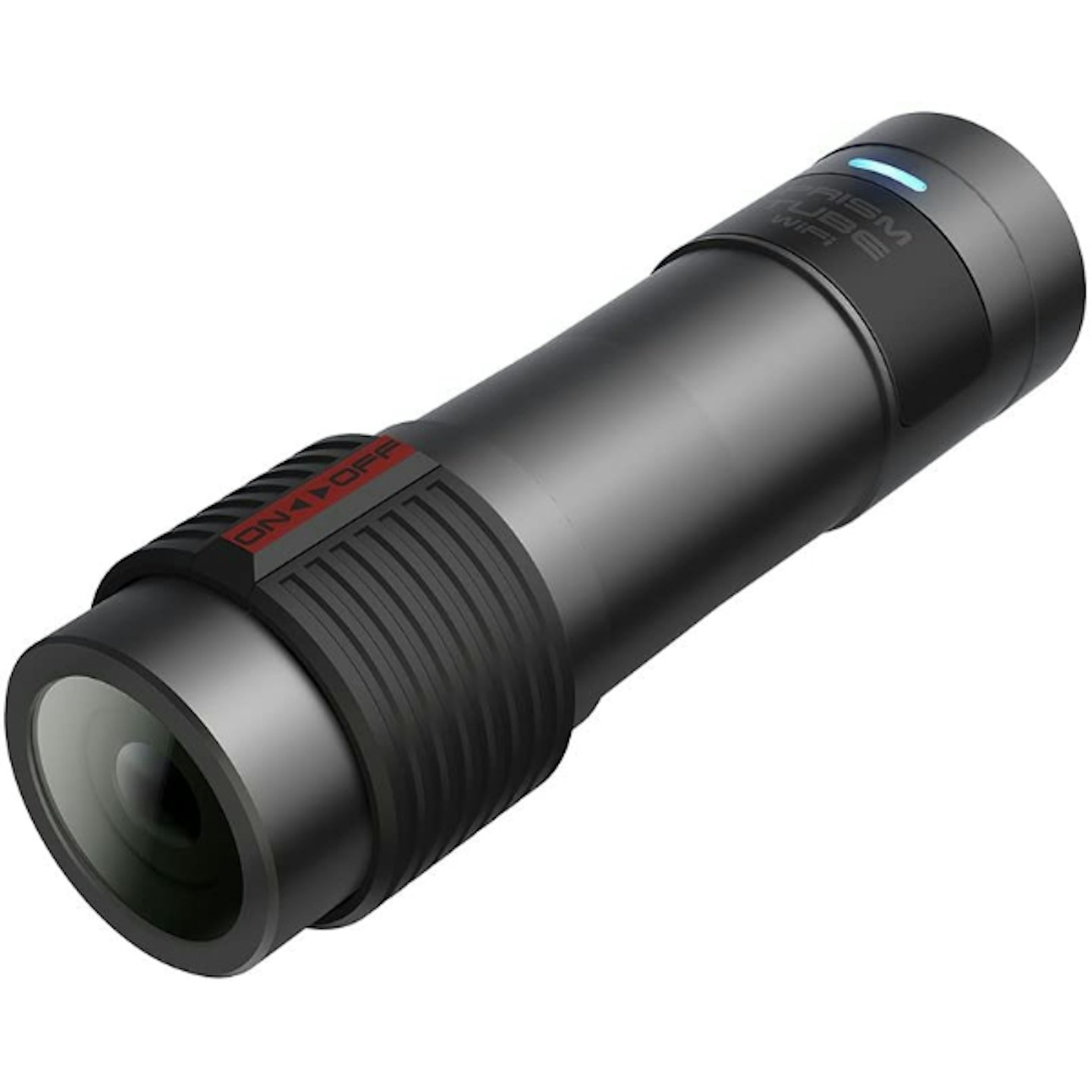 4 of 7
Sena PT10-10 Prism Tube Action Camera For Motorcycle Helmet
The Sena Prism Tube is designed for use with motorcycles and mounts onto the side of a helmet to capture footage from the rider's perspective. Footage is shot in high-quality 2K resolution at 30fps, while audio is recorded via a dual mic arrangement which limits wind and ambient noise. The Prism Tube offers a 125-degree field of view, ensuring that all the occurs on the road ahead is captured. The camera view can be previewed from a smartphone app. The Sena Tube Prism is a great camera, ideal for those looking for a little extra protection while riding the streets. It's not flashy like DJI or GoPro, but it gets the job done admirably.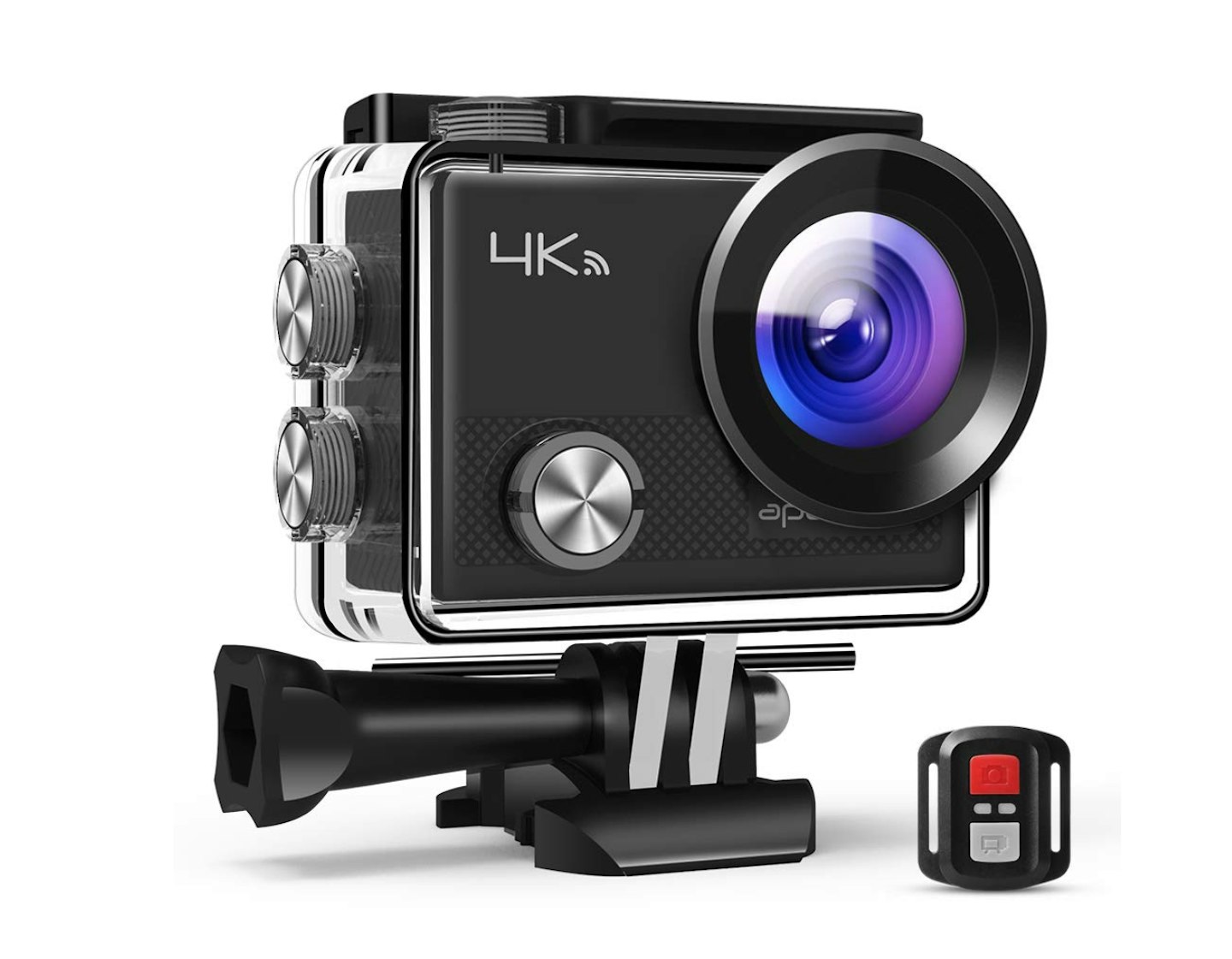 5 of 7
4K Action Sports Camera
This very popular camera is also a waterproof camcorder, a wireless 2.4GHZ remote control, WiFi, a 170-degree Ultra HD wide-angle lens, a two-inch LCD screen, two rechargeable batteries and a kit of 19 accessories.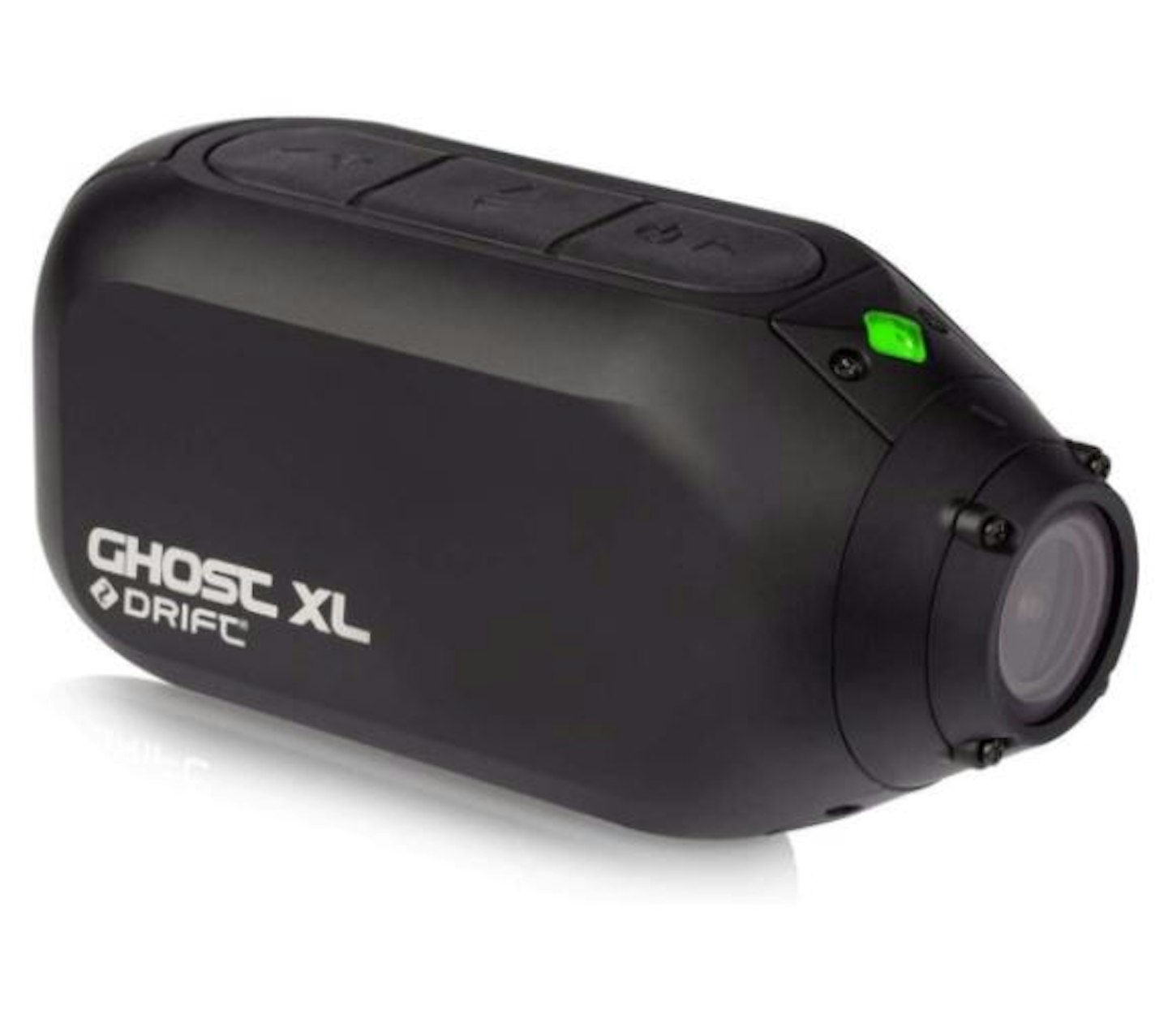 6 of 7
Drift Ghost XL
This value for money aerodynamic mountable camera is capable of recording full HD 1080p. Other features include impressive nine-hour battery life, IPX7 waterproof rating, 330-degree rotating lens, Bluetooth connectivity, and external microphone compatibility.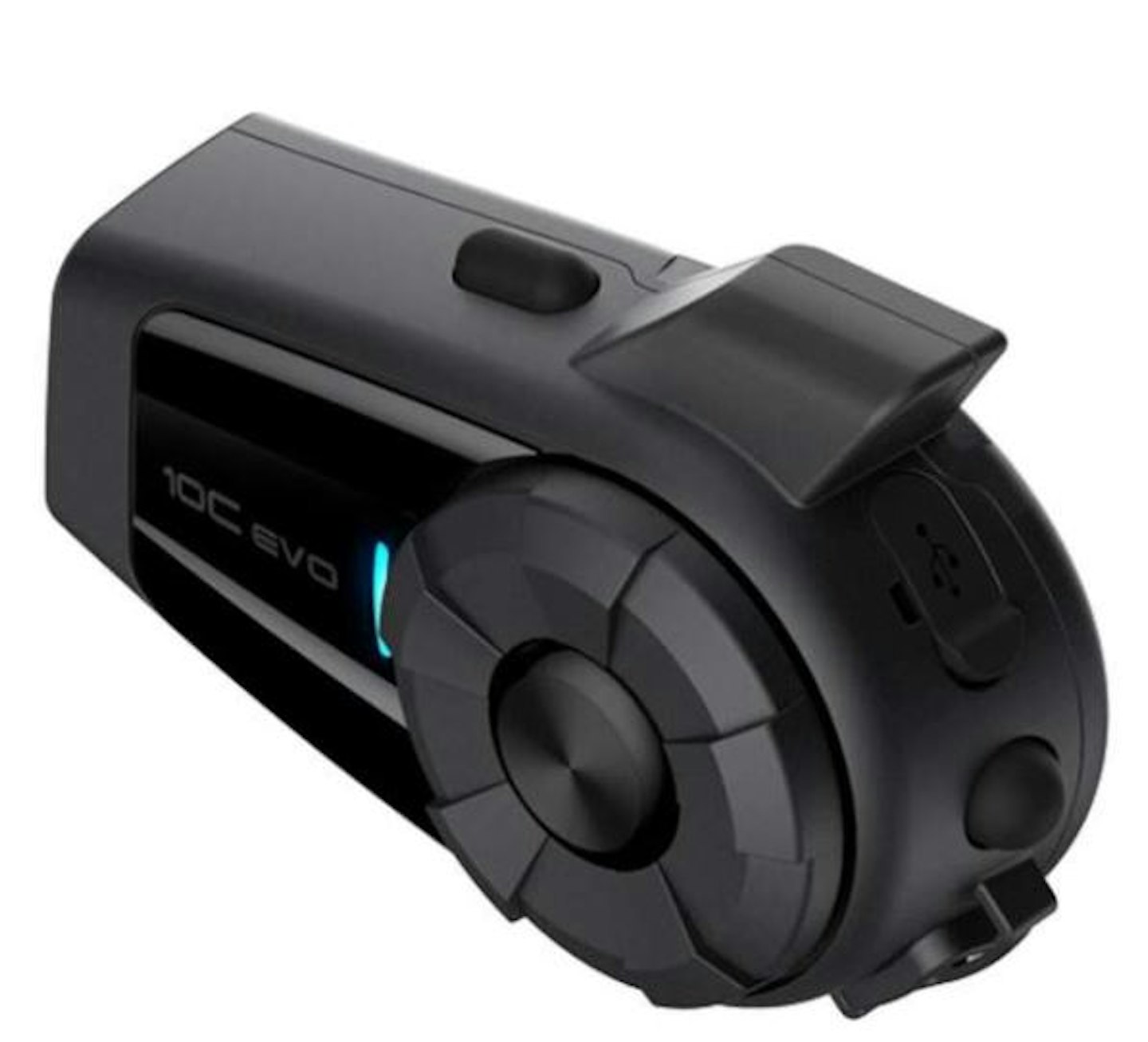 7 of 7
Sena 10c Evo
A very impressive piece of kit. The Sena 10C Evo is on the higher end of some people's budgets, but with good reason. This camera is not only capable of UHD video and 1.5 hours recording time, but also allows you to listen to FM radio or connect your smartphone to it and listen to your own music whilst riding. What's more, this kit can also be paired directly with a sat-nav for audible instructions whilst riding - to help reduce distraction. There are so many more features packed into this thing.So, not only is it a way to record video footage whilst riding, but it also offers a whole new way to enjoy your trip.
Related: The best dash cams | The best budget dash cams
FAQs - What to look for when buying helmet cameras
What quality footage do I need and why?
You'll need a minimum of 720p, but in today's marketplace there really is little reason to drop below Full-HD 1080p.
If you're looking at a helmet cam for security, safety and insurance reasons, the image quality needs to be good enough to show captured events clearly. If you're looking to make a claim you'll need to be able to show number plates, drivers faces and road conditions in detail. 720p is low-end of the HD standard, so 1080p is preferable as the increased definition allows you to zoom and capture still in far greater detail.
If you're looking to combine the above concerns with track day recording and landscape capture, then 1080p will do the job, but 4K is going to give you absolutely incredible footage.
What is FPS and why does it matter?
Frames Per Second, or FPS, is important.
Think of video footage as a series of photographs. A camera capturing footage at 30 FPS is taking 30 pictures per second, at 60 FPS it'll be 60 photos, and so on. The more frames you can snap, the smoother the footage will be.
Low frame rates result in jittery, stuttering and unclear footage. When making a claim, you may need to slow down footage. Having more frames will make this process far easier, allowing you to have greater accuracy over still-image capture and reporting of events.
The only downside to higher frame rates is that captured footage takes up more internal camera memory.
30 FPS is the minimum, but aim higher where possible.
What to read next:
The best electric bike under £500, according to real reviews
Jim Blackstock is the Commissioning Editor for MCNand an expert in motorcycle product testing, helping our readers know what products offer good value and why.
Subscribe to the What's The Best Newsletter to keep up to date with more of the latest reviews and recommendations from the What's The Best team.