The best action cameras are a feat of modern technology. Small, powerful and capable of fitting in your pocket, they're often waterproof and dustproof, plus capable of taking a few knocks as well. Throw in the ability to capture crisp footage, and it's no surprise action cameras are frequently used for capturing extreme sports such as surfing, skating or cycling. I guess this answers your question; how does an action camera differ from other cameras? They are truly revolutionary.
Rewind a few years, and GoPro would be your only real option – but now there are hundreds of action cameras on the market, from brands such as Osmo, Sony and Insta360.
Related: The best cheap DSLR cameras with super high resolutions
What is an action camera?
The best budget action cameras are built to take an absolute beating from all kinds of elements.
So whether you want to record the pure shores as you catch a gnarly wave or scale the face of a rocky cliff, an action camera is the only serious choice for recording your adventures.
What to look for in an action camera?
The first features of an action camera include recording resolution and whether it can film in 4K or Full HD. Some models are fully sealed, while others require a separate casing to withstand the elements. You may also want to know whether they can shoot stills and what size they are.
So, which action cameras should you be considering in 2021? From beginner to advanced photographers, here's our list of the best action cameras you can buy right now:
Best action digital cameras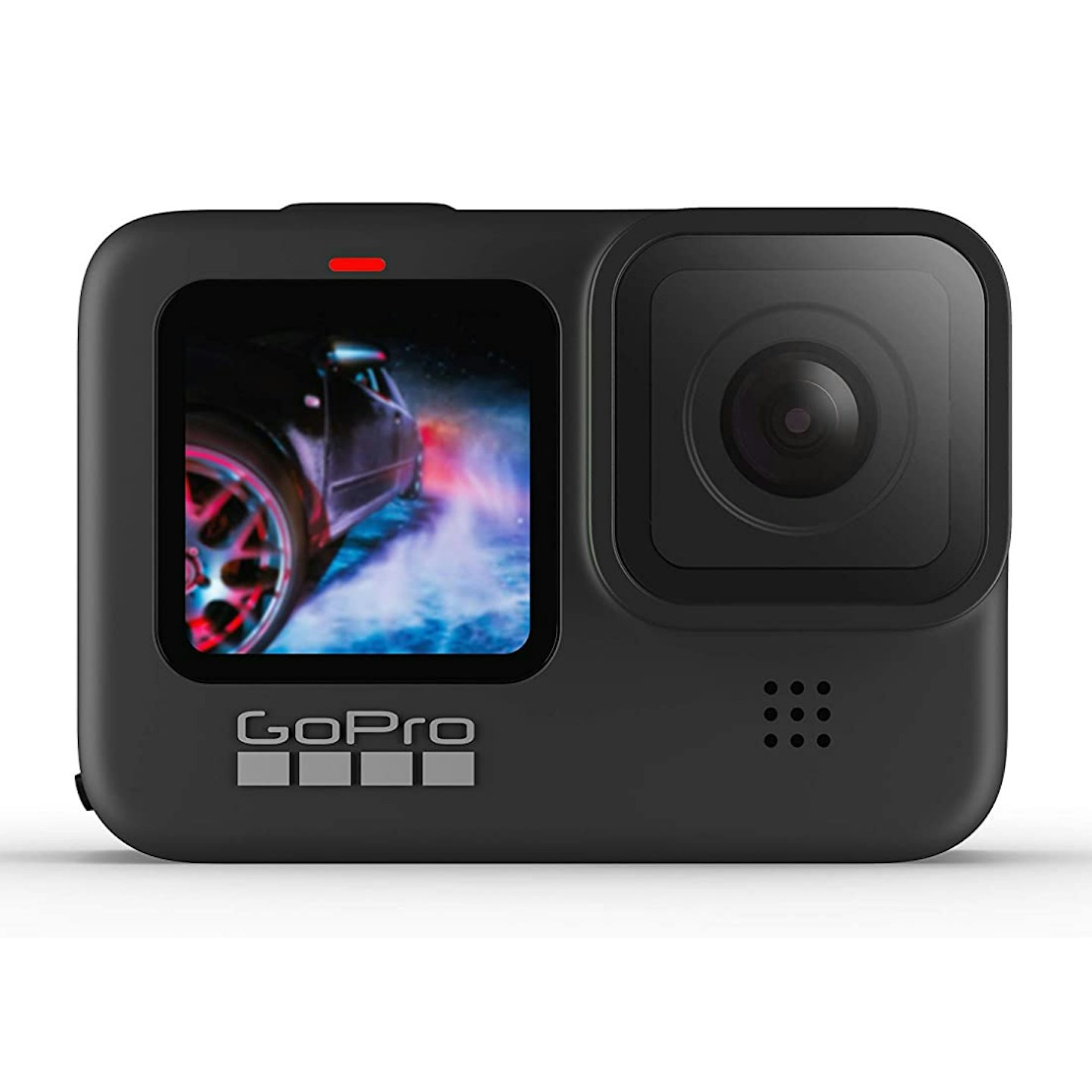 1 of 9
GoPro HERO 9 Black - Waterproof Action Camera
GoPro is to action cameras what Hoover is to vacuum cleaners, and the new Hero 9 is the brand's latest flagship. The improvements over the Hero 8 are incremental, but they add up; the 9 is bursting with features, including punchy-looking 5K and the latest generation of its class leading HyperSmooth 3.0. New stabilization tech can even keep the horizon perfectly level – adding another dimension to your footage. Because it's a GoPro, the Hero 9 is compatible with most mounts out there, and there's a range of third-party equipment on offer too. Throw in a front and rear screen for selfie-based content, as well as good battery life, optional cloud storage and an intuitive app – and the GoPro Hero 9 remains one of the best action cameras you can buy in 2021. ProsHyperSmooth 3.0 stabilization techFront and rear screenGood battery lifeConsBetter suited to bright weatherNo 4K/120p modeSpecSize: 71 x 55 x 34mmWeight: 158gCamera: 20MPBattery: 101 minutes when filming in 1080pCard type: microSD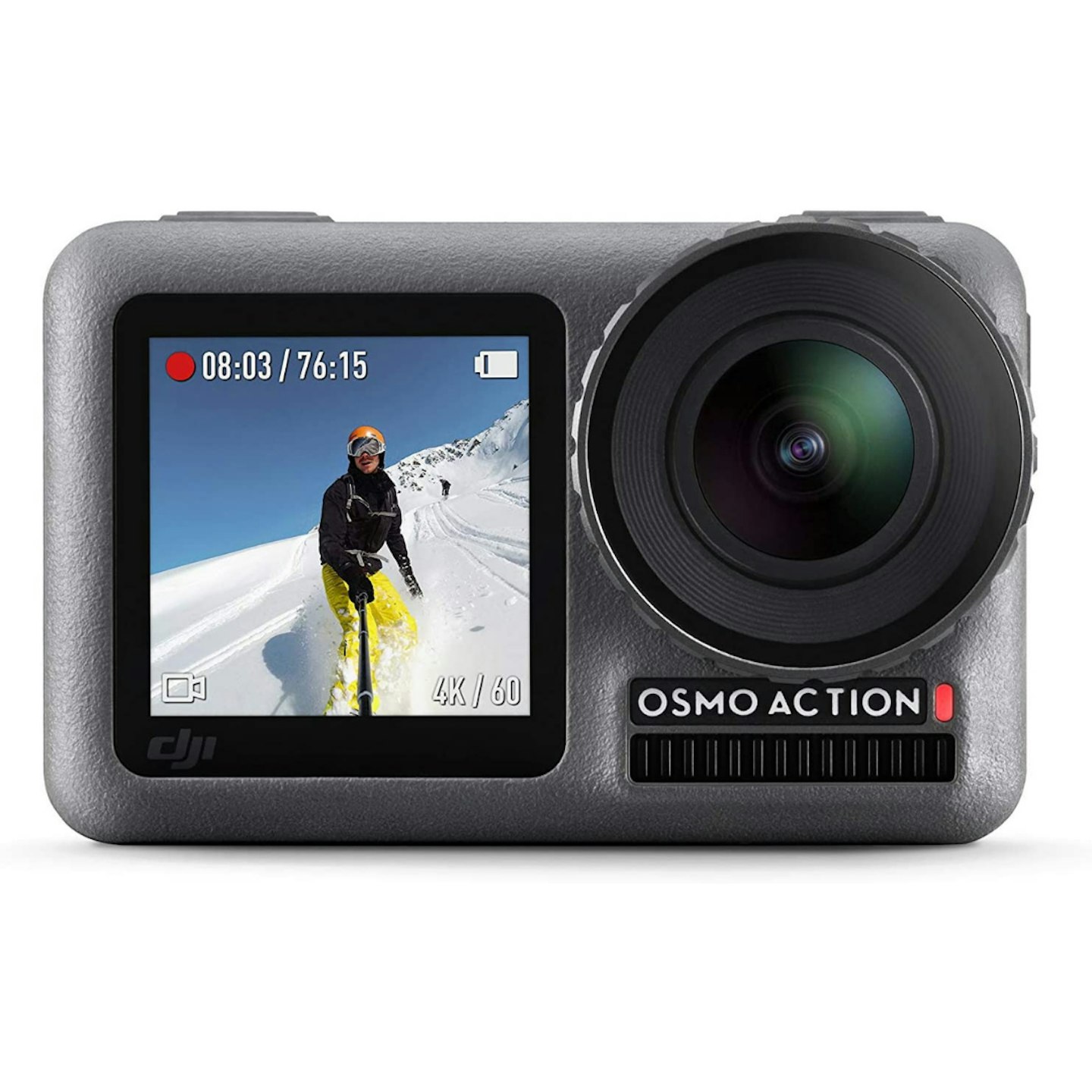 2 of 9
DJI Osmo Action
DJI is usually associated with highly sophisticated drones, but now it wants to be known for action cameras, too. Cheap, but with an impressive feature set for the price – including a front-facing screen – the Osmo Action is one of the best action cameras to be released in the last two years. The DJI has specs to worry the Hero 9, and it's even compatible with most GoPro mounts. The Osmo Action can produce crisp footage, with more neutral tones than a GoPro; though you can increase the saturation in post if you prefer it. DJI has also developed RockSteady, a stabilisation tech even more powerful than GoPro's – but you do pay for it with a more aggressive crop. DJI's app isn't our favorite, but it's easy to overlook – especially when consider the price; at £300-ish when bundled loads of accessories, it's one of the best value cameras you can get. ProsGreat valueRockSteady stabilisation techVoice control8 x slow motionDual screensConsAggressive crop when using RockSteadySpecsSize: 65 x 42 x 35mmWeight: 124.74gCamera: 12MPBattery: 135 minutes (with RockSteady turned off) / 63 minutes (with RockSteady turned on).Card type: microSD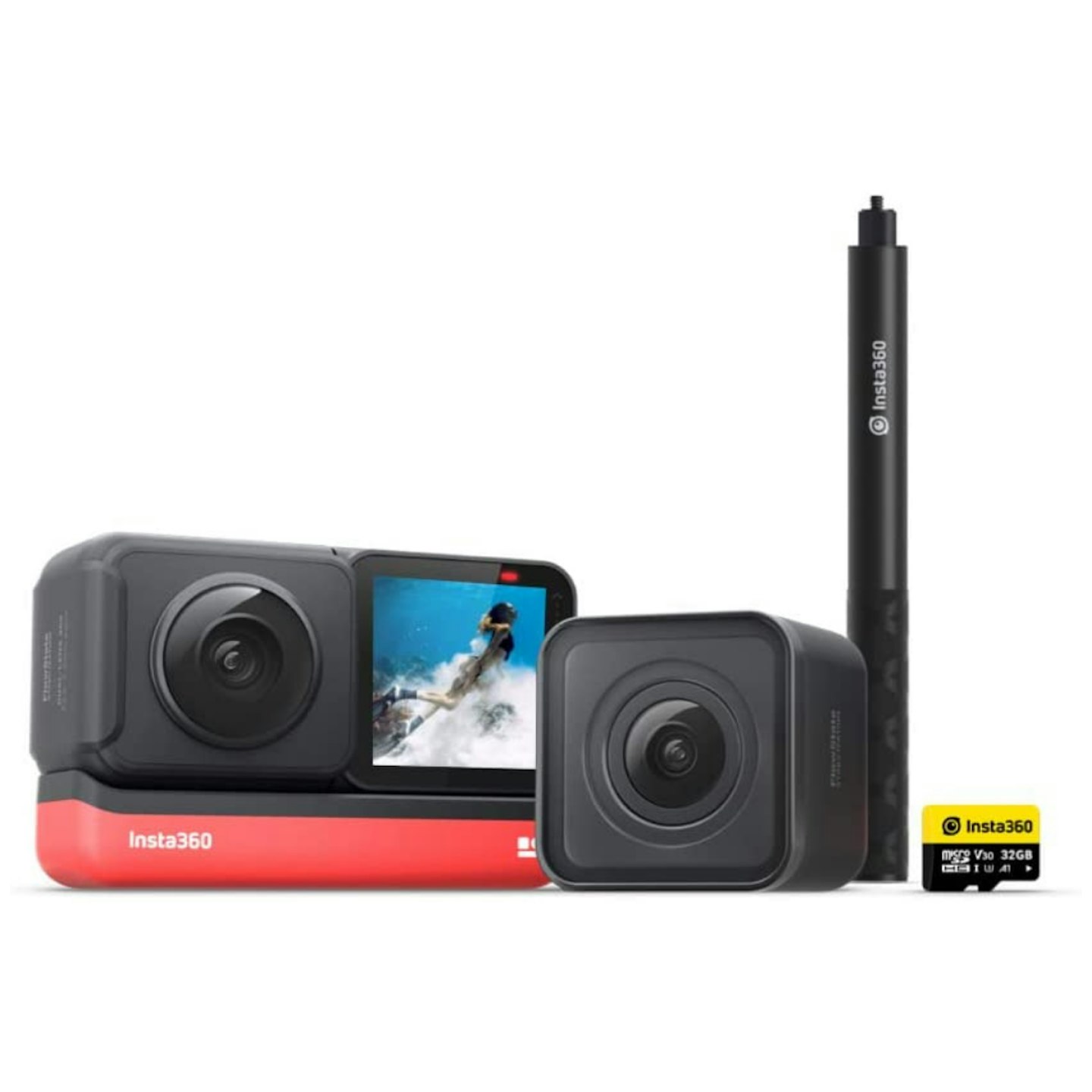 3 of 9
Insta360 ONE R Twin Edition
Instead of a single action camera, Insta360 sells a modular system that gives you a range of options depending on the bits you buy. The most conventional bits are a 4K wide-angle or more impressive Leica-branded 5K lens with a 1-inch sensor. Both are impressive, though we reviewed the 5K module in full, and found that to be up to the same standard as the GoPro, and better than the Osmo Action in practice. However, the Insta360 system is also available with a 360-degree attachment that'll add a new dimension to your recordings. Consisting of two fish-eyes seamlessly stitched together, it's possible to look around during footage, track objects within it (using the app) – and then export it all for some seriously dynamic content. The price of the Insta360 varies depending on the bits you want, but if you're pragmatic, you can pay less than a GoPro. ProsVersatile due to add-onsMicroSD card includedVoice controlInvisible selfie stickConsApp needs workSpec Size: 32.1 x 12.5 x 11.4cmWeight: 99gBattery: 65 minutesCard type: microSD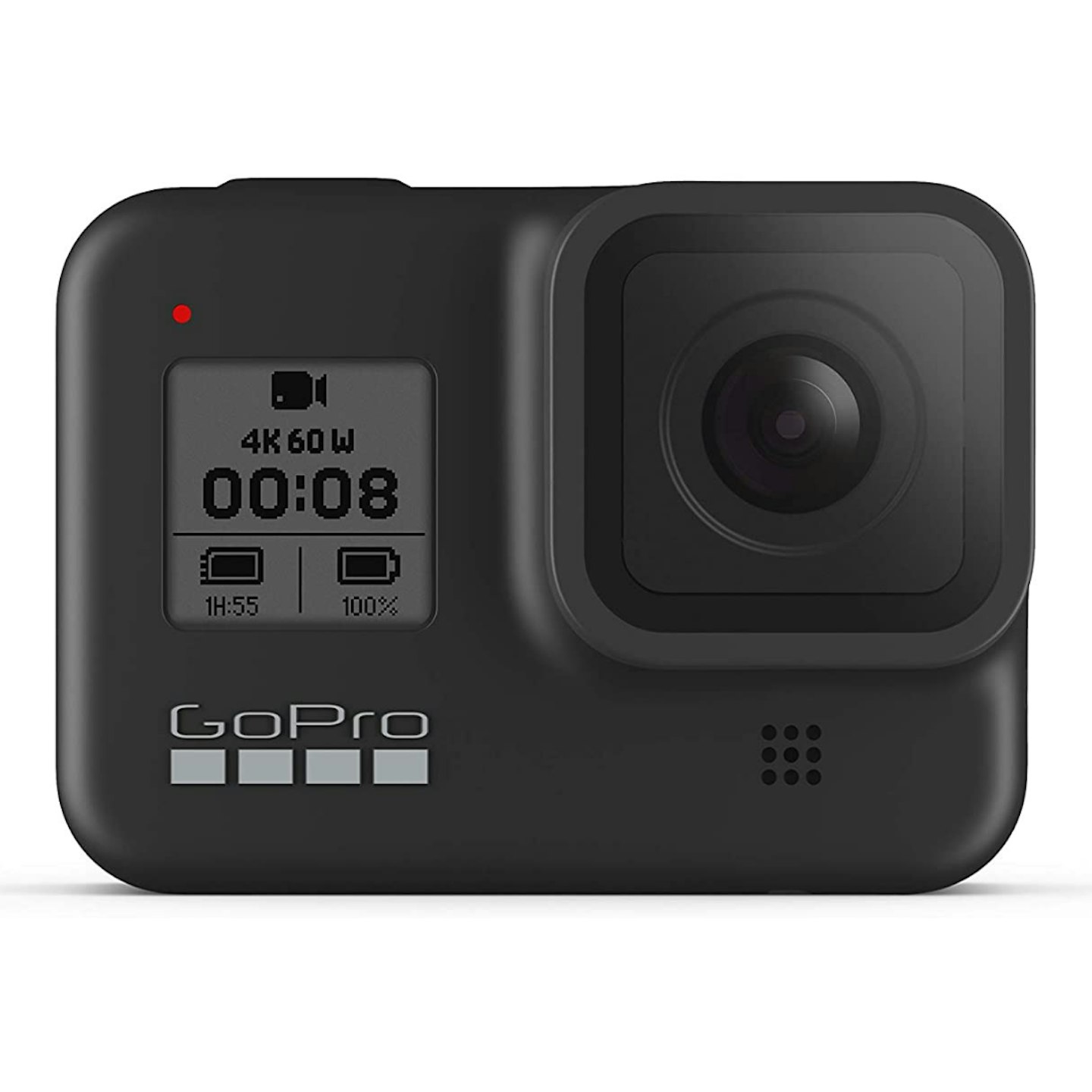 4 of 9
GoPro HERO8 Black - Waterproof 4K Digital Action Camera
The Hero 9 is the most feature-packed you can buy, but the Hero 8 still represents a good value buy if you're happy to forego some features. The Hero 8 lacks a front-facing screen and its rear touchscreen is smaller too, but that makes it a little smaller than the newest model. Inside, the battery life is 30% better on the 9, and resolution is 23.6 on the 9 compared to the 8's 20.2. The former can also do super-detailed 5K, though for most people it's not too different from the 4K offered by this camera – you'll need to look closely. GoPro has somehow improved the stabilisation, too; the Hero 8 was smooth, but the latest version of HyperSmooth with horizon-locking makes everything out of the Hero 9 look like a video game. Again, it's an improvement, but not one we'd say is essential. Annoyingly, the GoPro Hero 8 doesn't have a replaceable lens cover – and could affect some users. Rather than a removable unit that can be easily replaced after an accident, the Hero 8 uses a lens built in to the body which means sending it off for costly repairs. Almost every other camera on this list – and most other GoPros – do things a different way. Still, if all the negatives above don't sound too bad, you can pick up a GoPro Hero 8 for a competitive £320. ProsImproved image stabilisationAutomatic horizon levellingCompact sizeConsNo replaceable lens coverNo front-facing screenSmall screenSpecSize: 62 x 32 x 45mmWeight: 117gCamera: 12MPBattery: 50 minutes - 2 hours depending on resolutionCard type: MicroSD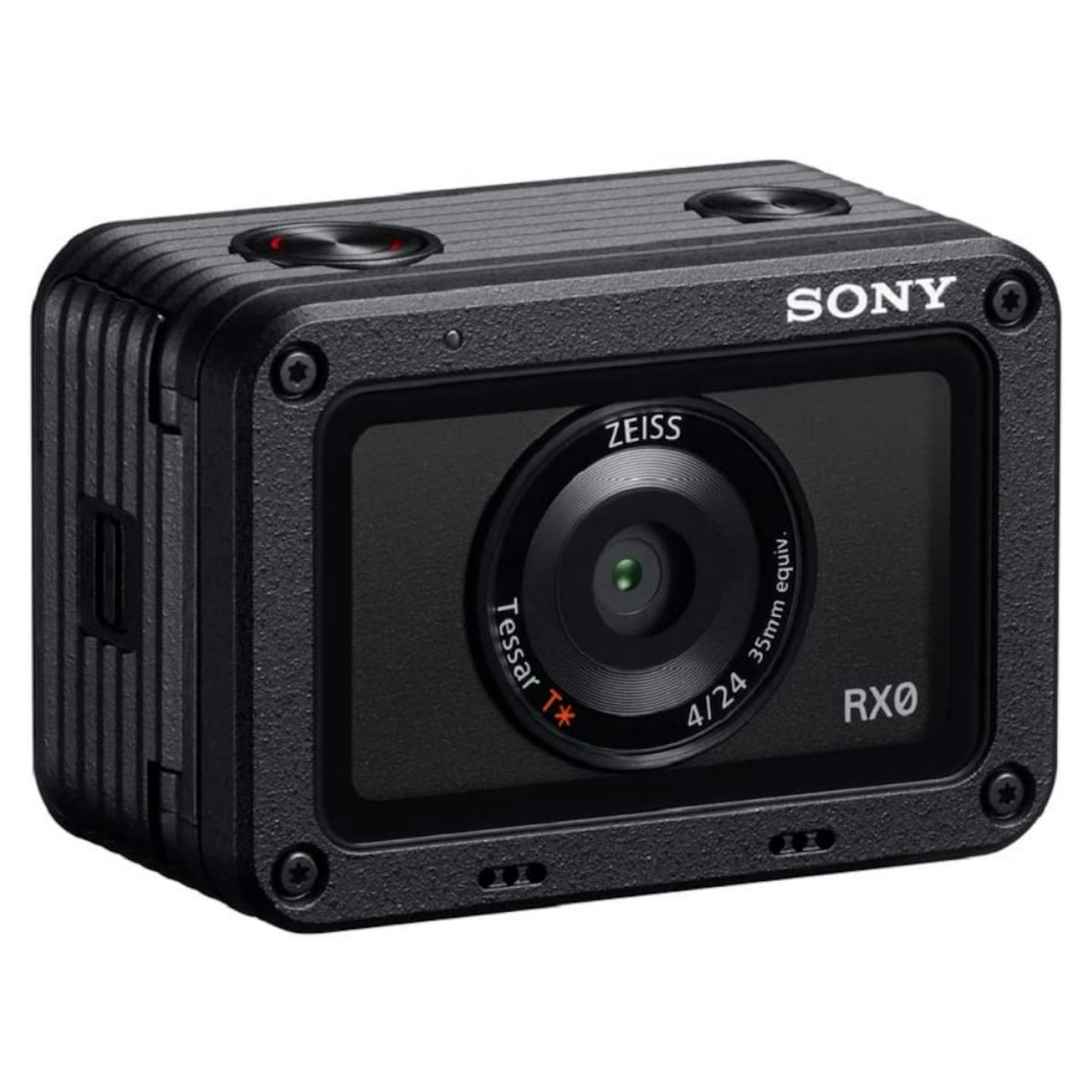 5 of 9
Sony RX0 Premium Tiny Tough Camera
Sony makes action cameras too, and of course, it's one of the most impressive on the market. We can't yet vouch for the toughness of the RX0 Mark II, but its small, heavy-duty-style casing comes with all the right specs. It's waterproof to 33 feet, drop proof to 6.5 and Sony reckons it's crush-proof, too. Inside, there's a 1-inch sensor and 24mm Zeiss lens for super detailed shots, and although the Sony can only manage 30fps at 4k (GoPros can double that) it does so at an advanced bit-rate for extra detail. The RX0 II gives you more control over settings for that footage, too – in some ways it's more like a normal camera than a GoPro is. However, we get the feeling the RX0 II is designed for the more professional user. For example, the RX0 II app can handle up to 10 cameras at once, something we've not seen from any other action camera's app. Then there's the price; the RX0 II hovers around £700, making it the priciest single camera on this list. And don't think the Mark I is much cheaper, it goes for £600 at the time of writing.ProsRugged cameraVery compact sizeExcellent image qualityConsNo 4KAn expensive optionSpecSize: 40 x 59 x 30mmWeight: 110gCamera: 15.3MPBattery: 240 shots or up to 35 minutes movie recording timeCard type: MicroSD, memory stick microFor a more comprehensive look at Sony RXO's specifications and compatible recording media list, click here to see Sony's official rundown.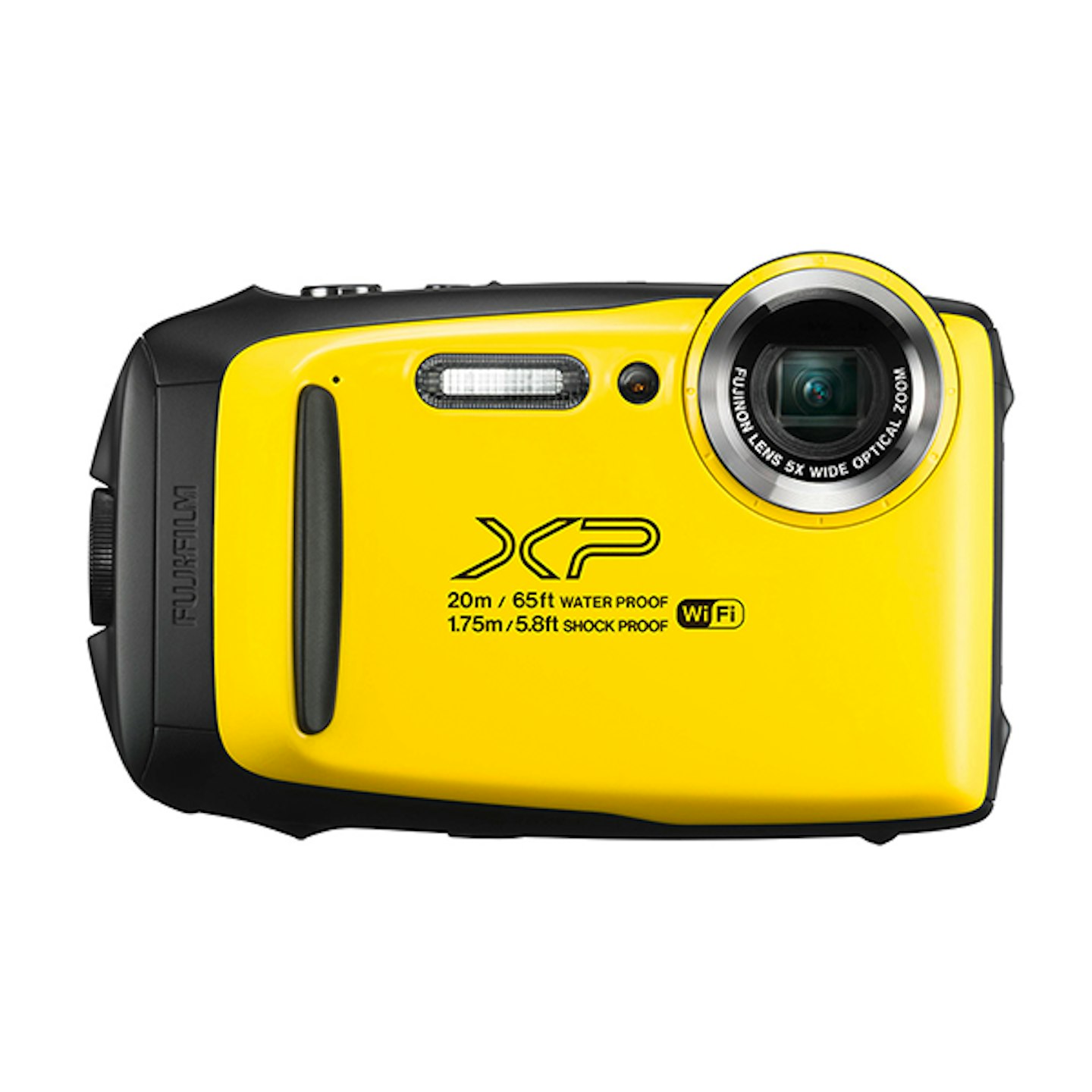 6 of 9
Fujifilm FinePix XP130
Fujifilm is renowned for its amazing X-Trans sensor mirrorless cameras. However, it has a history in the compact market with its FinePix range, including the brightly coloured XP130. Featuring a 1/2.3in 16.4MP BSI sensor, and 5x optical zoom offering an equivalent 28-140mm f/3.9-4.9, it produces solid images. You also get 1080p Full HD video (no 4K video to be found here), 10fps continuous shooting speed and 3in 920k-dot screen, which is relatively high resolution for a tough cam. The ISO runs from 100-3200, working in conjunction with the handy optical image stabilisation for night time shots. The image quality isn't quite as good as its rivals, but it still does a great job. The body itself is well designed, maintaining a small form. It's waterproof down to an exceptional 20m, freeze-proof to -10°C and able to withstand drops from 1.75m. It isn't quite as robust as others in test, with the Lumix and Olympus offering crush-proof designs, but the price and depth rating may well swing it for you. Pros High-res screen Great price Depth rating Cons No RAWs No 4K Battery life isn't the best Spec Size: 110x71x28mmWeight: 207g Battery: 240 shots Card type: MicroSD AF: 49-point contrast detect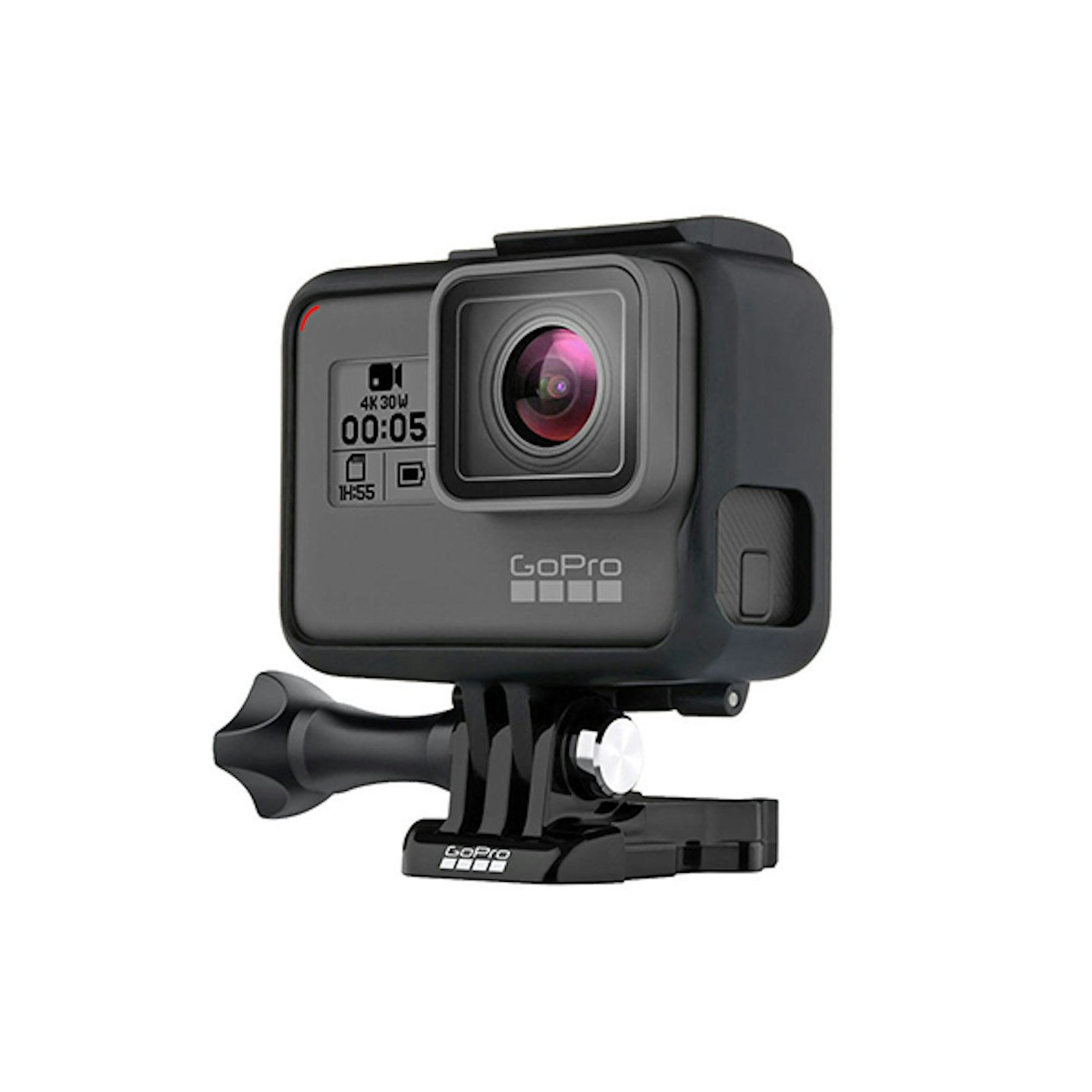 7 of 9
GoPro Hero5 Black
Many things have changed since the first GoPro found its way to the market, but it still has one core principle – letting you capture the action as it happens. It has spawned a wide range of accessories, allowing you to clip this tiny unit to almost anything that moves for intimate action shots. Functionality is as simple as ever, with the single button responsible for controlling everything, though it now also supports voice activation – a great inclusion. The lens covers a wide field-of-view (14-28mm), which means the 4K 30fps video, or 12MP stills, will capture a colossal amount of the environment (this can be changed in the menu). This latest addition also includes a 2in rear touchscreen, which lets you change your settings or review footage as you shoot – a welcome and often requested upgrade to the series. It also has the ability to go to depths of 10m underwater without the need for an external case. Pros Very wide-angle Voice commands 4K video Cons Battery life Requires sense of adventure Limited uses SpecSize: 30x60mm Weight: 120g Battery: 90 minutes 4K video Card type: MicroSD Field-of-view: 14-28mm Underwater: 10m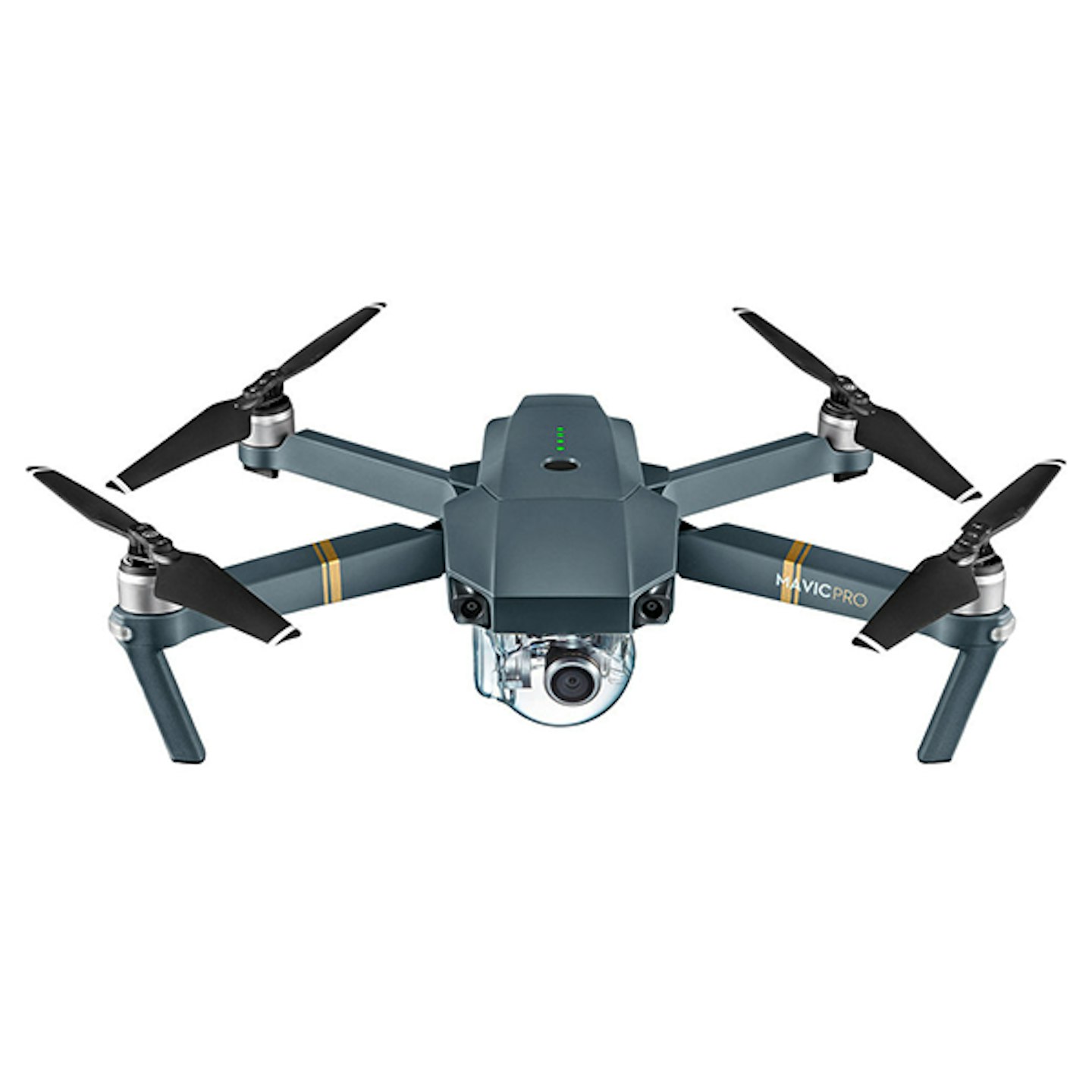 8 of 9
DJI Mavic Pro Drone with 4K Camera
DJI has come into a young market and completely owned it. You can clearly see the progress and technology that its R&D staff have made and included in every aspect of the Mavic Pro. And in its price range, it has no equal, in either performance or quality. The drone market isn't a cheap one though, and it's a tough purchase to justify, especially with the restrictive laws around usage. However, the ability to capture unique footage which would otherwise be near-impossible is an undeniable game-changer. If you find yourself in stunning locations with lots of open space, or want a capable drone for personal use without spending a fortune, DJI's brilliant Mavic Pro is the model for you. Pros Responsive handling Intuitive controls Assist modes make flight easy Long battery life for a drone Rugged build quality Image quality Cons Price ISO limitation Restrictive aviation laws and required licence for commercial use Specification Lens: 28mm f/2.2 (35mm equivalent) Effective resolution: 12.4MP Sensor: 1/2.3in CMOS Gimbal: 3-axis stabilisation Shutter: Electronic, 8-1/8000sec ISO: 100-1600 (Photo), 100-3200 (Video) Shooting speed: 7fps Video: Ultra HD 4K at 30fps Top speed: 40mph Max flight distance: 8 miles Satellite services: GPS/GLONASS Hover accuracy: +/- 0.1m vertical, +/- 0.3m horizontal Other features: 15 film simulation modes, grain simulation, interval timer Battery life: 27 minutes (24 minutes hovering) Card type: MicroSD Size: 83x83x198mm Weight: 743g This item is currently out of stock, but check back again soon!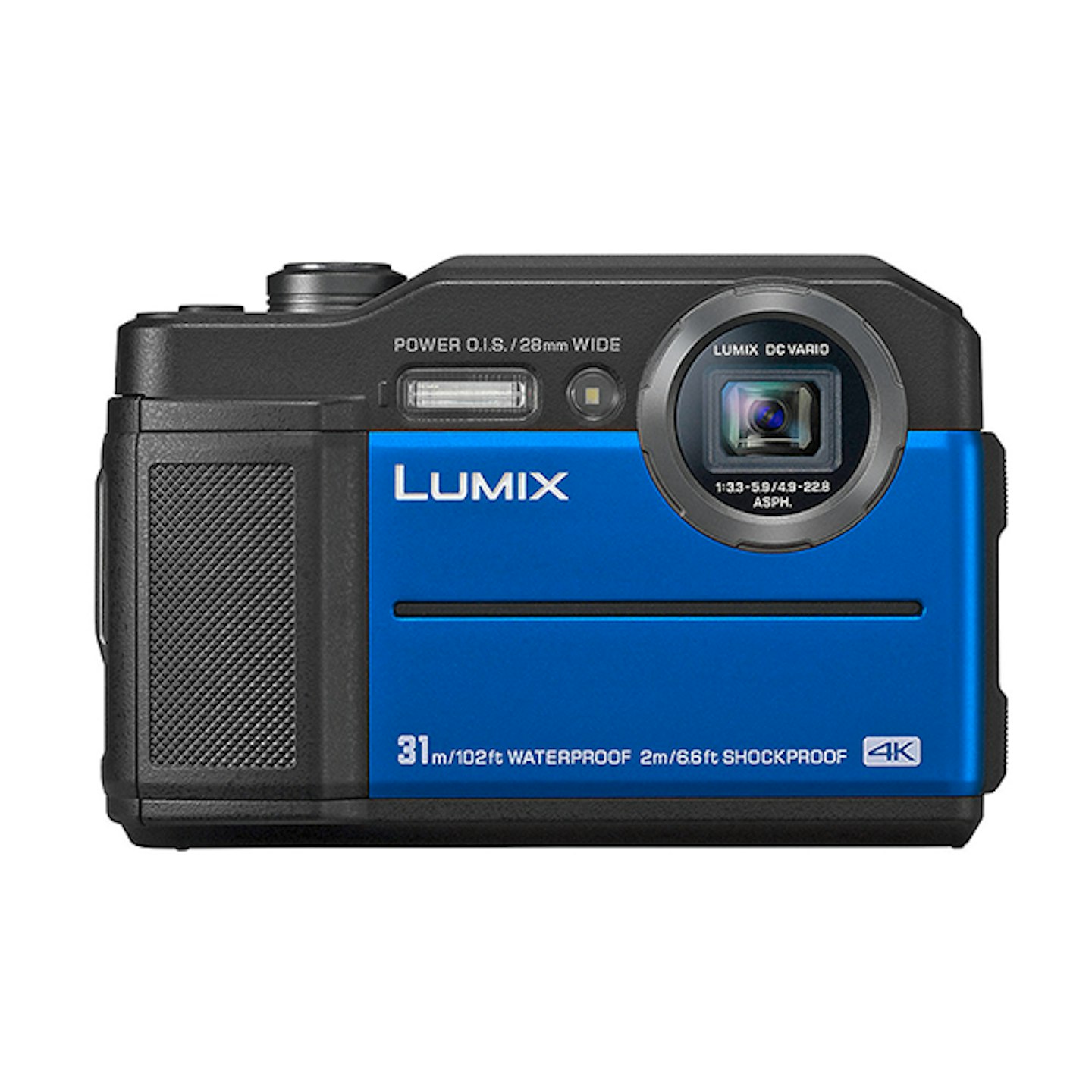 9 of 9
Panasonic Lumix FT7
Panasonic has a reputation for excellent compacts, and this extends to its underwater range. The newly released FT7 is the latest in a long line of underwater tough cams, and boasts a 20.4MP 1/2.3in sensor and a 35mm equivalent 28-128mm f/3.3-5.9 lens. You also have a host of added extras, such as 4K Photo, which allows you to shoot at 30fps, and export a single shot at 8MP, or Post Focus, which allows you to alter your focal point after taking the shot. Sadly, it doesn't support RAW shooting, but the JPEGs look great. If you're looking to capture underwater footage, the FT7 packs 4K video at 30fps, or 100fps in 720p HD. You also have a nippy focus system which works well in good light, comprising 49 contrast detection points. You also have an electronic viewfinder, which sets it apart from its rivals. Arguably the best feature about the FT7 is the ability to reach a class-leading 31m depth, though it's also freeze-proof to -10°C and crush-proof to 100kg, making it a very sturdy option. Pros 4K Photo mode Solid AF 31m depth rating Cons No RAWs Quite chunky Buttons can be fiddly Spec Size: 117x76x37mm Weight: 319g Battery: 300 shots Card type: MicroSD AF: 49-point contrast detect This item is currently out of stock, but check back again soon!
Did you know: Buying your camera online can help you pay less for your car insurance. Find out how & shop a little smarter with mustard.co.uk
What to read next:
Subscribe to the What's The Best Newsletter to keep up to date with more of the latest reviews and recommendations from Kirk and the rest of the What's The Best team.