It's the middle of summer, the blinds are down and the windows are open to stay cool, you settle down to watch Wimbledon on the TV with a chilled drink but can't even see the ball. The golden haze filtering through the curtains and the reflection of your dog's face have ended the match before it began. You need to fight the light, and only one of the best TVs for bright rooms will do.
Let's face it, not many of us can pick and choose from several rooms for our TV viewing. Chances are you'll find some sunlight finds its way to your screen no matter which room you're in. Anyone with a window that even remotely faces South will be all too familiar with this problem. You'll probably have tried to sit somewhere to the side, or propped up random objects to block sharp reflections. Even wall-mounted TVs aren't safe. Then there's straining to see washed-out pictures, and fruitlessly playing with the remote to push the brightness ever higher. Unless you've invested in one of the best QLED TVs already, all of this effort is a waste of time.
The best TVs for bright rooms come with screens that are coated with an anti-reflection or AR (Anti Reflective) layer; also sometimes also known as an anti-glare layer. This works alongside panel brightness levels, assisted by wider viewing angles, to let your picture punch through the errant light.
The best TVs for bright rooms at a glance:
• The best overall TV for bright rooms: Sony BRAVIA XR55X90KU - View now on Argos.co.uk
• The best budget TV for bright rooms:  Hisense 43E77HQTUK QLED - View now on Amazon.co.uk
• The best 65-inch TV for bright rooms: Samsung 65 Inch QN85B Neo QLED 4K Smart TV (2022) - View now on Amazon.co.uk
• The best 50-inch TV for bright rooms: Sony BRAVIA XR-50X90S – 50 Inch - View now on Amazon.co.uk
• The best 8K TV for bright rooms: Samsung 75 Inch QN800B Neo QLED 8K Smart TV (2022) - View now on Amazon.co.uk
Shop Black Friday TV deals on: John Lewis | Currys | AO | Appliances Direct
Finally, the very best TVs for bright rooms are here to save the day; Or, at least, save us from daylight. There are two main features of modern sets that will help minimise the impact; Overall screen brightness and contrast, and a screen that's been designed to minimise reflections.
If you're interested in the TV technology that makes brighter pictures possible, there's a guide at the end of the article. Freedom from the tyranny of hazy viewing and stray light rays awaits, with our pick of the best below.
Please note: All prices correct at time of writing. Prices, stock and deals subject to change without notice.
The best TVs for bright rooms:
The best overall TV for bright rooms
Description
Pros
Excellent brightness levels
Fantastic anti-glare features
Great picture options for gamers
Dolby Atmos
Cons
The sound may lack depth and power for this screen size
The best budget TV for bright rooms
Description
QLED technology is the closest competitor to OLED right now when it comes to contrast, colour and
Pros
Most affordable QLED TV
Solid picture quality
Cons
Just adequate anti-reflection screen
The best 65-inch TV for bright rooms
Description
If it's one thing that Samsung repeatedly get right, it's advancing its display technology. This
Pros
Incredible picture quality and resolution
Cutting-edge Samsung tech
HDR10+
Cons
No Dolby Vision is a surprise at this level
The best 50-inch TV for bright rooms
Description
Sony return to our line-up with another Full Array LED TV to help banish those errant sunrays.
Pros
Excellent HDR quality
Good choice for bright environments
Variable refresh rate
'Perfect for PlayStation 5' features
Cons
Not the same contrast levels as OLED
Limited viewing angle
The best 8K TV for bright rooms
Description
It's easy to imagine that the only people who would splash out on a 75-inch QLED 8K TV would be
Pros
A fully featured 8K TV below £3000
That robust yet refined Samsung build-quality
Dolby Atmos sound
AMD FreeSync for dynamic refresh rates
Anti-reflection screen
Cons
Slightly better colour can be found… but at nearly double the cost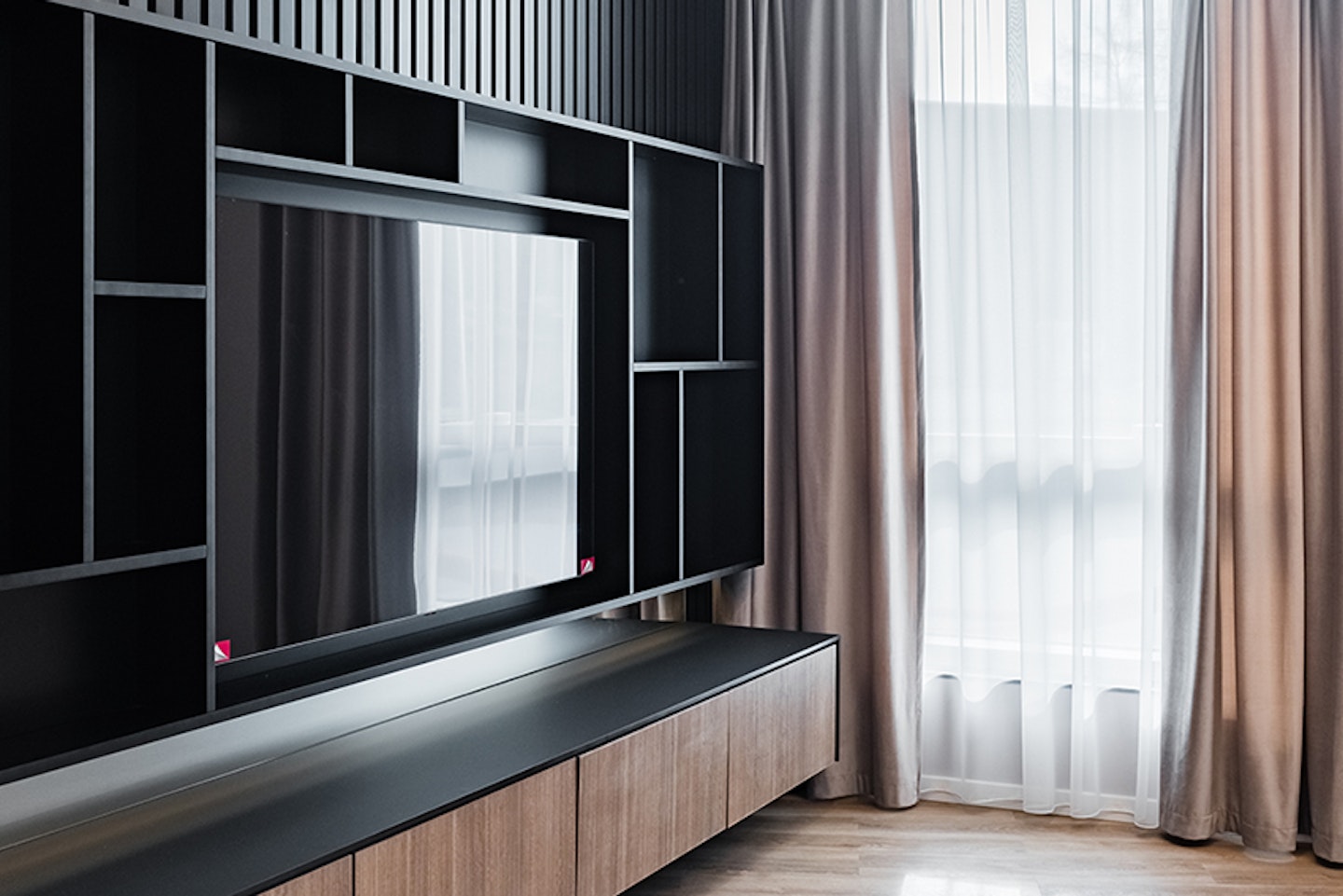 Best TVs for bright rooms: Jargon buster
OLED
In terms of a brightness level that can be pushed high enough to overcome stray beams of sunlight or ambient brightness in the room, Organic LED TVs are probably not the best choice. Although they have many strengths, particularly an excellent range of contrast - from mid-tones all the way to deep and absolute blacks, they don't output as much light as other technologies. OLEDs are self-illuminating, so they don't require a traditional backlight to create a bright enough picture and can be controlled individually, pixel by pixel.
However, the viewing angle of OLED screens is wider than most other screen types, but again - this won't help to overcome issues in bright rooms.
QLED
The Quantum Dots that make up a QLED TV screen are clever little things. They generate colours in a different way from OLEDs, but the important thing here is that they can emit a stronger light. Not only does this mean more intense, truer colours but also a brighter picture that may considerably help overcome ambient room brightness. They're backlit separately too, so although this will help with the bright room issue, control over blacks and highlights isn't as fine as with OLED. So, this can lead to slightly inferior contrast levels. If you're interested in finding out more, we've got a guide to the best QLED TVs.
Mini LED
Miniature LEDs (Light Emitting Diodes) also deliver a very similar result to QLED above. The more densely-packed LEDs mean finer control over brightness and contrast than a normal LED TV. This also makes for tighter local dimming zones, so this will compete reasonably well with OLED when it comes to deeper and truer blacks.
The brightness a Mini LED panel can generate is somewhat better than OLED. Again, this makes for excellent HDR performance, but you may see some light bleed between dark and light areas because, again, the control of this light isn't as fine as OLED. The viewing angle is also significantly less than an OLED screen.
Full Array LED
A Full Array LED screen is very similar to Mini LED, in that it is backed up by a 'full array' of backlighting LEDs. Once again, this backlighting can be locally controlled, but it's not as precise as OLEDs. That said, this technology is great for overall brightness to combat a brighter room, and can also deliver a good well-balanced picture.
The best TVs for bright rooms: Frequently asked questions
Can't I just use blackout curtains or blinds?
The route that many of us have taken to solve this issue is blackout blinds and curtains. More often than not, these are expensive and difficult to fit. Depending on your spending, many are only a little better than normal curtains in terms of blocking enough light. Unless you go for perfect-fit blinds that reach the edges of your window, you'll have ultra-bright slivers of light reflected on your screen.
Also, not everyone wants to spend the day in a dark cave just to enjoy a spot of TV. The key to having one of the best TVs for bright rooms isn't to defeat light - a practical impossibility; it's to manage it better so that you can still watch comfortably.
Can I just fit an anti-glare film on my existing TV?
There are a handful of options that modify your existing TV by fitting a mildly-adhesive film to the screen. Many of these anti-reflection films are also anti-blue light and protect from scratches. These are easier to find for smaller screens as they're a pain to apply without causing creases or air bubbles. As you may expect, they also don't do as good a job as a screen that's been professionally manufactured to cut down reflections. These films are also likely to reduce the brightness of your set, which is only going to make viewing in brighter rooms more difficult.
What's the best TV for a bright room?
Our comprehensive list has some useful categories to help you choose. As you might guess, much of this comes down to how much light pollution you're trying to overcome. No TV on the market can successfully deal with 100% of direct or indirect light hitting the screen. What you're doing is trying to maximise the chances of still being able to comfortably watch your TV in most lighting conditions.
What's the best position for my TV?
In terms of tackling reflections, this is trial and error. If direct sunlight is your foe, the position of that is naturally going to shift throughout the day, so you may find only one corner of your room is best for all-day viewing. For more indirect generalised light ingress, you'll have more choices. But remember, the larger your choice of TV the fewer room positions you're likely to have. It's very much trial and error here.
What does viewing angle mean?
Depending on your selected TV, each model will have its own maximum viewing angle; or, if directly facing the screen, the widest position you can move to and still clearly see the picture. Measured naturally in degrees, a TV with a close to 180-degree viewing angle as possible is excellent, as this means you could almost sit at right angles to the side of the TV and still be able to make out the picture.
How does anti-reflective coating work?
The various versions of this technology are a bit of a mystery. They vary between manufacturers too. However, they all do the same job - intercept light rays and deflect or absorb them in a way that minimised reflections. There's no official grading for the effectiveness of these as yet, so as always do your research and read up on practical tests.
Chris Duffill is a Tech Product Writer for What's The Best. He specialises in audiovisual, computing, and gadgets. He also writes for Yours.
**
Subscribe to the What's The Best** Newsletter to keep up to date with more of the latest reviews and recommendations from the rest of the What's The Best team.