With the rise in popularity in underwater photography and videography, there seems to be quite a range of excellent high-quality cameras on offer. From action cameras such as Go Pros to compact cameras, the accessibility of these products has never made it easier for people of all experience levels to grab one and dive face-first into the deep end. Whether it's diving, macro, surfing, boating or white-water rafting – it's all possible if you've got the right gear.
Underwater camera quality, versatility and durability are definitely three key factors that usually come to mind. But there are many other features depending on the budget and what you'll be using the camera for, that one should consider.
To figure out what kind of camera to go for, ask yourself the following questions:
• Do I want a camera that can shoot stills, video or both?
• Can image quality be compromised?
• Will I be focussing on action photohraphy (on burst mode) or macro, slow-moving subjects?
• If diving is on the agenda, how deep does my camera need to go?
• What is my budget?
What is the difference between a waterproof compact and action camera?
Compact camera: equivalent to a normal compact camera but usually bold in colour, these have great optical zoom lens options helping you capture subjects up close without compromising image quality.
Action camera: Smaller in size, these you will usually see on a helmet mount or strapped to a surfer's arm and are great for (4k) video creation. Think GoPro - they are pretty much the arcitypal and best action camera.
Best underwater cameras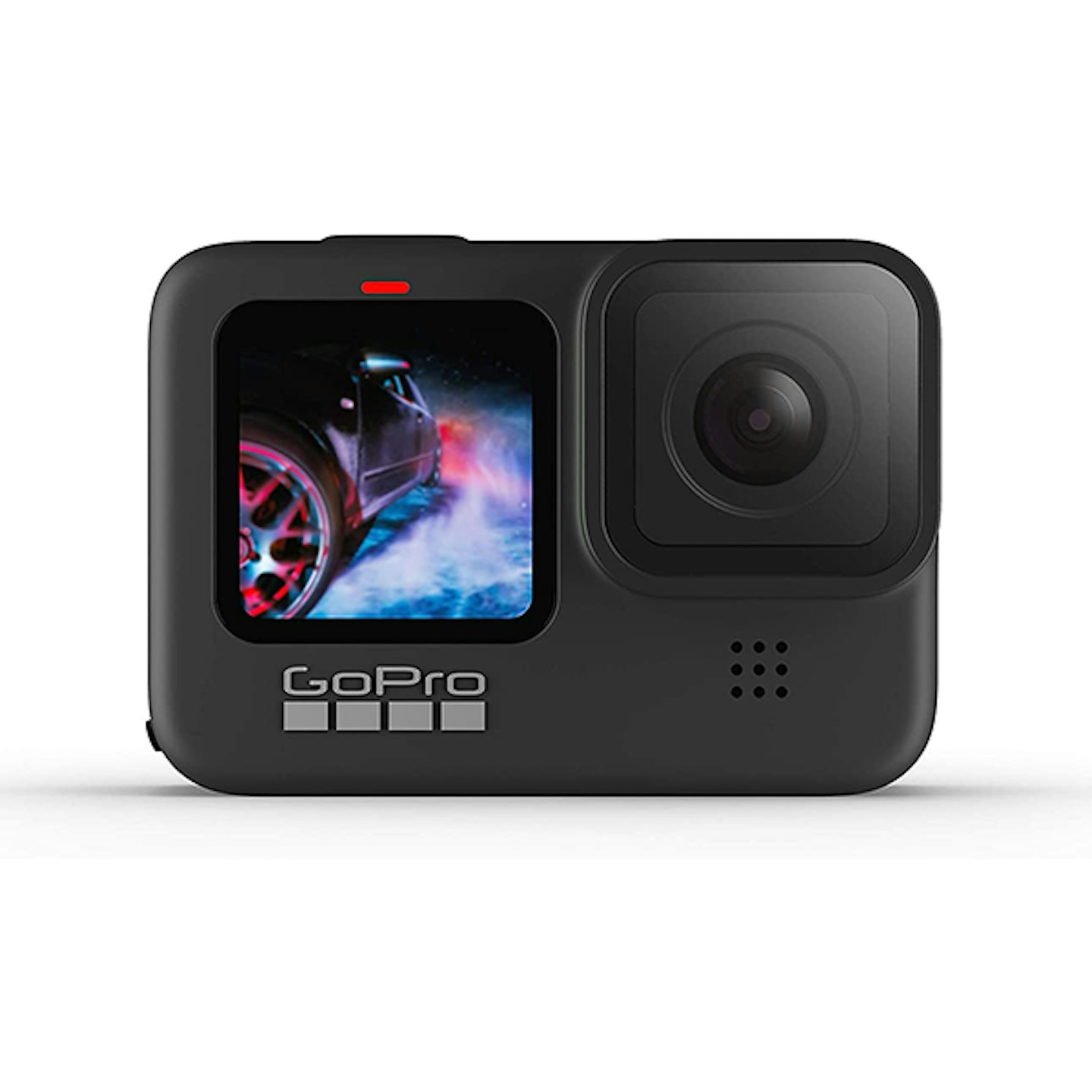 1 of 9
GoPro HERO 9 Black - Waterproof Action Camera
You would be familiar with GoPro Hero 9 Black (latest model). If you aren't, it's by far the best underwater action camera on the market. Extremely versatile and powerful, this camera goes off the chart with its new 23.6MP sensor and 5k video. It can even go 10 metres without requiring a housing, however, its touchscreen doesn't cope well because of it. Luckily, the Hero 9 has been ergonomically designed with multiple buttons for easy operation underwater. Not only does it have the HyperSmooth Boost (GoPro's stabilization software), but a very handy front-screen to view content during production. Apart from the fairy average battery, this beast also has a 1-2.3-inch sensor and 23.6MP, making it sharp, smooth and worth every penny. Pros: Amazing 5k video with more detailBetter battery lifeCons: No 4k/120p slow-mo modeUnresponsive touchscreenSpec: Type: Action Lens: 16-39mm equivalent Waterproof: 10m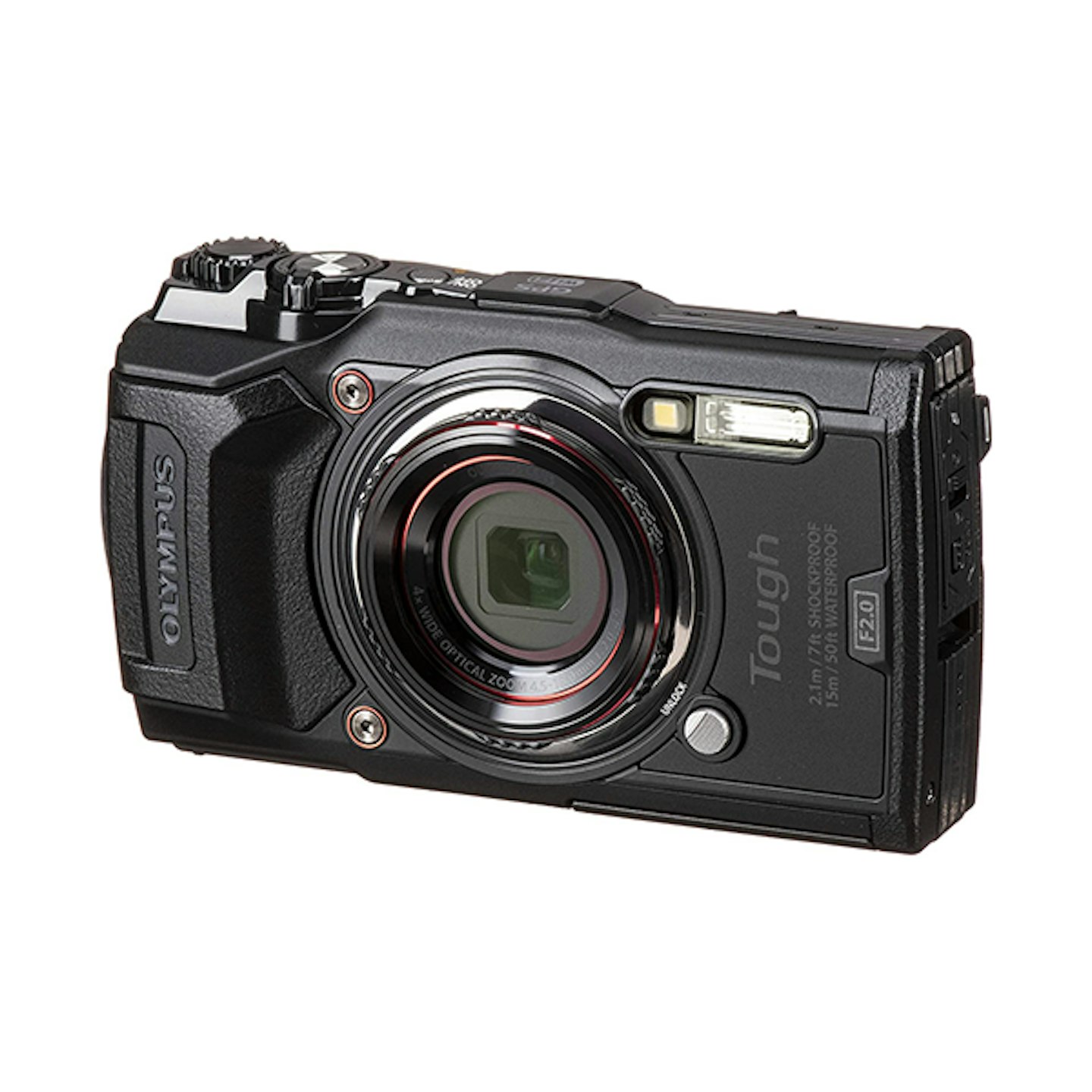 2 of 9
Olympus Tough TG-6 Action Camera
The Olympus Tough TG-6 Series is the best underwater compact camera for its toughness and durability. But it doesn't stop there, this model is known for its incredible video and imaging (raw-shooting) qualities. Being 2.1m shockproof and –10 degree-Celsius freezeproof, this camera has an improved LCD resolution and an additional underwater microscope option for when you want to get up close and personal. The high-quality video allows you to shoot Full HD in 4k at 30fps and 120fps for super-slow-motion. The handgrip has been ergonomically designed for comfort and the in-built lens (25-100mm optical zoom lens) fits into the build nicely. Pros: Great optical zoom4k video Cons: Expensive (newer model) Poor 15m waterproofing Spec: Type: Compact Lens: 25-100mm equivalent Waterproof: 15m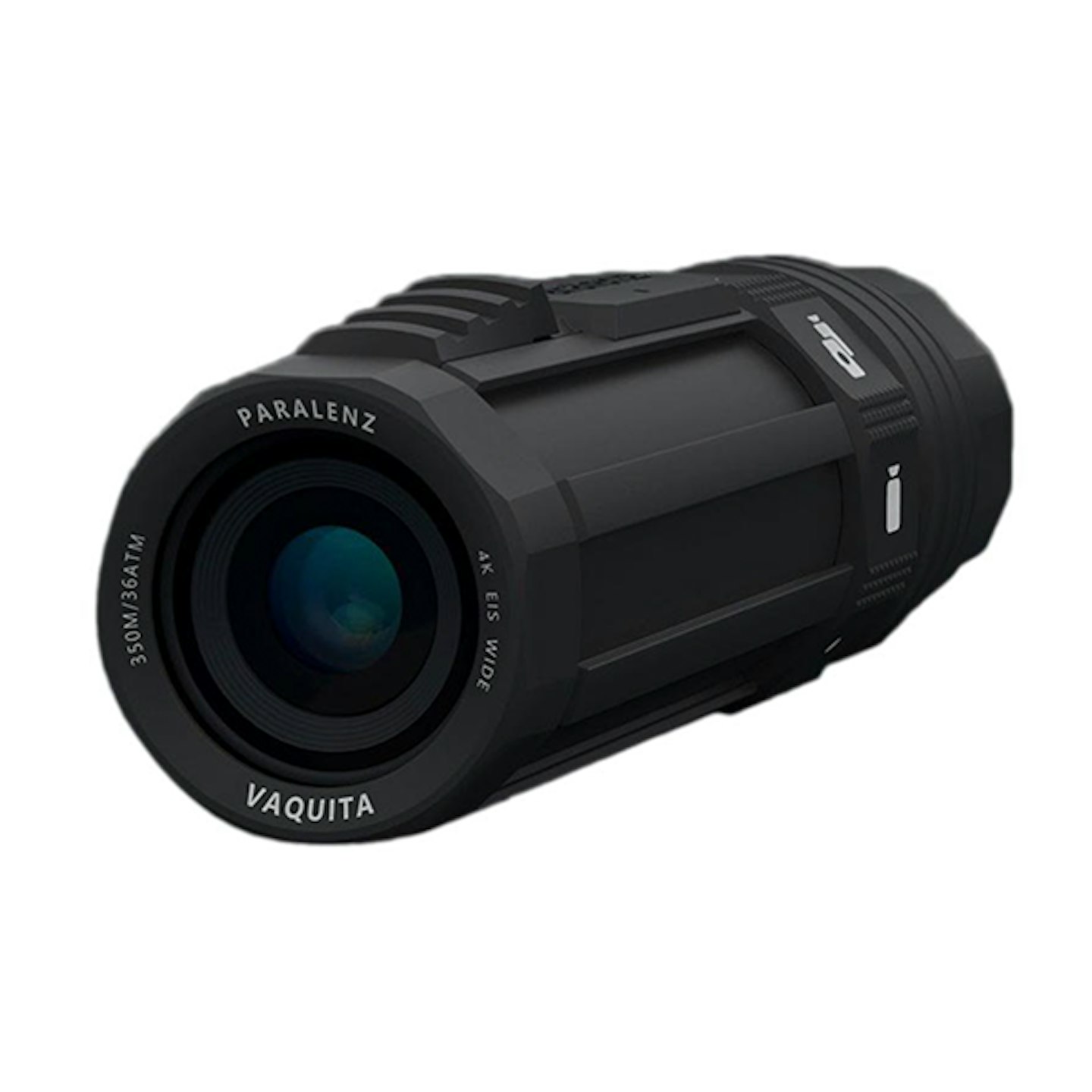 3 of 9
Paralenz Vaquita Motion Dive Camera
If you are a diver and want something top quality, the Paralenz Vaquita dive camera is the best underwater action gadget new on the market (2021). Being a reinvention of the renowned DiveCamera+, it's an impressive camera worth the investment. It may look small but it's extremely powerful and shoots excellent, seamless videos. With already raving reviews and potentially the very best diving tool, it has numerous white balance modes, display settings, sensors and can go to –10 degrees Celsius. It's got a super easy interface and is suitable for all experience levels. Pros: No additional housing or filters are neededGreat ergonomics and easy to operate Cons: Bigger and heavier in size (less noticeable underwater)Poorer battery life with full-colour display and sensorsSpec: Type: ActionLens: FOV (1/1.8") D135° H110° V57° Waterproof: 350mSize: 5 x 1.5 x 7 inches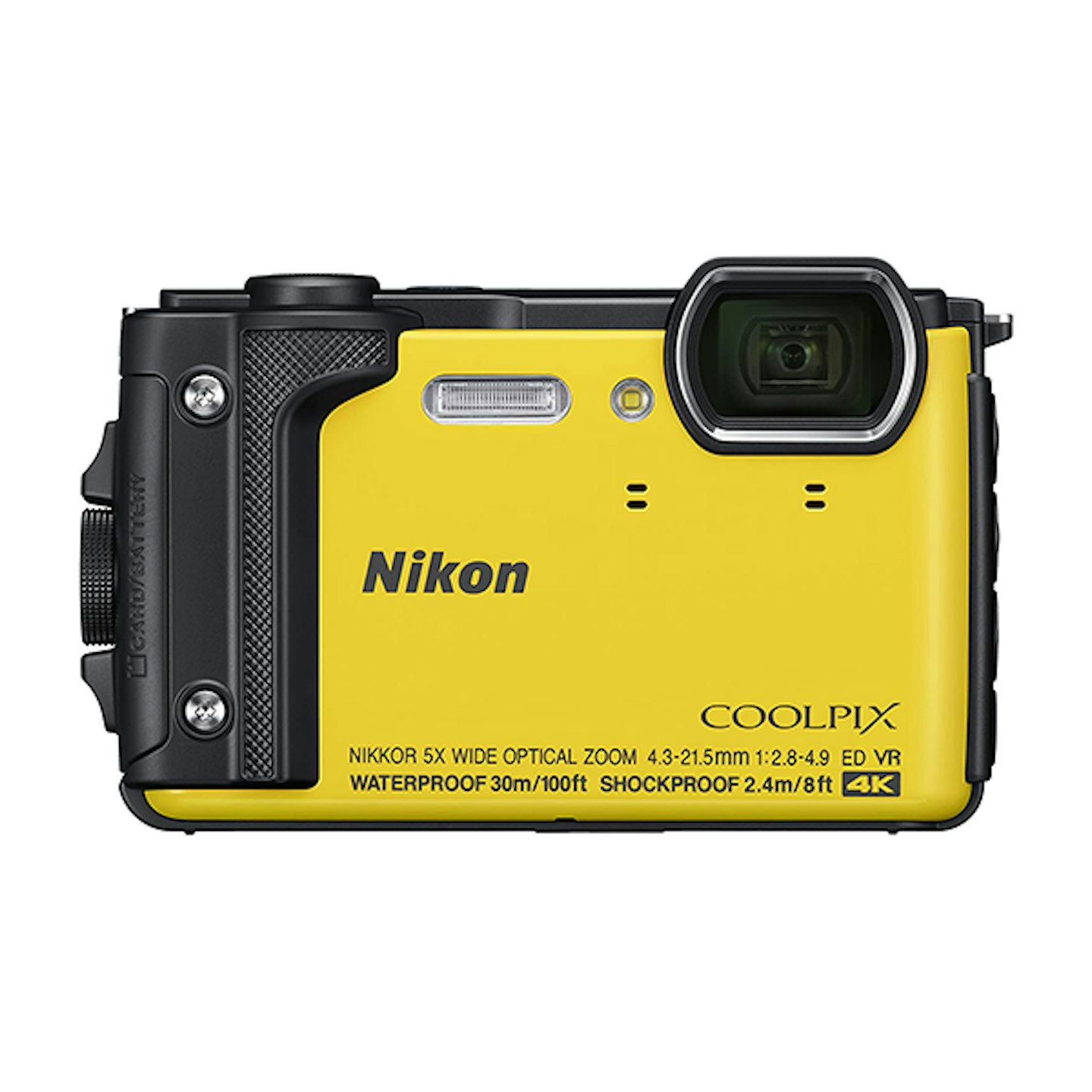 4 of 9
Nikon Coolpix W300 Compact Digital Camera
The Nikon Coolpix W300 is the best compact underwater camera for deep divers. With 30m waterproofing, there aren't many other cameras in this area that go to that depth and are fearless, let alone has a barometer that tells you important information (altitude, depth) and an in-built compass. This model has 4k video, a shockproof of 2.4m and freezeproof of –10 degrees Celsius, allowing you to get high-quality footage without having to worry about the camera getting damaged. Despite the poor raw support, it's certainly a decent all-rounder with Bluetooth functionality and a good range of specs. Pros: Superb waterproofing Impressive zoom range Cons: Expensive No raw shooting Spec: Type: CompactLens: 4-120mm equivalent Waterproof: 30m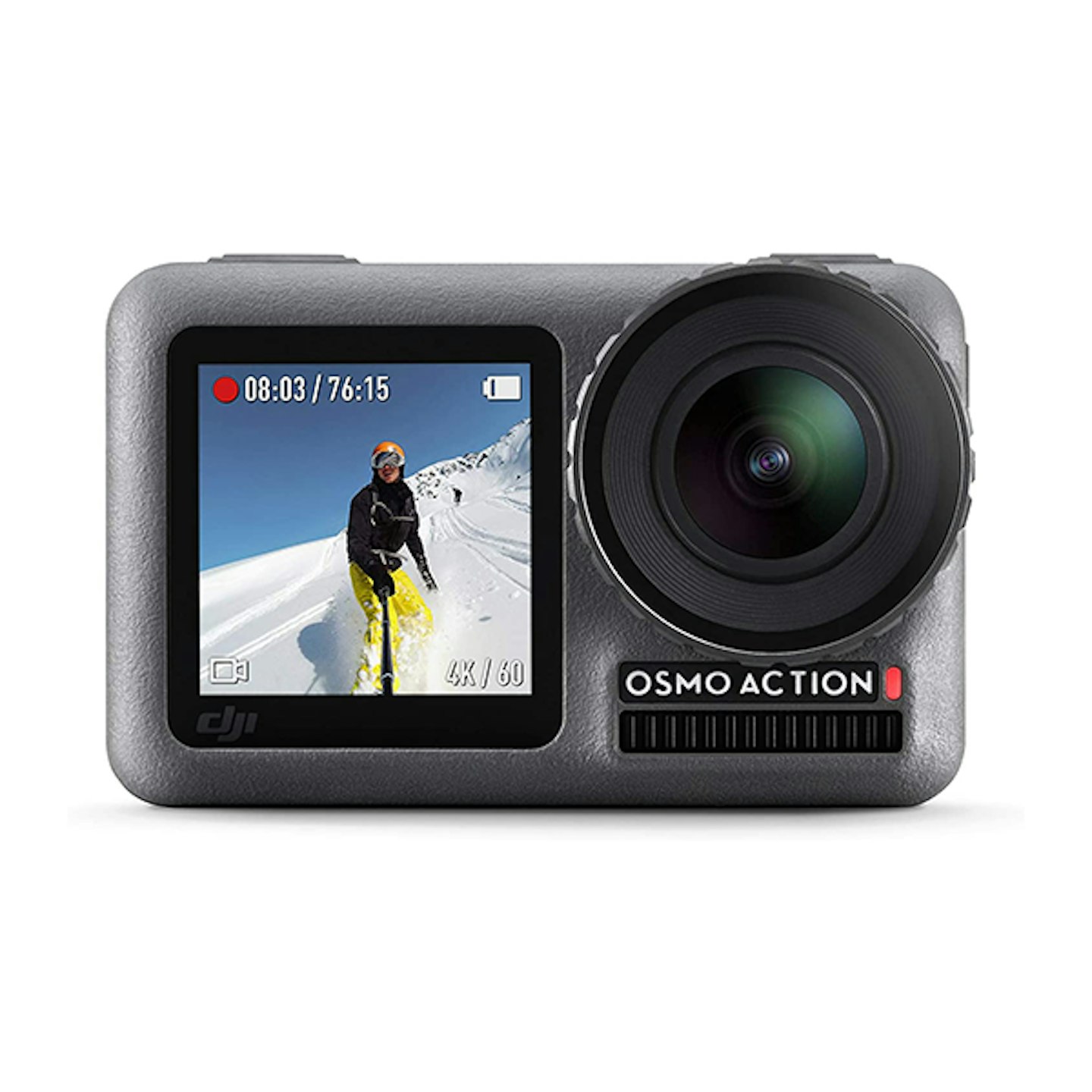 5 of 9
DJI Osmo Action - Digital Camera
The DJI Osmo Action is another great underwater action camera and GoPro's biggest competitor. Because of this, you will notice very similar specs, features and a very welcoming price point. Is this a better option? It's certainly up there in terms of performance (4k video) and quality with its good stabilization, and front-facing screen for easy operation. However, like most camera models, it does have its weaknesses. The GoPro HERO is flatter (more realistic) and the DJI Osmo tends to lag when using high resolutions. It is however shockproof to up to 1.5m and freezeproof to –10 degrees Celsius. Pros: Convenient front screenGreat image stabilisationCons: Camera lags when on max resolution Frustrating app Spec: Type: CompactLens: 145° field of viewWaterproof: 11m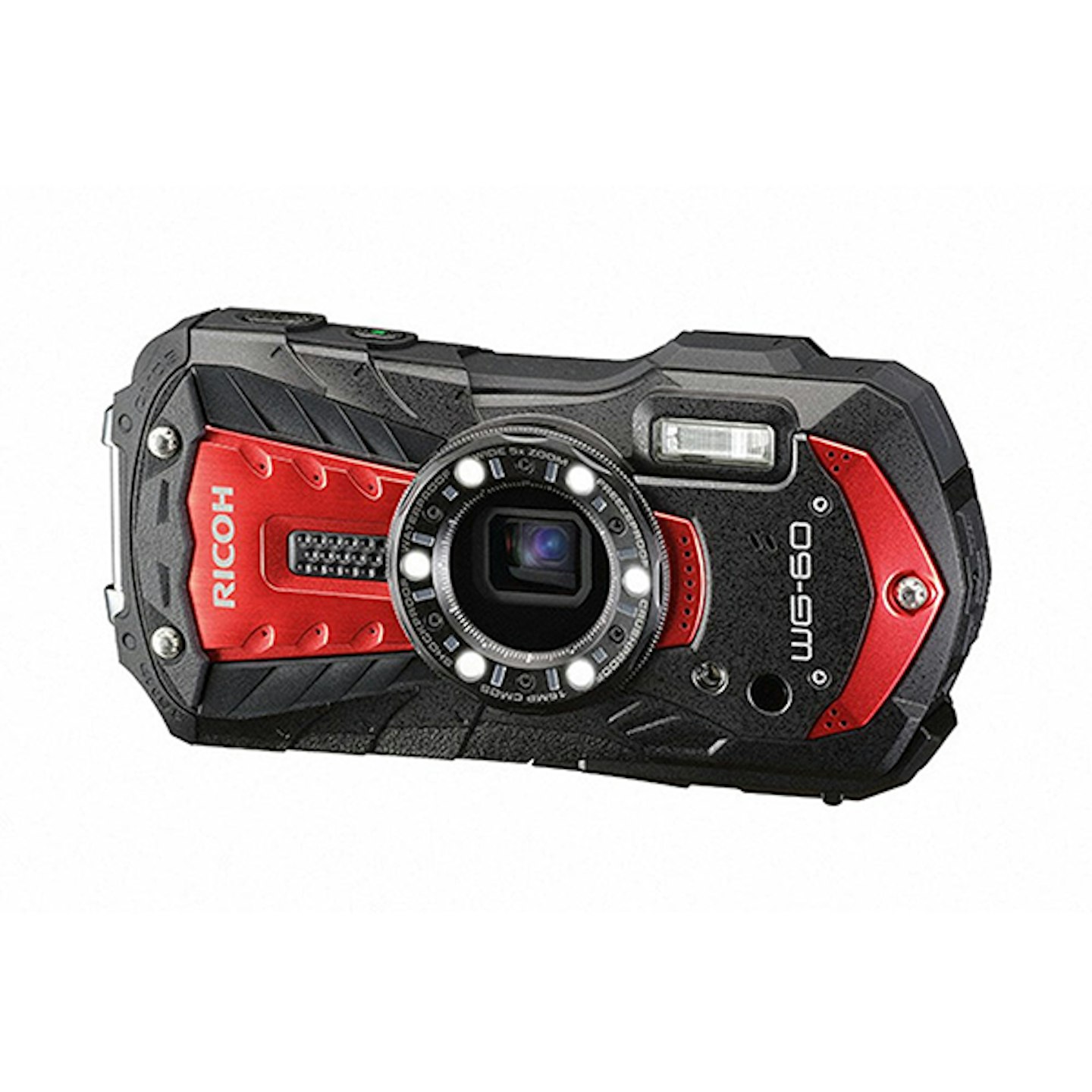 6 of 9
RICOH WG-60 Underwater Digital Compact Camera
The Ricoh WG-70 is another very tough impressive underwater compact camera option, great for Macro photographers. Similar to the Olympus Tough, the Ricoh has been referred to as the equivalent of a Swiss Army knife. That tough - all thanks to its serious shockproof and freezeproof outer body prepared to be used at 14m! It's got quite a few additional specs to look out for, such as its in-built ring lights close to the lens. This acts as a terrific underwater torch for those gloomy days shooting Macro. It's also has a Handheld Night Snap that takes sensational low-light pictures that are merged together, creating some impressive sharp results. There is too a microscope mode, allowing you to focus on a 1mm distance. **Pros:Great zoom rangeHandy ring lights built-inCons:**No 4k video Not that different to the WG-60 **Spec:**Type: Compact Lens: 28-140mm equivalent Waterproof: 14m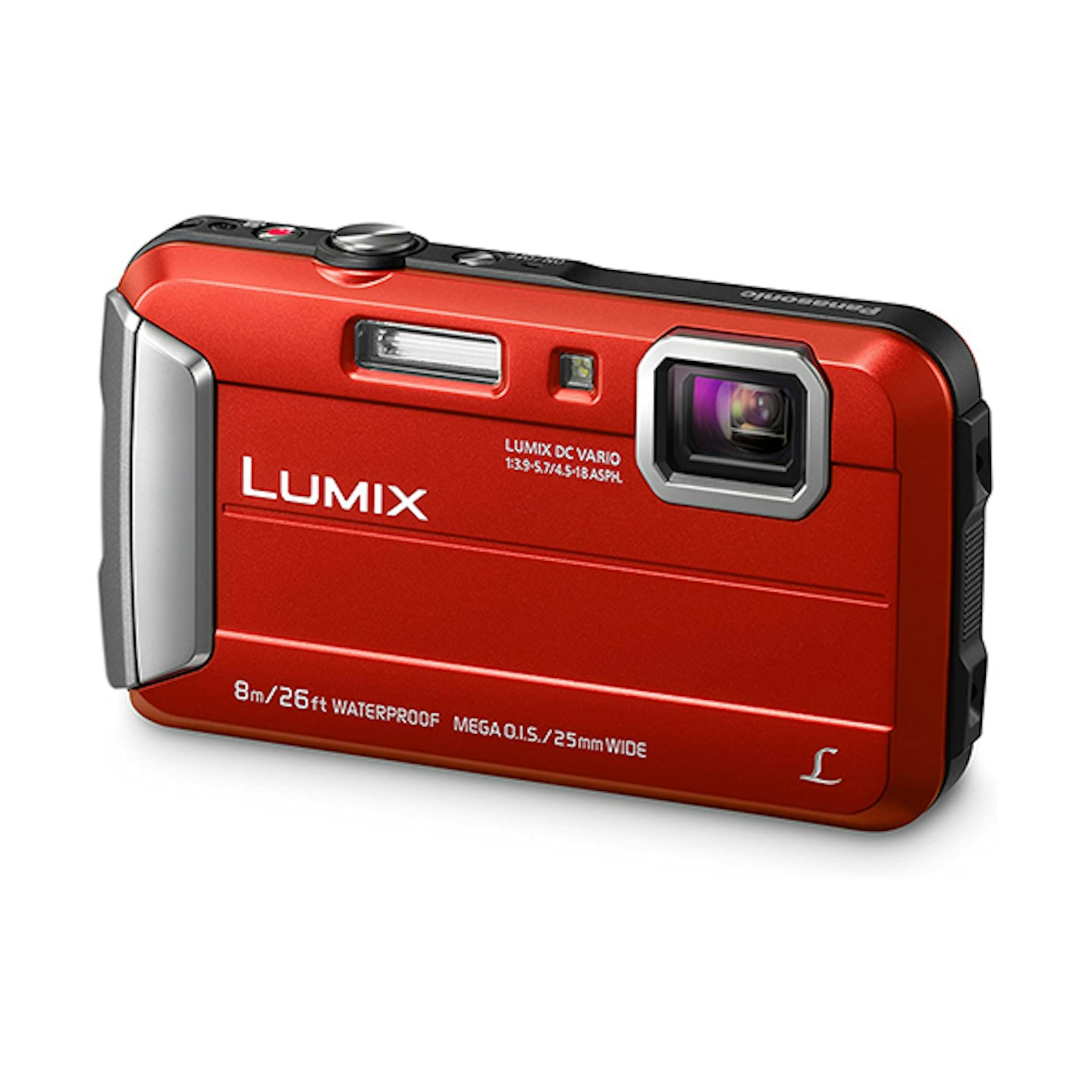 7 of 9
Panasonic LUMIX DMC-FT30EB-R Tough Waterproof Compact Digital Camera
The Panasonic FT30 is the best underwater camera for anyone who favours capturing stills over videos and on a budget. It doesn't provide that good of specs compared to the other models but does the job. It's very slim and lightweight, meaning it's super easy to slide into waist belts and pockets. You will, however, need to buy a strap of some sort for safe use underwater. It's well made, solid and you can rely on it doing all the basics. The video resolution is lower than hoped (720p HD) but makes up for it in its sharp, high-quality stills. It is shockproof, freezeproof and can reach a depth of 8m. **Pros:**Clever design Very affordable **Cons:Narrow max aperture Outdated specsSpec:**Type: Compact Lens: 25-100mm equivalent Waterproof: 8m
8 of 9
Fujifilm 16613354 FinePix XP140 Compact Digital Camera
The Fujifilm XP140 is the best underwater camera for anyone looking for a more funky, creative solution. Being easy to operate and suitable for all levels, it's a great one for summer vacays with the family. Not only is it fun but has the specs to back it up. It has 4k video and a 5x optical zoom lens (28-140mm). It is also shockproof, freezeproof and can go up to 20m. Despite not having any manual modes, it does have a scene recognition mode which does come in handy. Very affordable and coming in a range of colours, the camera would make the perfect underwater gift. **Pros:**920k-dot LCD screenQuality protection **Cons:**No manual modeOnly 40k/50p video **Spec:**Type: Compact Lens: 28-140mm equivalent Waterproof: 20m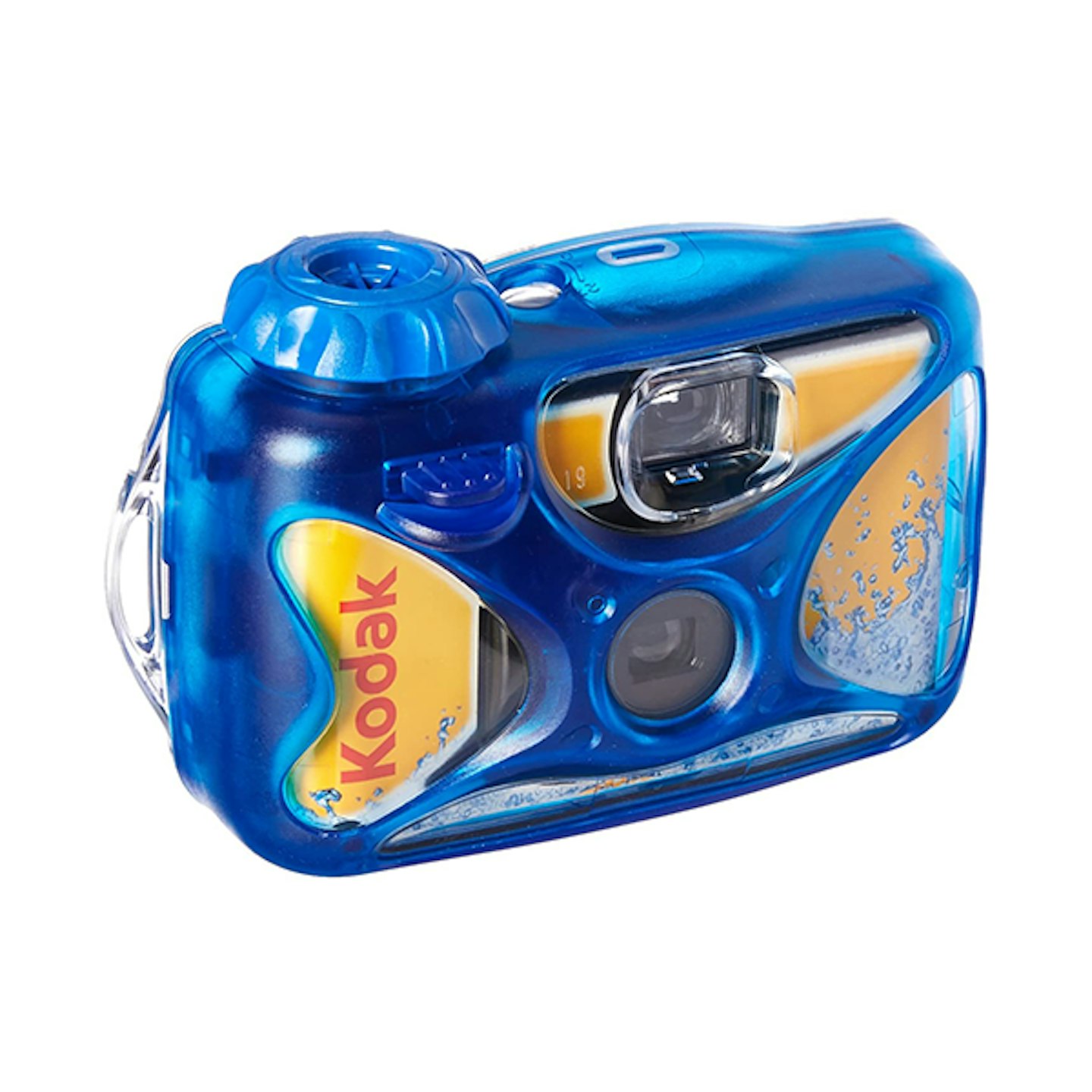 9 of 9
Kodak Sport Single Use Camera
For a bit of retro fun and something a little different (outside of digital), why not look into the Kodak Sport Underwater Camera? Reaching a whopping 15m, which is quite deep compared to similar models, it's hands-free and suitable for all experience levels. Even a deep ocean diver! Single-use and all automatic with preloaded Kodak coloured print film (ISO800), you will get the chance to capture 27 special moments. **Pros:**Decent quality film Handy wrist strap **Cons:**No manual mode No flash built-in **Spec:**Type: Single-use Film format: 35mm Lens: N/AWaterproof: 15m
What to read next:
Subscribe to the What's The Best Newsletter to keep up to date with more of the latest reviews and recommendations from the rest of the What's The Best team.