Choosing one of the best keyboards can make or break your PC or laptop setup. Often an afterthought, it's probably the most important peripheral you will have to choose, and we're not just talking about specialist gaming keyboards. The feel and sound can be the difference between a productive day of fluid typing or a frustrating morning filled with typos.
You may be using a budget keyboard that came free with your computer, and for many, that is adequate at best. But, after a few months, you can easily develop wrist pain and repetitive strain injuries. Many have built-in wrist support, which can help. In terms of keys, some are low-profile (often known as a 'chiclet' keyboard), and others may be chunkier. They each have their pros and cons, and your choice is down to what fits you the best.
Best keyboards of 2023 at a glance
But with so many out there, which one is right for you? Well, despite a lot of extra options and enhancements, not all are going to suit your style. Mechanical keys are popular with some gamers for their feedback and accuracy - like the Redragon K552 we reviewed; Whereas those with non-mechanical keys (like those with a rubber membrane underneath) are softer and quieter. These can be ideal for writers and those who like to work in silence. We've put together a buyer's guide and more below to help you narrow things down.
• Best overall keyboard: Corsair K70 RGB MK.2 Mechanical Gaming Keyboard - View at Amazon
• Best budget keyboard: JLab Epic wireless keyboard - View at Amazon
• Best gaming keyboard: Corsair K100 RGB Optical-Mechanical Gaming Keyboard - View at Amazon
• Best office keyboard: Razer BlackWidow Lite TKL Tenkeyless Mechanical Keyboard - View at Amazon
We've kept budget, comfort and accuracy in mind, from cutting-edge Corsair mechanical gaming keyboards to ultra-light wireless keyboards. Our line-up includes options to suit all kinds of users and preferences. So, let's hit ctrl-alt-del on your tired old model and find some of the best keyboards of the year.
Best overall keyboard
Description
Corsair's K70 RGB MK.2 Keyboard has been a favourite of E-sports players and pro gamers alike for
Pros
Incredible build quality
Fantastic tactile key-feel
Comfortable wrist support
Cons
Palm rest may be too large for some desks
Best budget keyboard
Description
The Epic is JLab's premier keyboard, and it comes with a host of features for a price that might
Pros
Packed with features
Attractive design
Quiet but positive key action
Solid construction
Cons
Heavy - up to you whether that's a con
Best gaming keyboard
Description
While Corsair's K70 is an absolute classic amongst gamers, if you're looking for something with
Pros
Brilliant build quality
Incredible customisation options
The best palm rest on a mechanical keyboard
Best office keyboard
Description
If you find yourself typing for hours on end, then you know that comfortability can make or break
Pros
Fantastic quality
Stunningly minimalistic
Silent tactile keys
Cons
May be too plain for some
Best budget office keyboard
Description
If you're working on multiple devices throughout the day and are sick to death of faffing with USB
Pros
Small and light
Connect to multiple devices simultaneously
Great quality
Cons
Keys might be too small for some
Best keyboard for Mac
Description
When we wrote our Logitech MX Keys for Mac review, we found it to be a beautifully finished piece
Pros
Incredible minimalist design
Fantastic mechanical ergonomic feel
Excellent features
Best budget gaming keyboard
Description
Save a good chunk of your PC building budget with an excellent budget gaming keyboard like this
Pros
Good build quality
Great response times
Spill-resistant
Durable design
Cons
The membrane keyboard doesn't have as good of a hand feel
Best Apple keyboard
Description
Apple's trademark slick minimalism is far from absent with its new Magic Keyboard, which delivers
Pros
Incredibly light
Widely supported by PCs, laptops and other mobile devices
Fantastic, satisfying key switches
Cons
Fairly small - may not be for everyone
Best video editing keyboard
Description
Logitech's Craft keyboard is a fantastic choice for pretty much everyone looking to get into video
Pros
Elegant
Minimal design
Fantastic quality
Stellar customisation wheel
Best retro keyboard
Description
There's just something so damn aesthetically pleasing when it comes to the blocky, monochromatic
Pros
Incredible retro design
Fantastic mechanical ergonomic feel
Fantastically compact
Cons
US version is available only
No number pad
Best ergonomic keyboard
Description
Ergonomic office equipment is all the rage this year, from vertical mice, lumbar support office
Pros
Incredibly comfortable
Wonderful plush palm rest
Good value
Cons
Membrane keys aren't the most exciting
Buyer's Guide
Choose your basic keyboard type
As you've seen, there are numerous types of keyboards out there, so you may be overwhelmed by the options. It can be tough to tell what makes one better over another, but luckily, there are some handy tells. For example, if you want a mechanical model, your focus should be on the quality of the keys themselves. The build and aesthetics likely matter less than the sound and tactile feel. Key switches are more important here than any other type.
Wireless keyboards help to declutter desk space, so avoiding a bulky or wide model will give you more space. Bonus points if it's relatively lightweight too, as that helps make it much more portable.
Mac and Apple models tend to have a slightly different layout than standard keyboards. This is to account for the addition of the command key, among others.
Wireless connection types
Bluetooth versus 2.4 GHz wireless - what's better? Well, both technologies are incredibly popular. The answer, in most cases, is pretty clear-cut when it comes to the better tech: It's Bluetooth, but why?
Bluetooth can connect to a huge range of devices, whether it's PCs, laptops, Macbooks, iPhones, iPads, tablets - you name it. 2.4 GHz wireless keyboards, however, need to connect to devices via a wireless USB dongle that must be plugged into (and supported by) the device you want to pair it with. Naturally, this has its limitations. It uses up a USB port, plus it can't be used with devices such as smartphones and tablets.
Rechargeable versus batteries
There's no definitive winner when it comes to choosing between rechargeable or battery-powered models, but we have our preferences.
Yes, it's fantastic to simply pop in batteries and have power for months or years, but batteries are wasteful and can leak over time - not something you want before a full day of work.
Rechargeable models, however, simply need to be charged for a few hours and will last upwards of three months.
Ergonomics
Keyboards that are designed to be ergonomic usually look a little strange, but you'll definitely notice a huge difference in your quality of life while working or gaming for hours on end.
Curved keys, plush palm rests, and even models that separate into two pieces are used by people across the world for comfort. They're certainly not for everyone, but for many, they can mean faster typing and have fewer aches and pains after a full week of work.
Keys: mechanical versus membrane
Membrane keyboards are pretty much your office standard - they've got a squishy, soft feel to them - but they're quiet, reliable and cheap, so they're often a fantastic budget choice.
Mechanical keyboards, on the other hand, have a crisp and far more responsive feel with smoother switches that register key presses far more accurately than standard membrane keyboards. Most mechanical keyboards are typically much louder than their membrane counterparts, however, so be warned if you're planning to take your Corsair K70 into the office.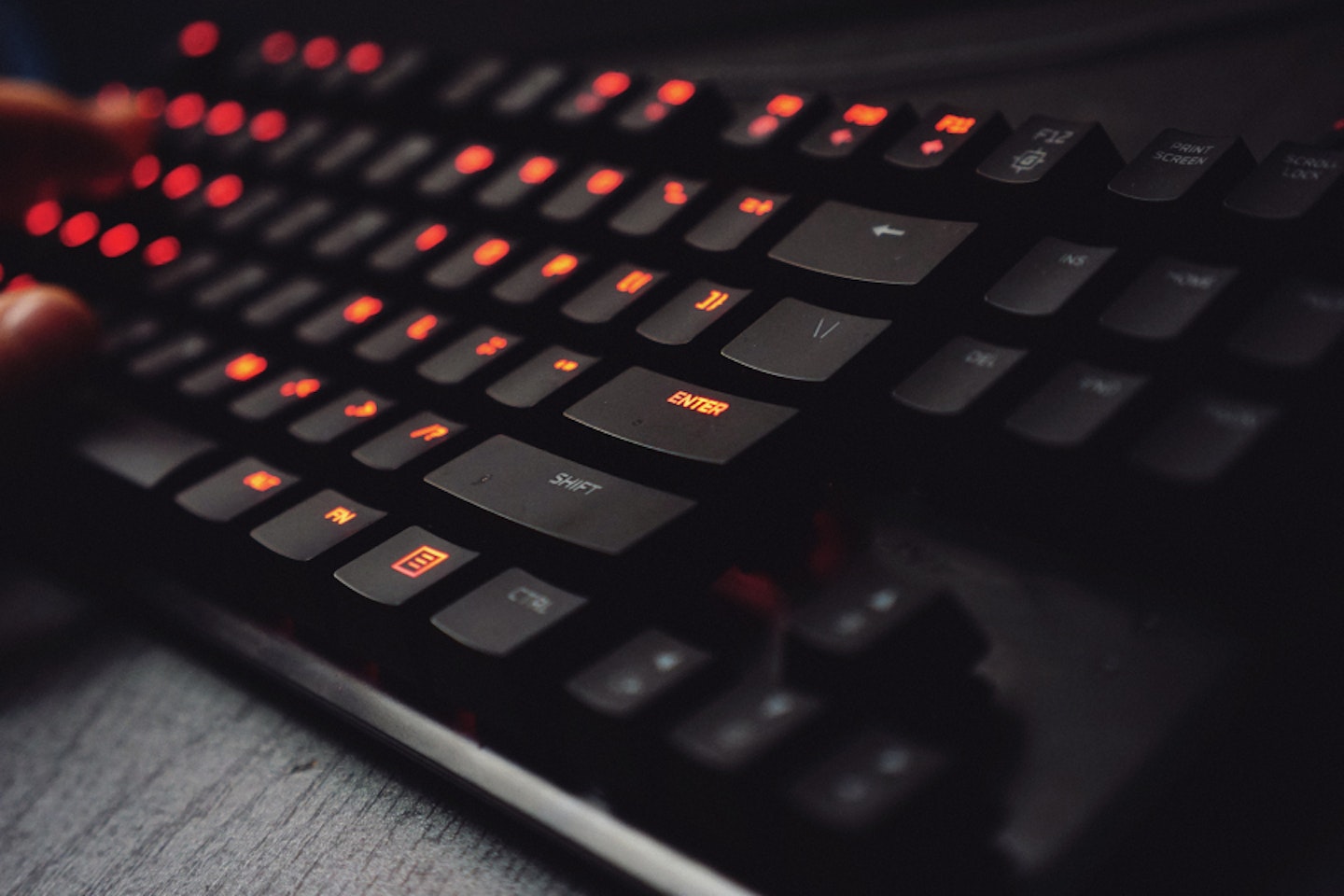 Best keyboards of 2023: FAQs
What are the best gaming keyboards?
Our pick above - the Corsair K100 - is a great choice for gamers of all skill levels. With just the right amount of customisation and extra dedicated gamer-friendly function keys, it really makes an ideal all-around option. It will suit all kinds of gameplay.
Are mechanical keyboards better?
As with all kinds of peripherals, this really does come down to preference and use case. Although there are many flavours of mechanical keys, such as those made by Cherry MX, they're not for everyone. They excel with accuracy and lifespan thanks to robust and responsive mechanisms. Most do make for slightly noisy typing, so unless you're someone who misses the sound of an old-fashioned typewriter, it's best to try before you buy.
Are TKL keyboards good?
TKL or tenkeyless keyboards are just keyboards that don't have a numpad, making them much smaller than standard keyboards.
The advantage of this? They take up far less space, giving you much more room to roam with the mouse. They're also more portable and are more likely to fit into your work backpack.
While TKL keyboards are solid for gaming, they can be a little less favourable when it comes to office work. If you're inputting data or figures, a numpad will dramatically reduce the amount of time it takes to input data.
Subscribe to the What's The Best Newsletter to keep up to date with more of the latest reviews and recommendations from the rest of the What's The Best team.
Ryan Houghton is a tech writer and reviewer for What's The Best, specialising in PCs and gaming. He is a keen PC gamer and an avid reader.