When it comes to keeping things portable, you can't do much better than the smallest audio player money can buy. But some of the best speakers on the market today are audible proof that not everything portable has to be small. Sometimes the best things come in all sizes. As long as it has a battery that'll hold enough juice to keep you listening all day, you can take these rechargeable wonders with you wherever you go.
So what makes a portable speaker portable? What's easily shiftable for some may be the proverbial millstone to others, so weight is a factor. And then there's the capacity of the battery and how long it lasts before your tunes run out of steam. Some of the players we featured here can connect to your mobile device using Bluetooth. Others have Wi-Fi and others are old-school, standalone media players. Whatever you choose you'll need something that sounds great in wide open spaces. As we found with some of the best outdoor speakers - they should work just as well outside as in.
Best portable speakers at a glance:
• Best overall portable speaker: Sonos Move
• Best budget portable speaker: Eonosound 1**
• Best pocket-sized portable speaker:** JBL Clip 4**
• Best mini portable speaker:** Anker Soundcore Mini**
• Best waterproof portable speaker:** JBL Flip 5
• Best high-end portable speaker: Bang & Olufsen Beolit 20
Another important thing you'll need to consider is how rugged your portable speaker will need to be. For some, portable means being able to quickly and easily move your favourite smart speaker from one room to another; And do so without unplugging anything. But that won't need to be as hardy as the kind of speaker you throw in the back of your car before hitting the beach. Therefore, we're not looking at 'easily moveable' speakers, but speakers you can take with you when you leave the house.
With so many to choose from, the experts at What's The Best are here with some of the best portable speakers, both big and small, to suit all budgets and needs. There's also a handy buyer's guide to help you choose the right portable powerhouse for you. So prep those playlists - they're in for quite a ride.
The best portable speakers of 2023
Best overall portable speaker
Description
The Sonos Move is one of the larger portable speakers you'll find, whilst still being practical.
Pros
Deep bass
Wide soundstage
IP56 weatherproof and drop resistant
10-hour battery life
Cons
Cannot be paired with Echo devices
Slightly heavy
Best budget portable speaker
Description
You may not be familiar with Eono as a brand, but it's owned by Amazon who has a great track
Pros
Very portable
Well rounded sound
Pairable with another for stereo sound
Waterproof and shockproof
Available in five colours
Cons
A little lacking in bass - understandable for the size and price
Best pocket-sized portable speaker
Description
Pros
Clever construction
Good audio quality
IP67 weatherproof and drop resistant
10-hour battery life
Cons
Missing an AUX port, speakerphone ability and track selection controls
Best mini portable speaker
Description
Anker already has a fantastic reputation amongst gadget fans for their solidly built audio gear,
Pros
Take it anywhere
Supports hands-free phone calls
Aux connection
15-hour playtime
Micro SD card slot
Cons
No WiFi
No water or dust resistance
Best portable speaker for parties
Description
A party can be the riskiest thing your audio tech can live through. Whatever you use to play your
Pros
Very powerful
Deep bass
Lighting effects
Dual mic inputs
Easy to adjust the mic gain
Best portable speaker for the planet
Description
House of Marley - named after the inspiration for the brand, Bob Marley - make audio products with
Pros
Sustainably built
Bamboo wood and fabric design
Pairable with another for a wider sound
Long battery life
4" woofers
Cons
No wifi connectivity
No weatherproofing
Best portable speaker for bass
Description
If you're totally addicted to bass, Ultimate Ears have named this portable speaker the HYPERBOOM
Pros
Massive bass
Huge battery life
Adaptive equaliser
Supports connections from 4 devices
Pairable with other speakers
Accessible controls
Cons
Some find the bass too heavy
Best waterproof portable speaker
Description
If you're all about listening by the pool or on the beach the Flip 5 is your best truly portable
Pros
Great audio and volume controls
Choice of colours
Very durable
Top waterproofing
Cons
Case design means it needs a flat surface
Best high-end portable speaker
Description
If you're looking for best-in-class sound and unconventional design, the Beolit 20 from Bang &
Pros
Splashproof
That B&O quality sound unsurpassed at this size
Plenty of volume
Cons
Looks are not to everyone's taste
No built-in mics
Best portable speakers: Buyers guide
Where does your music come from?
Depending on your listening habits, you may already subscribe to music streaming services like Amazon, music or Spotify. If that's the case, you'll obviously need some way to get that music to your portable speaker. The most obvious choice of technology here is Wi-Fi or Bluetooth. The former is going to be relevant for buyers who wish to use their speaker close to their house or an accessible Wi-Fi signal.
For others, the benefit of a portable speaker will be taking the speaker away from home and into the wild. In that case, you'll need a portable speaker that supports Bluetooth connections. This means you can pair the speaker with your mobile device and use 4G or 5G internet to connect to your music streaming service.
If you prefer to keep things simple, you might download or rip your music to MP3 files. The benefit here is that you can listen to your music wherever you go and never need to worry about an internet connection. If that's how you like to roll, you'll need a portable speaker that has a port for a storage device such as a USB stick.
How long do you want your music to last?
There's very little point in buying a portable speaker with a battery that simply will not last long enough to cover the length of your trip. Think about the kind of places you tend to travel to and how long you spend there. Unless you're lucky enough to be able to charge your portable speaker on the go, you'll need the battery to keep on keeping on. We've detailed the average battery life of all of the portable speakers we've featured to help.
Where are you going to take your portable speaker?
Getting out and about is all good and well, but the weather could easily rain on your parade, and that includes your lovely new portable speaker. If you need to lug your speaker up a mountain, you will obviously need to think about size and weight. But you also need to think about waterproofing or water and dust resistance. Some of the speakers above have IPX ratings that show how well your new device will survive in the open elements. Remember, just because the portable speaker is labelled as water resistant doesn't mean it's waterproof - and neither necessarily means you can shower with it or dunk it in the pool.
Hearing is believing
As with all speakers reviews and tech specs are one thing, but hearing is another. You can pick any of our selections above and be assured of buying some decent kit. But unless you put a lot of stock in user reviews online, the very best way to pick your portable speaker is to listen to it. And that means finding a friend who has one or visiting a store. Alternatively, buying from a retailer that supports easy returns if you're not satisfied will be the way to go.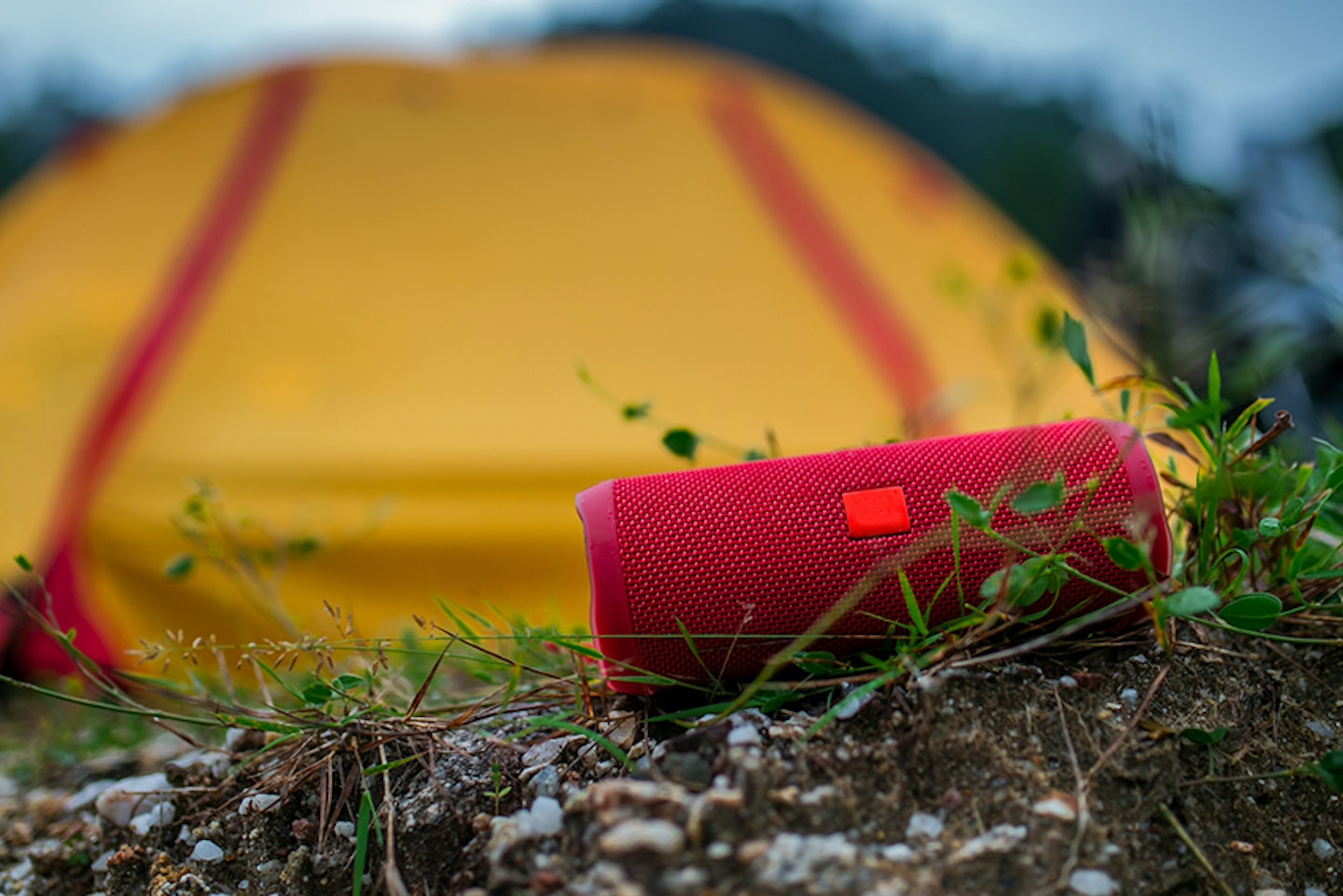 Best portable speakers: Frequently asked questions
How long does a portable speaker last?
This of course will depend on the size of the battery. And by size we mean capacity. The stated play-time is normally based on playback at average volumes. Therefore, it's not set in stone; your mileage will vary depending on what you play and how loudly.
How does a portable speaker work?
As we touched on above, a portable speaker is essentially an active speaker. An active speaker has internal amplifier circuitry built into it to play your music. The audio could be streamed from the internet via Wi-Fi or Bluetooth. or played from a connected storage device.
Who makes the best portable speaker?
This is largely down to personal taste. but here at What's The Best we really rate the speakers from JBL. As we covered in our rundown of the best JBL speakers, they know what they're doing when it comes to the right balance of affordability, feature set and portability. That said, the recommendations above showcase brands that are well-established and regarded as excellent by many.
What's the best portable speaker and microphone?
The benefit of having a microphone built into your portable speaker means that it may also be a smart speaker. Much like other smart speakers we've covered, a portable speaker with a microphone could be used to make phone calls or even Zoom meetings. Not everybody wants this functionality, but doubling up listening pleasure with practicality, choosing one of the best portable speakers with a built-in microphone is a great option.
What is the best portable speaker for bass?
With small speakers, truly excellent base doesn't come easy. For that reason, we're looking at a few of the larger options, such as the Ultimate Ears HYPERBOOM speaker as having one of the best bass responses on the market today. You're not going to find any with a true subwoofer built in, but options such as the Sonos Move will pair with other compatible speakers in the Sonos range - and that includes a subwoofer, but be prepared to have to plug that into the wall first.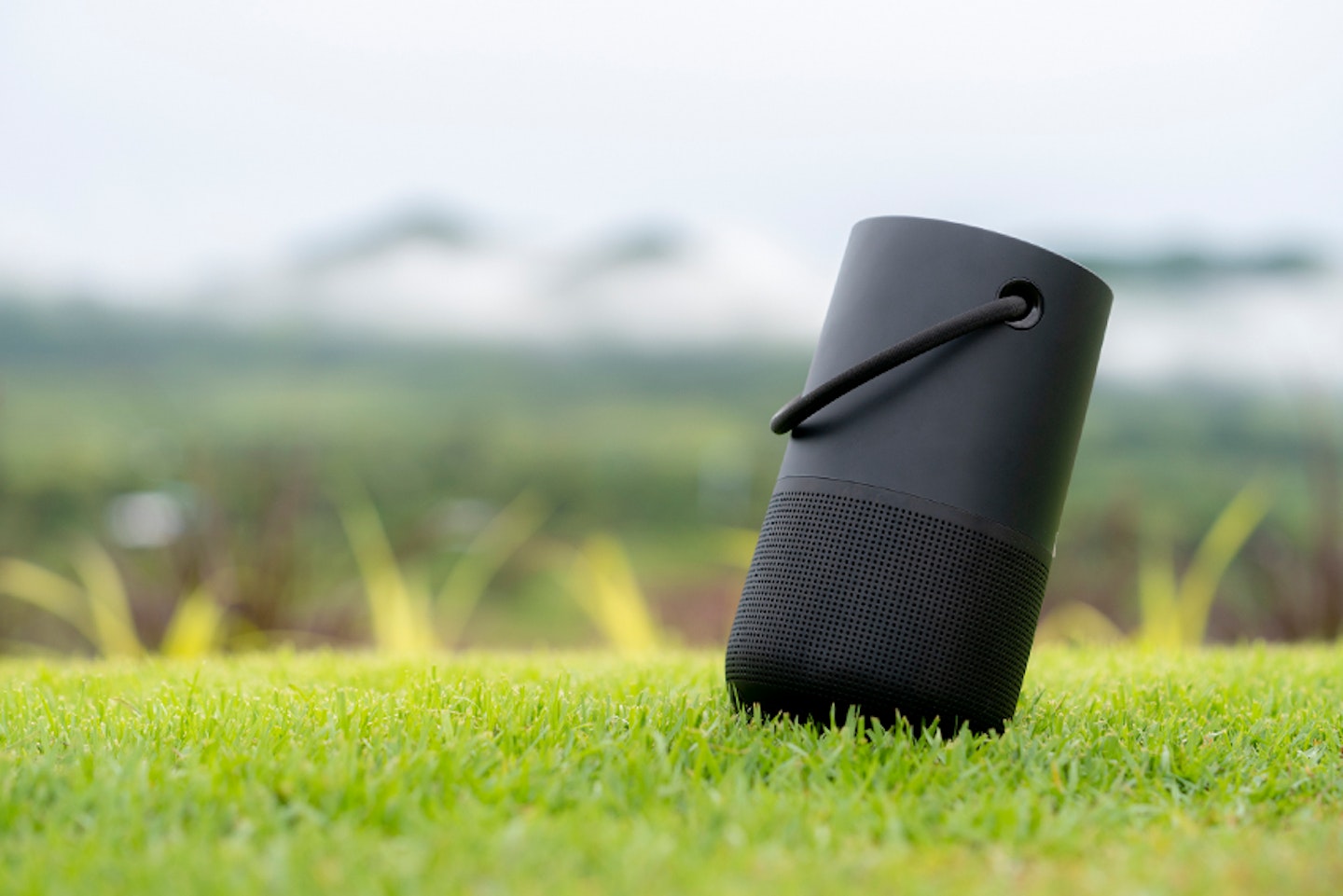 Speaker jargon-buster
Active speakers
Unlike passive speakers that have no active power or amplifier circuitry, active speakers do. All of our picks here are self-amplified. You can stream any sound directly to the speakers, usually via a mobile device connected with Bluetooth or WiFi connection. You don't need a separate amplifier.
Watt
Wattage in regard to sound output and speaker power is a measure of the strength of the signal that drives the speaker. The wattage between the speaker and traditional separate amp needs to be compatible to avoid potentially damaging both; but of course with active speakers this is all dealt with for you.
Decibels
Sound is measured in decibels (dBs). While it's an accepted measure of volume, it doesn't correlate with wattage. More wattage doesn't necessarily mean bigger or better volume, or quality for that matter. Usually, manufacturers specify the amount of dBs that a speaker can produce with a single Watt of power at a 1-metre distance.
Drivers
A driver is a device inside any speaker, be it wired headphones or bookshelf speakers, that converts electrical signals into sound. So it follows, larger drivers tend to be able to deliver a more powerful sound with greater accuracy. That said, this isn't always the case as build material quality also plays an important role.
Tweeters
A speaker is two components: a woofer and a tweeter. A tweeter is responsible for producing high-frequency sounds. They're often a dome shape and may even be independently positionable.
Woofers
A woofer is part of the speaker that produces low-frequency sounds. You'll commonly see these described by the width of the cone - in inches or centimetres. This will also give you a slight indication of how much range and power they may have.
Frequency Range
This is a measurement, in Hertz (Hz) of the range of sound frequencies a speaker can reproduce. Our ears can perceive 20 - 20,000 Hz, with the lower number being a lower tone and vice versa.
Chris Duffill is a Tech Product Writer for What's The Best. He specialises in audiovisual, computing, and gadgets. He also writes for Yours.
Subscribe to the What's The Best Newsletter to keep up to date with more of the latest reviews and recommendations from the What's The Best team.