It's hard to imagine a world that had never heard of Amazon Alexa. Now you can use voice command wizardry to ask Alexa questions like 'What are the best speakers for my TV?' or 'Will buying the best party speakers make me popular with the neighbours?' Even just a few years ago voice recognition was a slightly clunky affair, relegated to dictation software aimed at keyboard-dodgers. Now, it's everywhere. Amazon's voice command technology has made its way into a whole host of devices, including TVs, soft toys and even fridges.
The main way that Alexa has found its way into our homes is, of course, the smart speaker. With the ability to set alarms, perform web searches, and much more, they've also earned the moniker of 'digital assistant'. Amazon's own vehicle is its Alexa-enabled Echo devices; including the Dot, Show, Studio and more tech such as smart plugs.
But did you know that other smart speaker brands also have Alexa officially integrated into their circuitry? So, if you're listening to your little Echo Dot and find yourself longing for more power, bass and functionality, we're here to help. There are some excellent Amazon products there, alongside Alexa speakers from many other brands.
Best Alexa speakers at a glance:
• Best overall Alexa speaker: Echo Studio with Dolby Atmos and Alexa
• Best Alexa speaker for music: Sonos One
• Best Alexa speakers for TV:  Samsung Q990B Soundbar Speaker
• Best budget Alexa speaker: Echo Dot
• Best mid-budget Alexa speaker: Marshall Uxbridge
• Best premium Alexa speaker: Bose Home Speaker 500
Now, one important distinction to make here is integration versus compatibility. In general, if a speaker is labelled as 'works with Alexa' then this signals compatibility with your main Alexa device, such as an Echo Studio. That means that you'll be able to link with that device, such as a speaker, and ask Alexa to route music to it. That's not what we're looking at here - you can ask Alexa to do some very cool stuff, but compatible speakers won't take voice commands. What we're interested in is a true integration of Amazon's tech itself. So, if you only buy one of the best Alexa speakers listed here, you'll be all set for genuine voice control with decent sound.
As digital assistant technology becomes more ubiquitous, too much choice has us asking the question: 'Alexa, what's the best Alexa speakers of 2023?' Spoiler: the best answers are right here.
The best Alexa speakers of 2023
Best overall Alexa speaker
Description
The concept of a smart speaker has developed into fully-featured multiroom audio solutions. The
Pros
Neat and inconspicuous
Great modern design
Very easy to set up
Massive well-rounded three-dimensional sound
Cons
If you want more bass you'll need to get an Echo Sub
Best Alexa speaker for music
Description
Sonos has been at the top of its game for a while now, and the second generation of its
Pros
Neat design
Touch controls
Great integration with popular music streaming services
Can be paired with another for stereo sound
Huge room-filling sound
Cons
Cannot be paired with Echo devices
No Bluetooth
Best Alexa speakers for TV
Description
If a pricey home cinema amplifier plus all of the wires aren't your bag, but you still want
Pros
Revolutionary 11.1.4ch surround system
Dolby Atmos and DTS:X
Alexa built-in
Q-symphony is a bonus for those with a compatible Samsung TV
Active Voice Amplifier for clear dialogue
Cons
A separate amp and speakers may better suit those who crave this much power
Best budget Alexa speaker 
Description
It would seem odd to have a list of recommendations with only one Amazon device - especially since
Pros
Pairs easily with other devices via the Alexa app
Inconspicuous design
Easy to set up
Surprisingly loud and bassy for the size
Cons
Not for serious music listening
Bass starts to creak at higher volumes
Best mid-budget Alexa speaker
Description
Beautiful iconic design meets the latest in voice control technology in this fusion of the old and
Pros
Iconic Marshall design
Excellent tone controls
Rounded sound
Marshall Voice app for EQ control
Good mic sensitivity
Cons
An auxiliary input would have been a useful addition
Mic can be a little picky in noisy environments
Best small Alexa speaker 
Description
No, this isn't a boiled egg. It's one of the smallest portable audio devices we've ever
Pros
Take it anywhere
Supports hands-free phone calls
Waterproof
Cons
No WiFi
Connected mobile devices require Boompods app
Best portable Alexa speaker 
Description
It would be easy to confuse portable with low-quality sound, but not when Bang & Olufsen are
Pros
Three mics for excellent pick-up
Waterproof
That B&O quality sound unsurpassed at this size
Plenty of volume
Cons
Looks are not to everyone's taste
High volumes can sometimes vibrate the device - its power-to-weight ratio can be too impressive
Best outdoor Alexa speaker
Description
The Sonos Move is more than just a large portable speaker, it's designed to be at home outdoors.
Pros
Deep bass
Wide soundstage
IP56 weatherproof and drop resistant
10-hour battery life
Cons
Cannot be paired with Echo devices
Slightly heavy
Best premium Alexa speaker
Description
Small enough to place almost anywhere, but big enough for satisfying range and volume, what you're
Pros
Best-in-class stereo sound
Colour screen excellent for album artwork
Bose Music App compatible
Bose SimpleSync for easy multiroom setup
Cons
Cannot be paired with Echo devices
Screen is lower resolution than we'd like
Best Alexa speakers: Buyer's guide
Consider Amazon Prime
One of the most useful things about these is the tremendous number of things you can ask it to do. But for a real functionality boost, we recommend upgrading your Amazon account to Amazon Prime. Why? Because Alexa is an Amazon product. So you can expect benefits like asking it to play from millions of songs available on Prime Music. The same goes for Prime Video. An Alexa speaker linked with an Alexa-compatible TV will make viewing easy with thousands of films and shows to enjoy.
Your Alexa speaker can also be used to read e-books from Prime Reading. Perhaps the most practical benefit is using your voice to do some shopping; you'll have access to exclusive voice-ordered deals via Prime Alexa Shopping.
Consider your other smart speakers and gadgets first
If one of the best Alexa speakers here catches your eye (and ears) and it's not your only Alexa device, it's worthwhile listing the rest. By doing that you may well discover that your sound coverage could be better. Once you buy a new Alexa speaker, moving the others to new spaces could reach more corners of your home. You might decide that your brand-new speaker should take the place of your old one, freeing it up for a garage, spare bedroom or utility room.
Plan your Alexa speaker placement
Speaker placement is always a crucial decision, mainly due to the acoustics of the room. But it's equally important to think about your distance to the device itself, and the all-important built-in microphone. Placing a speaker too close to a competing source of noise - such as a loud TV or in a busy kitchen - could make it difficult for you to be heard.
One of the best all-around solutions to this, especially if you do live in a noisy household, is to purchase more than one Alexa speaker. This could be something as innocuous as a couple of Amazon Echo Pop speakers. Place one in your entrance hall, and another in your kitchen for instance, and you'll be able to control your main Alexa speaker and all of the usual voice commands through those. For us, this is a great upgrade in any case.
Try before you buy
Reviews and tech specs aside, there is no substitute for listening to the best Alexa speakers in person. A friend may have the one you're interested in. The best option is to buy from a store that supports easy returns if you're not satisfied.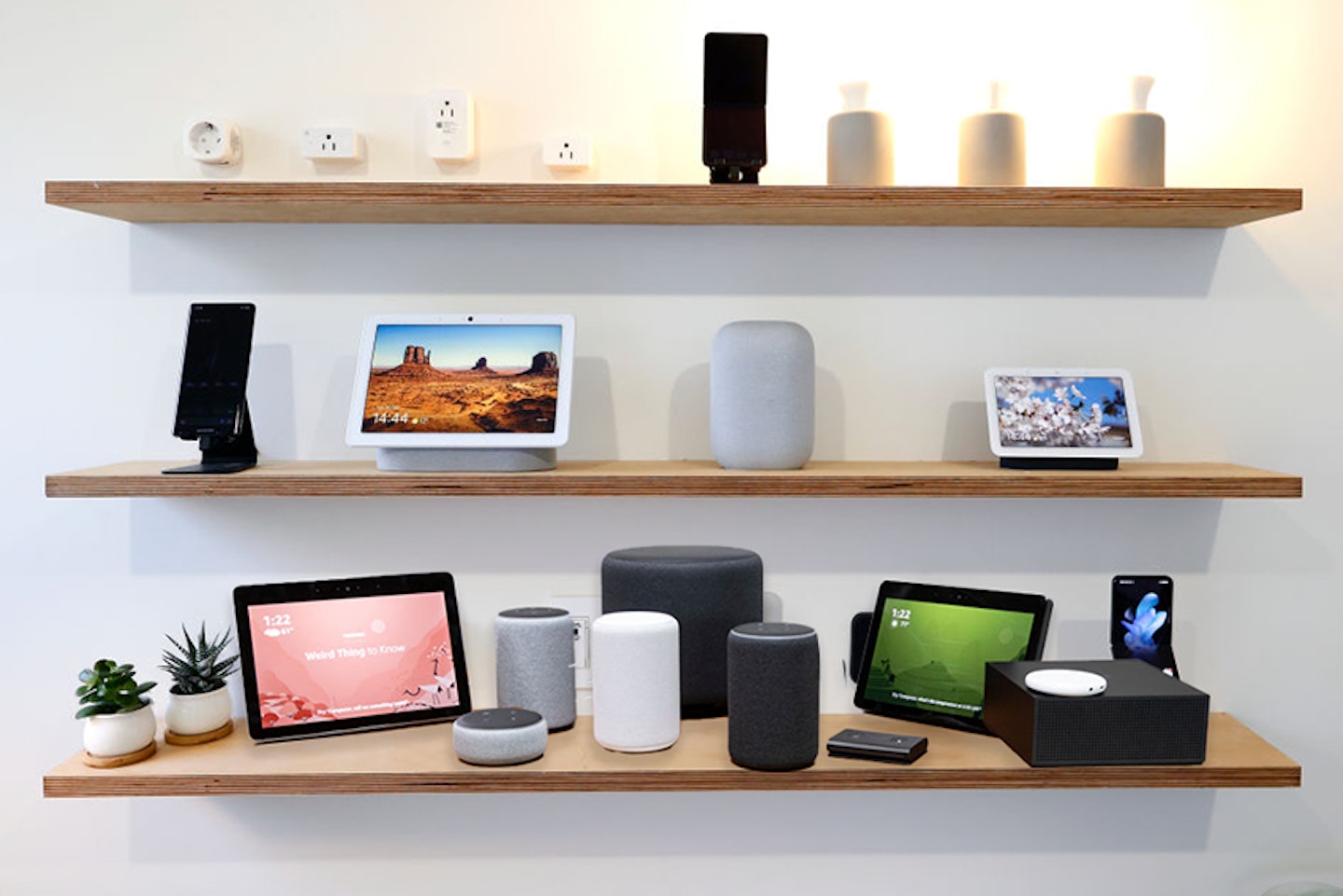 Best Alexa speakers: Jargon-buster
Digital assistant / virtual assistant
These terms are synonymous with 'smart speaker' and any other device that has advanced voice control and recognition powered by a live internet connection. If it's got Alexa, Siri, Google Assistant, or Bixby, it'll qualify as a digital assistant.
Active speakers
Unlike passive speakers that have no active power or amplifier circuitry, active speakers do. All of our picks here are self-amplified. This means that you can stream any sound directly to the speakers, usually via a mobile device connected with Bluetooth or through a WiFi connection, without the need for a separate amplifier.
Watt
Wattage in regard to sound output and speaker power is a measure of the strength of the audio signal that drives the speaker. With active speakers like the ones here, this is all dealt with for you.
Drivers
A driver is a device inside any speaker, wired headphones, floor-standing monoliths, or bookshelf speakers, that converts signals into sound. So it follows, larger drivers tend to be able to deliver a more powerful sound with greater accuracy. That said, this isn't always the case as build material quality also plays an important role.
Tweeters
A speaker is two components: a woofer and a tweeter. A tweeter is responsible for producing high-frequency sounds. The very best Alexa speakers will probably have one, but some single-speaker models won't. With small devices, this is much less of an issue.
Woofers
A woofer is part of the speaker that produces low-frequency sounds. You'll commonly see these described by the width of the cone - in inches or centimetres. This will also give you a slight indication of how much range and power they may have.
Frequently asked questions
What's the best Alexa speaker for music?
We think the Sonos One, above, is one of the best Alexa speaker choices you can make. Not only do you get the excellence of build that comes with the Sonos brand, but you also get exceptional performance and a clear, well-supported path for a whole-house audio solution.
What's the best Alexa speaker for bathrooms?
One of the best Alexa speakers we've seen that has a waterproofing level that would make it survive in a bathroom is the Bang & Olufsen Beosound A1 as featured above. If there's one thing you don't want to cut corners on when it comes to an Alexa speaker for a bathroom is water resistance, and this one is both dust and waterproof. Remember, unless it's specifically designed to be submerged, we don't recommend taking any electrical equipment into a shower or close to a bath. The equipment might not be the only thing that is irrevocably damaged.
Can I use an Alexa speaker without wifi?
Yes, you can. But you probably don't want to. As Alexa devices often come with Bluetooth, they can still be used as a simple wireless speaker. But then you'd be ditching some of the very best Alexa speakers features that you've invested in. If you're unable to connect your speaker to wifi for any reason, such as being away on holiday, you may be able to share your mobile device's 4G or 5G connection as a mobile hotspot.
What's the best Alexa speaker with a screen?
Although Amazon has done a fantastic job with its Echo Show, we feel that this has become more of a screen with a good speaker, not the other way around. The best thing about an Alexa speaker with a screen is going to be how quickly and easily you can see what's playing and other essential info. The Bose Home Speaker 500 we mentioned in our line-up has a very well-integrated and sizable screen that delivers everything you need.
What's the difference between Alexa, Siri, Bixby, and Google Assistant?
These voice command technologies function in much the same way but are developed by different companies. Siri is Apple's take on it, with Bixby developed by Samsung. As you'd expect, they don't all share the same commands, settings and functions. They also focus on different features, depending on the device and assistant being used. For instance, Bixby is understandably very good with Samsung TV integration and its SmartThings platform for its devices; while Google Assistant and Alexa seem to favour media streaming. And of course, these operate in different ecosystems, so don't expect to be able to control everything with everything.
We recommend doing your research, trying each out, and sticking to one brand of digital assistant wherever possible. It'll make linking everything up that much easier. And where you can't stick to one, try to make sure the device you're considering is at least compatible with your choice of voice control.
Why buy an Alexa device?
The experts here at What's The Best tend to gravitate towards Amazon Alexa, simply because the near seamless integration with the company's shopping platform is useful, the number of devices that support it is huge and growing, and its responsive and accurate when spoken to. Plus, thanks to Prime Music, if you're in the mood for some Red Hot Chilli Peppers, it's clever enough to skip the grocery aisle and play some serious tunes at no extra cost.
Chris Duffill is a Tech Product Writer for What's The Best. He specialises in audiovisual, computing, and gadgets. He also writes for Yours.
Subscribe to the What's The Best Newsletter to keep up to date with more of the latest reviews and recommendations from the What's The Best team.