You're not alone if you've decided to take the plunge and buy one of the best treadmills for home use to escape the weather. But now there's a much better reason - high-tech excellence. Exercise gurus and couch potatoes are finding the treadmill ever more alluring - even treadmill desks are a hit.
As you'll have seen, the range of home treadmills is as dizzying as remarkable. There's a wealth of options to suit all budgets and uses. Firstly, it's important to stick to your budget with gym equipment like this, as it's especially tempting to overspend when faced with so many innovative high-end features. Secondly, you'll need to narrow the options to great models from reliable brands. That's where we come in.
The best treadmills for home use at a glance
• Best overall treadmill: Branx Fitness 'LIMITED EDITION' Foldable StartRun Treadmill - View now on Amazon.co.uk
• Best budget treadmill: Nero Sports - Electric Treadmill Foldable Motorized - View now on Amazon.co.uk
• Best treadmill for regular runners: JTX Sprint-5 Home Treadmill - View now on Jtxfitness.com
• Best interactive treadmill: NordicTrack Commercial 1750 Treadmill - View now on Johnlewis.com
Shop the best treadmill deals on: JTX Fitness | NordicTrack | Argos | Amazon
With so many treadmills, deciding what is right for you can be a little daunting. You might be looking for one to compliment your home multi-gym or one that will fit snugly into the corner of your lounge or bedroom. And a lot will depend on what kind of runner or walker you are, with varying levels of incline and speeds on offer. Therefore, sifting through all of the options can seem as exhausting as a full cross-trainer workout at times. But our experts are here to help.
We've collected everything you need to know to explain the best treadmill for home use, show you what to look for, and which features are important. There's a buyer's guide at the end of the article too. Below we've selected the very best treadmills for home use, from basic to folding, from budget to top-of-the-line smart treadmills. Let's get things running.
The best treadmills for home use in 2023
Best treadmill for regular runners
Description
The JTX Sprint-5 Home Treadmill is designed with regular runners in mind, whether you're a
Pros
43 pre-set programmes
Large LCD monitor
Connect to Zwift & Kinomap via Bluetooth
Cushionstep suspension
Cons
Only recommended for up to half-marathon runners
Limited incline
Best overall treadmill
Description
Branx Fitness is a UK brand you may recognise. As such, their 5-year warranty on its motor and
Pros
Foldable
Plenty of power
Excellent weight capacity
Good incline settings and cushioning
Best value treadmill
Description
When it comes to value what we don't mean is 'cheap'. Cheap treadmills can be found for £100 or
Pros
Warranty
Quality construction
Foldable
Up to 20% incline
Cons
122cm/41cm belt is not ideal for tall runners
Best budget treadmill
Description
If you're just starting out, or need something that costs considerably less than £500, this
Pros
Super value product
12 programs
Pulse sensors
Bluetooth connectivity
Foldable
Cons
Limited incline settings
Running surface on the small side for those with longer strides
Best interactive treadmill
Description
If you desire a treadmill with integrated interactive training, then we suggest sticking with
Pros
DurX commercial motor
Exceptional build quality
HD touch screen
Large 55 x 152 Running Surface
Cons
12% incline is good but some might want more
Best high-end treadmill
Description
Despite looking like a commercial treadmill, and being built just as solidly, this is the best of
Pros
Commercial quality yet well suited to homes
Quiet operation
Auto-on when stepped onto
Reproduces your own real-life routes
Cons
Users with very long strides may find it a little limited
More technical features means more complexity
Best treadmills for the home in 2023: Buyer's guide
Check under the hood
First and foremost, what's underneath is most important. It might look like a Lamborghini on the outside, but it's a waste of time and money if the running mechanics are cheap and nasty. For example, one indicator of a treadmill that's built to last is the continuous horsepower rating (CHP).
Treadmills that can hold a strong, consistent power output don't have to work as hard as those with less power. You should aim for a CHP of at least 2.5 if you plan on using it daily. And don't mistake horsepower ratings for CHP either – the former likely indicates peak power, and if the treadmill you're looking at doesn't list CHP, you should be dubious about it.
Consider performance goals
Does a treadmill meet your standards as a runner and allow enough room for plenty of improvement? What speeds can it achieve? How loud is it? How much can it incline, or even decline? By the same token, what is shock absorption like to reduce the strain on joints? And of course, once you've answered all of these, it's important to invest in the best running shoes so that you can keep up in comfort.
Research belt speed and sizes
The general rule is the higher the speed, the higher the price. But when it comes to belt sizes, these are more important because taller and faster people will need a longer belt. For the tall and long striders, try to steer towards treadmills with belt sizes of around 152cm/60 inches. Consider weight limits too. Naturally, this is important for the machine to be able to take your weight, but the other thing it is indicative of is the quality of the frame.
Programme functions
More functions and large screens showing online workout sessions are what many people want. You can get a good range of programmes on entry-level machines, but of course, those who want an integrated screen should expect to pay more. One way around this is to simply use a tablet or mobile phone.
Don't buy then get bored
Running when you're outside is plenty stimulating, but addressing boredom during an indoor treadmill run can be challenging. We aren't all blessed with spare room views of the Carpathian Mountains or the Mediterranean Sea. There are a number of high and low-tech remedies to address the potential boredom that can curb our enthusiasm. You can put up posters in front of you to look at while you run, blast some music, or even connect with others with the Zwift app. And if you're already a fan of that app, you should probably check out some of the best Turbo Trainers for Zwift too.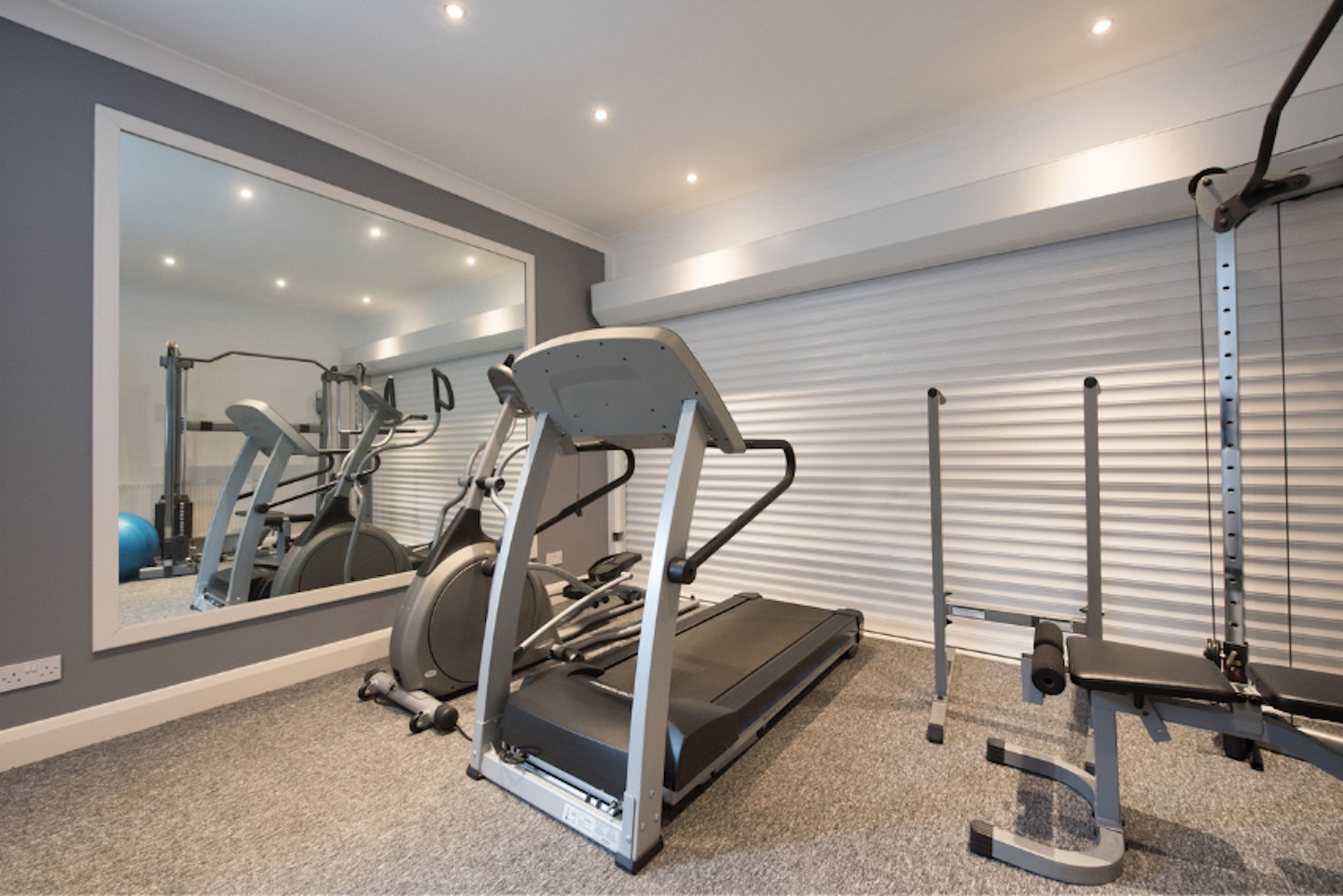 Best treadmills for the home in 2023: Frequently asked questions
How do I maintain a treadmill?
As with all home gym equipment, your first port of call should be the user manual. The build and maintenance of a treadmill will vary from one brand to another, and one model to another too. Obviously, keeping the machine clean and free from debris and anything that could become entangled is a good idea. But one of the user-serviceable pieces of maintenance you can look into is lubrication.
Predictably, this is a very simple yet important part of treadmill maintenance. Therefore, JLL and NordicTrack provide instructions on how to best lubricate their treadmills. JLL also have a handy general treadmill maintenance video on YouTube with useful tips (lubrication is at 1 min 35).
Here's our pick of a good lubricant that's easy to apply to hard-to-reach areas.
Pros
Easy to apply to hard-to-reach areas
Precision cap
What's the best way to workout on a treadmill?
At least initially, it's good to have a set workout regime. Understandably, most beginners often don't know where their benchmarks sit, or where to begin, and have to battle the mental wall that hinders persistence.
Finding yourself a suitable workout schedule helps you stick to your ability (which is not the same as pushing yourself). This, therefore, makes your workouts far more enjoyable. There are numerous fitness apps and online resources available. Also, apps include the Nike Run Club app and two of the above NordicTrack treadmills use iFit. However, there are countless others available online that a quick internet search will give you.
Are treadmills safe?
As long as they're well maintained and periodically checked for mechanical or software issues, a treadmill for home use is as safe as you are when you use it. Therefore, consider where you place your treadmill - make sure that there's nothing placed close by that would be dangerous if you were to fall off. If you're put off by the moving belt, perhaps consider one of the best stepper machines instead for a more stationary challenge.
Gemma Lavers is a Health & Fitness writer for What's The Best. When she's not travelling or writing, Gemma loves spending her weekend completing home workouts, or attending yoga, Pilates or Zumba classes.
Subscribe to the What's The Best Newsletter to keep up to date with more of the latest reviews and recommendations from the rest of the What's The Best team.