"If you've got a $10 head, wear a $10 helmet" said motorcycle lid manufacturer Bell in the 1960s. Times have moved on since then, with safety standards ensuring all mountain bike helmets like the Smith Forefront 2 meet (and sometimes exceed) an agreed level of protection. But the point still stands.
Costing nearly £200 the Forefront 2 is a wedge of cash, especially when you consider it's technically a consumable item – the experts at Mips suggest a maximum five-year shelf life or replacing it immediately after a crash.
You can tell where this is heading. Do I have a $200 head? Is the Forefront 2 worth the price of two cheaper helmets?
Verdict (5/5): Spoiler alert, it absolutely is. Other reviewers of the Smith Forefront 2 didn't get on well with the ventilation or padding; maybe I've got the right shaped head, but this is the comfiest mountain bike helmet I've ever worn. The sunglasses integration will look like a gimmick or a must-have depending on your outlook (I've become the latter) but there's no denying the substantial amount of protective tech this helmet features.
Pros
Supreme coverage and protection
Minimalist design
Brilliant sunglasses integration
Cons
Expensive compared to rivals
What's good?
For a start, the coverage, which is impressive considering this feels like a relatively small and lightweight helmet (380g for a medium). It reaches a long way around the back of my head and just far enough down at the front to avoid clashing with my sunglasses – more on this later.
The expanded polystyrene (EPS) skeleton is relatively minimalist, and that's because the bulk of this helmet's protection comes from the Koroyd layer surrounding your head. This honeycomb construction looks like a load of drinking straws glued together and is designed to crush on impact to reduce the energy of a crash.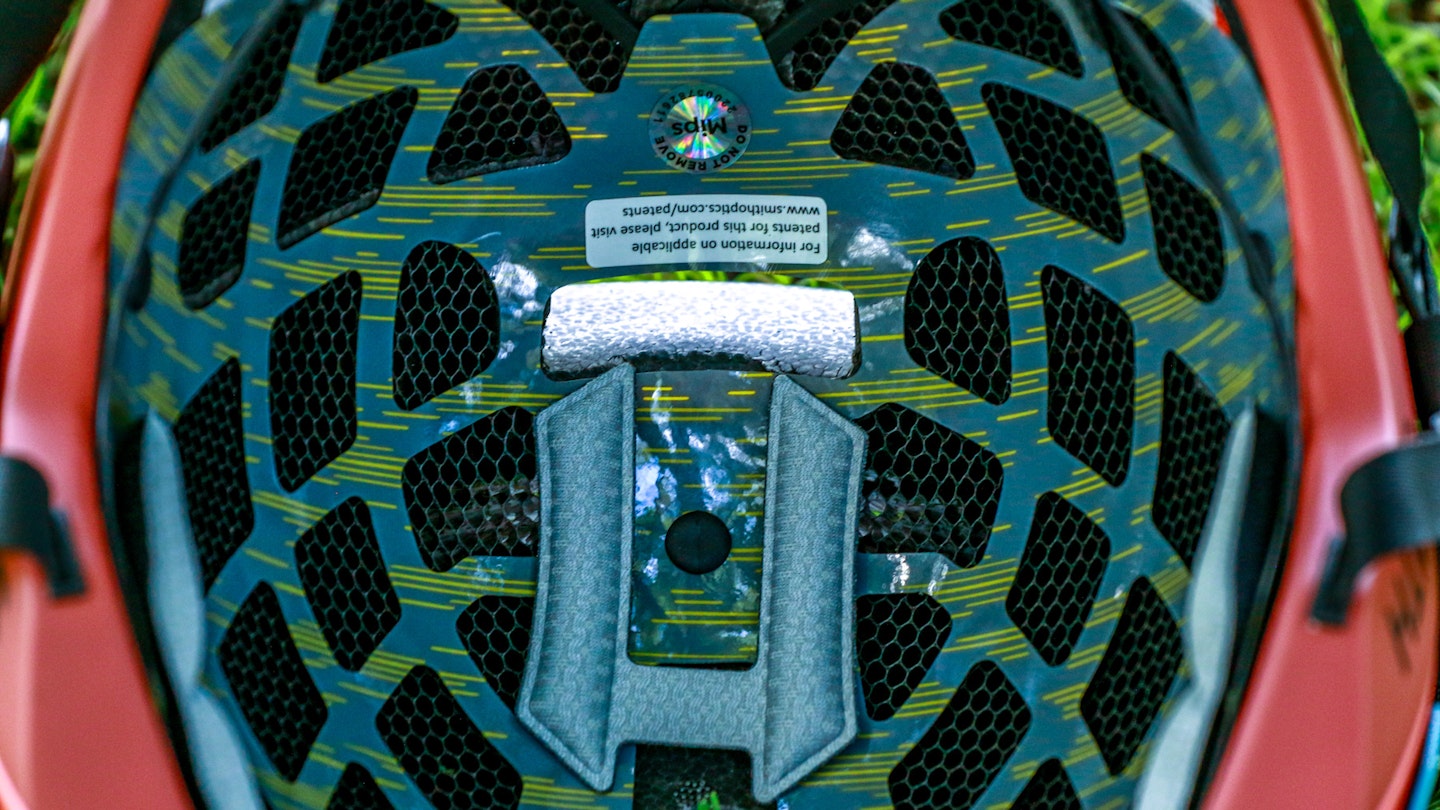 Inside that is a Mips layer, which allows a small amount of movement between the helmet and your head to avoid rotational forces than can damage your brain. In short, it's got the full suite of impact tech available at the moment.
On first inspection you'll spot there really isn't much in the way of padding, and what's there is pretty thin. I have been amazed at how comfortable this helmet is, in spite of that, with absolutely zero pressure points. It just feels like it's sculpted around my head. Also, I find heavily padded helmets (especially around the forehead) just get soaked with sweat on hot days too, which isn't a problem here.
The retention ratchet offers small degrees of adjustability to get it clamped to your skull with just the right amount of tension, and runs 270 degrees around instead of the more common 360. I assume this is to stop it interfering with sunglasses (I will get to that soon I promise) and likewise the chin strap, which attaches to a point away from my temples to create space.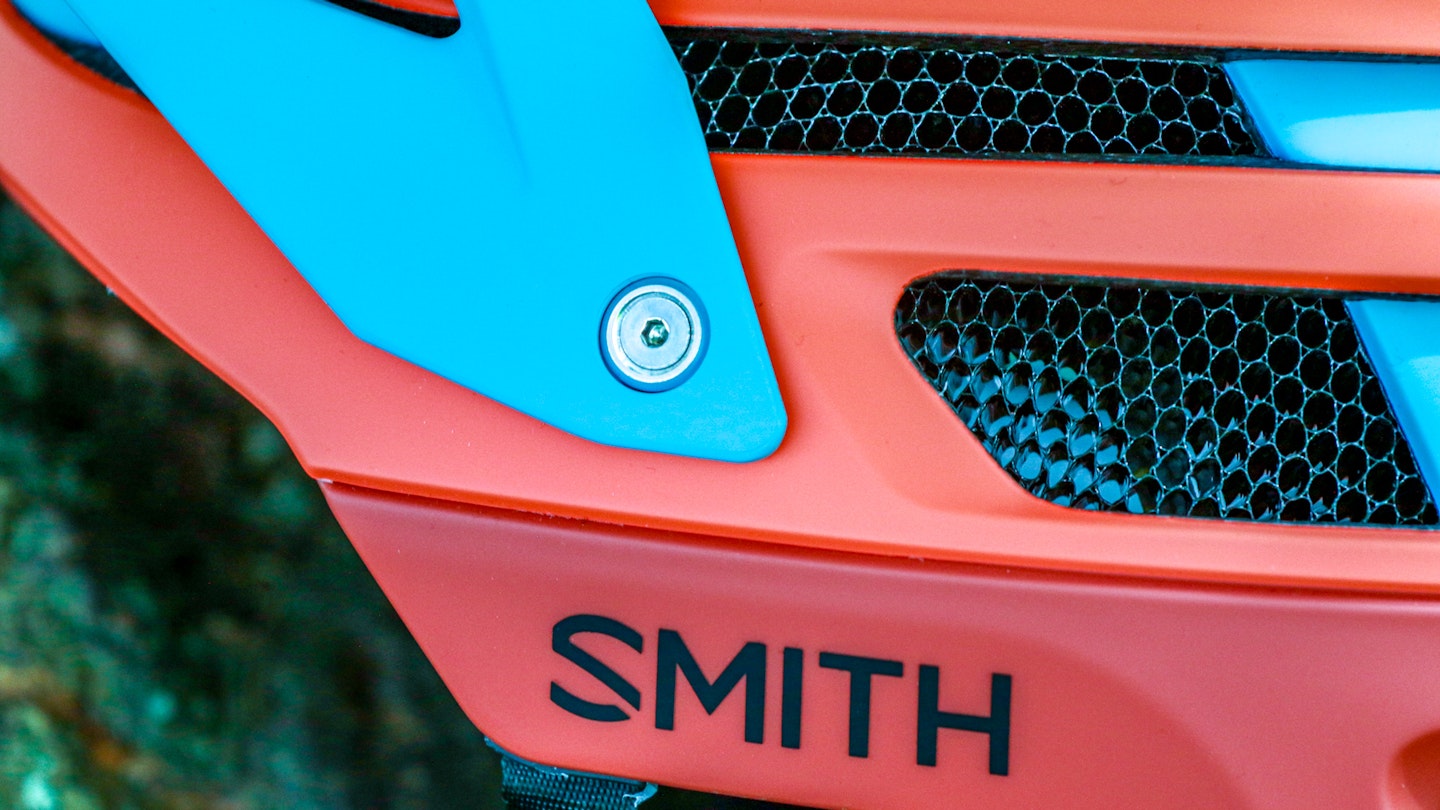 Fit and finish is top notch, as you'd hope, and the peak offers three distinct locations depending on whether you want it low, higher to create space for sunglasses, and finally high enough to fit goggles under. Again, it's a small peak but it works very well indeed.
Final highlight – this is the only MTB helmet I've owned that works properly with sunglasses. I don't know whether I have a short forehead or a big nose (or because I buy sunglasses that are too big) but I've never been able to wear a pair without them banging into my helmet or pressing into my nose.
It helps that I've been testing this lid with a pair of Smith Shift Split Mag sunglasses that are designed to work with it (read more about those in our Best Sunglasses article) but the experience is seamless, with the perfect gap between the two, enough space for the arms to run inside the helmet, and two places to "dock" them when not in use.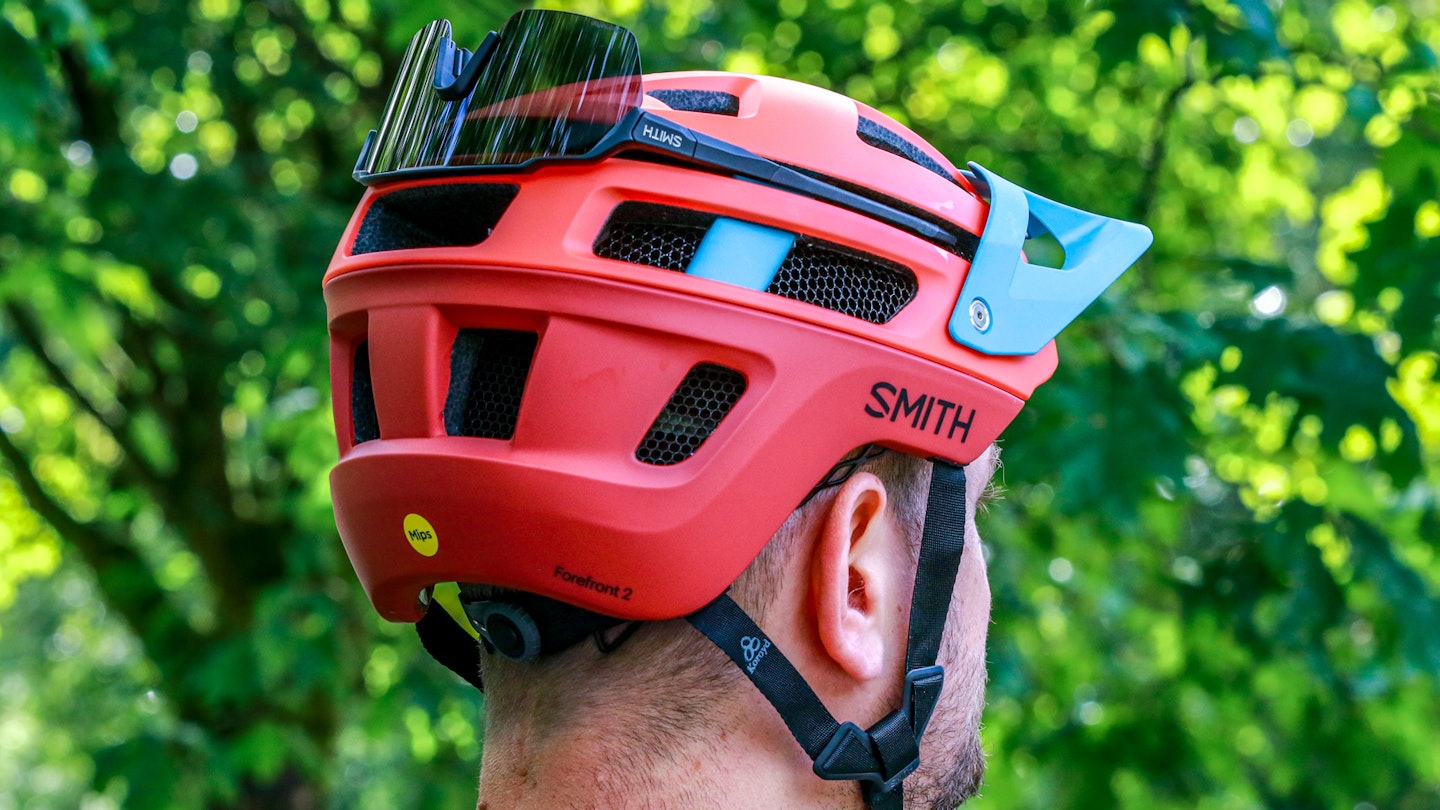 Running 360 degrees around the helmet is a channel, which is the perfect size and shape to insert the arms of your sunglasses. I've found in the front position they can block airflow, so I prefer putting them on the back. This takes a bit of practice but they're very secure once inserted. I have lost countless pairs of sunglasses by taking them off and putting them in my pocket, or the neckline of my t-shirt, so I absolutely love this feature.
What's okay?
That Koroyd layer unsurprisingly will only allow airflow in one direction so it does hamper the ventilation a bit -  I say this, I found the Smith Forefront 2 absolutely fine even on the hotter days of summer 2023, but I do have helmets that run cooler.
There are 20 vents on this helmet (including a couple without Koroyd impeding them, and a clever one above your forehead to deal with goggle ventilation) and that definitely helps, plus overall I'm happy to accept a bit of a compromise in airflow for a high level of protection.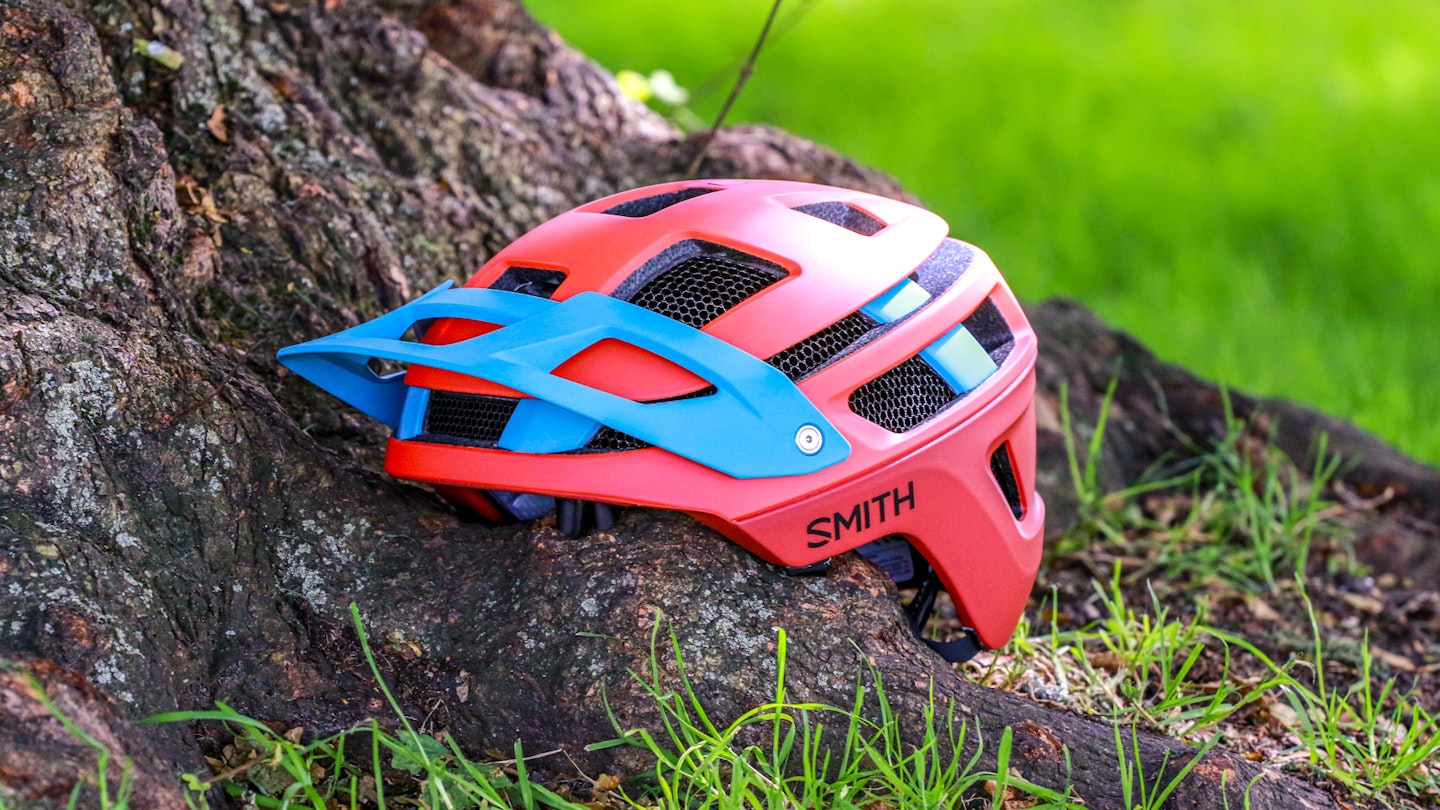 My only other gripe is the fact that the Forefront 2 features a really clever breakaway action camera mount that clips into one of the holes on top and snaps off in the event of a crash – but you have to buy it separately. I can't seem to find one to purchase and I think I'd find it really useful, so that's a bit annoying.
Any negatives?
The biggest downside to this helmet is the price compared to rivals, which is a considered investment. Otherwise…the peak creaks a bit when you move it through its three positions?
More helmets to consider
Description
Another Koroyd lid, this one with a pretty significant discount.
Description
You can't really talk about premium MTB helmets without mentioning a POC Tectal can you?
How the product was tested
I've been riding in the Smith Forefront 2 for three months, including the summer and the rapid onset of autumn so it's been out in the sun, in the rain, and everything in between. I've mostly been riding local trails but I also wore in on an uplift day at BikePark Wales and a pretty beastly slog around Afan on the hottest day of the year.
Adam Binnie is a reviewer for WhatsTheBest, specialising in bikes, fitness, cars, parenting and cooking.
Subscribe to the What's The Best Newsletter to keep up to date with more of the latest reviews and recommendations from the rest of the What's The Best team.