As budgets go, setting your sights on the best road eBikes for £1,000 - £2,000 is more than an adequate marketplace, both for choice and quality. Thankfully, some of the best eBikes available are also great road bikes. Apart from a welcome power assist, they're also a great enabler for getting back on the bike after injury or helping you achieve your fitness goals.
That said, some might consider this to be an entry-level bracket compared to an eBike that costs under £3,000. Most of the best road eBikes for £1,000 - £2,000 won't come with drop handlebars. They'll mainly be flat bars, which are great for commuting eBikes and weekend riding. Flat bars offer more stability as they're generally wider and slightly more comfortable. So, what should you look for?
We've gathered a selection of our favourite eBikes in this category. To help you decide which is right for you, we've examined their strengths and weaknesses considering factors like battery, motor, and distance. There's also a buyer's guide and some of your questions answered to narrow things down; especially important when you consider that commuting eBikes and city bikes share many of the same characteristics.
Best road eBikes for £1,000 - £2,000 in 2023 at a glance
• Best overall road bike: Raleigh Trace Hybrid e-Bike - View at Tweeks Cycles
• Best budget road eBike: Pure Flux One Electric Bike - View at Robert Dyas
• Best commuter road eBike: Cooper CR-7E - View at Bikestock
• Best general-purpose electric road bike: Pendleton Somerby E - Mint 2021 - Electric Hybrid Bike - View at Halfords
So, here are our picks of the best road eBikes for £1,000 - £2,000 this year.
Best road eBikes for £1,000 - £2,000 in 2023
Best overall road eBike
Description
Well-respected brand Raleigh (you may remember the Raleigh Burner as a kid if you're old enough)
Pros
Very well designed and built, with flexible hybrid styling
Nicely specced and ready to go thanks to lights, mudguards and more
Light enough to lug around if you have to
Hydraulic disc brakes and Shimano drivetrain means great power and control
Cons
Hydraulic disc brakes are difficult to service
Best budget road eBike
Description
Ideal for beginners, the Pure Flux One has a removable 299Wh battery that will take up to five
Pros
Excellent entry-level road eBike with a lot of features for the money
Three power modes are easy to use
The belt-driven gear is oil-free for clean operation and easy maintenance
Best commuter road eBike
Description
Cooper, as in Mini Cooper? Yep, they make eBikes now. And this one looks excellent with its tan
Pros
Clever technology mixed with classic design
Laka insurance included for peace of mind
Great for commuting and longer road trips
Cons
The battery could be bigger, but it is super discreet
The racing handlebars may not be to everyone's taste
Best general-purpose electric road bike
Description
Taking an already low-priced bike and putting a low-priced eBike motor on is one way to ensure you
Pros
Excellent motor for a budget e-bike
Shimano Acera 8-speed gearing for smooth and consistent shifting
Lightweight aluminium step-through frame makes it a practical all-rounder
Full-length metal mudguards, chainguards and luggage rack
Cons
V-brakes aren't the best
A hefty bike
Best road eBikes for £1,000 - £2,000 in 2023: Buyer's guide
Before you take the plunge and go shopping for the best road eBikes for £1,000 - £2,000, here's the low down on what to look for:
Identify your riding needs to choose the right frame
The basic types of e-bikes have various forms and functions. The best road eBikes for £1,000 - £2,000 can include features sometimes seen on other types of bikes. So, to let you identify a road bike from some of their close cousins, here's a quick overview of eBike types:
Road bikes and City bikes
Often with enough range to travel far and wide, a road bike is used on roads with flat surfaces. But, City bikes are often more comfortable. Many of these will also have a more upright seating position for comfort. City riders need similar features to Road Bikes but as they typically make shorter runs the battery and torque can be lower down the list.
Commuter bikes
Every commuter needs decent battery life and road bike handling. But, they may need to hop on and off other forms of transport. A folding electric bike is an excellent option for portability in urban environments. They don't often make great road bikes though, as foldability often comes with smaller wheel diameters. They can also be heavier.
Mountain bikes
Motorised mountain bikes make hill climbs and descents easier and you can ride for longer. Thanks to the powered assistance, exploring further is a real possibility. The better equipped they are the heavier they can become - unless your budget can be expanded. An e-bike costing under £1000 is therefore likely to be a lot heavier due to the cheaper build methods used. There's often no good reason why this can't be used as a road bike, but you may find the added suspension takes some of your downward pedal power away from you.
Hybrid bikes
Hybrids combine features from most of the above. This makes them a great all-rounder. A hybrid electric will let you combine a wide range of cycling activities without worrying about comfort or going for some light off-road rides. They may not be as comfortable or have as long a range as a dedicated road bike though.
Choose based on different types of motor
There are two main types of eBike motors: Ones that work on the pedals to assist you, and ones that work on the rear hub. The latter assists the rear wheel to turn rather than the pedals.
We've found that Bosch motors, which are pedal mounted, generally give the most boost and so reduce fatigue. Because the power is directly mounted to the pedal, you feel it instantly. They are though generally more bulky, but that also means they can deliver more torque than rear hub motors.
Motors on the rear hub are much more compact. About the size of the big gear on your cassette, they're much more discrete. They provide plenty of power and are also very discrete.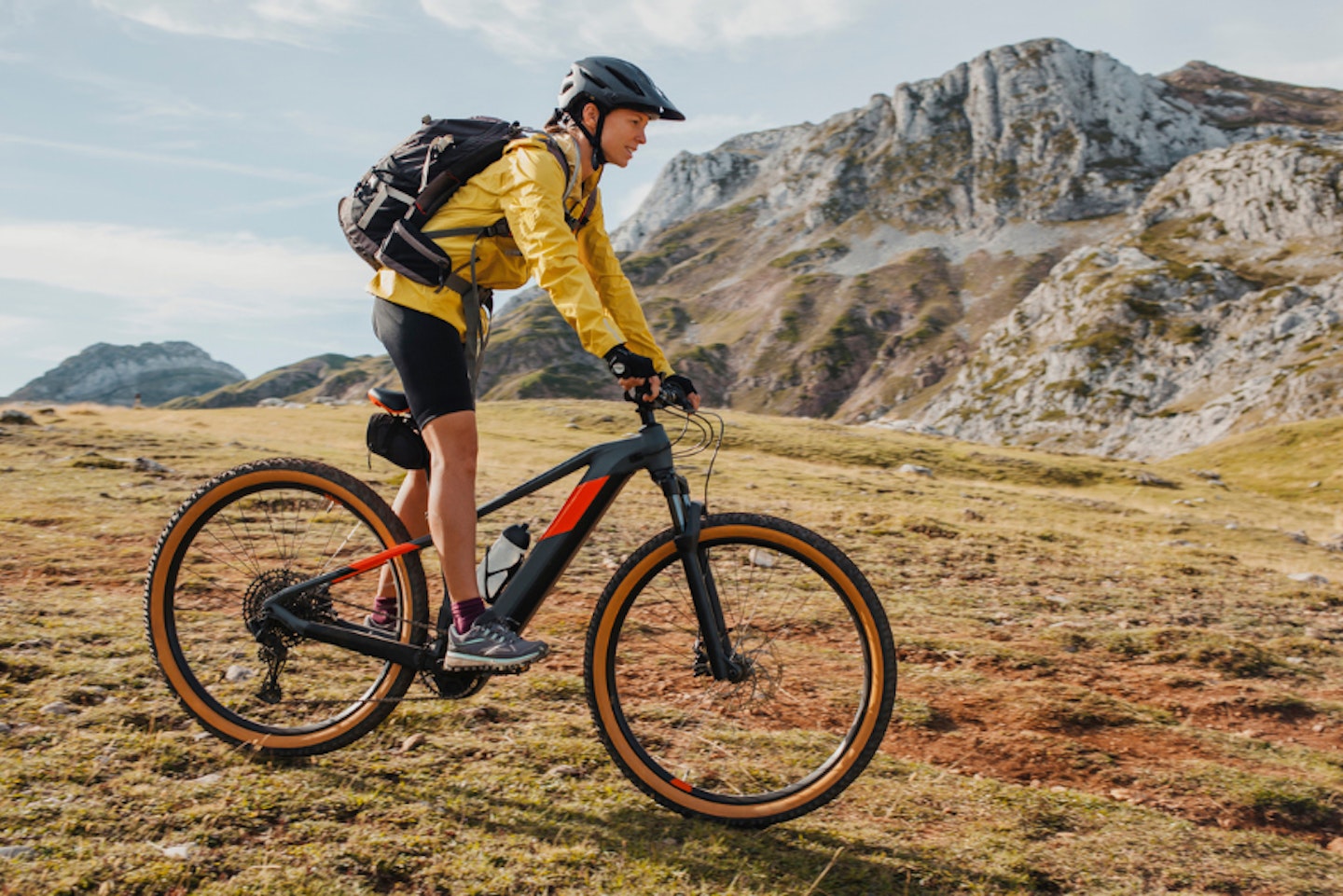 Best road eBikes for £1,000 - £2,000 in 2023: FAQs
Are eBikes road legal?
Yes, absolutely, but they have to conform to some rules: The motor must be restricted to 250 watts and 15.5mph. If you want to find out more, What's The Best has previously discussed in an explainer around the UK law on eBikes.
What's a hub motor?
Bikes around this price point will mainly have a rear hub motor, named as such because they're located in the hub of the rear wheel. They're more popular at this price because they're generally cheaper and easier to install than a crank motor housed between the pedals.
While a hub motor is lighter and cheaper, its drawbacks are that it isn't as powerful. It will still give you an additional boost of up to 250 watts but won't match the torque a crank motor can produce. This means that using more powerful modes will drain the battery more, and climbs won't be as easy as they could be with a crank-motored eBike. If you were looking to off-road with an electric mountain bike, a crank motor would be superior.
Integrated batteries
There are two choices of batteries on eBikes: Those which you can mount to the bike's frame (usually where to bottle holders are) and those integrated into the frame. Integrated batteries keep a bike's sleek design features. At first glance, with a rear hub motor, you'd barely even notice that the bike was an eBike.
These batteries are generally smaller, and designers have to consider cooling - so they can't just be stuffed into the frame without careful consideration. Another factor is that they're not always removable. This can make charging your bike difficult if you don't have somewhere to store it.
Myles Warwood is an Autos & Fitness Product Writer for What's The Best, Parkers and CAR. His areas of expertise include cycling, fitness tech and hot hatches.
Subscribe to the What's The Best Newsletter to keep up to date with more of the latest reviews and recommendations from the What's The Best team.