Marshall is a name of pedigree. Since 1962, it has helped to define the sound of rock and roll. In 2010, the brand expanded and turned its hand to headphones and Bluetooth speakers - a natural fit, and one that has brought some great audio to living rooms the world over.
The Marshall Acton II Bluetooth speaker is one of the company's most recent efforts. Building on the foundation of the original Acton, the Acton II is the smallest mains-powered speaker offered by Marshall. Does it have what it takes to be considered a great, despite its diminutive stature? What's The Best's William Lobley puts it to the test.
| Specifications | |
| --- | --- |
| Size/Weight: | 260 x 160 x 150 mm, 2.85kg |
| Configuration: | Stereo, x2 tweeters, x1 woofer |
| Frequency range: | 50-20,000Hz |
| Connections: | Bluetooth 5.0, 3.5mm aux-in |
| Other: | Mains powered, companion app available for Android and iOS |
Pros
Cons
• Enjoyable sound…
• … but it needs the EQ tweaking in-app
• Stylish design
• Only Bluetooth or 3.5mm inputs
• Reliable connection
Verdict: An achingly stylish speaker with a robust build and reliable connectivity. Inside, its two stereo speakers and woofer have the power to deliver high-quality audio - just be prepared to get it by tweaking with the EQ in the app.
Jump to:
Build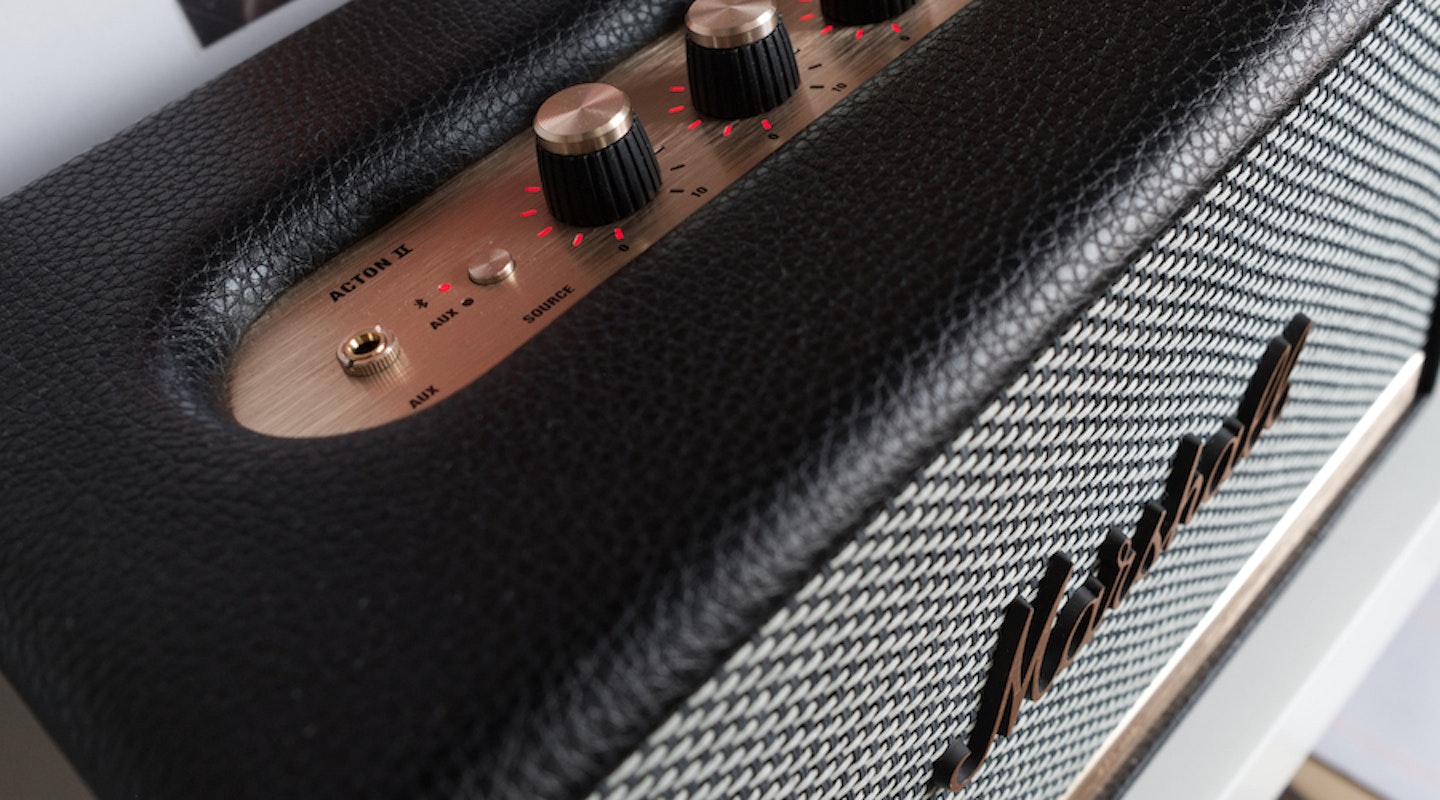 • Weighty and sturdy
• Timeless design
• Stereo speakers and woofer have good wattage
I do find it a little strange that I first judge a speaker by its weight. Considering that its entire purpose is pleasing the ears, it's the muscles in your hands and arms that provide you with a hint of what's to come.
It's because, generally, a heavy build demonstrates a robust construction with quality materials. In turn, this gives you hope that there will be heft, clarity and quality high loud volumes kicking from the unit.
So, when I pulled the Marshall Acton II speaker from its box, I felt optimistic. It's not a large unit, measuring under 11-inches on its longest side, but it weighs a pleasantly plump 2.85kg. Reassuring too is that this weight doesn't come from a battery pack - as a non-portable, mains-powered speaker, I know that inside the Acton II sits only amplifiers, speakers and a few circuit boards.
Though the smallest of Marshall's Bluetooth range, which includes the medium Stanmore II and large Woburn II, the Action II is a stereo speaker. It has two tweeters, each with a 15W amp, and a central woofer with a 30W amp. Over on the rear of the speaker, you'll find the slightly-smaller-than-expected bass-reflex port.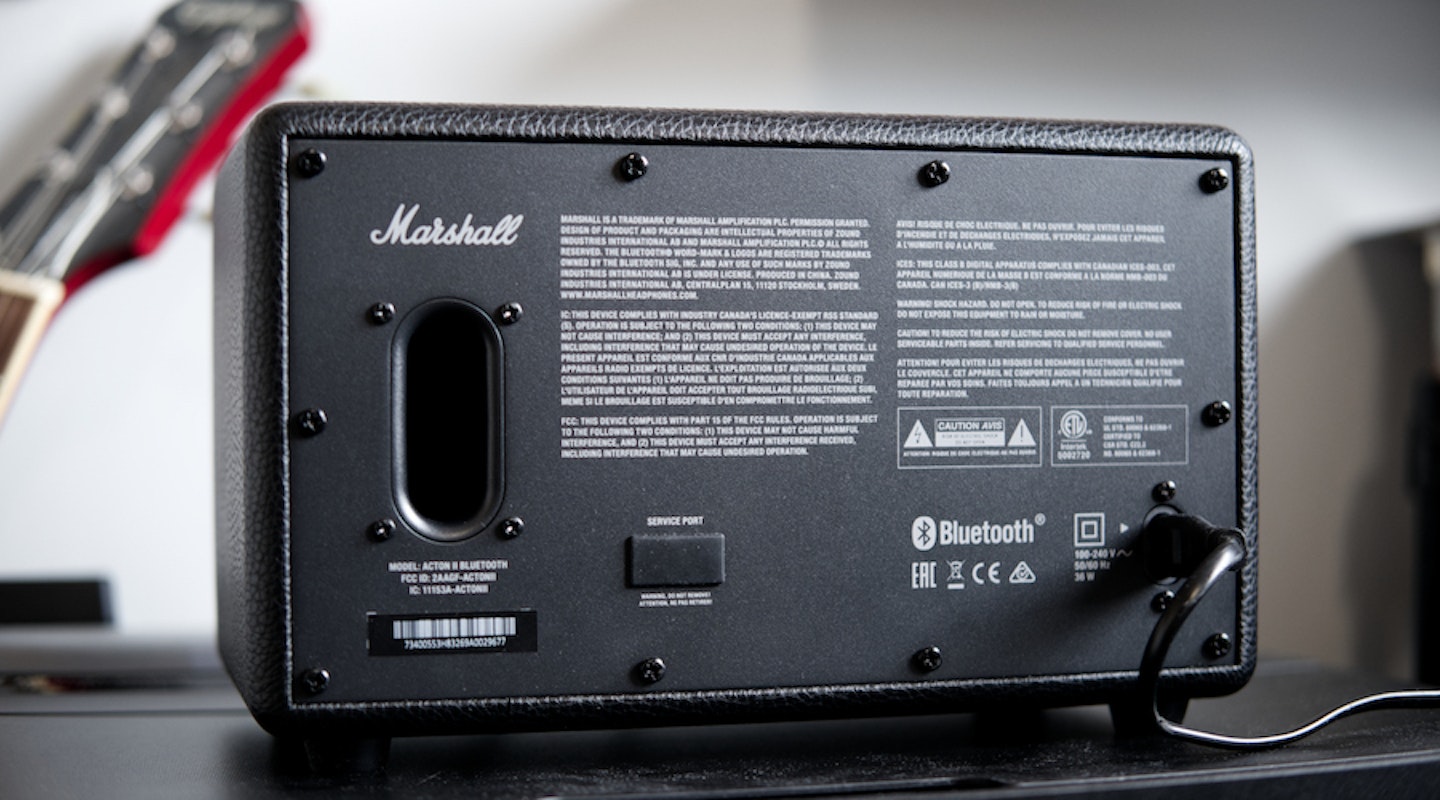 Almost immediately after clocking the weight, I was distracted by its look. Everything that Marshall has ever done has a predictable style offering absolutely zero surprises, but nonetheless, it fully delivers on class and draws instant admiration.
Much like the iconic body shape of a Porsche 911 or the cheeky grin of a Henry vacuum cleaner, the Marshall look stands the test of time. The British amplifier manufacturer has a history closely wound with many of the most important musical figures of the last sixty years, playing a significant role in defining the sound of rock 'n' roll. Maybe it's overly romantic, but this does mean that when Marshall Acton II is set up on your shelf, you can't help but feel in safe hands - aesthetically, at the very least.
The shell of the Acton II is wrapped in textured vinyl, with the Marshall logo and "Est. 1962" brass plate decorating the front gill. On top of the speaker, you'll find the brass plate control panel that resembles the front of a guitar amp. Alongside a play/pause button, 3.5mm Aux-in connection and volume knob, there are knobs controlling bass and treble, and a machined power lever. Around the edges of the knobs, red LEDs let you know exactly where your settings are sitting.
The bass and treble EQ controls are infinite-spin. Expecting a stopping point, ala the 1-10 dials on guitar amps, this was a surprise. I soon found the explanation - the EQ settings are directly linked to the companion app, so having concrete physical settings would only confuse matters. It's worth noting at this point that Marshall refers to these controls as analogue. In a sense, this is true, as in they are physical controls, but the settings they control are all digital.
Usability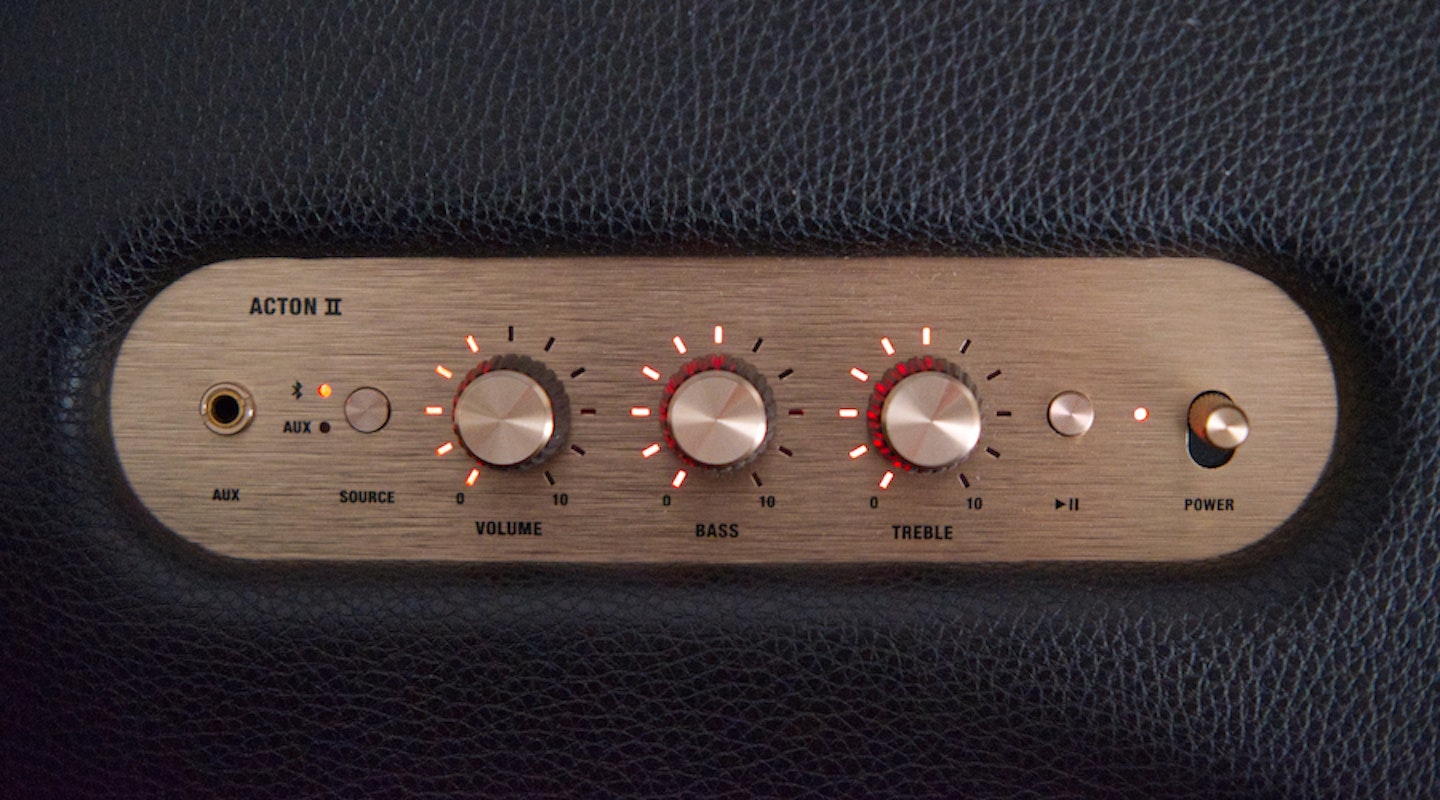 • Simple and reliable
• Only two inputs
• App does the trick
Plug the Acton II into a mains outlet, pull down on the power lever and a little ascending guitar riff plays to indicate it's powered on. A quick sync via a smartphone or laptop with Bluetooth, and you're connected and ready to play. Once your session is over, hold the power lever down to hear a descending guitar riff, confirming shut down. It's as simple as that - the Bluetooth 5.0 connection is quick to establish and the signal is strong. If you want to go wired, just use a 3.5mm aux-in.
While I have zero complaints about what's on the Acton II, I was disappointed that there aren't more inputs available. An RCA connection for a record player or a Wi-Fi/ethernet connection for wireless connections would have been welcome - especially considering the price.
The Acton II is compatible with the Marshall smartphone app. Having tested this app while reviewing the Marshall Motif A.N.C Earbuds and found it lacking, I wasn't chomping at the bit to re-download it. However, after doing so, I found that the app provided the Acton II with a firmware update at double-quick speed and without fault. The additional options it provided, it limited, all worked and did as they should.
Unlike many of its similarly priced contemporaries, the Acton II does not have a smart assistant, like Alexa, built-in. Marshall does offer a range of Alexa and Google Assistant speakers called the Uxbridge Voice.
Performance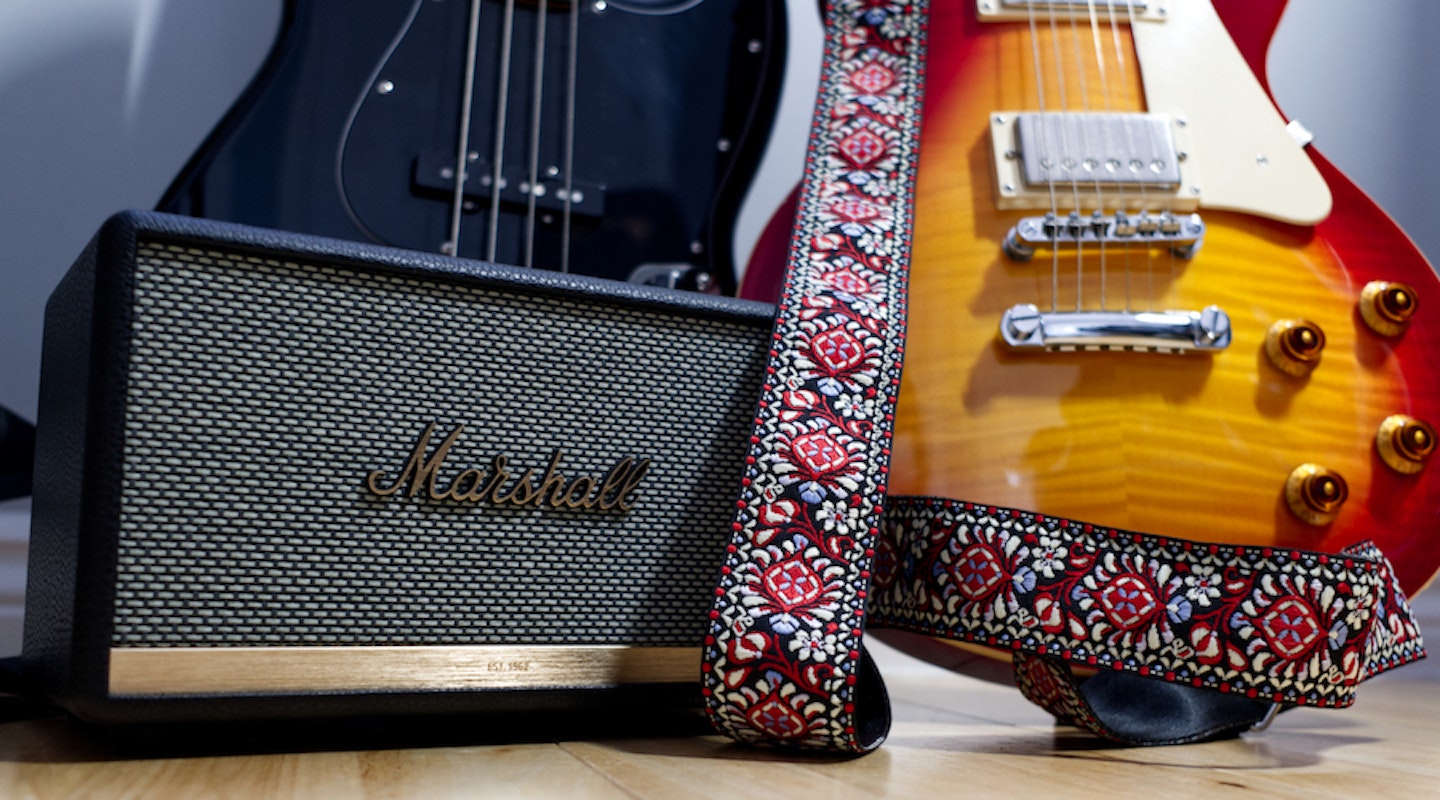 • Good sound… once tweaked
• Good fun
• Loud volume
The default audio performance of Marshall Acton II is mixed. My hopes considering the weight and construction of the speaker were not entirely misplaced - the Acton II can kick out quite the volume, and the bass response is full, fun and playful. However, the bottom end is a little inaccurate, having softer edges than some of its competition, like the Audio Pro C10 MKII. Treble is all good, bringing plenty of detail.
Via the control knobs, the bass and treble levels can be manipulated to suit your taste and room. This is a nice touch, and the ability to use physical controls means that fine-tuning on the fly is an easy task. Having said this, don't expect the controls to completely alter the sound; think of them as tweaks, rather than drastic alterations.
The biggest audio quibble is with the default audio performance on mid-range frequencies, which are underpowered and have the vocals and some instrumentation sounds a little distant and sitting back in the mix. At low volume, this is less noticeable, with the speaking just offering a warm atmosphere, but as the volume increases the problem becomes more acute.
Luckily, the Marshall app is on hand to save the day with its customisable EQ. As with the control knobs, the scope of the app EQ has limited powers, but there's just enough freedom to boost the mids in balance with a slight pull down on the bass and highs.
Using this app, I also discovered that the bass and treble control knobs control the 160Hz (bass) and 6.25Hz (high) bands only. This means that, as I suspected, there's zero control over mids without the app. If adding a mid-frequency knob was too much of a logistical squeeze, maybe Marshall should have considered having the parameters of the physical knobs overlapping into the mids a touch - it's digital, so a clever little algorithm could have helped the mids sing more easily.
Regardless of my foibles, once I changed the EQ, my experience with Acton II was completely refreshed - the audio was great and I thoroughly enjoyed the duration of my testing. Whether I was taking a cheesy disco turn with "Ma Baker" from Boney M and relaxing to hip-hop infused jazz with BADBADNOTGOOD, or getting worked up with Bad Religion, the Acton II was set of delivering the goods. I just wish it wasn't quite so fiddly to get there, hiding its powers behind custom EQ settings.
I should also note that I was using this speaker in a small study. The size, design and volume of the Acton II make it an ideal candidate for such a space and would be just at home in bedrooms, kitchen and small living rooms. I would hesitate to use this in an open-plan area, as its qualities would likely be diminished, or entirely lost.
Price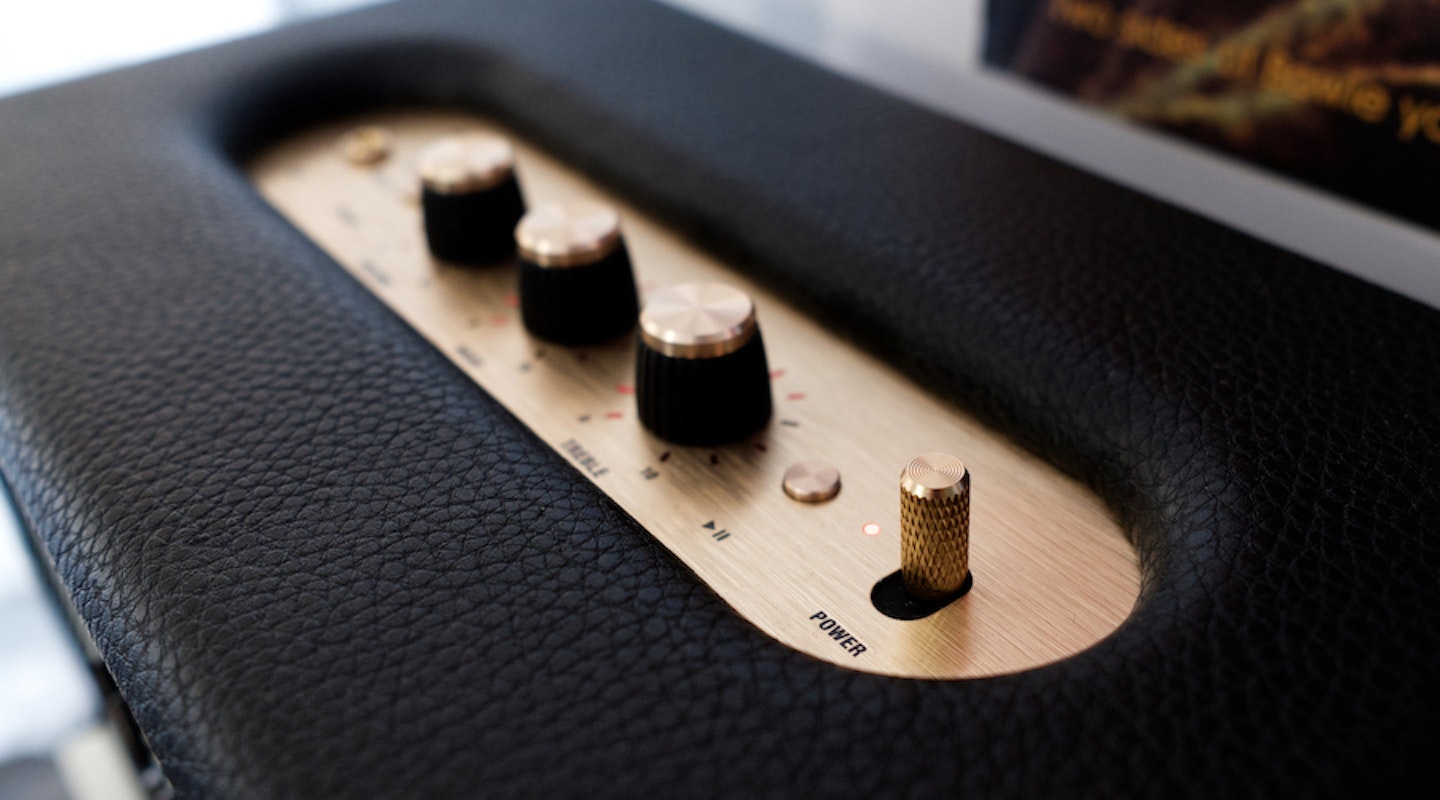 The Marshall Acton II Bluetooth has a retail price of £239.99, but it's not unusual to see it listed with modest discounts at third-party outlets, like Amazon, Currys and John Lewis.
Of our recent speaker reviews, the Acton II most closely competes with the excellent Audio Pro Addon T3+. Though a small, portable unit, the T3+ has a cleaner sound profile and a lower price. However, there's no doubt the Marshall goes louder and, depending on how you feel about precise-vs-passionate bass response, has a little more fun.
Other products in the direct competition include the Sonos One, Sony Multi-Room Speaker and Bose Home Speaker 500. While the sound of each has quality audio and smart features, there's no doubt that a Marshall Acton II is the best looking of the bunch.
Verdict
If you sense a slight twang of disappointment throughout this review, it's only because I had flawless hopes going into the testing. These hopes were based on the myth of Marshall, and the powers it demonstrated with its recently released, excellent earbuds.
The Marshall Acton II Bluetooth Speaker would be an excellent option if there weren't certain things it fights you on. The great sound is hidden behind custom EQ controls in the app. The limited effect of the physical knob controls means that Marshall risks its less audio-confident users missing out on all it can offer. If it weren't for this app, the score would be one digit lower.
However, its success once tweaked cannot be denied. I found the Acton II Bluetooth Speaker to be fun and energetic, lending itself well across everything I threw at it. Not to mention its look - my shelf unit is going to look very bare once this one goes back.
Pros
Cons
• Enjoyable sound…
• … but it needs the EQ tweaking in-app
• Stylish design
• Only Bluetooth or 3.5mm inputs
• Reliable connection
Score: 4/5
How we tested it:
The Marshall Acton II Bluetooth Speaker was unpacked and placed on the shelf in my home office. There it sat, day-in and day-out for several weeks, playing everything that I listen to. This included music from across the genres, podcasts and YouTube videos. I tested the 3.5mm connection a couple of times from my laptop, but most of the time I was streaming from my iPhone.
What to read next:
Tribit StormBox Pro review: Can the Pro challenge the best in the portable speaker biz?
William Lobley is a Deputy Commercial Content Editor and reviewer for WhatsTheBest, specialising in technology, gaming, and outdoors. He also writes for Empire Online.
Subscribe to the What's The Best Newsletter to keep up to date with more of the latest reviews and recommendations from Will and the rest of the What's The Best team.