So, you've squeezed as much life out of those battered hi-fi cones as you can - only to realise that they don't make the best ceiling speakers. No matter how high up you try to rig them, even the best speakers won't look or sound right unless they're engineered for downward-firing in-ceiling audio. Resting in a ceiling cavity, these hidden audio gems deliver overhead sound.
They may seem like a high-tech extravagance aimed at audiophiles or those with a home cinema the size of your local Odeon. But in practice, the best ceiling speakers are affordable, easily installed and a pleasure to use. As prices fall, we now see more people adopting them around the house, particularly in bathrooms and home gyms. They're also affordable for anyone setting up their own business, restaurant or café - not to mention less unsightly than just plumping for some old hi-fi speakers.
Best ceiling speakers of 2023 at a glance:
• Best overall ceiling speakers: Polk Audio RC80i 8-inch Ceiling Speakers - View at Amazon
• Best budget ceiling speakers: Pyle PDIC60 Home Ceiling Speaker System - View at Amazon
• Best small ceiling speakers: Q Acoustics 6.5-inch Ceiling Speakers - View at Amazon
• Best ceiling speakers for wireless audio: Lithe Audio Bluetooth Ceiling Speakers - View at Amazon
Shop speakers deals on: Very | Currys | John Lewis
And we're not just talking about creating realistic movie soundscapes either. More discreet than just relying on extra floor-standing speakers, ceiling speakers create an immersive musical experience when hooked up to your hi-fi or streaming device. There's a guide to help you consider your audio needs at the bottom of the page, whether that's music, home cinema, or both.
But first, we've rounded up a selection of the best ceiling speakers available. There's a range of diameters, depending on how much power you need and what kind of footprint you want them to have in your ceiling. On a tight budget? You can get a lot for your money. So, let's look up and around for some of the best ceiling speakers available right now.
Please note: All prices correct at time of writing. Prices, stock and deals subject to change without notice.
The best ceiling speakers of 2023
Best overall ceiling speakers
Description
The Polk Audio RC80i ceiling speakers pack quite a punch, both in terms of sound quality and value
Pros
High-quality audio ideal for home cinema setups and Dolby Atmos
Huge bass from a generous 8-inch subwoofer for more immersion
The tweeter angle can be adjusted for even more control and realism
Cons
Only 50W of power so if you want more you may need more or larger speakers
Best budget ceiling speakers
Description
These ceiling speakers from Pyle are an excellent option if you're on a tight budget or just
Pros
Solid bass response for the price
Directable tweeters for more control and realism
Powerful enough for most home cinema setups despite the subs only being 6.5-inch
Cons
May lack power for audiophiles
O-rings for a tight seal with the ceiling would have been a nice-to-have
Best small ceiling speakers
Description
Q Acoustics is an award-winning British brand with a solid reputation for delivering quality
Pros
Incredible sound from such small units
Directable tweeters for more control over high frequencies
Ideal for Dolby Atmos setups
Fantastic build quality from a respected brand
Cons
Instructions a little light on detail
Best ceiling speakers for wireless audio
Description
Unlike most other options listed here, the Lithe Audio Bluetooth Ceiling Speakers are an
Pros
All-in-one solution for streaming audio
Hugely flexible and hassle-free wireless Bluetooth 5.0 connection
Smart assistant compatible for easy control
Up to six can be connected as one system for a wider reach
Cons
You'll still need an inconspicuous mains power socket
You'll need to up your budget if you need more than one
Best ceiling speakers for Dolby Atmos
Description
The Yamaha NSIC600 Ceiling Speakers are a well-thought-out option. Handling up to 110W and
Pros
Unique horn cone design for enhanced audio range
Versatile audio solution for Dolby Atmos setups
Powerful and resonant for maximum immersion
Cons
You need a deep ceiling cavity
Best high-end ceiling speakers
Description
These Sonos in-ceiling speakers are the most refined and expensive option on our list. You'll need
Pros
Excellent frequency response for realistic sound
Integrates with other Sonos devices such as the Sonos Amp
Directable woofers and tweeters for maximum control of audio for various seating positions
Steam and humidity resistant so ideal for kitchens as so on
Cons
A Sonos Amp is needed if you want to fine-tune the sound via the app
Best ceiling speakers of 2023: Buyer's guide
Assess your room
In general, you should always choose the most practical size of speaker for your building. Depending on how your ceiling is constructed, you may struggle to house the drivers and cones inside the cavity. So, where possible, investigate your ceiling first. Then, carefully plan your wiring route and any power needs if it's an active self-powered amplified speaker system.
Secondly, choose the right number of speakers for the size of the room. Too many and you'll have wasted your money. Too few, or badly placed ceiling speakers, and you won't get any of that wonderful surround sound effect you've been hankering for.
And speaking of surround sound, that brings us to the core component of any passive ceiling speaker setup: an amplifier.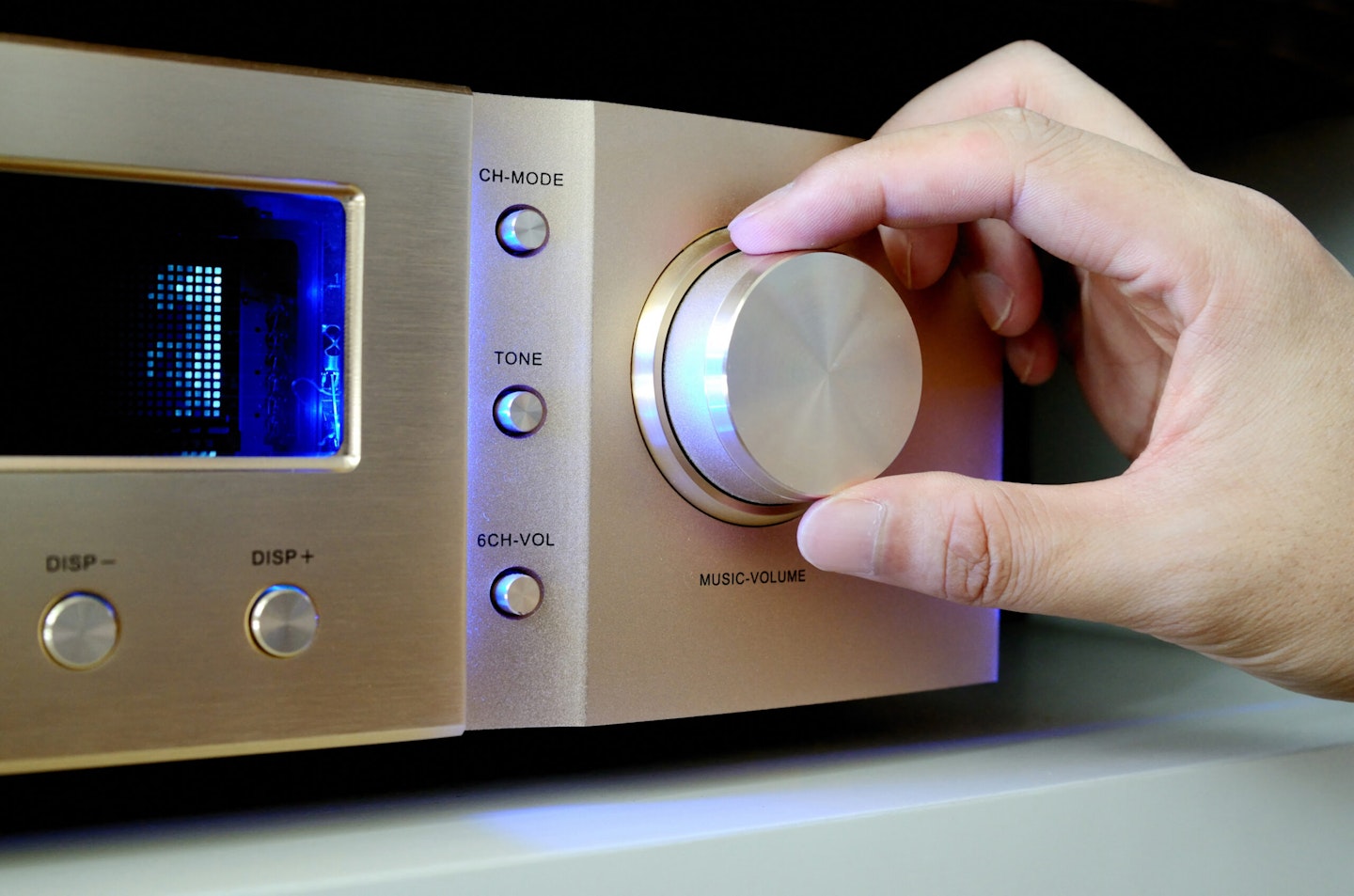 Consider your amplifier
Predictably, most ceiling speakers will require an amplifier to provide both power and an audio signal. But, if mains-powered (like the Lithe ones above) you won't need an amplifier.
There are many amplifier types, with varying degrees of power and requiring different levels of skill and know-how to use. To get you started, there are some easy-to-use amplifiers listed below.
Best amplifier for app connectivity
Description
The Amazon Link Amp is a really simple option with slick styling. It's a DAC 60W two-channel
Pros
Connects to most of the major apps
Small-ish form factor so you should be able to find an inconspicuous space for it
Works well with other Amazon devices
Cons
Lack of controls on the unit itself
Two apps required to take full control over your music
Best small amp for ceiling speakers
Description
The Fosi Audio BT20A Mini Amplifier is a neat little DAC 100W two-channel amp for amplification
Pros
Small and neat - will fit anywhere
Bluetooth connectivity for maximum convenience
Cons
Rounded sound but limited power
Best ceiling speakers: Frequently asked questions
How good are ceiling speakers?
When you think of immersing yourself in sound, the kind of 5.1 or 7.1 speaker system you get with a surround sound home cinema setup may spring to mind. But they're not the same. Ceiling speakers are great for delivering music of course, but they're also an excellent addition to your home cinema setup. You can hook them up to your overhead effect channels, such as Dolby Atmos if your amp supports that.
So, if you're all about the sound and not so much about the vision, ceiling speakers are the unobtrusive audio solution for modern uncluttered living.
Do I need a speaker cable?
Most ceiling speakers come with a length of speaker cable, allowing for a quick and easy installation. However, if you're installing them far apart, or using multiple speakers, you will likely need to purchase an extra speaker cable.
The standard cable needed for ceiling speakers is a 16-gauge two-core cable. We recommend the GearIT 16AWG Speaker Wire, which sits at around £15 for 100ft of wire. 100ft of speaker cabling from Amazon Basics costs under £20, but it's single-core. Because a typical speaker requires two cables, this works out at only 50ft of usable length.
Note that depending on the cables provided, you may need to purchase some banana plugs
What are the best in-ceiling speakers for Dolby Atmos?
For Dolby Atmos, we recommend the Yamaha NSIC600 set above. But don't forget that you'll need an amplifier that can output those all-important Atmos channels.
What are the best ceiling speakers for Sonos?
The Sonos In-Ceiling Architectural Speakers above are clearly going to be your first choice, especially if you already own other Sonos products. That said, if you're loyal to another brand and are happy with the sound, you should let that steer your buying decision.
Can I mount a ceiling speaker on a wall instead?
In most cases, yes; providing the wall cavity is deep enough to contain the speaker and cables. If you have solid walls you may decide to go for wall speakers instead. They sit snugly against the wall with a lower profile than normal wall speakers
What is a fire hood and do I need one?
A fire hood is a cover that sits in the ceiling void to cover the back of a ceiling speaker. It's made from flame-retardant material and maintains a ceiling fire barrier rating. You're legally required to install a fire hood. This ensures the safety of yourself and others and that you maintain fire safety and building regulations.
As Smart Home Sound notes, if a fire hood is not installed, any insurance claim relating to fire damage may be rejected by an insurance provider.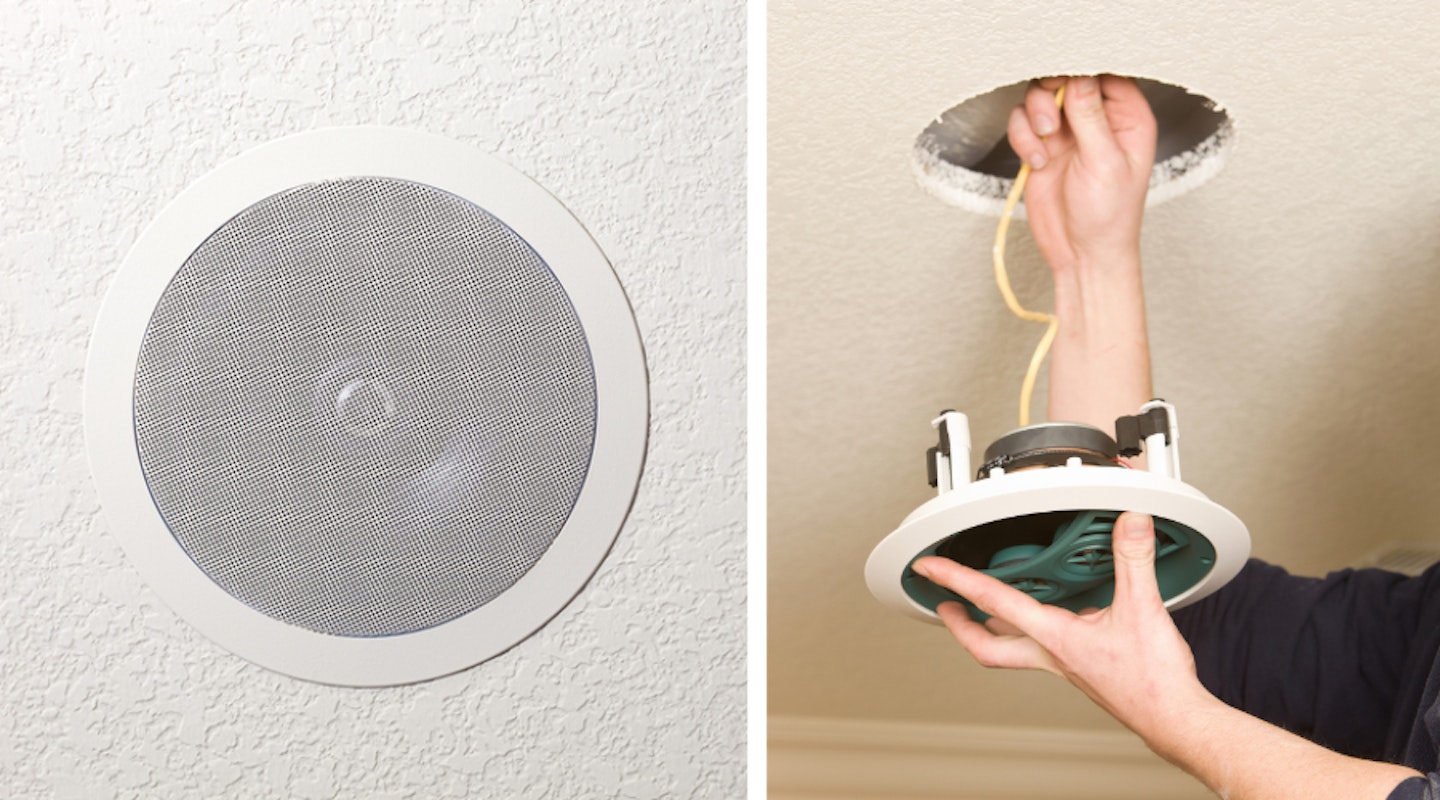 You can read more about the regulation in the UK Government's Building Regulations Fire Safety online document. Click here to view the PDF.
There are other good reasons to install a fire hood. They soundproof the back of a ceiling speaker - important if the room above is a bedroom or office. In addition, this generally improves performance, as the sound can't bleed into the cavity. A fire hood also insulates against drafts and protects the speaker from dust, debris and rodents.
Here are two popular fire hood options:
Best speaker fire hood for easy installation
Description
The HOODY1 speaker fire hoods are a great fire and acoustic hood where a bit more flexibility is
Pros
Flexible fit options thanks to ceiling mounts
Good fire and acoustic insulation for superior sound and safety
Good acoustic padding for excellent bass
Cons
Won't block a lot of bass from being heard in the room above
Best speaker fire hood for 6 - 8 inch speakers
Description
The Lithe Audio Ceiling Speaker Fire Hood fits onto surfaces via internal locking grips, making
Pros
Integrated speaker cable outlet for neat finish
Locking grips built into the hood itself
Cons
Flexibility comes with a slightly fiddly install
Speaker jargon explained
Tweeter
These small drivers take care of the higher frequencies in audio. A good quality tweeter helps carry across the details of music and audio. With ceiling speakers, tweeters are located on a stalk protruding from the centre of a subwoofer - this helps save space. They are often angled to direct audio towards listeners.
Subwoofer
These bigger drivers deliver lower frequencies in audio. They add power, drama and atmosphere to sound. Without a good subwoofer, the audio will be thin and unimpressive.
Output wattage
An amplifier processes sound and passes it through to speakers as output. Wattage is a measurement of the output signal sent to a speaker. Each speaker has a limit to the amount of wattage it can handle and pushing beyond this limit can damage the speaker. You must make sure that the output wattage of an amplifier does not exceed the output wattage rating of a speaker.
Fire Hood
You're legally required to install a fire hood. See our section on this in the FAQs above.
Speaker type
There are two speaker types to consider - passive and powered. Most ceiling speakers are passive. That means they can't receive power or audio signals without being connected to an amplifier via cables. You can read more about amplifiers at the bottom of the page. Powered speakers draw their power from the main electricity supply; whereas powered speakers carry their own amplifier and connections, therefore don't require an external amplifier.
William Lobley is a Deputy Commercial Content Editor and reviewer for What's The Best, specialising in gaming, technology and the outdoors. He also writes for Empire Online.
Subscribe to the What's The Best Newsletter to keep up to date with more of the latest reviews and recommendations from the rest of the What's The Best team.