A hose pipe is essential for every garden to ensure your lawn and plants stay hydrated throughout the year. So save yourself the hassle of running back and forth from the kitchen sink with a watering can full of water and invest in a garden hose pipe.
What should I look for in a hose pipe?
As straightforward as buying a hose pipe sounds, there are factors you should take into account to make sure your hose is built to last, and easy to use and manoeuvre, and if you do your research it should last you a long time.
Look out for hoses that are made of anti-kink materials and are built to withstand the elements to ensure longevity. These are generally more expensive up front but ultimately save you money in the medium and long term. Plus, the user experience is much better.
In addition to the materials, construction is important to quality too. Tough hoses will be multi-layered and usually have a knitted or ribbed structure to them.
If you're after a hose that will take care of your garden but can also help clean your car or shower off your mucky pup, a hose with an adjustable nozzle is your best bet; or if you're just in need of a replacement hose pipe, we have you covered.
We've boiled down a shortlisted assortment of the best hoses on the market with a range of materials and lengths to suit all gardens.
Replacement hose pipes: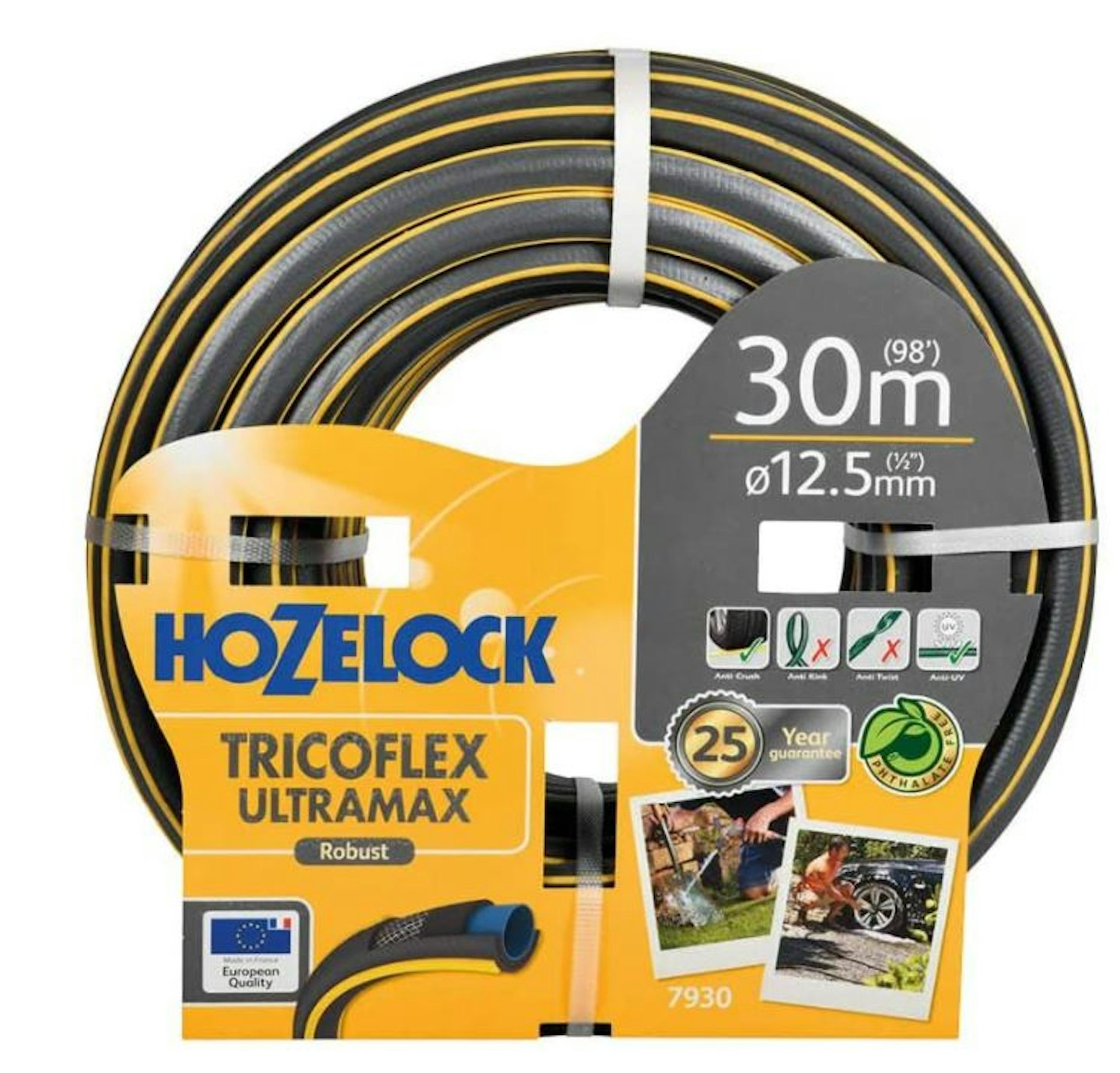 1 of 5
Hozelock TricoFlex UltraMax Anti-Crush Hose
This ultimate hose from Hozelock is created using their patented robust Tricoflex Technology which promises to be anti-kink and crushproof thanks to its ribs. Its soft but sturdy design is built to be easy to use and long lasting, and with Hozelock's 25 year guarantee it should be a long-standing fixture of your garden. Length: 30m 25-year guaranteeAlso available in 50m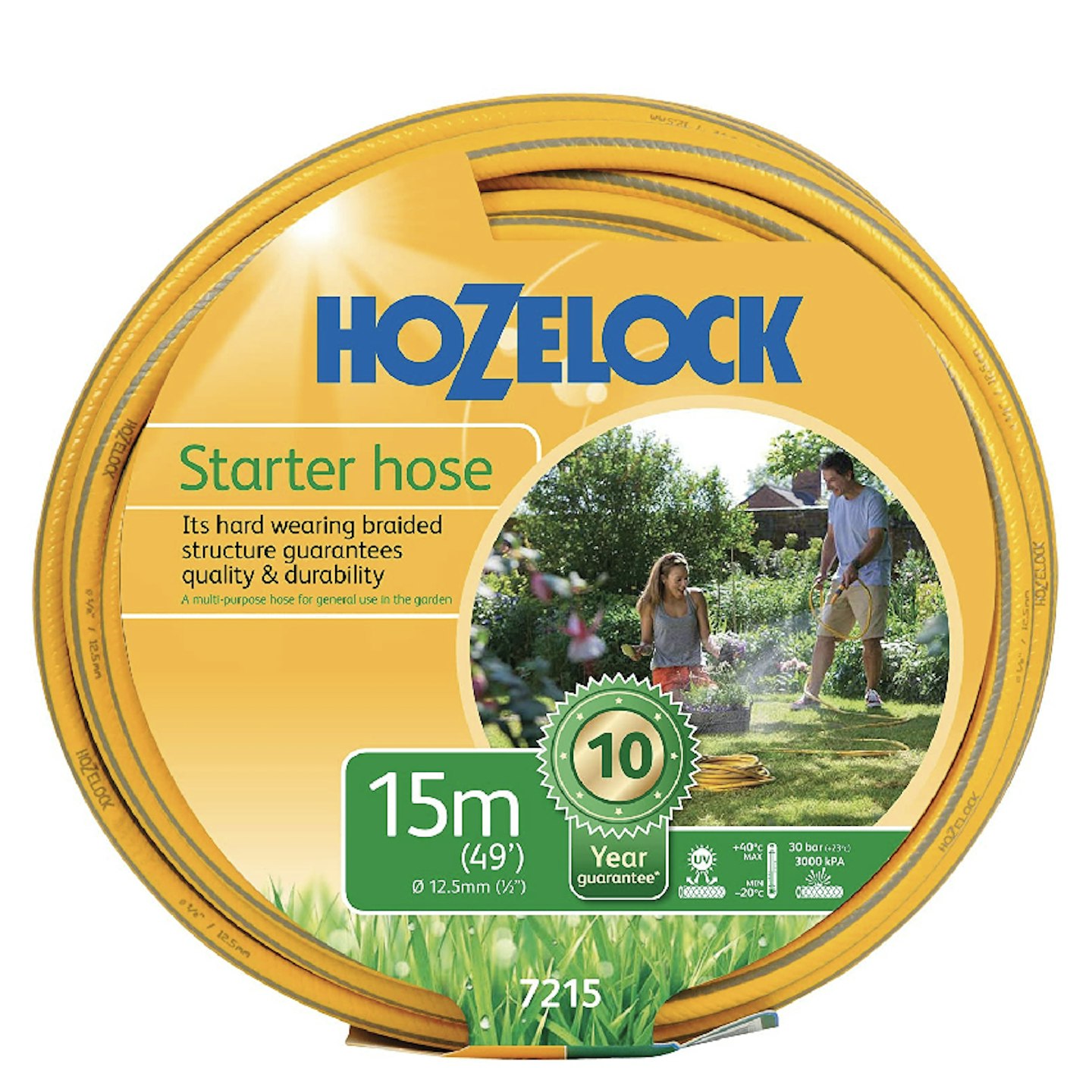 2 of 5
Hozelock Starter Hose
This hose from Hozelock is an affordable option suitable for any garden thanks to the range of lengths it's available in. The braided polyester design of this hose coupled with the touch PVC layer guarantees longevity and the 10-year guarantee promises to age well for your general garden needs. Length: 15m 10-year guaranteeAlso available in 30m
3 of 5
Hozelock Tricoflex Ultraflex Hose Starter Set
As the name suggests, this set from Hozelock is a great starter set for any domestic garden and comes with all the basic adaptors you should need. The five-layered hose has braided reinforcement to ensure durability, and the inclusion of UV makes it weatherproof and frost protected. Length: 20m 20-year guarantee_Supplied with 1x Tap Connector; 1x Hose End Connector; 1x Aquastop Connector; 1x Nozzle_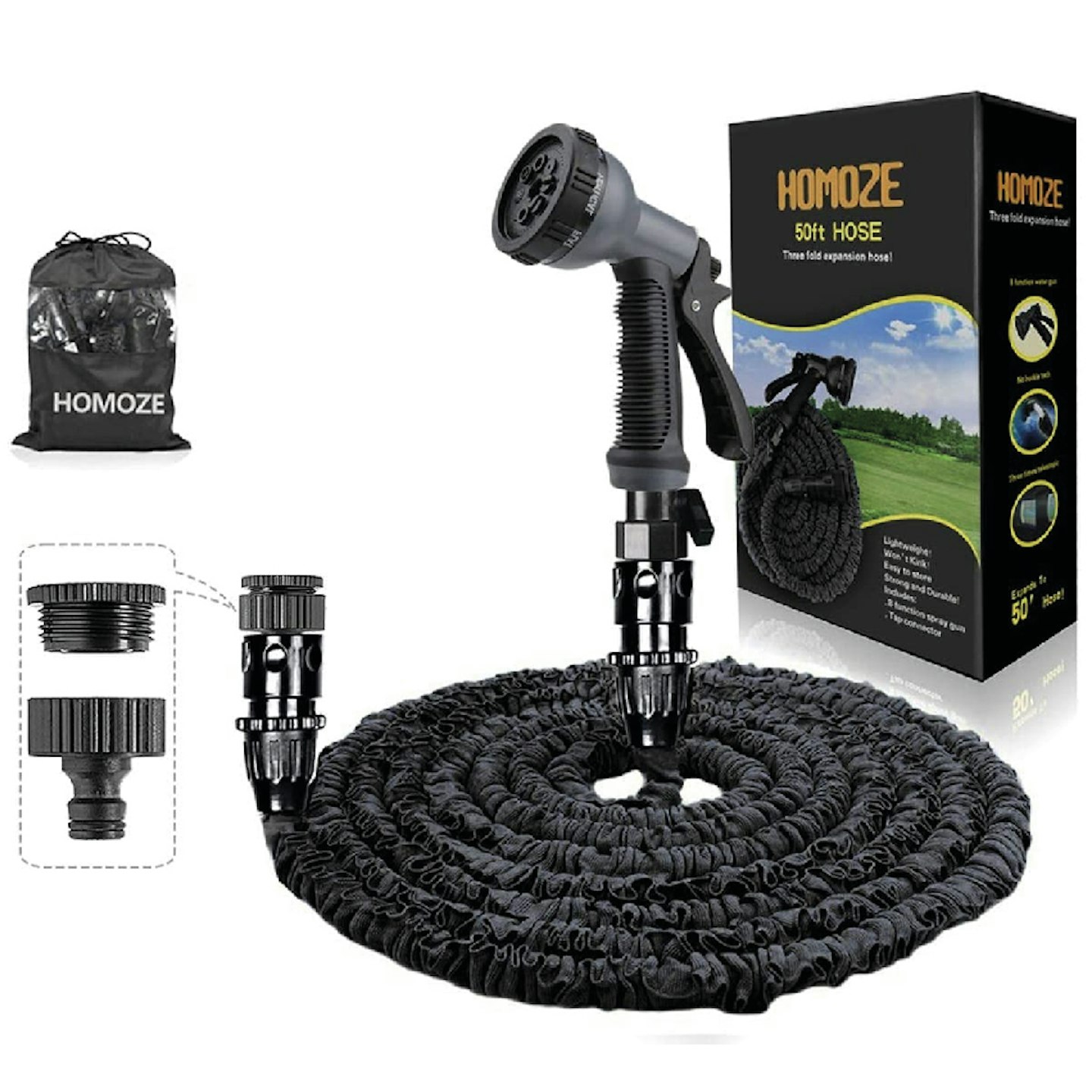 4 of 5
HOMOZE Expandable Garden Hose
HOMOZE expandable hose promises to be long lasting and efficient due to its anti-bursting and anti-leaking design. This hose has been made to ensure easy manoeuvring with its lightweight, expandable design and is convenient to store. It is adaptable due to the adjustable spray gun which allows for eight different spray options; flat, centre, cone, full, mist, jet, shower & soak – making it a great multi-functional hose.Length: 50ft1-year warranty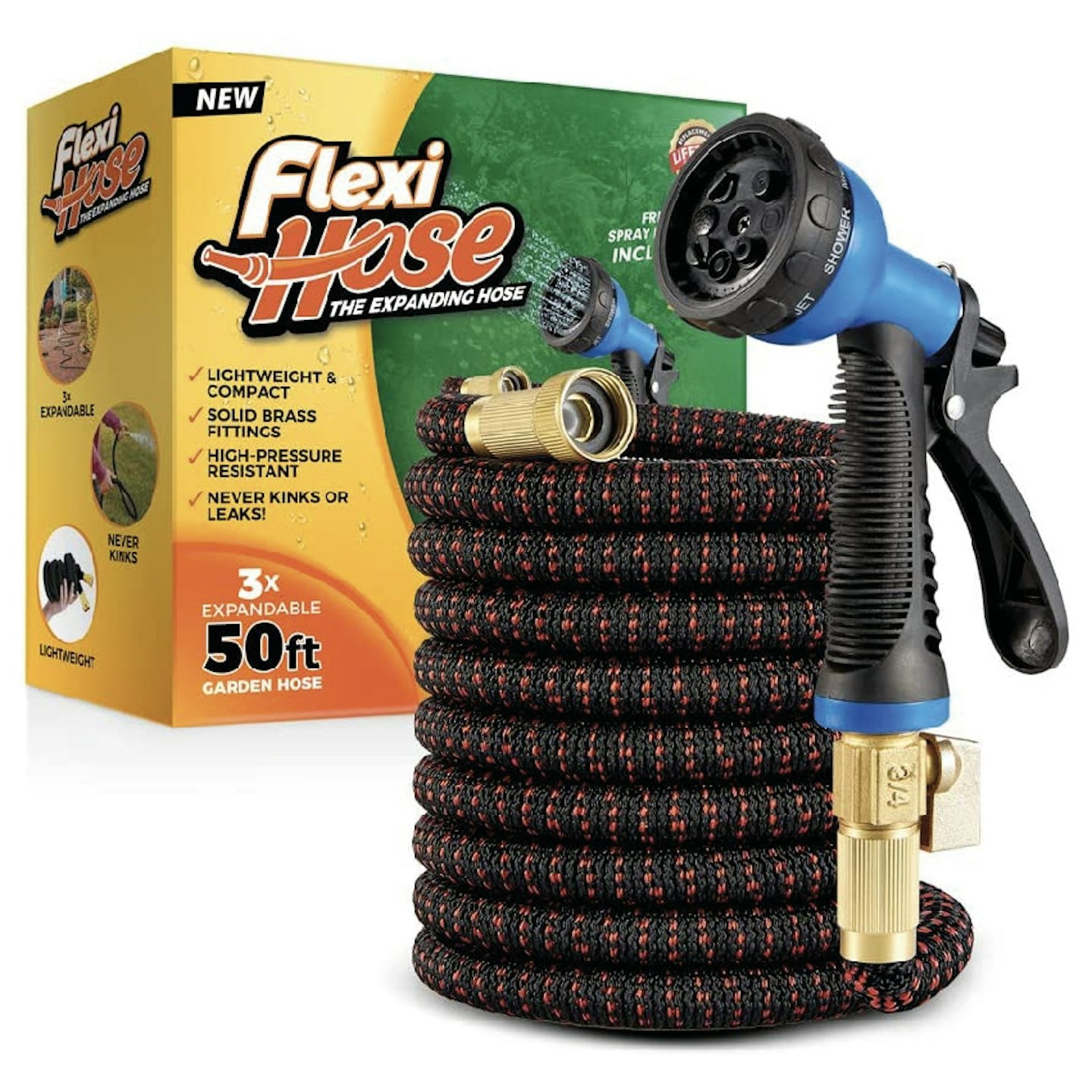 5 of 5
Flexi Hose Expandable Hose
This expandable hose pledges to be made from the highest-quality materials which provide a kink-free, leak-free and non-tangle hose – what more could you ask for? Its expandable construction makes for easy storage and use and the ergonomic rubberised handle on the nozzle is slip-resistant and comfortable. Length: 50ft Also available in 75ft and 100ft
Hoses with storage reel: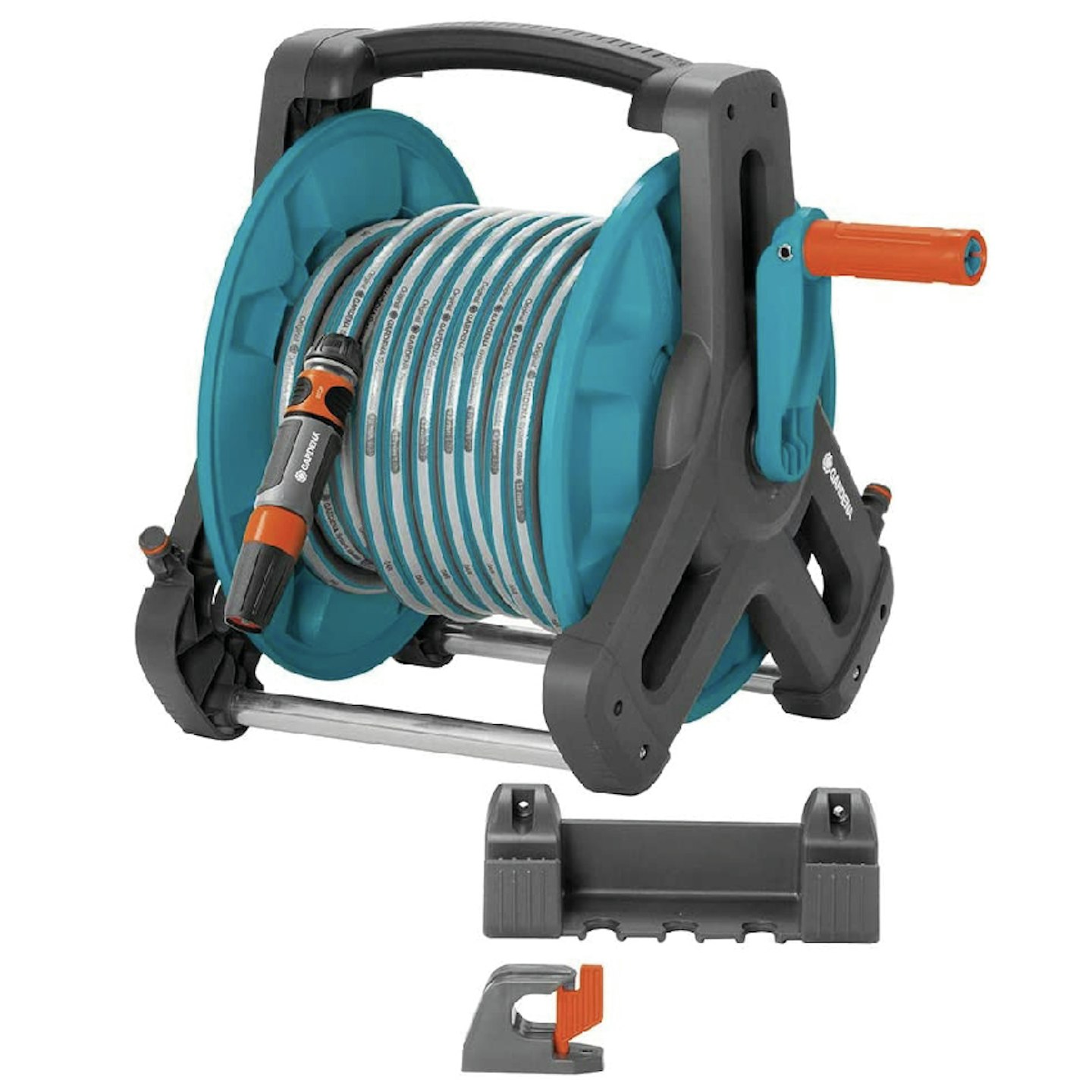 1 of 3
GARDENA Classic Wall-Fixed Hose
This wall mountable hose from Gardena is a practical option for any garden. The sturdy hose reel can be mounted to the wall for slick storage but can be easily removed for mobile use if desired. It has been designed to be kink-free allowing for full flowing water. The integrated anti-drip device ensures no water is wasted when the water is switched off. The set also comes with a spray nozzle, making it an adaptable option!Length: 20m5-year warranty_Supplied with: 1x GARDENA Classic wall-fixed Hose Reel 50 Set, 1x 20-m Classic hose 13 mm (1/2"), 1x spray nozzle, Original GARDENA system parts including wall bracket, wall plugs, and screws_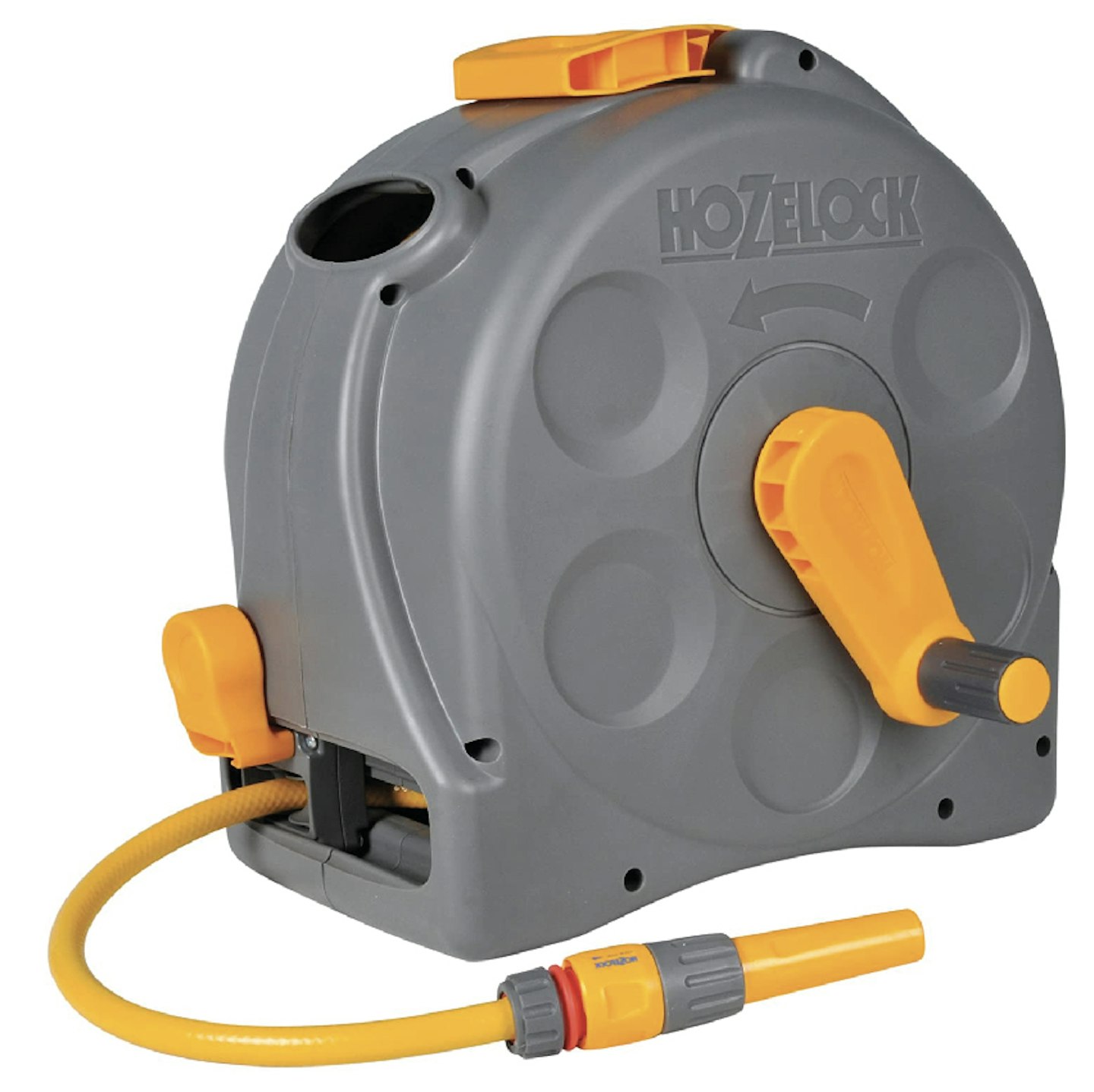 2 of 3
Hozelock Compact 2in1 Reel
If a reel hose is what you're looking for, this Hozelock Compact 2 in 1 is definitely one you should consider. With the ability to keep it free-standing or mount to the wall, it is sure to fit well into your garden, and the enclosed casing will keep it protected from the elements. It has been designed with easy use in mind thanks to the lightweight design and folding carry handle, as well as the large winding handle. Length: 20m Supplied with: 25m of Hozelock multi-purpose hose, a Threaded Tap Connector, Hose End Connectors and a Nozzle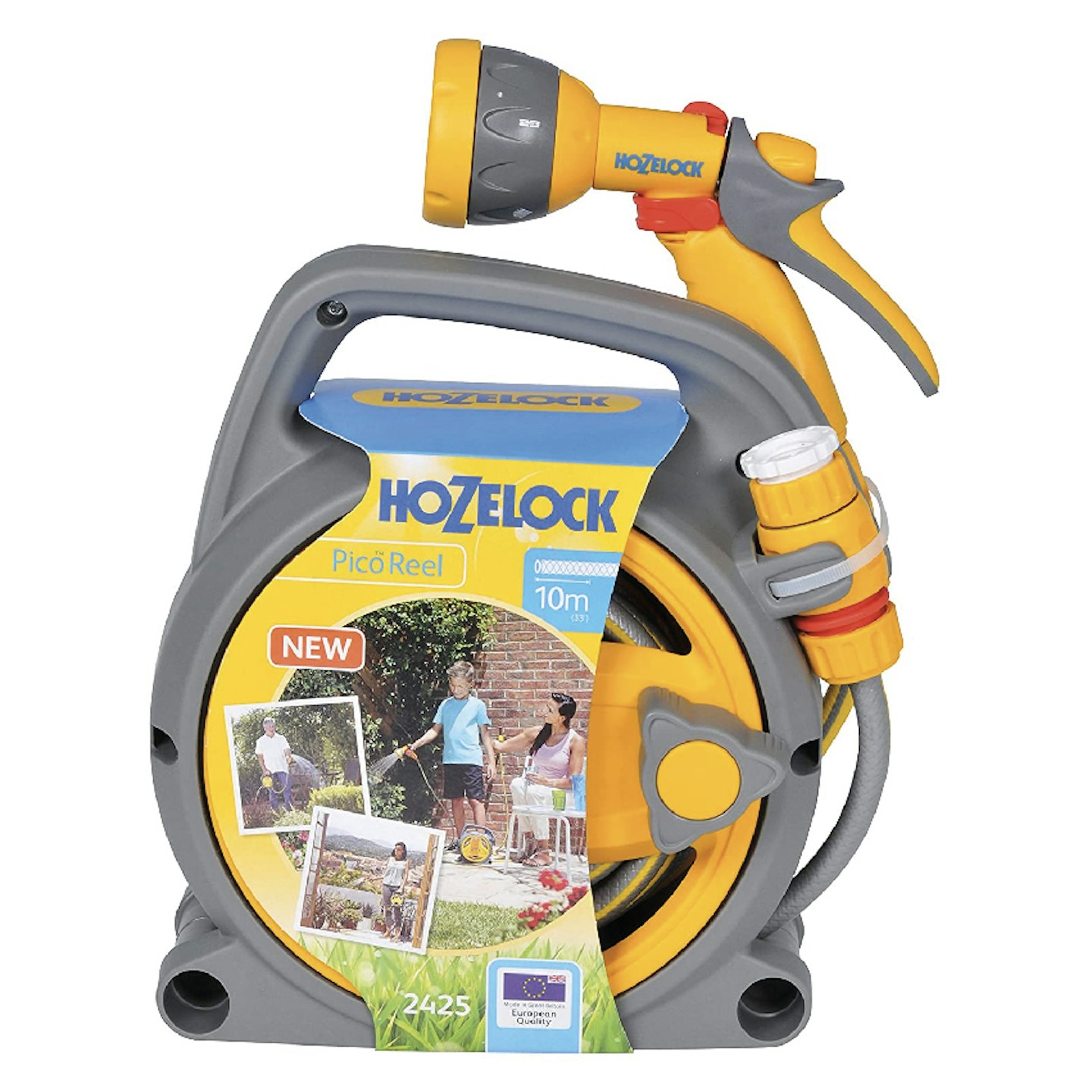 3 of 3
Hozelock Pico Reel
If you only have a small garden, patio or balcony this Hozelock hose is the perfect option. The compact, enclosed design with its grab handle makes it convenient to move around with, and the winding handle makes it easy to use. The Multi Spray gun makes it an adaptable choice for all your watering needs.Length: 10m 2-year guarantee
What to read next:
Abby Nair works for Bauer Media as a Dynamic Assistant, helping across our specialist hobby titles. She is currently improving her garden knowledge writing for Garden News.
Subscribe to the What's The Best Newsletter to keep up to date with more of the latest reviews and recommendations from Abby and the rest of the What's The Best team.