It's finally time to release those paddle boards, dinghies and inflatable kayaks from their winter hibernation. As your collection tumbles out of the shed onto the lawn you may be tempted to grab one and go for a splash. But wait - has your old buoyancy aid survived intact? If you've never even thought about buying one, now's the time.
A buoyancy aid (BA) is also known as a PFD - or Personal Flotation Device. Don't confuse them with life jackets, which are designed to save your life if you can't swim or are unconscious. As the name suggests, a buoyancy aid is only there to aid you in staying afloat whilst you remain conscious and active in the water.
You might also hear them called swimming aids, although this is a very broad term that can include things like floats or armbands. But buoyancy aids are in a class of their own safety-wise. They're generally made of foam, and covered in a hard-wearing nylon sleeve.
The best buoyancy aids at a glance:
• Best overall buoyancy aid: Helly Hansen Rider Vest - View at Amazon
• Best buoyancy aid for children: Konfidence Jacket - View at Amazon
• Best buoyancy aid for SUP: CSR Matai 50n Buoyancy Jacket - View at Amazon
• Best buoyancy aid for kayaking: Typhoon Yalu Wave - View at Amazon
Though choosing the right paddleboard might be the more exciting purchase when you're getting into watersports, the buoyancy aid is of huge importance. Don't neglect it.
Choosing the right buoyancy aid
We base our recommendations on recreational activities taking place close to shore, with help at hand if you get into trouble or just run out of steam. We've also grouped them into useful categories, so you can choose the right fit for your favourite leisure activities.
And by 'fit' we really mean the fit. Choose by your weight in kilograms first (as this relates to the amount of buoyancy provided by the aid), and other factors like chest size second. There are differences of course, not all purely cosmetic.
The shape of a BA may be subtly different to allow for varying degrees of movement. For instance, a kayaker may find it helpful to sit in their kayak wearing their gear to test the fit. Paddling a SOT (Sit-On-Top) kayak will involve a different range of movement than a stand-up paddleboard. Some also have provisions for attaching crotch straps to help keep them in place.
Lastly, there's the all-important official CE safety standard - it's been illegal to sell a buoyancy aid without it since the nineties. All of our BAs below - excluding the snorkel and dog jackets - carry a certification rating or CE mark. This ensures that the amount of buoyancy it'll provide is present and correct. It'll also mean that the product has been properly tested and is suitable for recreational water sports like paddle boarding or flatwater boating.
The best buoyancy aids
Best overall buoyancy aid
Description
If you're an all-rounder when it comes to getting out on the water, you might prefer a highly
Pros
Suitable for most leisure activities
Available in a wide range of sizes
Front pocket
Comfort with adjustability
Cons
No crotch strap
May ride up on a sit-inside kayak
Best buoyancy aid for children
Description
Kids of all ages like to look cool when they're splashing around, so it's great that Konfidence
Pros
Lots of great colourful designs
Huge range of sizes
UV protection
Removable floats
Cons
May need a size up for the right fit
Best buoyancy aid for SUP (Stand-Up Paddle Boarding)
Description
Some of the best buoyancy aids for stand-up paddle boarding are low-profile and this one is a
Pros
Internal key pocket
Adjustable buckled waist belt
Adjustable shoulder straps
Elasticated sides
Cons
Lack of colour may not suit all tastes
No crotch strap for more active users
Best buoyancy aid for kayaking
Description
One of the most important aspects of any buoyancy aid for kayaking is having a snug but
Pros
Very adjustable
Great range of movement
Tear-resistant outer material
Cons
No pockets
Striking design but lacks colour options
Best buoyancy aid for sailing
Description
Our second offering from Helly Hanson, the Sport II buoyancy aid has many excellent features that
Pros
Lightweight
Quick to put on
Good breathability
Cons
No adjustable shoulder straps
No front zip may be an issue for paddlers
Best buoyancy aid for snorkelling
Description
These rather eye-catching vests come in several really vibrant colours. They'll definitely look
Pros
Adjustable leg straps
Light and easy to store
Great colour/visibility
Breathable mesh lining
Cons
Not the most adjustable BA
Not ideal for more active water sports
Best buoyancy aid for dogs
Description
And finally… There are plenty of adventure-seekers who like to take their pets with them. More
Pros
High visibility
Handle for easy moving
Plenty of sizes to choose from
'D' ring for leash attachment
Cons
As a budget buy the build quality is adequate
Buyer's guide to buoyancy aids
When to use a buoyancy aid
If you're paddle boarding, sailing a dinghy, kayaking, kite surfing and more - always use a buoyancy aid. They're also only safe to use in sheltered or flat waters, and when you're in sight of the shoreline. If you're thinking of buying a BA and taking your kayak out for a spin, don't forget to consider what else to wear when kayaking - especially if you're new to the hobby.
BAs should only be worn by competent swimmers, with others close by to help if needed. Children and anyone who can't competently swim should always wear a life jacket and be accompanied by an adult at all times.
What to look for when buying
Primarily, you'll need a good comfortable fit. Even if the aid fits like a glove it might not offer you the range of movement you'd prefer. As with all safety equipment for active sports and hobbies, it's best to try it on before first use and exchange it for a different one if it's not comfy.
Some aids are pulled over your head like a vest, others fit like a jacket using zippers or clips. Your vest or jacket should fasten comfortably and securely around you. Zip and buckle fastening jackets are usually a bit easier to put on than simple pull-over vests. All of our picks are jacket-style with front-facing openings.
How to pick the right size
Ask a friend to grab the top straps of the buoyancy aid - they shouldn't be able to lift it more than 5cm before it stops moving. This ensures that you can't slip out of it in the water. If you can't adjust it for a tighter fit, try a smaller size.
How to fit a buoyancy aid
Securely close any zippers and clips, starting from the bottom and working up. Don't forget those shoulder straps at the end. Then make sure that your buoyancy aid hugs you under your ribs without restricting your breathing. You shouldn't be able to pull the aid up and over your head.
Finally, finely adjust the tightness of any straps, especially around the lower torso, for comfort and make sure that it will still let you move and breathe freely.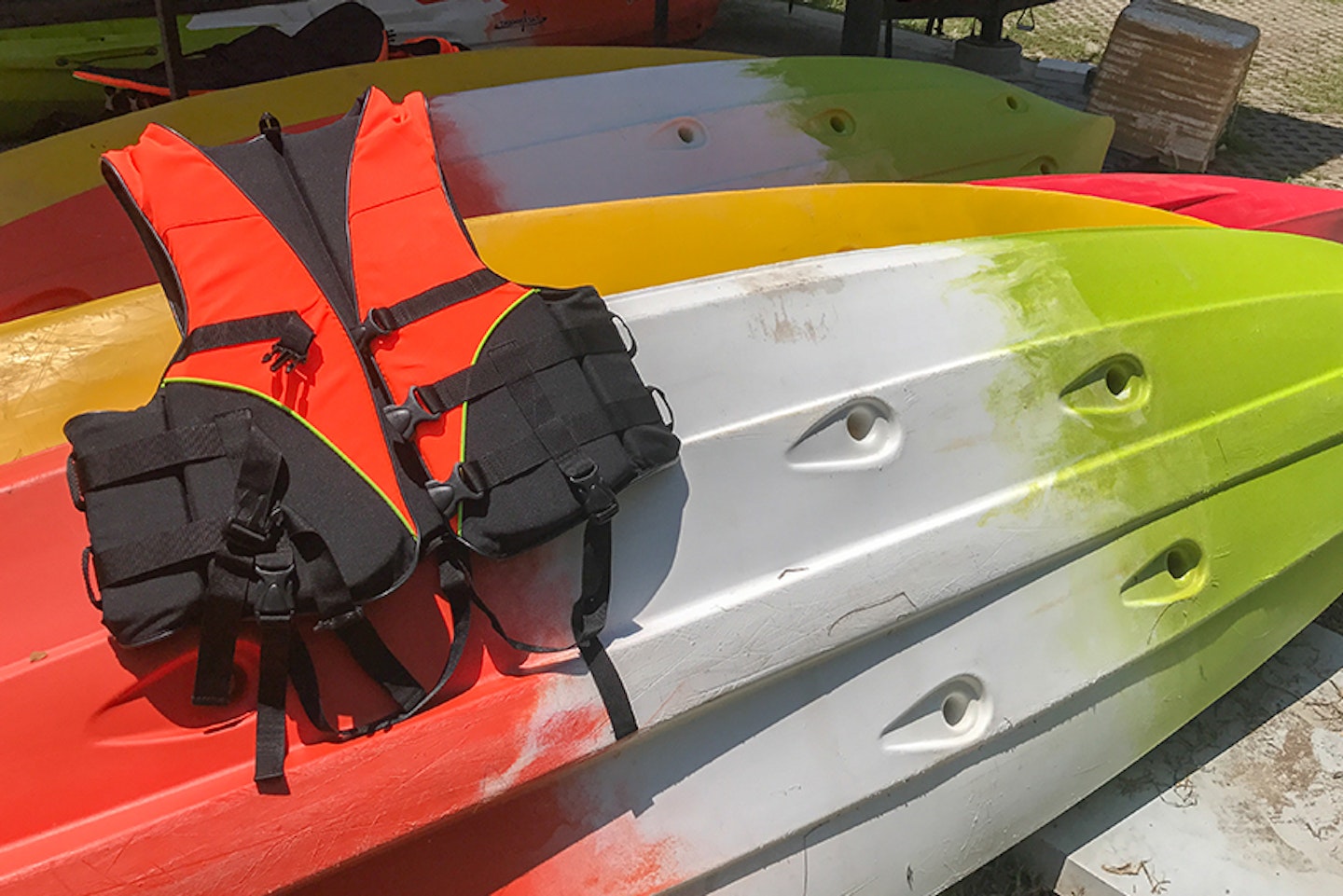 Frequently asked questions
What's the difference between a life jacket and a buoyancy aid?
A buoyancy aid is only designed to keep someone who can already swim afloat. A life jacket is specifically designed to save your life if you can't swim or are unconscious. It does this by forcing your head to stay above water - a BA will not do this for you.
Do buoyancy aids keep you afloat?
Yes. Providing you're wearing the right size for your body, one of these aids can keep you afloat. But, as mentioned above - it will not keep your head out of the water if you're unconscious.
Is a buoyancy aid the same as a swimming aid?
Yes. They more or less do the same thing. However, some jackets or vests described as being the best swimming aids may not have some of the additional features that you'd expect from a serious buoyancy aid.
How long do buoyancy aids last?
The amount of wear and damage your aid picks up is really down to how you use it. Any piece of sporting or leisure equipment will reach the end of its safe lifespan eventually.  As a rule of thumb, you should expect three years of use. For safety, the key thing here is to regularly check your BA and always replace it when necessary.
Chris Duffill is a Tech Product Writer for What's The Best. He specialises in audiovisual, computing, and gaming. He also writes for Yours.
Subscribe to the What's The Best Newsletter to keep up to date with more of the latest reviews and recommendations from the rest of the What's The Best team.