Investing in one of the best budget rowing machines money can buy is a famously effective way of getting close to a whole-body workout. But on the other hand, it can be a daunting prospect to part with a chunky sum of money in return for a piece of equipment you aren't sure about or familiar with. After all, we're talking about a real piece of precisely-engineered machinery, not an exercise mat.
Budget rowing machines often make large claims and throw in lots of bells and whistles. But few live up to the hype, thanks to cheaper and flimsier parts. But our experts have found that finding a good rowing machine for well under £500 isn't an impossible task. With the right budget in mind, you might even have enough cash left over for extra kit, like a stepper machine or cleaning supplies to keep your machines shiny and safe to use.
Best budget rowing machines of 2023: The shortlist
• Best overall budget rowing machine: Sunny Health & Fitness SF-RW1205 Rowing Machine - View now on Amazon.co.uk
• Best budget rowing machine for tall users: Pro Fitness Air and Magnetic Rowing Machine - View now on Argos.co.uk
• Best low-noise budget rowing machine: Dripex Magnetic Rowing Machine - View now on Amazon.co.uk
Shop the best treadmill deals on: JTX Fitness | NordicTrack | Argos | Amazon
Much like the ever-popular home treadmills marketplace, there's a massive choice of well-made budget rowers out there. They don't come packed with features but put the emphasis on quality build and components instead. But which one will suit your available space and have the sort of features you prefer? You might be new to rowing machines and need to understand more about the type of machines that exist before you choose, or a seasoned rower who needs the most robust machine over electronic gadgetry.
Luckily, we're here to help with our run-down of the benefits of rowing machines, as well as answers to some of your frequently asked questions. And, of course, our pick of the very best budget rowing machines available this year.
Best budget rowing machines of 2023
Best overall budget rowing machine
Description
A user-friendly rower at its most basic. Unlike most rowing machines, this uses a hydraulic
Pros
Great value for money
Sturdy construction as the machine is made from heavy duty grade steel
Ultimate comfort with the pivoting foot pedals, foam handlebars and cushioned seat
Cons
Not ideal for 6ft+ people
Best budget rowing machine for tall users
Description
The air and magnetic resistance on this rowing machine gives you eight levels of resistance to
Pros
Space-saving as it folds for storage
Great accessibility as it's good for most heights
Magnetic resistance system with 8 level tension control for individuals of all fitness levels
Cons
No AAA batteries are supplied for the screen
Best low-noise budget rowing machine
Description
With 15 different resistance settings, this Dripex rowing machine will be perfect for anyone,
Pros
Bluetooth compatible with app to make the exercise routine more fun and motivating
Double aluminium railway for a smooth ride and silent when completing at home workouts
Comes with built-in transportation wheels for easy moving
Cons
Not the best for those with small feet
Best super low-budget rowing machine
Description
Offering 12 tension settings, this Opti manual rowing machine is a great option no matter your
Pros
Console feedback including: scan, strokes, minutes, time and calories burned for real-time feedback
Faux leather seat for an enjoyable workout
Suitable for everyone as it has no height limit
Cons
Underwhelming weight limit (100g)
Best budget rowing machine for comfort
Description
Magnetic machines are smooth but rowers that use water resistance give the most realistic
Pros
Water Flywheel to replicate the experience of rowing in water, crafted to ensure a peaceful workout
Features a large padded seat and the best in-class dual aluminium rail system for comfort while exercising
Minimal strain on joints and the lower back due to the rower's smooth, even stroke
Best budget rowing machines for 2023: Buyer's guide
Consider the right functions and features for you
Make yourself familiar with what components really matter on a rowing machine. If you're a beginner, it isn't overly important how many programs and functions a rowing machine has. What you want is a machine that is ergonomic to use and is built well. For example, taller people over six feet will need to make sure the slide rail is long enough for them to row comfortably. A great way to do this is to read buyers' reviews.
Space to store and while using
If you're on the hunt for a rowing machine, you've probably earmarked space in your house for it already. If you haven't, best to do that before you buy. If space is at a premium, you might already be looking at various solutions like under-desk exercise machines. Thankfully, many rowing machines fold up for compact storage, but you won't want to be doing this after every use because it becomes a chore.
It's best you have a dedicated zone for a rowing machine, with about half a metre of free space on all sides so you can row with the proper technique. We've included dimensions in the specifications of each machine.
Understand the benefits of using the best budget rowing machines
The benefits of using a rowing machine occur all over your body. Different muscles are used throughout different stages of each stroke (see the diagram below). But because the action of rowing is simultaneously aerobic and anaerobic, rowing machines help build cardio and stamina, as well as muscle strength. Much like home cross trainers, rowing machines are also kinder on your joints than weights, because of the smooth action and absence of severe weight resistance. Therefore, rowing machines are great for injury recovery, too.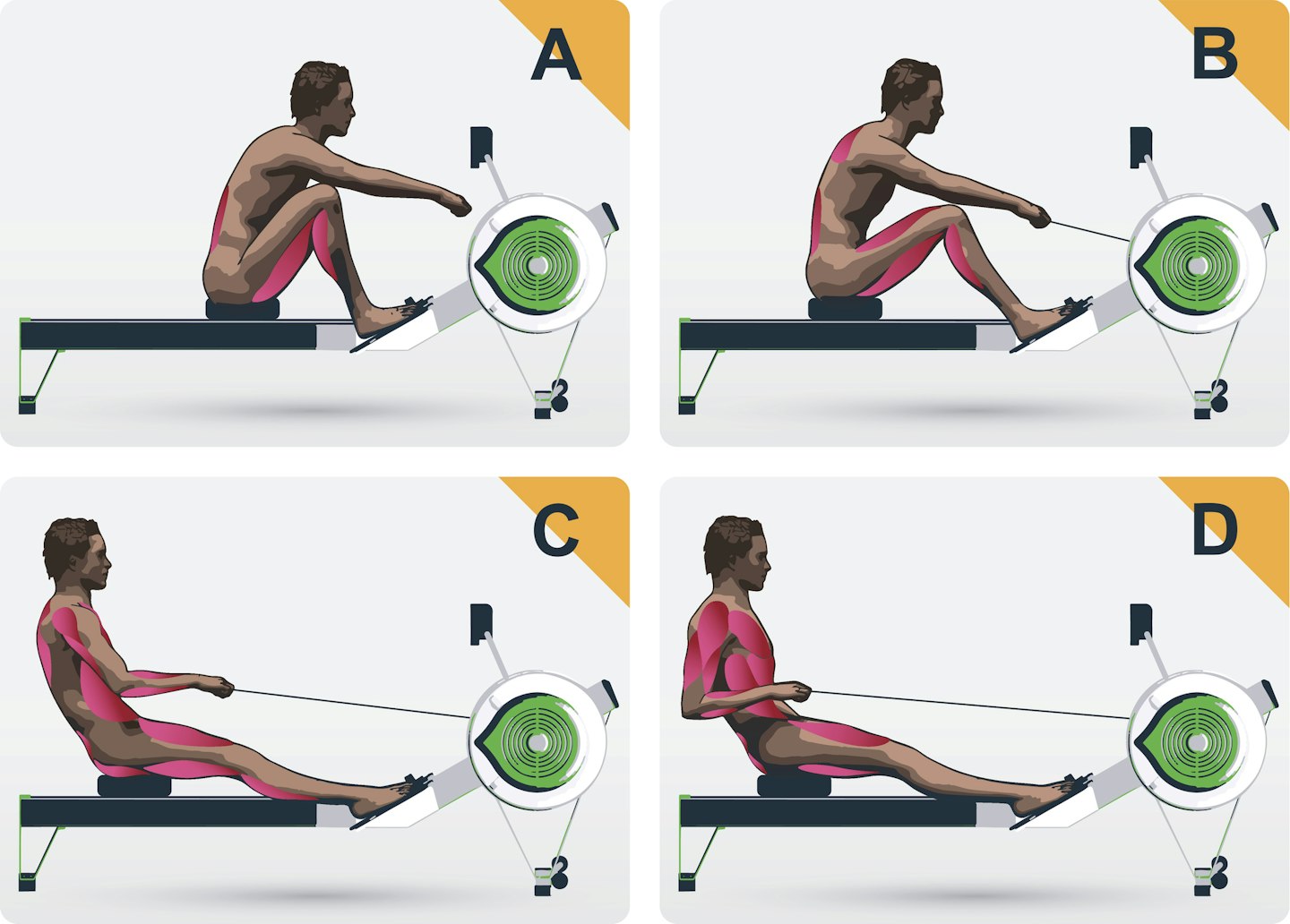 This diagram also helps to show you how to use a rowing machine. You begin with bent knees, with your back as straight as you can, and grip the handle with palms down. As you drive, you simultaneously straighten your legs and pull the bar in a smooth action. Your finishing position consists of fully extended legs, shoulders back, and the bar pulled to your stomach/upper abs. In the recovery, your arms straighten, your legs bend, and the seat slides down the rail to the catch position.
Much like with home exercise bikes and other machines of this type, it's advisable to keep to lower resistance settings, particularly in the early stages of using a rowing machine while your muscles tone and strengthen as they get used to the exercise. It's also crucial to stretch beforehand. Too much resistance and failing to warm up prior to a workout can very easily result in muscle strains and injuries. Take it easy, focus on technique, and enjoy the benefits of greater fitness.
Best budget rowing machines for 2023: Frequently asked questions
What is the best budget rowing machine?
As always, this is going to come down to the things you value the most in your home gym equipment. Some will prefer to spend more on high-tech features whereas others shopping in the budget category prefer to put their money into the overall robustness of the build. If you can push your budget a little further to get the perfect combination of features you want plus comfort and build quality, you're onto a winner.
Is rowing better for weight loss than running?
These two forms of exercise are both excellent cardiovascular workouts. Running does tend to burn more calories though, due to having to support your own weight. That said, where the arms and torso are concerned, rowing is a much better fuller body workout.
How long should a beginner spend on a rowing machine?
As with all forms of exercise, it's better to start with small, achievable goals and work upward from there at a gentle pace. 10 minutes or so for the first week or two is a good rule of thumb. Never over-exert yourself and always stop if you feel unwell.
Which is better, air, water or magnetic rowing machines?
This is down to personal preference. If it's realism you're after, water rowing machines are your best option. They offer a more natural feel to the resistance as you row. Magnetic rowers emulate this quite well, but have a more linear feel to them. They are, though, easily adjustable. Air rowers are a great budget option as they're cost-effective to manufacture. The resistance offered by air is, again, a different feel to the other two. If in doubt, visit a friend or local gym to test these different rowing machine technologies out before you buy.
Chris Williams is an Automotive Content Writer, writing across Parkers and CAR Magazine and contributing to What's The Best.
Subscribe to the What's The Best Newsletter to keep up to date with more of the latest reviews and recommendations from the rest of the What's The Best team.