As the end of the year approaches, fitness enthusiasts and bargain hunters alike are gearing up for one of the most anticipated shopping events of the year: Black Friday. This year, adrenaline levels will spike even higher with the announcement of an extreme discount on the Pro-Form Trainer 9.0 treadmill, promising anyone building a home gym an unparalleled opportunity to elevate their cardio game.
To make home fitness more accessible, Pro-Form has slashed prices on its Trainer 9.0 treadmill, offering customers unprecedented discounts that are sure to set hearts racing. The deal is live right now and has the treadmill costing a mere 62 per cent of its standard retail price - its price at only £999, rather than £1,599.
This heavy discount makes this Black Friday sale a golden opportunity for those looking to invest in a high-performance treadmill without breaking the bank. While it's still not quite low enough to be considered among the best budget treadmills, it is certainly an excellent deal on an excellent product.
Top-of-the-line features, accessible price
The Pro-Form Trainer 9.0 treadmill has garnered praise for its cutting-edge features that cater to both seasoned athletes and beginners.
This treadmill provides users with a gym-quality experience from the comfort of their homes, boasting a powerful motor, customisable workout programs, and a spacious running deck.
• Touchscreen: The ProForm Trainer 9.0 treadmill boasts a seven-inch display, allowing users to navigate various settings and programs easily.
• Motor: The powerful 2.75 CHP motor ensures a smooth and efficient workout, accommodating users of different fitness levels. Speed can reach up to 18kmph/11mph.
• Belt: While the 46 x 127 cm tread belt provides ample space for comfortable walking, jogging, or running, ProShox cushioning is a welcome feature, adding an extra support layer, reducing the impact on joints and enhancing overall comfort during workouts.
• Storage: Are you worried about storage? No need - the SpaceSaver Design with EasyLift Assist feature makes storage convenient, allowing users to fold and store the treadmill easily.
To throw in even more value, the ProForm Trainer 9.0 treadmill comes with a 30-day iFIT trial. This trial opens up a library of workout videos and programs. What sets iFIT apart is its interactive nature—trainers can dynamically adjust the treadmill's speed and incline to match the following workout, providing a truly immersive fitness experience.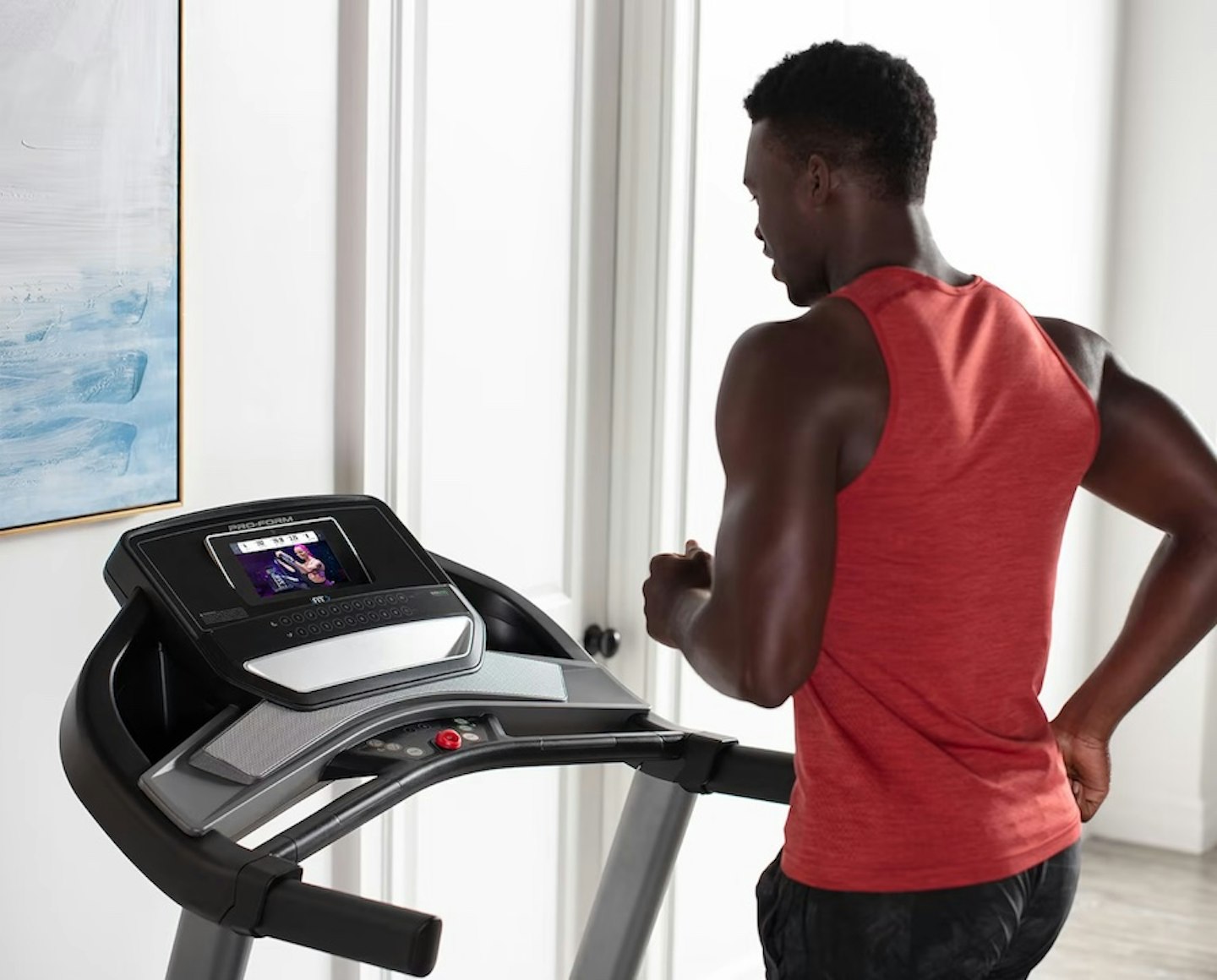 Types of workouts for treadmills
Treadmills are super versatile pieces of kit and can offer many ways to work out depending on your routine and fitness goals. Here are three of the most common ways to use your treadmill, all of which you can undertake on the Pro-Form Trainer 9.0.
Interval Training: Interval training on a treadmill involves alternating between high-intensity effort and recovery periods. This type of workout can be tailored to individual fitness levels, making it versatile for beginners and seasoned athletes.
For instance, a session might include short bursts of sprinting followed by a slower pace or walking. The intensity variations help burn calories effectively, improve cardiovascular endurance, and boost metabolism over time. Throw on a weighted vest to make it even harder.
Incline Workouts: Incline workouts focus on adjusting the treadmill's incline to simulate uphill terrain - this engages different muscle groups, mainly targeting the glutes, hamstrings, and calves. Walking or running at an incline increases the effort required, resulting in a more challenging workout that enhances strength and endurance.
Additionally, you can use the incline feature for steady-state climbs or incorporate it into interval training, providing a dynamic and efficient way to intensify your treadmill routine. Make sure you have a good set of running shoes for this one.
Endurance Runs: Endurance runs on a treadmill involve maintaining a steady pace over an extended period, typically ranging from 30 minutes to an hour or more. This type of workout is excellent for building cardiovascular stamina and improving overall aerobic fitness.
Users can choose a moderate speed that allows them to sustain the activity comfortably, making it ideal for those aiming to increase their endurance gradually. Endurance runs are physically beneficial and provide an opportunity for mental focus and discipline as you work towards covering longer distances or durations.
William Lobley is the Deputy Tech & Fitness Editor for What's The Best. Here, he oversees, curates and researches listicles and reviews as many products as his home office can handle.
He has spent nearly five years covering Black Fridays, Prime Days and Christmas sales and is well-versed in sniffing out the best deals and savings the internet offers.
When not at his desk deal-hunting, he'll be relaxing with Japanese crime novels, bingeing some classic anime or at the gym listening to the heaviest metal Spotify has to offer.
Subscribe to the What's The Best Newsletter to keep up to date with more of the latest reviews and recommendations from the rest of the What's The Best team.