If you've ever glanced at the pages of a cycling magazine, you'll know that finding the best electric bike under £2,000 is a slightly tall order. Electric bikes often get unfairly dismissed by those not in the know. Many non-cyclists see them as cheating or think they're not 'proper' bikes. That's definitely not the case. For many riders, cycling to work without breaking a sweat is now possible. And adventurous types can pedal further uphill than ever.
Electric bikes are sometimes called Electrically Assisted Pedal Cycles (EAPCs). However, don't fall into the trap of thinking that a budget eBike will speed you along without pedalling; after all - it's not an e-scooter or motorcycle. The electric motor of course requires battery power. Power is only delivered to the motor as you put effort into pedalling. Even if the battery is fully charged but you're not pedalling, it'll just behave like a normal push-bike. So, knowing what to expect from one, which of our picks of the best electric bike under £2,000 is right for you?
The best electric bike under £2,000 in 2023 at a glance
• Best overall electric bike: Raleigh Trace Electric Hybrid Bike - View at Tredz
• Best electric bike for commuters: Cannondale Treadwell Neo 2 EQ 2023 - Electric Hybrid Bike - View at Tredz
• Best electric city bike: Giant Entour E+ 1 Easy Entry 2023 - View at Tredz
• Best electric mountain bike: Decathlon 27.5 Inch Electric Mountian Bike E-ST 520 - View at Decathlon
Shop the best electric bike deals on: Chain Reaction | Halfords | Tredz | Decathlon
To get the full benefit from an eBike, you need to decide how much work you want to put into your journey. This will be partly down to what kind of cyclist you are. A commuter may well need a city or road e-bike with more range and less raw motor power than others. Whereas a mountain biker looking for an assist may need all the trappings of a tough bike plus more power, but a shorter battery life. A city bike, such as for recreational and touring use, is likely to need less range but a good balance of comfort and a lightweight frame.
Sound like a minefield of specifications and choices? No problem. We have a buyer's guide below to help you decide between electric mountain bike or a hybrid and so on. So, hop on and start pedalling - you might find the best electric bike under £2,000 to get you right where you need to go.
Best electric bikes under £2,000 in 2023
Best overall electric bike
Description
Pros
Very well designed and built, with flexible hybrid styling
Nicely specced and ready to go thanks to lights, mudguards and more
Light enough to lug around if you have to
Hydraulic disc brakes and Shimano drivetrain means great power and control
Cons
Standard colour scheme may not appeal to some
Best electric bike for commuters
Description
We like the look of this bike. It looks comfortable to ride with its riser handlebars. The
Pros
Sleek silhouette - this doesn't look like an electric bike
Discrete rear hub motor and downtube battery
Hydraulic disc brakes for precision stopping power
Smartphone mount and companion app to keep you informed
Best electric city bike
Description
With no top tube, this bike, as the name suggests, is easy on and off. This is super useful when
Pros
The big battery pack should see you through a full day riding in the city streets
Easy on and off thanks to the easy entry frame
Good storage options make it a brilliant choice for running errands
Four colour choices to fit your style
Cons
At 60Nm, the motor could have a bit more torque
Best electric city bike for range
Description
With its super-low step-through frame, the Motus is perfect for hopping on and off around town.
Pros
The big powerful motor will handle uphill city roads very well
Plenty of range at a massive 80 miles
Powerful hydraulic disc brakes for effective stopping control
Cons
Some may be put off by it's dated looks
Best budget electric city bike
Description
Raleigh is back on our list with an e-bike sporting a stunning paint job and white tyres to match
Pros
A decent 60-mile range means plenty of trips between charges
Has a modernised traditional design with a beautiful colour scheme
Comfortable front suspension will absorb most bumps to be found in cities and towns
Cons
Lesser battery pack and motor than some others here
Best electric mountain bike
Description
Decathlon has a swathe of eMTBs under the fated £2k mark - this one would be our pick if you
Pros
The sturdy build will take some punishment
Good basic specification with plenty of ride features
A low price point for such a capable spec
Cons
Battery and motor are large bringing the weight up to 22kg
Best electric mountain bike for battery life
Description
The 900 number means a bigger battery pack for the E-ST, going from 420Wh in the 520 models to
Pros
Big battery pack for longer range
Upgraded shocks for a more controlled ride
4 assistance levels for plenty of power choices
Best electric bike under £2,000 in 2023: Buyer's guide
Choose the right type of electric bike for you
If you're new to cycling, you may be starting to feel a little bit overwhelmed with talk of different motors and what's right for you. Our pick for the best overall electric bike above is a great all-purpose bike (with the exception of serious mountain biking). The rest fall into the following categories:
Hybrid bikes
These have a combination of design features from both road and mountain bikes. They're a great all-round choice for anyone who likes a bit more freedom and flexibility when out and about. Not as heavy-duty as a full mountain bike, but not so pedestrian as a regular road bike, a hybrid electric will let you do a great mix of most everyday cycling activities, from a commute to a ride through the park and down the odd dirt track. Adding the electric motor to this type of bike really is the icing on the cake.
Commuter bikes
The commuter is a mixed breed of cyclist. Combining some longevity when it comes to battery plus similar handling to a road bike, they also may need to hop on and off other forms of transport. If that's you, then you might consider a folding electric bike. But if you have a well-travelled commute exclusively on your bike, then you'll have a little more choice.
Road bikes and City bikes
We've listed these together here because they naturally share a similar environment. A road bike is used on paved or tarmacked roads. They're engineered to travel quite some distance if needed. City bikes, on the other hand, are primarily built to be more comfortable and portable in an urban environment - so they'll often have a more upright seating position. City riders typically make shorter runs than Road bikers, so battery and motor power are usually less demanding. In truth, there's not much to stop you from using a road bike around the city, as long as you find it versatile enough. But a city e-bike is unlikely to make a flexible road bike for longer distances.
Mountain bikes
For mountain bikers, it's all about going down the bumpy terrain as fast as possible, which makes getting back to the top harder. With gearing and geometry sympathetic to this, the added power from the motor will have you riding the trails for longer. In terms of the frame, you can spend a lot on a lightweight one that can also take the stresses and strains you'll put it through. The tougher and better equipped they are, particularly with suspension options, the heavier they'll be. Add a motor and you'll definitely want to start looking at how much you can carry if you encounter an obstacle.
Lastly, there is another category, the electric cargo bike, but as these are specially built for carrying a load they usually price themselves out of the under £2,000 bracket.
Pay attention to the motor
This is actually easier said than done, as not all eBikes are created equal. As with all tech, their advancement has been fast and motors ever-smaller. Nowadays, you may be looking at an eBike without even knowing.
Broadly speaking, there are two main types of eBike motors: Ones which assist the pedals, making your pedal stroke easier; and others that work with the rear hub and assist the rear wheel.
We've tested many over the years and we've always found the Bosch motors, which are pedal mounted, to give you the most amount of boost and reduce fatigue the most. This is because the power is directly mounted to the pedals, so you feel it instantly. They're generally bulkier too, meaning they can put in a bit more torque than rear hub motors.
Motors on the rear hub are much more compact, about the size of the big gear on your cassette so they're much more discrete. They provide plenty of power in terms of assistance and are a good option for someone who is looking for a discrete boost of electrical assistance.
Stick to your budget
Electric bikes are much more expensive than regular bicycles for obvious reasons; There's more to an eBike than your conventional push bike. Batteries and motors, housing and redesigns cost the manufacturer money, and some of these costs get passed on to the consumer. So, although you're not exactly in for a cheap ride, you should still be sensible with your initial outlay - especially considering that, unlike ordinary bikes, there's more maintenance to consider.
Though expensive, the advantages of owning the best electric bike under £2,000 are huge. They enable people who may be carrying an injury, lack fitness or are worried about their health. They increase people's riding range and, most importantly, bring enjoyment back to cycling.
Happily, during the pandemic, the Government did something good for the environment. It took away the £1,000 budget cap on the Cycle To Work scheme and made it unlimited. This has opened up the consumer to a much wider and larger variety of bikes, including that of eBikes, which tend to be slightly more expensive than conventional bikes.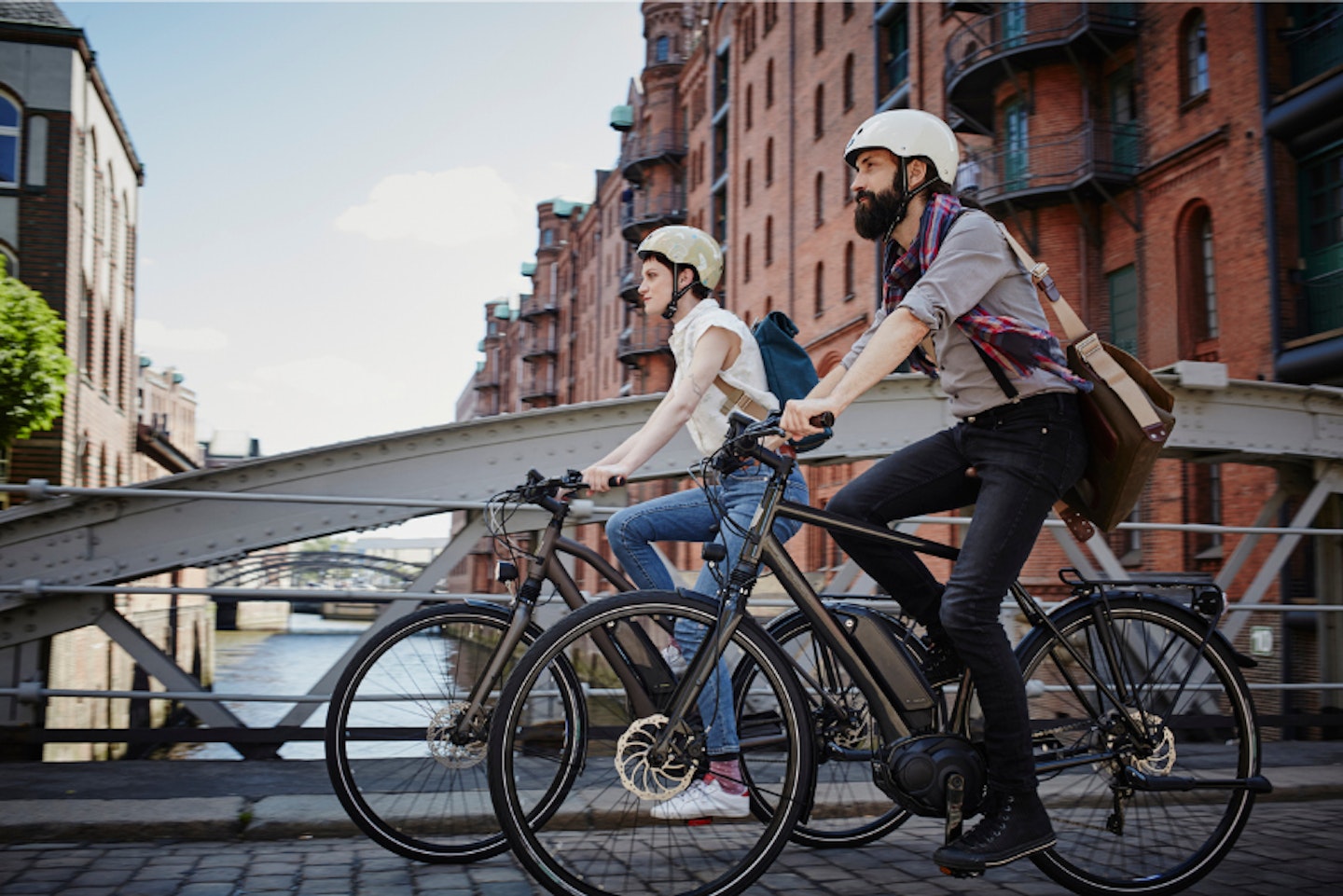 Best electric bike under £2,000 in 2023: FAQs
Are electric bikes worth it?
They do have some downsides compared to push bikes though, but that really comes with the territory. After all, there's a lot more to an e-bike than just two wheels, a frame and some pedals.
And yes, they can be an expensive investment for any cyclist. They also have relatively lengthy charging times compared to many rechargeable gadgets. The size of the battery limits the riding range. They're heavier too. You'll also need to plan when and how best to recharge.
But, look at the benefits. Anyone who struggles to stay fit will get a similar health and fitness boost as with normal cycling. If you're considering going further or higher, an e-bike will let you avoid over-exertion and turning up for work in need of a shower and a fresh shirt. Cost-wise, when used for shorter journeys, an e-bike can work out to be more efficient than a car. It's a huge saving, considering some e-bikes can be found for under £500. Due to being more nimble around town, they can also shave miles off the commute.
How does an eBike work?
Many eBikes have different 'modes' for instance, eco, touring, sport and turbo. Each mode will give you a different level of power from the motor; It also indicates how much motor power is needed. Motors give you up to 250 watts of assistance.
Indeed, you can lightly push on the pedals and the eBike will go up a hill. But, don't expect to start accelerating up to 15mph from the off - they do not work that way. You'll notice the increase in power and it'll be a huge benefit uphill.
The best electric bike under £2,000 is not an instant power booster. Every eBike needs you to input something into the pedal for the motor to work. Usually, at around 15mph, the motor stops and human pedal power takes over.
Do I need a licence to ride an electric bike?
Thankfully, you don't need a licence to ride an electric bike in the UK - but it does indeed need to qualify as one, and not stray into the category of scooters and the like. To meet this standard your e-bike is pedal-assisted rather than a motorcycle-like throttle. In terms of power output, it can't exceed 250 watts, and that will also tally with a restricted speed of 15.5mph.
That said, riding an e-bike around cities on busy roads isn't to be taken lightly. Remember, you're likely to be able to travel faster and longer than before. So, you'll also encounter plenty of other road users and distractions. Therefore, although you won't need a licence right now, we recommend you ride with the same care and attention as when you're behind the wheel of a car.
Myles is a Autos & Fitness Product Writer for What's The Best, Parkers and CAR. His areas of expertise include cycling, fitness tech and hot hatches.
Subscribe to the What's The Best Newsletter to keep up to date with more of the latest reviews and recommendations from the What's The Best team.