We all love a good underdog story, and as far as VPNs go, CyberGhost is definitely a dark horse with a heck of a lot in its locker. The best VPNs come in all shapes and sizes, you've surely heard of ExpressVPN, NordVPN and perhaps Surfshark. These are the big dogs of online privacy, but that's not ruling out every other reputable provider that's out there. CyberGhost is one of these providers that might fly under the radar if you're completely new to the world of Virtual Private Networks.
Don't be mistaken, because CyberGhost is still a serious contender in the VPN conversation. Founded in 2011 and operating out of Romania, this VPN provider has amassed a customer base of over 38 million as of today. This usership is over double that of competitors like NordVPN, so the little yellow ghost has to be doing something right. Perhaps it's the fact that you have the upside of 9600 servers to choose from, or that you can connect up to seven devices simultaneously.
CyberGhost has a serious point to prove, going up against some serious rivals within the online privacy and security space. Does this provider really have what it takes to deliver a truly fulfilling VPN experience? At What's the Best, we're here to answer that very question. Join us for our all-out investigation of CyberGhost, we've trialled and tested this Virtual Private Network in the field. Now to see if the ghost has what it takes.
Pros
Great shout for VPN beginners
Huge global coverage
One of the most affordable VPNs
Cons
Apple versions severely inferior
No phone customer helpline
Connectivity issues from time to time
A budget provider with uncompromising security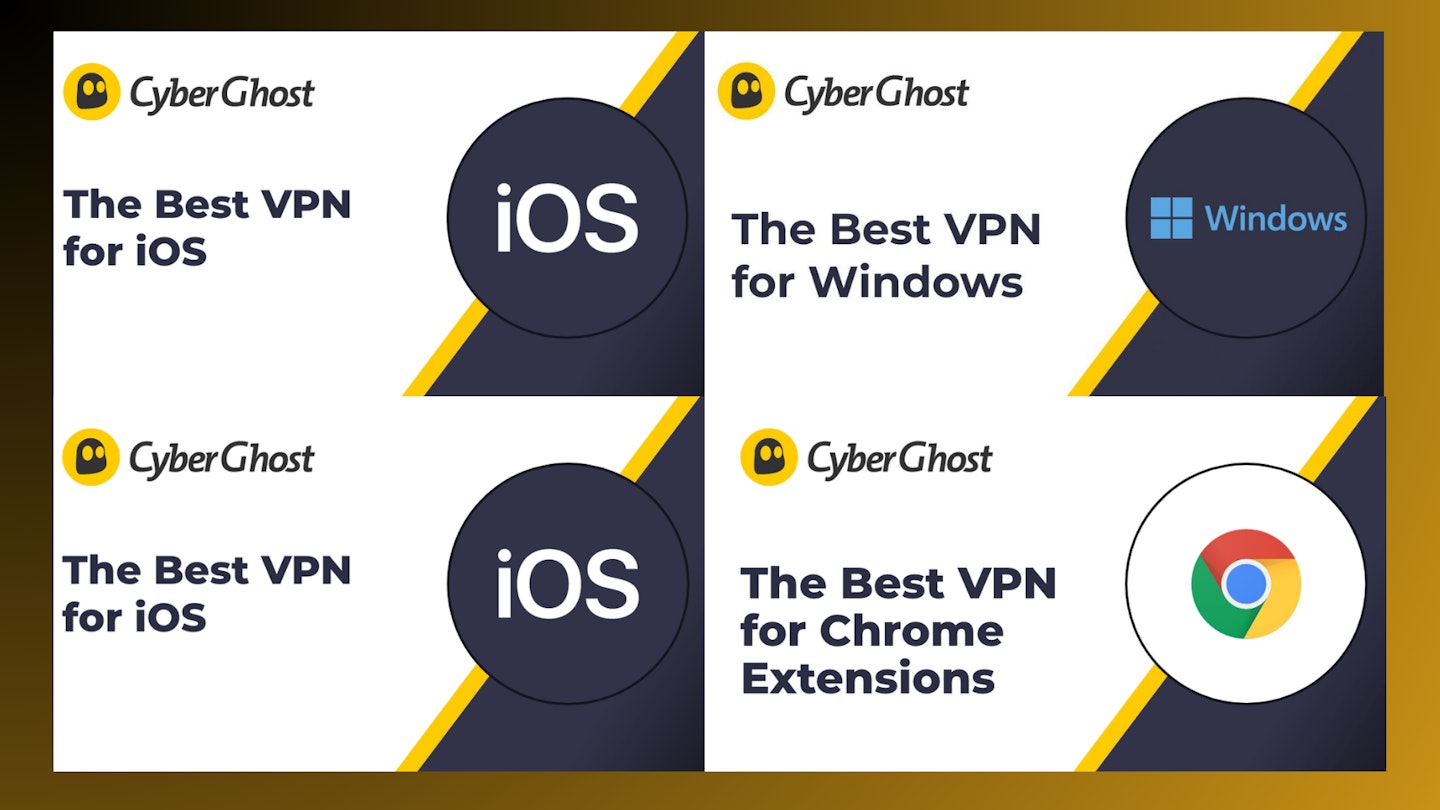 Privacy and Security
Strong privacy credentials are the backbone of any safe and secure VPN. From first impressions I was delighted to find that CyberGhost take online privacy as seriously as you'd hope. I without a doubt felt safer when I had CyberGhost active and in my corner, and I was pleased to find that this experience of online privacy did come with an element of personalisation.
The encryption protocol is fundamental to the functionality of a Virtual Private Network, so the encryption settings was one of the first places I headed over to. Upon reaching the VPN settings menu, I was able to select WireGuard, OpenVPN, and IKEv2 encryptions. WireGuard is a fairly universal protocol and is used my countless other providers on the market, it just so happens it's pretty darn effective too. A little bit of choice never went a miss though. CyberGhost's kill switch is automatically enabled and highly effective, which is a huge determiner as to a truly secure VPN.
Digging a little deeper into the privacy settings, I found a few recognisable options. CyberGhost's ad blocker is as effective as they come, and a breeze to use. The can find the kill switch here, as well as Privacy Guard; which is CyberGhost take on Dark Web Monitoring. Something that caught my instantly was these NoSpy servers. NoSpy servers are specialised servers at CyberGhost that are extra private as they come with additional layers of encryption, but that don't trade on bandwidth either. After spending some time with different VPNs, I've gathered that the best providers have one or multiple features that make it stand out from the rest. These NoSpy servers meets this quota for CyberGhost rather nicely.
CyberGhost's leak and breach monitoring systems always came back with positive results for me, clearly this Virtual Private Network knows its craft and implements it behind the scenes effectively. It also helps that CyberGhost runs reputable indpendent audits by Deloitte, which should anyone's mind.
Speed and connectivity
Security is just the tip of the iceberg where VPNs are concerned, speed and connectivity are equally as important to the success of a Virtual Private Network. You can have all the security in the world, but what if your speeds are noticeably subpar? I never know what to expect from a considerably cheaper VPN when I've tested speeds in the past, but I was relieved to find the little yellow ghost didn't disappoint me.
At base value, CyberGhost gave me no trouble in speeds. I was able to go about my daily internet tasks and not once did I feel like I was experiencing a slow internet connection. With this solid foundation, I was then able to test out some of CyberGhost's specialised servers. You get P2P optimised servers, and you get streaming optimised servers, both do exactly what they say on the tin. I tried streaming without the optimised streaming servers, and admittedly didn't have a great time. It's a shame that CyberGhost can't sustain the demanding task without these servers but hey, that's why they're there.
I was successful most of the time when I wanted to connect to CyberGhost. Only occasionally did I find myself waiting for a successful connection more patiently than I'd have liked. Auto-connect is available on CyberGhost, you might just have to enable it in the settings. I'd just advise double checking that you're successfully connected when you start up your device.
CyberGhost the daily companion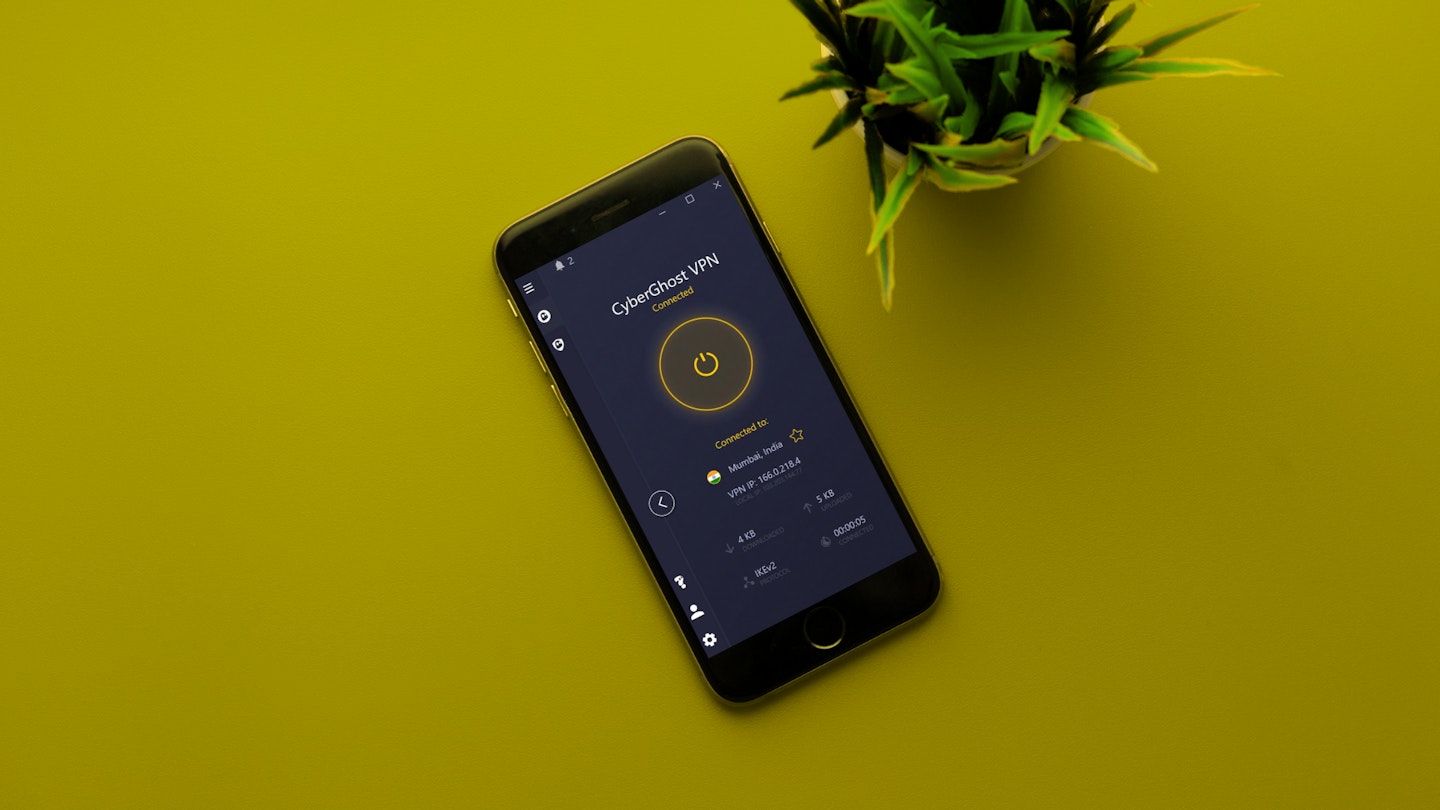 The daily VPN
A well-rounded VPN has to cover a lot of ground for sure, but it's also got to be able to fit into your daily life. The most daily use I got out of CyberGhost was on its mobile versions. I got to test the VPN on an Android mobile and an Apple iPad, and my findings were interesting to say the least. My time with CyberGhost on mobile was more than pleasant, I was able to carry out my daily tasks which included online banking, social media usage, and light video streaming. This was all a seamless, fluid time, I never ran into connection issues that disrupted any of these activities.
CyberGhost on iOS was a similar story, but it also wasn't. Speeds were still satisfactory, as was connectivity, but I just didn't have as much to play around with on iOS. I had less features, and less configurability. Some anti-Apple agenda? We'll never know, but it was a shame to say the least.
If I ever needed help with CyberGhost for whatever reason, the 24/7 live support was more than useful. I tested it out with some common dilemmas and the service was responsive and clear. A more complex problem might prove to be more troublesome and time consuming for some users though, this is because there seems to be no phone helpline.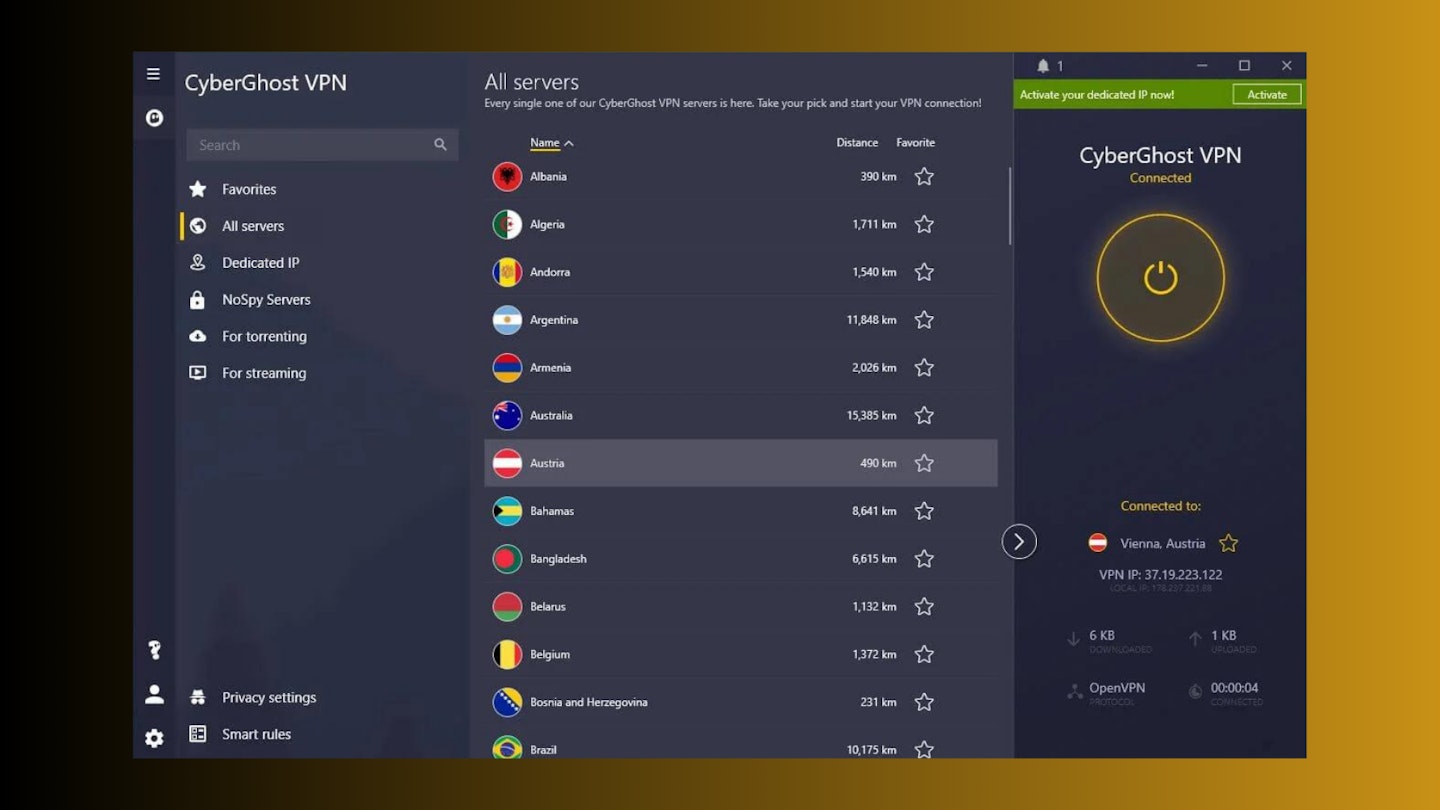 Little Ghost, big power
I was in high spirits with how CyberGhost had performed at this point. The real question now was could CyberGhost perform under an actual challenge. There're VPNs out there around the same price bracket as CyberGhost that can deliver some serious numbers, so you can never rule a provider out. I touched a little bit on light video streaming earlier, CyberGhost has this down to the T. I'm talking Tik Tok, YouTube, Instagram, you name it – CyberGhost could handle it.
Now it was time to test streaming in its more common form, and I tested on the Windows version this time. Before I tested the streaming performance, I wanted to find out what services CyberGhost could unblock. It was good news pretty much across the board, CyberGhost was able to unblock all major streaming services, and then some. Globally available services like Netflix and Prime were no trouble at all, as were region specific platforms like BBC iPlayer. After some brief research into CyberGhost's unblocking abilities, I found that some users had trouble with Disney Plus. I can honestly say I didn't run into any issue unblocking or streaming Disney Plus whatsoever.
I couldn't really criticise CyberGhost's speeds as a streaming VPN, they were fast, and they could sustain 4K resolution. My only gripe, and I've mentioned this earlier, is that you have to stream on seperae, streaming optimised servers. Otherwise, you will encounter buffering, and you will encounter resolution drops.
Streaming is just one part of the picture, now I wanted to test gaming. CyberGhost offers router support, so safe gaming is more than achievable. This is how I connected a PS5 to the Virtual Private Network. Gaming can also be a tricky one when judging a VPN, any noticeable drop in latency can affect the whole experience. I ventured into gaming with CyberGhost apprehensively to say the least.
After testing the waters with moderate to heavy multiplayer gaming, I can honestly say I was pleasantly surprised. The words budget and high performance rarely go hand in hand, but CyberGhost pulls it off for the most part. When multiplayer connection speeds are satisfactory the majority of the time, gameplay is rarely affected, you get a happy gamer. Yes, there was the occasional laggy game, and there were times where I struggled with finding a game in multiplayer matchmaking, but there's no telling whether that was an issue on CyberGhost's end, or just typical network issues.
Downsides?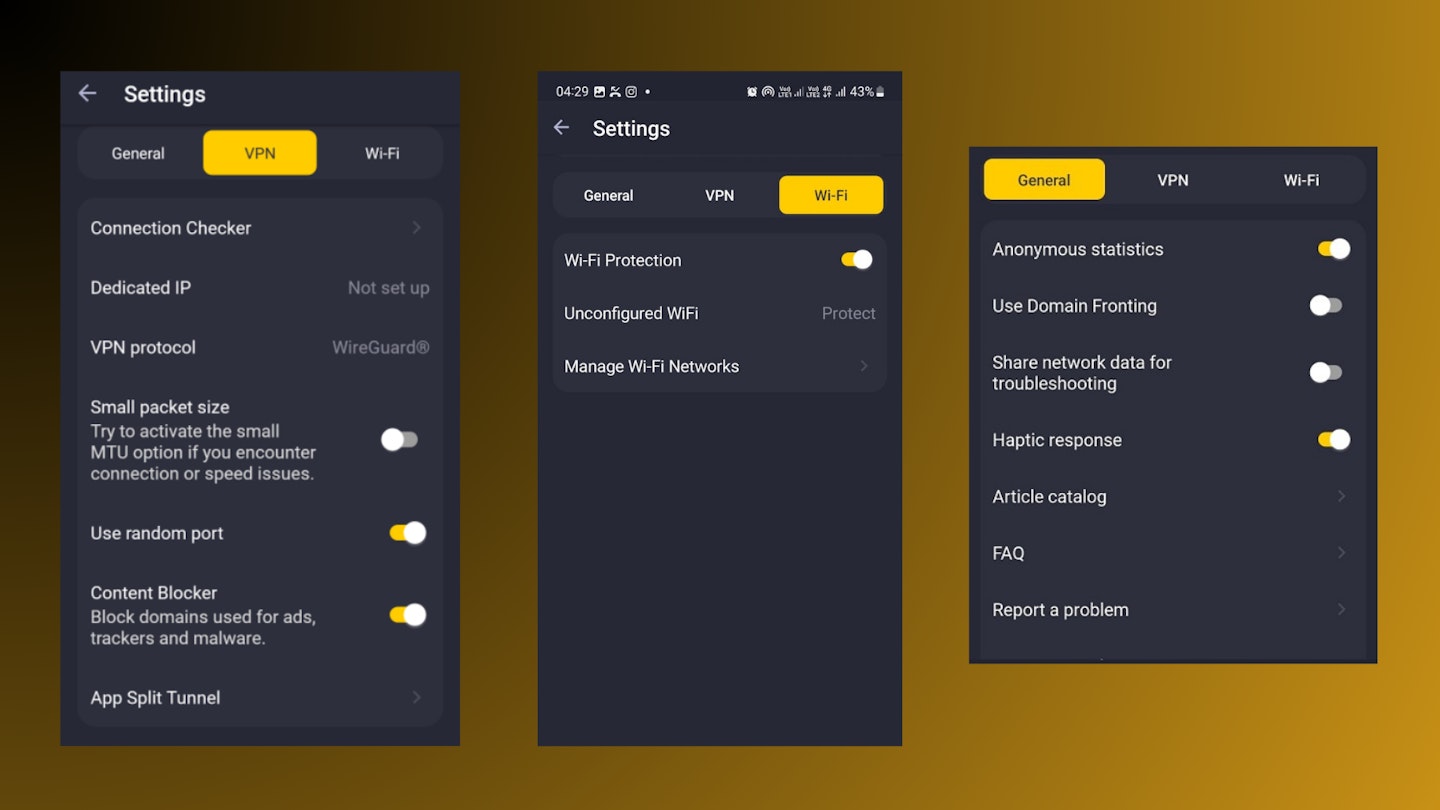 CyberGhost admittedly does have a clear issue with operating system biases. There's no one unified version of CyberGhost across all apps. Yes, you expect minor alterations between different versions, but CyberGhost may take this a little too far. Surprisingly, it's iOS versions that seem to get the brunt of CyberGhost's inconsistencies, whereas Android seems to be in the clear, and Windows has the best functionality of them all.
The apps may share the same aesthetic amd feel, but iOS versions lack features, important features at that. This is apparently down to Apple's security model not allowing the VPN app the same control. On iOS you still get the favourites list, smart server selection, connection checker, but that's pretty much it I'm afraid.  This means no split tunnelling, you also don't get OpenVPN as a protocol option either.
It isn't as squeaky clean as some its competitors that come with a more premium price tag, that's for certain. Expect connectivity issues from time to time, but none so detrimental that it'll ruin your day.
Competition
It's certainly no ExpressVPN and it can't really compete with NordVPN, but it does hold its own. I'd argue that CyberGhost's fiercest competition would be a provider like Surfshark; a budget option that still packs a punch. CyberGhost might not boast unlimited simultaneous devices like its rival, but it makes a serious statement when it comes to streaming and unblocking.
For the price of CyberGhost, it's value for money is tough to dispute. It's almost £4 p/m cheaper than ExpressVPN, and it's much closer in quality.
Verdict
CyberGhost is a VPN provider that should be taking far more of the limelight than it currently is. This Virtual Private Network is capable, reliable, and most importantly, it's safe. Does it come with all the trimmings and shiny polish you get with VPN top dogs? Maybe not, but CyberGhost should still be a legitimate consideration, especially if you're in the market for a budge option.
Privacy is second to none, you get a wonderful global coverage that's packed with optimised servers for various tasks, and you get it for a bargain price. Windows has the superior version, so if this is the only device you're protecting, you'll have a blast. If you can accept the differences in operating systems, you shouldn't have any trouble though. This little yellow ghost has a deserved spot with the elite VPNs, don't underestimate it, because you might just miss out.
Score: 3.5/5
Pros
Great shout for VPN beginners
Huge global coverage
One of the most affordable VPNs
Cons
Apple versions severely inferior
No phone customer helpline
Connectivity issues from time to time
More VPNs to consider
Description
A VPN doesn't make a name for itself by chance, Express has mastered the game and pushed its way
Pros
Premium security – it's reliable and robust
Excellent speeds – they're market leading and consistent
Simple interface – so easy to navigate
Cons
Some far cheaper options rival it as a choice
Description
One of the real contenders for the VPN crown. NordVPN is acclaimed for being superior in almost
Pros
Nordlynx protocol – one of the fastest out there
Powerful security – very clever features
5709 servers – very wide coverage
Cons
Mobile apps and browser extension are unpolished – makes them awkward to use
Description
Major value for your money. Surfshark is considerably cheaper than your other premium VPNs, and it
Pros
So affordable
Unlimited simultaneous connections – freedom of devices
Cons
Not as polished as the pricier options
Who tested it?
Jack Barrell is our Commercial Content Writer for everything VPNs. He is constantly in the loop when it comes to Virtual Private Networks and can be found writing reviews, rankings, or how-to-watch articles for the world of online privacy.
How we tested it?
I tested CyberGhost for several weeks, on iPhone and Windows desktop. I trialled the VPN in a range of different scenarios, testing how it fared under tedious circumstances as well as the extremities. I dipped between connecting the VPN through Wi-Fi and mobile data.
I thought it was important to test absolutely every feature that CyberGhost had to offer.
Jack Barrell is the Commercial Content Writer for VPNs. He's hands-on when it comes to producing best-of articles, how-to guides, and product reviews for Virtual Private Networks. On his off-days, Jack can be found in the gym, at the movies, or flicking through a car mag.